Hey there, Sweet Shoppers – is it hot enough for ya yet? Here in Texas, we're veterans of hot summers, but this year is especially bad. There's only one day in the ten-day forecast where the temperature isn't in the triple digits: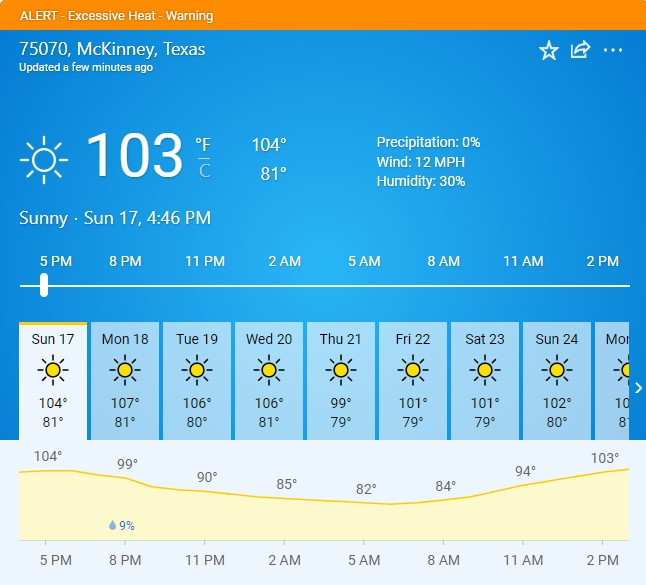 When it's this miserable outside, there's only one thing to do: stay inside with the air conditioning and enjoy activities that won't raise your core body temperature … like digital scrapbooking! (See what I did there?) Today is Standout Sunday, so I come to you with seven layouts from our Gallery that stood out to me for one reason or another. So kick back, relax, and let's celebrate some of the outstanding work done by our sweet community this week!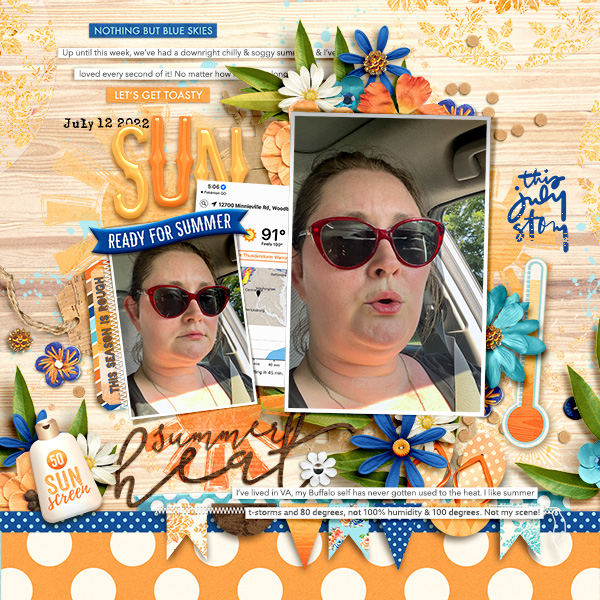 This is the first time we've featured a layout from community member Bre (breeoxd) on the blog, and I'm excited to share this one with you! Her fantastic clusters of flowers, foliage, and themed elements – like the bottle of sunscreen, flip flops, and thermometer – contribute to illustrating the abstract concept of heat. Abstract concepts can be tough to capture in photographs alone, so using the right scrapbook kit to tell the story can make all the difference. Nicely done, Bre, and thank you for sharing your work with us!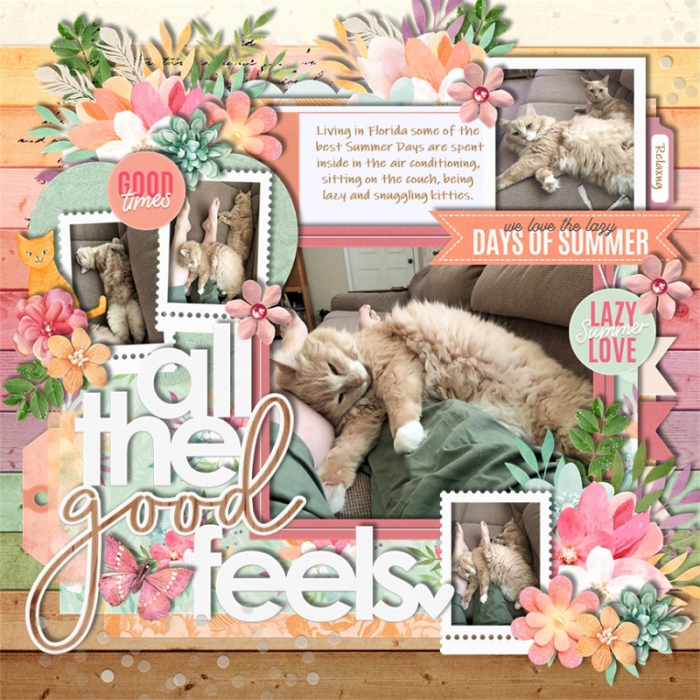 This sherbet colored page evokes feelings of coolness and softness, which – if you read the journaling – is exactly the point. I especially like the mixture of flat sticker-style flowers with the 3-dimensional ones in the clusters scattered around the page.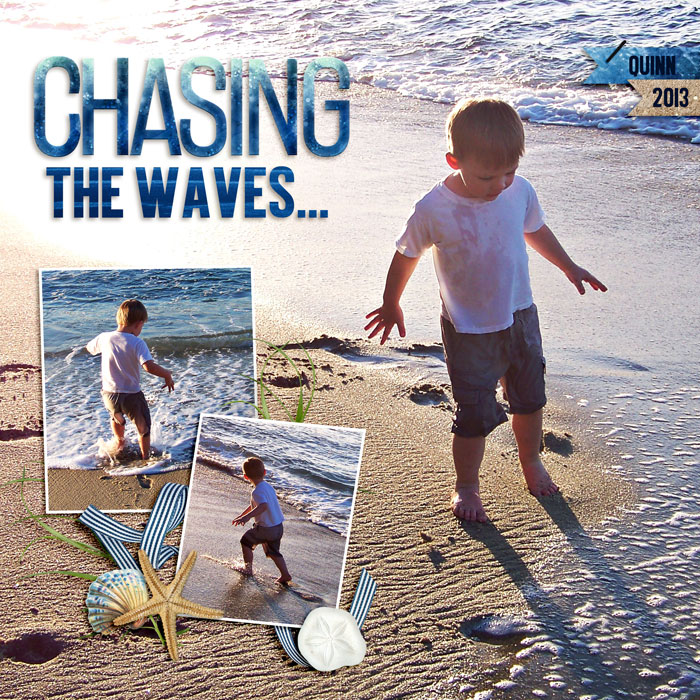 Sometimes, truly outstanding photographs need to take up the whole page, and this is a prime example. I love the smaller action-style photos laid atop the sand and the few – but pitch perfect – elements used to anchor and embellish them.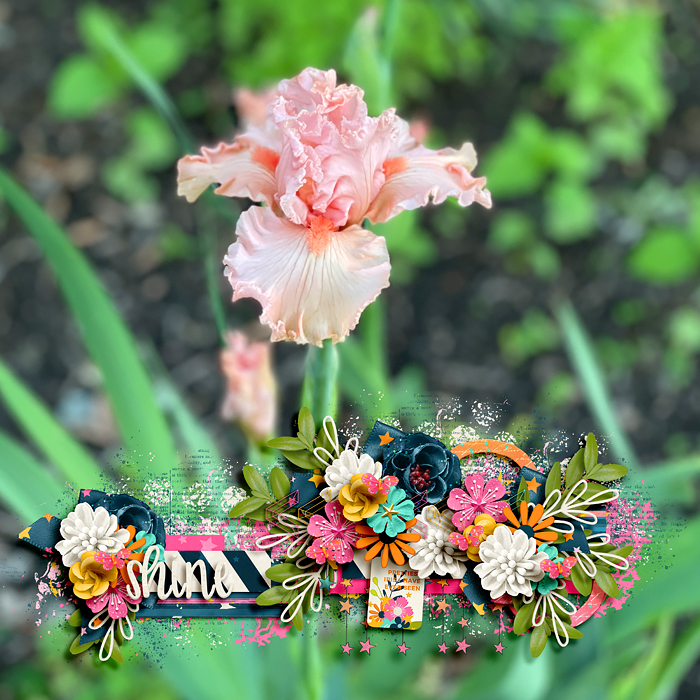 I can't decide what I like best: the crisply detailed photograph of that soft pink iris or that big, gorgeous floral cluster with its lovely deep shadows. Good thing I don't have to choose, because they work together beautifully!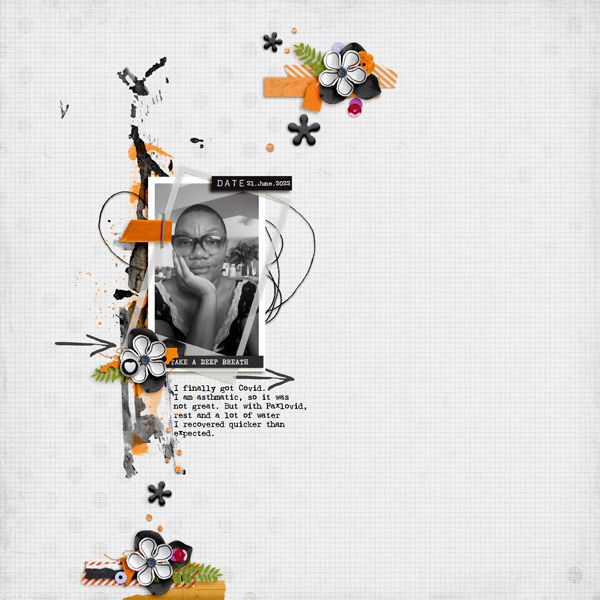 This layout is stunning in its use of extreme whitespace and vertical cascade of mini clusters. The small pops of orange really stand out against the black and white, yet allow the photo and journaling to take center stage. By the way, Claire, I'm so glad to hear you've recovered!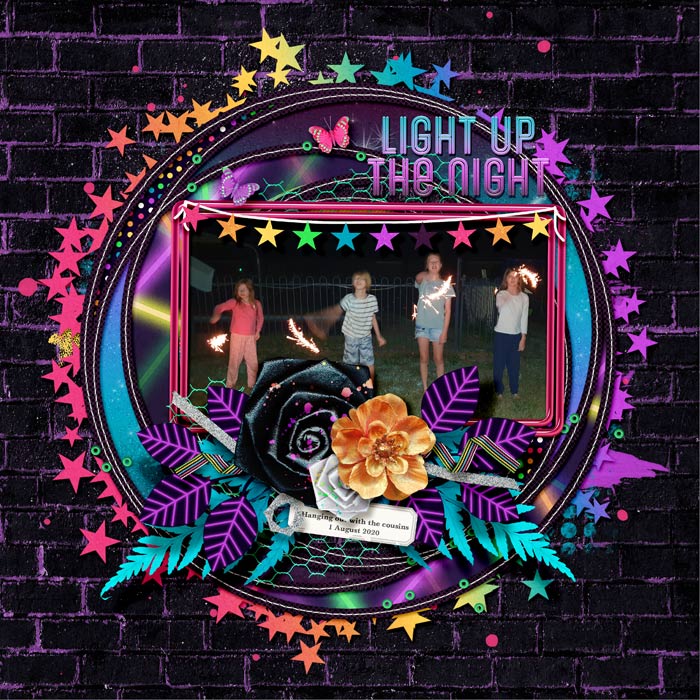 There's so many cool things happening here; from the fact this is a mash-up of two different templates yet it manages a cohesive look, to the vivid colors against a black backdrop (perfect for shots of sparklers and fireworks), to the way she tucked the different layers of elements behind and between one-another … this layout is stunning!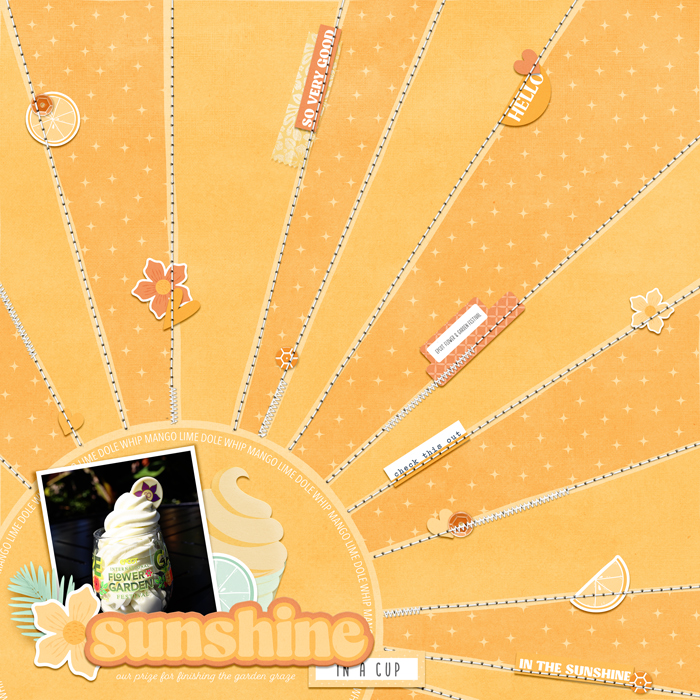 At first glance, this layout is deceptively simple – but look closer! The lines of stitching are placed just so atop the patterned background paper, not only reinforcing the sunshine theme but anchoring/attaching each of the tiny tags and elements. And they all draw the eye in toward the focal photo and title in the lower left corner. Simply gorgeous!
---
Whatever the coming week has in store for you, my sweet scrapbooking friends, may you face it in the air conditioning! I'll see you back here on Tuesday with our Oldies But Goodies made New Again. Stay cool!