Featured Designer – Blagovesta Gosheva
Can you all believe this is the last Friday in August?  Have your kids headed back to school yet? Mine go back Monday, summer sure came and went way too fast!  I won't run my mouth forever, let's just get to it, shall we?!  Help me welcome our next featured designer, Blagovesta Gosheva.  She had a style in my opinion that looks like no one else, wouldn't you agree?  Something about how rich the colors are, I can always pick out one of her kits before I know she designed it.  You are not going to want to miss her featured designer kit.
Keeping with the festive spirit in mind of our big birthday, our designers decided that a year long celebration of everything that makes our lives special would be the perfect way to keep the party going, "Celebrate YOU!" is the theme that will be inspiring our Featured Designer freebies this year! From your job, to your school, to your favorite holidays and more, we're celebrating all of life's memorable moments this year, and Blagovesta's contribution to this year's series is no different! Celebrate the Real You  is just what we all need for scrapping about the real us!  The one we want those loved ones to remember, right?  You can use it to scrap about other people too of course!   Add $10 worth of goodies to your cart and this beauty will be added for FREE!
Now, let's get to our interview.
What is your favorite thing about YOU? Celebrate yourself and sing your own praises! Is there something you're really good at, something you're known for, etc?
One of the things I like most about myself is my creative soul. I have loved drawing and making things ever since I was a child, and this passion of mine has largely influenced my entire life. Even though I didn't study exactly that in the college, I've been working as a graphic designer for more than 20 years now, and for the last 10 as a digital scrapbook designer, too and that makes me very, very happy! I just love my job!
Another thing I love about me is my persistence (or stubbornness??) – whatever is correct in English. The truth is that I procrastinate things sometimes, but when I decide that I have to do, achieve or learn something even if it looks like out of my capabilities, I put all my effort and do it like a nerd.
And one more thing I like about me is my optimism. I've had several hardships in my life, ones that make it hard to stay the same person, but it never broke me and I always found a way to keep going, enjoy the little things and be happy and appreciate what is truly worth it.
Do you like to scrapbook? How often do you get around to it?
I like to scrapbook a lot. Actually, that's how it all started. At first it was just a hobby that I started when my daughter was born, but then I decided that I wanted to try making a kit myself and that's how I started to design digital scrapbooking products. Unfortunately, it's increasingly difficult for me lately to find time to scrap. Usually, I scrap when I try out my new kits.
What are you reading?
I like to read a lot. I love different type of books, as long as they don't bore me. I've been in the mood for crime lately. The last ones I've read are all of Harlan Coben's books, the Millennium series by Stieg Larsson before that, and I'm currently reading Chris Carter's Robert Hunter series.
I've been listening to a lot of audiobooks lately, too. Cooking and cleaning are like a song that way J
Do you watch tv or listen to music when you're designing? Or do you prefer silence?
I don't watch TV while I work because I often get distracted, but I always listen to music – different kind but mostly rock from 80s and 90s and alternative rock.
Do you have an all-time favorite kit or product? Share it! Even if it's been retired.
Celebrate Earth is my all-time favorite kit.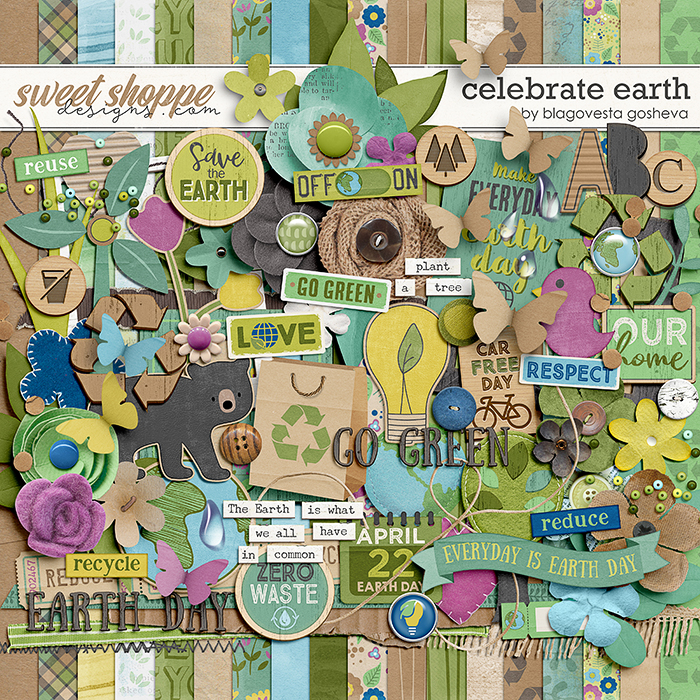 A few years ago on Earth Day, when we all had to take a moment of solidarity, of unity, and to turn off the lights for an hour in the evening as a reminder that we must work together to look after each other and the one home we all share, we turned off all the lights at our home and went out with my daughter to look outside. We expected to see the city dark, at least darker than usual, but we didn't even notice any difference. Everything was glowing. I felt sad because of people's indifference and then decided to make this kit. It didn't even sell well, but it's still my favorite.
Are y'all ready to see what the team has cooked up?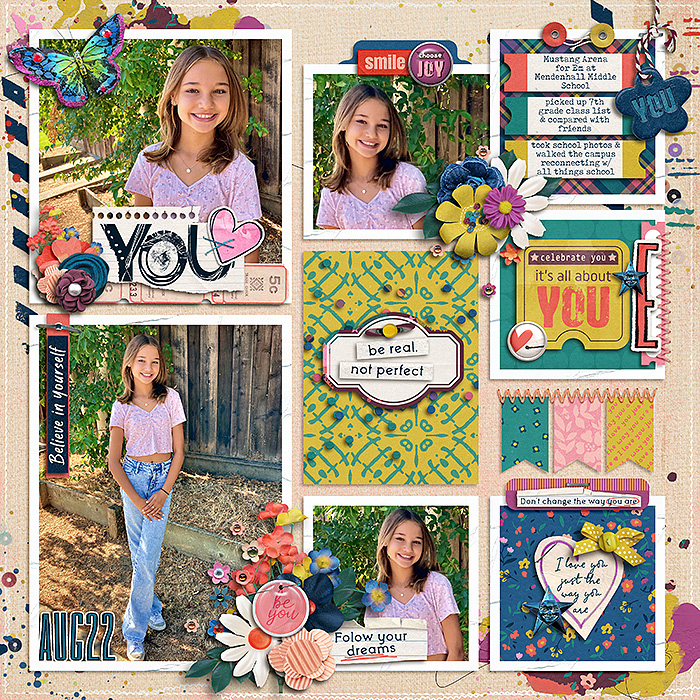 Celebrate the Real You will be automatically added to your cart for FREE when your subtotal reaches $10 or more! This special offer will only be available through Friday, September 9th when our new releases go live, so don't delay! And don't forget to come back next Friday for a sneak peek at Blagovesta's Feature Designer 15 sale. It will start Tuesday, September 6th . Have a great weekend!