Featured Designer – LJS Designs
Hello friends, are you ready for our next featured designer?  What am I saying, of course you are?!  Lorie of LJS Designs is in the spotlight for the next two weeks and I know y'all are going to love the collection she has put together for all of you!
Keeping with the festive spirit in mind of our big birthday, our designers decided that a year long celebration of everything that makes our lives special would be the perfect way to keep the party going, "Celebrate YOU!" is the theme that will be inspiring our Featured Designer freebies this year! From your job, to your school, to your favorite holidays and more, we're celebrating all of life's memorable moments this year, and Lories' contribution to this year's series is no different!  Celebrate Self Care is perfect for celebrating YOU!!  I mean, we can and should all practice self care and celebrate it!  And why not scrap about it while we're at it.  That's self care isn't it?  Add $10 worth of goodies to your cart and this beauty will be added for FREE!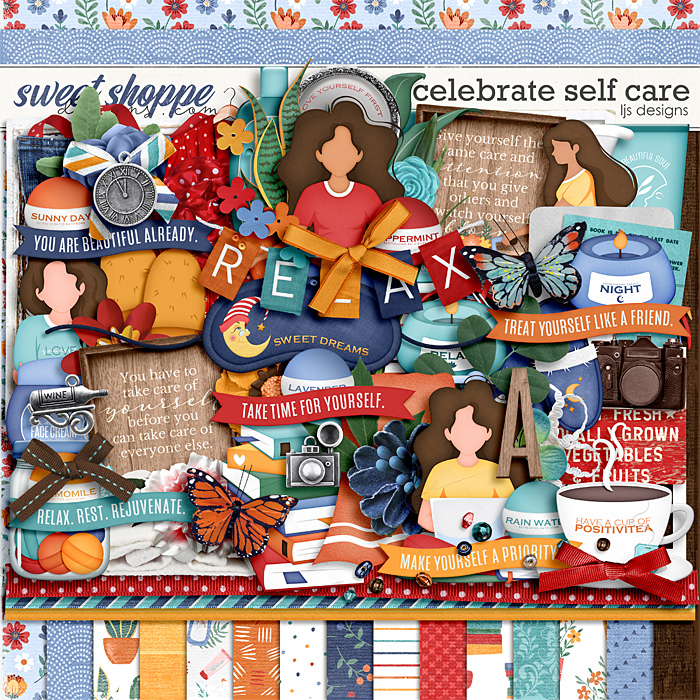 And she of course created a bunch of lovely extras for you if you want to purchase a few more goodies to make this small kit a huge collection.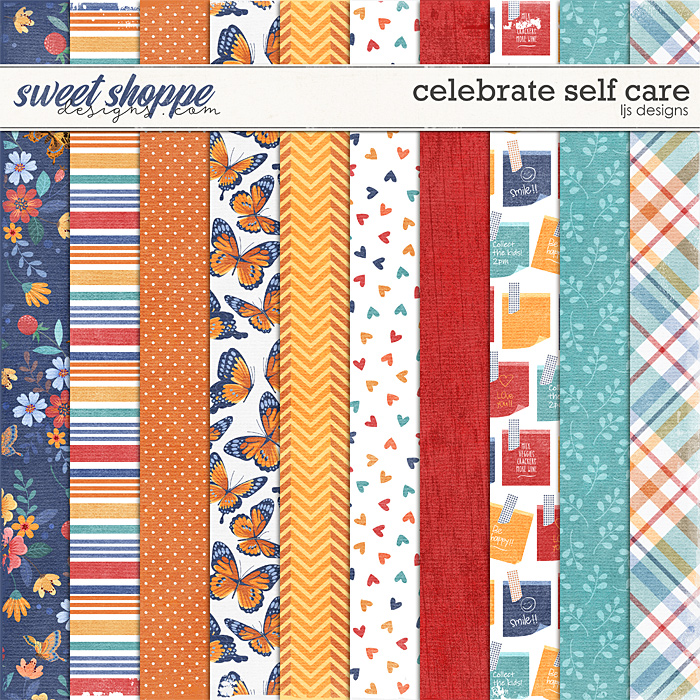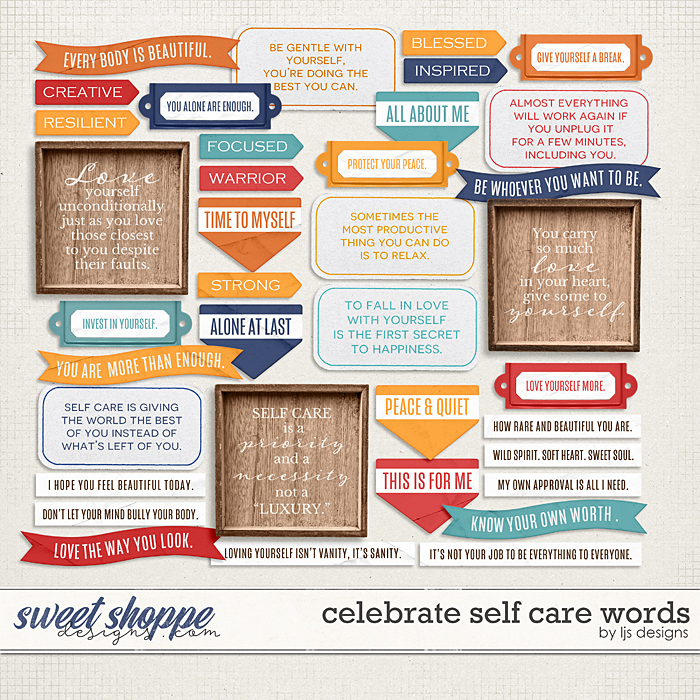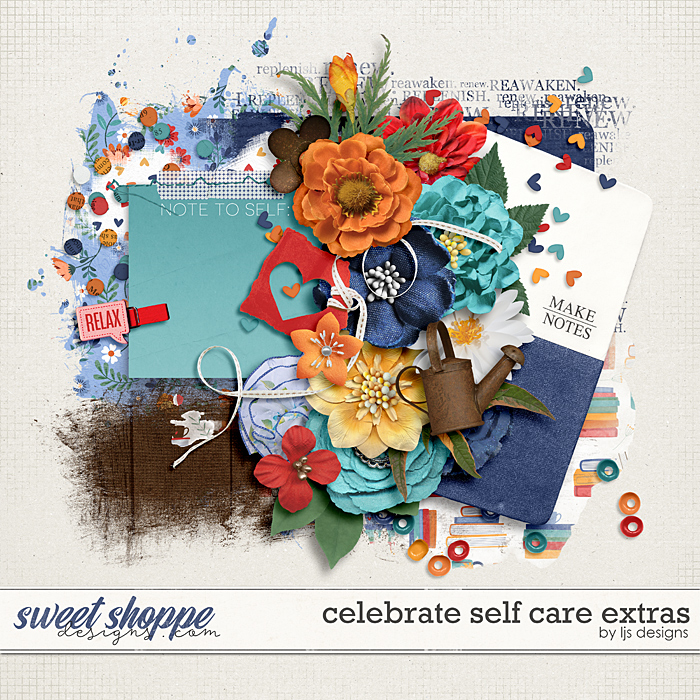 Now, are you ready to read all about Lorie?  Interview time!
What is your favorite thing about YOU? Celebrate yourself and sing your own praises! Is there something you're really good at, something you're known for, etc?
I love my creativity. I've been creating and crafting as far back as I can remember. I taught myself to knit when I was four years old by just watching my great aunt. I taught myself to quilt when I found out I was pregnant because I had to make a baby quilt for my child and I taught myself to digi scrap and eventually design. In between those hobbies, I taught myself plenty of other things as well like sewing, cross stitch, embroidery and quilling just to name a few.
I also love sharing my creativity with others and am known for my homemade Christmas gifts. One year it was quilted tree skirts, another year it was lap quilts and last year it was family name signs.
Even when I purchase a gift, I always try to do something creative or meaningful with it. For example, the year I got all the men in our family new wallets, I included mementos from my dad and grandfathers' wallets in them. I thought those photos, cards, coins and notes made the gifts more meaningful and gave each of them a keepsake from those three wonderful men.
 How do you stay motivated to design week after week?
Motivation can be super hard for me. I have a full time job, so I have to design at night and on weekends and sometimes I just don't have the "want to." To keep on track, I try to create a schedule of things I need to finish by the end of the day. If I get them done early, then I can finish for the night and take some time to do something else, like read or watch a movie. This year has been an emotionally challenging one for me, so I have also given myself permission to cut back or extend a deadline if I need to reduce my work load. I can't be creative if I am stressed or unhappy, so I've found that giving myself a break every now and then keeps me motivated in the long run.
 What are you reading?
I am currently reading the Violet Darger FBI Series by LT Vargus and Tim McBain. I love psychological thrillers and can really relate the the character of Violet. She can be very single minded, stubborn and socially awkward. She tends to speak her mind or say the wrong thing and it always gets her in trouble. That is me in a nut shell. Violet is much better at getting out of trouble than I am, but to be fair, she carries a gun and isn't afraid to use it.

Do you watch tv or listen to music when you're designing? Or do you prefer silence?
I work in silence for the most part because I am easily distracted. If something catches my eye or my ear, I can quickly get caught up in it and lose all track of time. More than once, I have told my team that I wouldn't have a release as planned because I "got lost in the weeds."
 How far in advance do you start working on your next product? Do you have a list of themes in the queue or do you just decide what feels right from week to week?
I have a list of themes that I keep adding to on a regular basis, but they are just ideas not guidelines. It takes me two weeks to complete a full bundle, so I am never working ahead. As soon as one bundle is done, I start on the next one and also create a set of templates for the weeks in between kits. My team will tell you that I am always trying to get ahead, but can't seem to pull it off. Some of it is timing, but a lot of it is being too fussy. The smallest detail will drive me crazy if it isn't just right and I will spend hours on one thing. The castle in my Let Your Hair down kit is a perfect example. I spent days on it, added the bricks and the leaves one at a time and agonized over each placement. I love how it turned out, but I am willing to admit it wasn't the best use of my time.
I think if I want to work ahead, I have to learn to stay out of the weeds and let go of the little things.
 Share a kit or bundle plus the mood board or story that inspired it.
This photo of my daughter in law, Vee, on her wedding day and her obsession with neutrals, inspired my Woodland Wedding Kit.
I created Woodland Wedding specifically for their wedding photos and it worked out perfectly. I can't believe they have been married for almost five years. They are talking about starting a family soon, so be on the look out for a neutral baby kit in my future, since Vee says we're not putting baby color on her kids. LOL I love color, so the colorful clothes will be at my house. 

Wow, what a beautiful photo of Vee!!  Don't you love getting little peeks behind the scenes like that?  I know I do! 
Now, let's see what the team came up with!





Celebrate Self Care will be automatically added for FREE! This special offer will only be available through Friday, August 26th when our new releases go live, so don't delay! And don't forget to come back next Friday for a sneak peek at Lorie's Feature Designer 15 sale. It will start Tuesday, August 23rd . Have a great weekend!