Show-Off & Shout-Out with the SugarBabes – 10/17
"If you light a lamp for somebody, it will also brighten your path." – Gautama Buddha
Mellow autumnal greetings, my sweet friends, and welcome to another edition of Show-Off and Shout-Out with the SugarBabes! By now, you're probably aware of the "Show Off & Shout Out" component of our monthly challenge system. But just in case you're new around the Sweet Shoppe, here's how it works:
You'll find this month's Show Off & Shout Out thread in our This or That Challenges forum. Reply to the thread to claim your spot. Throughout the month, update it with
links to 15 pages in the Gallery on which you've left a comment (we call it "leaving love"),
an image of a layout you created this month and posted in the gallery you want to show off,
a sentence or two about why you're proud of the layout you created or why you love it so much,
an image of a layout someone else created and posted in the gallery to which you want to give a shout out, and
a sentence or two about why their layout inspires you or what you love about it.
That's all there is to it: leave love for 15 layouts in the gallery, share your Show-Off, and share a Shout-Out, and at the end of the month, you could win a free kit or mini bundle up to $15 in value. Our winners in September were Dawn (aussiegirl), Lea (Leablahblah), and Mari (lovely1m). Congratulations, ladies, and enjoy those free kits!
I asked some of the Sugar Babes to share their Show-Off and Shout-Outs to wrap up the month of September. Here's what Sarah, Rebecca, Krista, Kim, and Jenny had to say:
Sarah's Show Off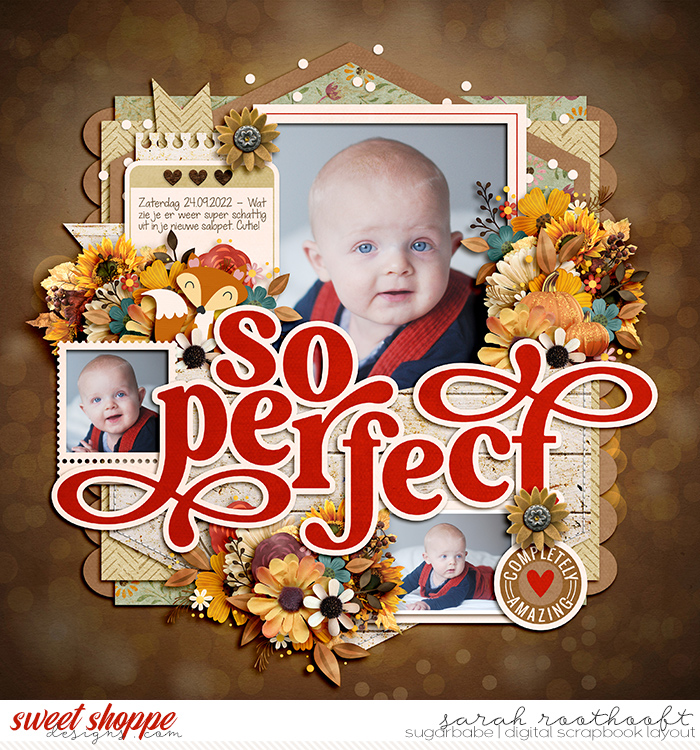 Why Sarah is proud of this layout: "I was looking for a Fall kit with deep red colors but couldn't find one that worked. I tried several kits, but I always ended up deleting my layout. Then I thought of the Fallin' SSD FWP collab during DSD. I love how the red title pops against all the shades of brown. And of course, I love these photos of my sweet boy."
Sarah's Shout Out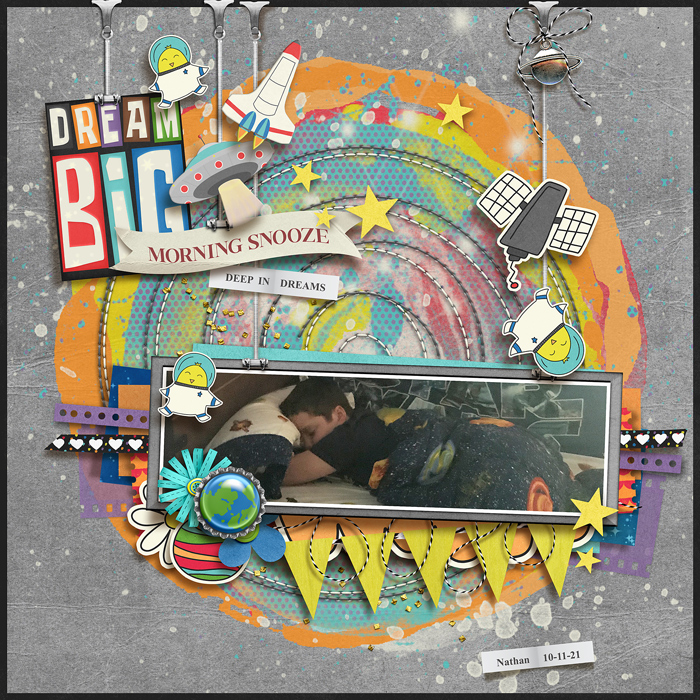 Why Sarah loves "Morning Snooze" by SweetChar: "This layout by Charlene (SweetChar) really spoke to me. I love the photo of her son covered in his space blanket. It matches so well with the space theme of her layout. I love the circular stitches and the paint, her beautiful clusters and shadows. Oh, I can't get enough of this layout."
Rebecca's Show Off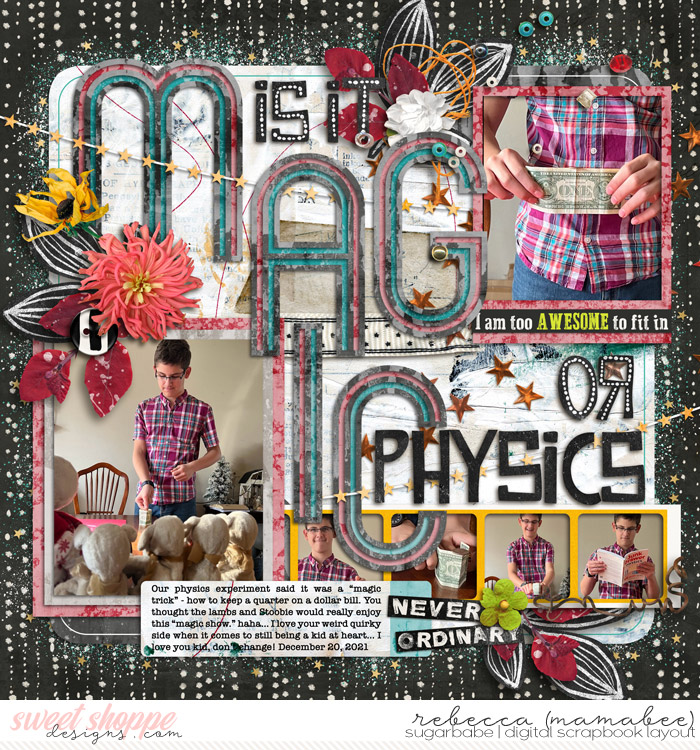 Why Rebecca is proud of this layout: "My son has always been obsessed with science, so I have a lot of photos of him doing various science experiments. Usually, I use school related kits to scrap these things… but I was excited to twist the kit and template to scrap about a physics experiment in a unique way."
Rebecca's Shout Out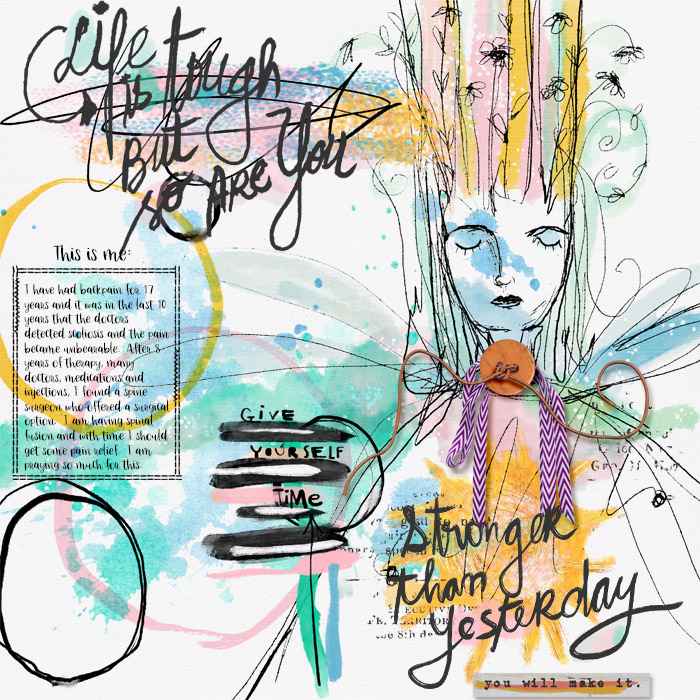 Why Rebecca loves "Life is Tough But So Are You" by sharonbertol: "This layout just drew me in… the use of design technique to draw your eye around the layout, displaying a strength of quiet elegance, yet there is an element of frustration. Then to read the journaling and see having to suffer with back pain for 17 years… wow. Lifting Sharon up in prayers that the surgery is successful!"
Krista's Show Off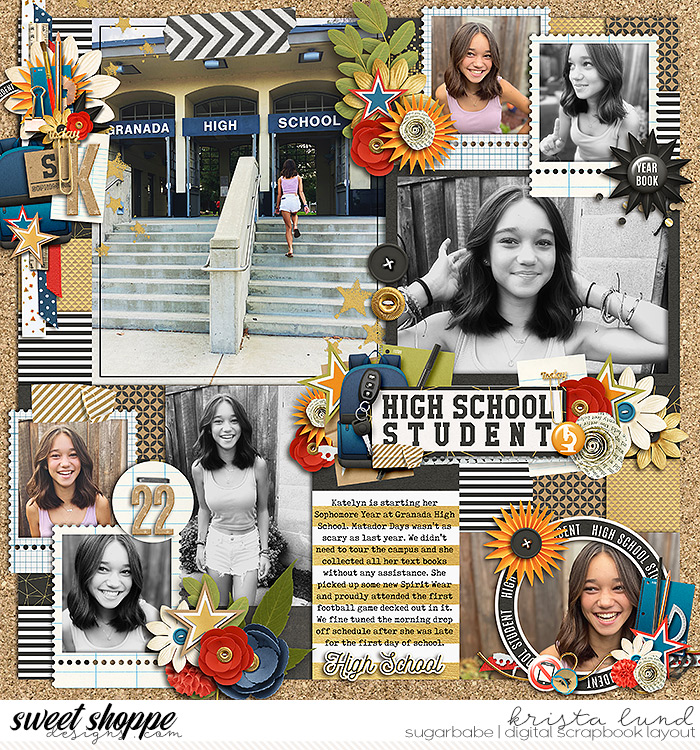 Why Krista is proud of this layout: "…because it isn't a traditional pocket template. 95% of my layouts use a stitched template. I went out of my comfort zone and used a layout template by the very talented Cindy!"
Krista's Shout Out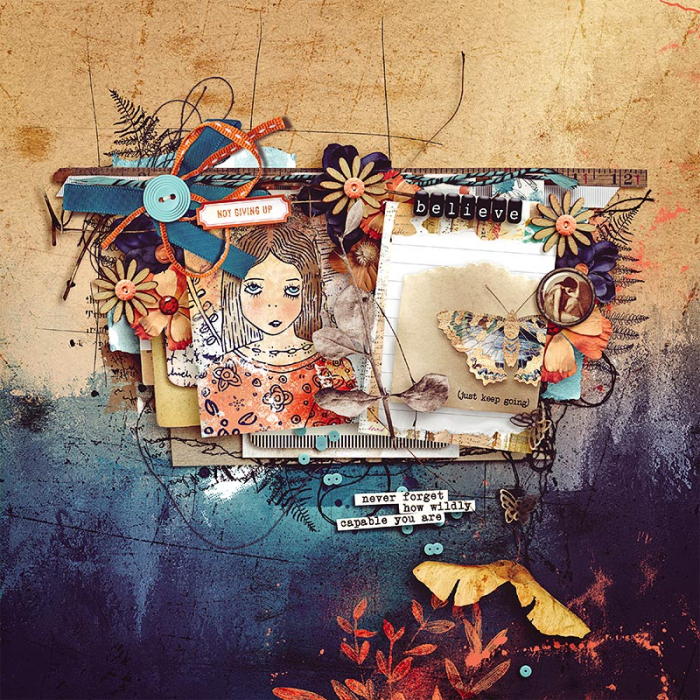 Why Krista loves "Not Giving Up" by AJM: "I love the colors. I love how the dark bottom paper gradually gets lighter as it moves to the top. This photo-less layout has beautiful clusters."
Kim's Show Off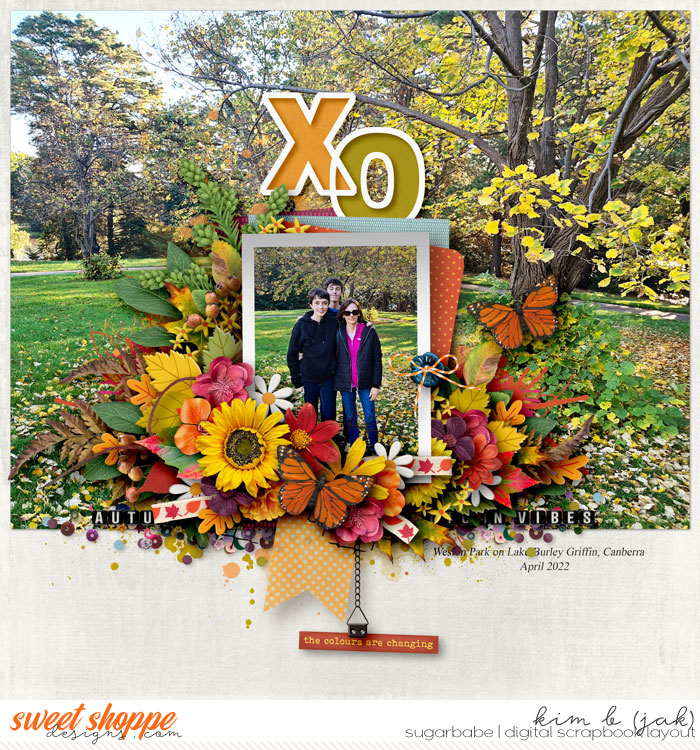 Why Kim is proud of this layout: "I love how the bright colours pop off the white background of my page and how the leaves and flowers in the cluster blend with the large background photo, which is a slightly bigger version of the framed photo."
Kim's Shout Out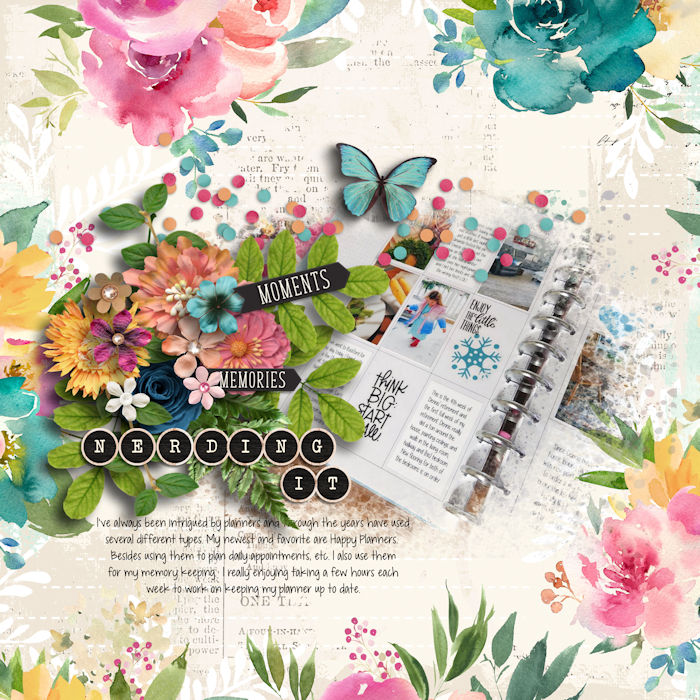 Why Kim loves "Nerding It" by JillW: "This layout from Jill is gorgeous! All the pretty colours and clustering with amazing shadowing… and my favourite part, the blended planner! I love the grid style of the planner pages with just a few photos, cards and journaling spots and how it fits perfectly into the overall layout."
Jenny's Show Off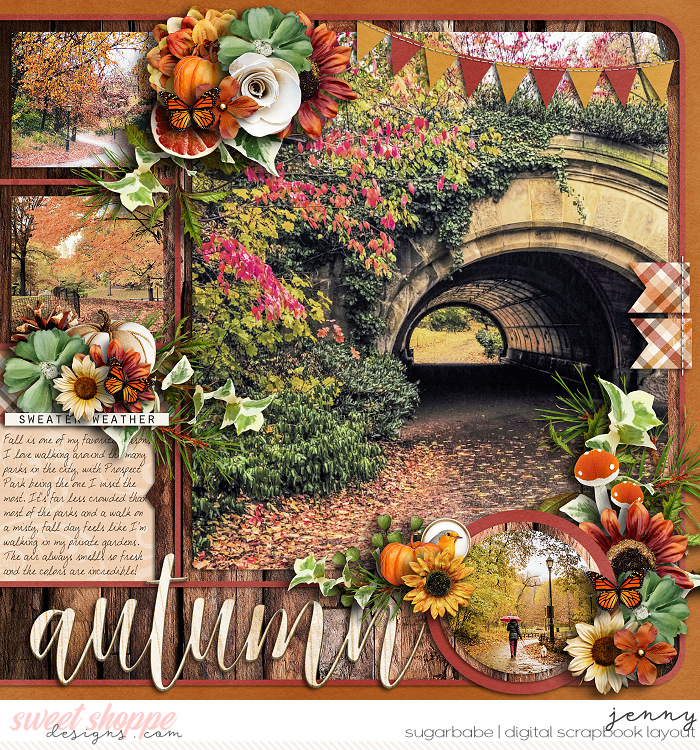 Why Jenny is proud of this layout: "I've really been loving the browns and oranges that kits this time of year are full of. They really put me in the mood for fall. This page makes me super excited for all the leaves to change and more quiet walks in the park!"
Jenny's Shout Out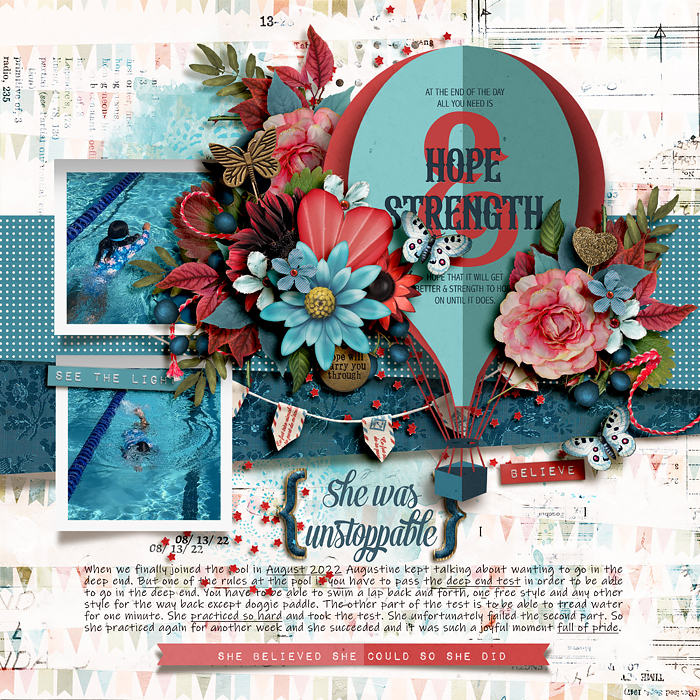 Why Jenny loves "Hope & Strength" by Leablahblah: "What isn't there to love here? The clustering and placement of the word art on the balloon are phenomenal! I love the journaling and template use here, too."
---
"An effort made for the happiness of others lifts us above ourselves," said Lydia M. Child. Why not take 10-15 minutes out of your day to browse through the gallery and leave some kind words of feedback for your fellow scrapbookers? Not only will it lift their spirits, but it will also lift your own. That's what I'd call a win-win!