Sweet Talk with: bienejen – 10/3
Hey everyone I'm excited to bring you one of our newest blog features, Sweet Talk, which sheds some light on YOU. Our amazing community members. Once a month we will indulge in some "sweet talk" and have some fun getting to know you all a little bit better.
"When someone tells you a piece of their life, they're giving you a gift." – Patrick Rothfuss
We'll start off with an ice breaker and show off some gorgeous pages then we'll end the interview with a lightning round of 15 questions to learn some fun, interesting and cool things about a different member of the sweetest spot in town!
This month I'm excited to introduce: Jennifer, (bienejen in the forum)
How you came to find digital scrapbooking?
Jennifer says: "I've been a paper scrapper since I was a kid. In the peak of my paper days, I remember loading up my car to go to a weekend retreat with my friend and taking 2 crates of paper, a suitcase full of sizzix, a crate full of stickers, brads, scissors, stamps, inkpads, boxes of photos…. You get the idea. In 2006, I had a baby and no time to be getting all this stuff out anytime I wanted to scrap. At another retreat, I saw someone scrapping on their computer and was intrigued. In 2007, I dove in to digital scrapbooking and haven't looked back!"
What's your day job, where you live, pets, kids?
Jennifer says: "I manage a small call center/customer service team that processes orders for a certain brand of medical supplies for hospitals and distributors. I live outside of Grand Rapids, Michigan (pointing to my handy dandy map of Michigan on my right palm) which is about 50 minutes or from Lake Michigan. I have 2 teenage boys, 1 cat and for about 4 months out of the year we may also have a few sheep as county fair projects."
I loved looking through her gallery and this layout stuck out to me because we just bought some new furniture for our living room:
"I love the new couch with everyone including the cat wanting to pose on it. I really like that she included the old couch out front too. lol"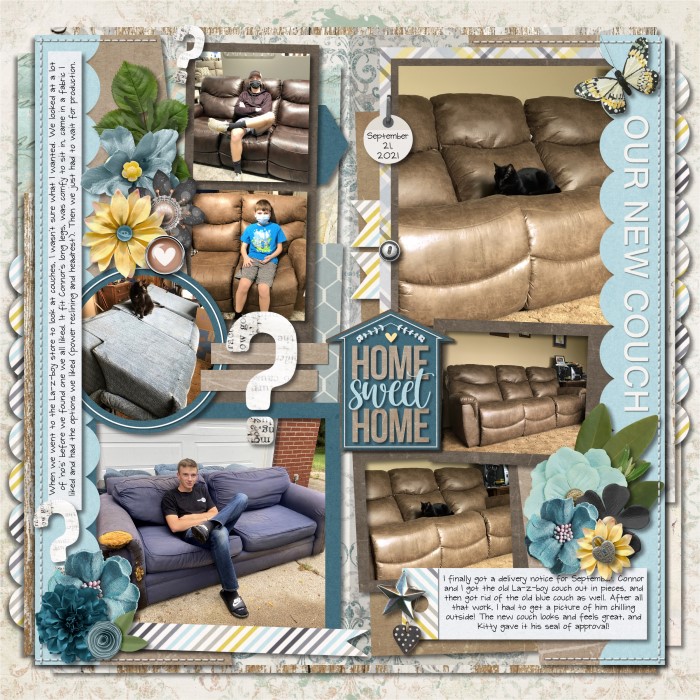 I also asked Jennifer about her favorite pages from her own gallery here and this is what she shared:
"I love how everything came together so perfectly – Liam's sweet smile, his shirt, his fascination with sharks, the template, and the kit theme."
"I don't do a lot of art journal style pages but I love the messy look of this page. And the topic and picture just make me smile every time I look at it."
"This was a great trip where we went in search of and found lots of waterfalls in the Upper Peninsula of Michigan. This was one of the prettiest we saw, and I loved using such a large photo of it. The kit colors/theme coordinated so well. It was one of those pages that just came together better than I imagined."
What's your favorite way to spend a day off? I love to sleep in. It doesn't have to be a long time, I just hate being woken up by an alarm. After a shower, I'd go out for a late breakfast, maybe eggs benedict and coffee. Then…… I'm kind of game for anything. An afternoon hike, a movie, getting errands done… or all of them!
What's your favorite pizza topping? Cheese! ALLLLL the cheese! We have a few of those design your own pizza places in town (like the chains Blaze or ModPizza) and I always get the shredded mozzarella, fresh mozzarella, shaved parmesan, and extra goat cheese along with a variety of other toppings. I just love that melty, gooey cheese!
Are you a binge watcher? What's the last show you binged? Usually time/focus keep me from binging but the latest Stranger Things season really pulled me in and I got it done in a just a few days. I'm getting ready to dive into the new season of Barry on HBO.
Back, Stomach, Side….what's your sleeping position? 100% side sleeper, probably curled up in a loose fetal position.
What's one family tradition from childhood? And did you keep it for adulthood? I have a German background and both my parents' families celebrated St Nicholas day on December 6. When we were kids we always put out the biggest sock we could find (generally one of my dad's) on our chairs before we went to bed on the 5th. In the morning we would find it stuffed with a little chocolate and a small present. When I had my kids, we carried on the same tradition.
What's one weird fact you remember from school? I had an English teacher in high school that devoted a unit to learning the differences/when to use words like affect/effect, number/amount, who/whom, etc. One I always remember was lay/lie. If you're tired, you lie down. An object has to 'get' laid. My 14 year old classmates and I got a lot of giggles out of that one but it's one I remember to this day and find myself correcting all the time.
Amusement park or National park? National Park! The older I get, the less I enjoy crowds and standing in lines. I'll take gorgeous scenery and solitude any day.
Do you believe in aliens and unicorns? Aliens, yes. Unicorns, not so much. But I guess in the great big universe we keep learning more about, unicorns could exist somewhere?
Everyone loves it, but you just don't get the appeal…what is it? Peanut butter. I don't seek them out but I can tolerate peanuts themselves. But peanut butter? On bread? On a spoon? Nope. No thank you.
Dead or Alive, who do you want to have one conversation with? This is hard! There are so many people that are interesting to me but I think I would choose my paternal grandfather. He died several years before I was born. I've heard so much about him over the years that I would love the opportunity to meet him and have a long conversation.
What's your favorite season? I love fall. It's starting to cool off but we still have nice warm days. The cool nights bring out sweatshirts and I can finally turn off the air conditioning. The leaves are starting to turn. We've gotten past the whirlwind of back to school but we're not yet to all the activities of Thanksgiving and Christmas. It's the calm between storms with all the rainbows.
What is your go-to app for wasting time? Definitely Facebook!
Are you cooking at home or picking up to-go? I would take to go every day of the week!
What's your "regular" coffee order? Biggby is a popular Michigan coffee shop chain and my typical order is a Butter Bear which is a latte with caramel and butterscotch syrups and whipped cream on top. I like a little coffee with my milk and sugar
What was your first job? My first job was as a preschool dance teacher. I took dance lessons from the time I was 5 until I was 20 and in high school I had the opportunity to teach some of the 4/5 year old classes. I loved the preschoolers! They were not only adorable but you never knew what they were going to say or tell you. I was very understanding of their attention span and knew that about every 15 minutes or so we needed to do something new.
First I didn't know she lived Soo close to me, I'm south of Grand Rapids, hey neighbor! I am not a coffee drinker, and her order at Biggby sounds exactly like what I would get if I drank coffee…lol..a little coffee with my sugar please! I enjoyed learning more about her and I hope that you all did too. Thank you again, Jennifer, for letting me interview you for this "sweet talk" feature.
See you all next time!