Happy Friday & Merry Christmas Sweet Shoppers! Your favorite day of the week is here, and as you know, we're taking a little breather to enjoy the holidays this week, but that doesn't mean there isn't anything exciting going on here at the sweetest spot in town! We may not have new releases for you this weekend, but I'm excited to be here in your inbox to kick off this year's oh-so-scrumptious Going, Going… GONE! sale!
It's been a year since we last had this sale, so the designers are retiring soooo much stuff from their stores this time around! From Valentine's Day to New Year's eve, and everything in between, you'll want to be sure to look through ALL of our retiring treats so you don't miss any of your faves!
For this year's sale there are more than 1000 sweet treats retiring, and every single item included in this sugary sweet sale is a whopping 50% OFF which is the biggest discount we EVER offer on our products here at SSD! I know you guys are eager to hit the shoppe to snag the year's sweetest deals, so read on for the details and a few peeks at some of our favorite retiring goodies…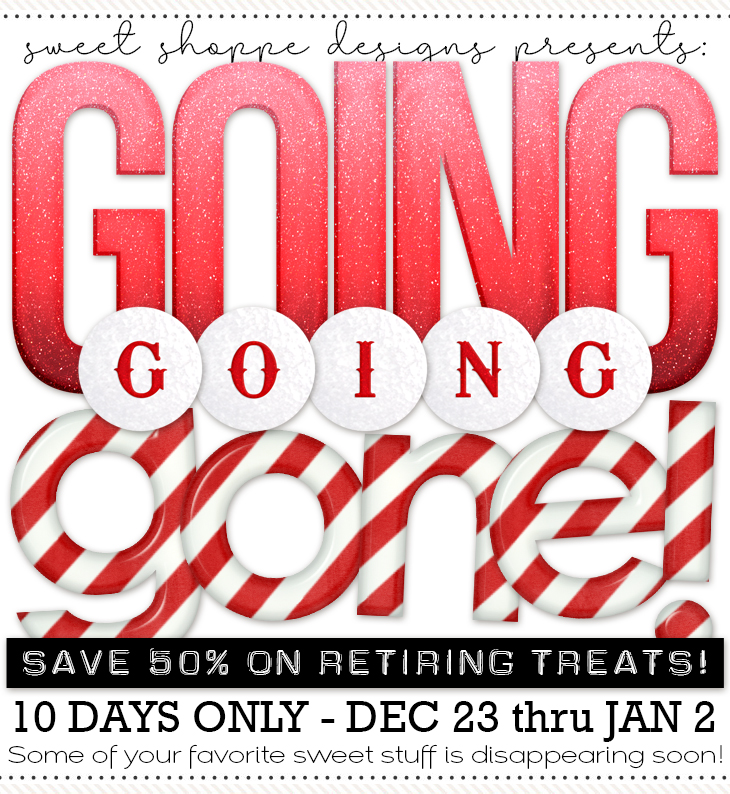 I've looked through the sale myself, and it's honestly hard to believe that some of these products are on their way out as they are every bit as beautiful today as they were the day they were released. Whenever we do this sale, it's always a little bittersweet for us because we're so proud of the kits we've made over the years, but sometimes, it's time say out with the old to make room for the new! It's nearly impossible to narrow down so many products to just a handful to share with you guys, but here are some of the designer's personal faves to give you just a taste of the yummy goodies that are being retired into the Sweet Shoppe vault for good…
Don't forget that once this sale is over, these products will never be sold again. So head to the shoppe NOW to look through all of our retiring products and snag a sweet steal on your favorites!
On that note, I'm off to put the finishing touches on my family's holiday preparations (OMG… so much baking), but I'll be here in your inbox on Tuesday with fifteen of Meg's favorite treats thanks to her Featured Designer 15 sale!
Until then sweet friends, keep making memories, have a wonderful holiday with the people you love, and of course, scrap MORE!