Show-Off & Shout-Out with the SugarBabes – 12/1
In a world where you can be anything, be kind.
We love spreading kindness here at the Sweet Shoppe so much, we've made it part of our monthly challenge-and-reward system. Want a chance to earn a free kit or mini bundle? You'll find this month's Show Off & Shout Out thread in our This or That Challenges forum. Reply to the thread to claim your spot. Throughout the month, update it with
links to 15 pages in the Gallery on which you've left a comment (we call it "leaving love"),
an image of a layout you created this month and posted in the gallery you want to show off,
a sentence or two about why you're proud of the layout you created or why you love it so much,
an image of a layout someone else created and posted in the gallery to which you want to give a shout out, and
a sentence or two about why their layout inspires you or what you love about it.
That's all there is to it: leave love for 15 layouts in the gallery, share your Show-Off, and share a Shout-Out, and at the end of the month, you could win a free kit or mini bundle up to $15 in value. Our winners for November will be announced soon, so be sure to keep an eye on the forum for details.
I asked some of the Sugar Babes to share their Show-Off and Shout-Outs to wrap up the month of November. Here's what Jaye, Sarah, Eve, Jenny, Sherly, and Krista had to say:
Jaye's Show Off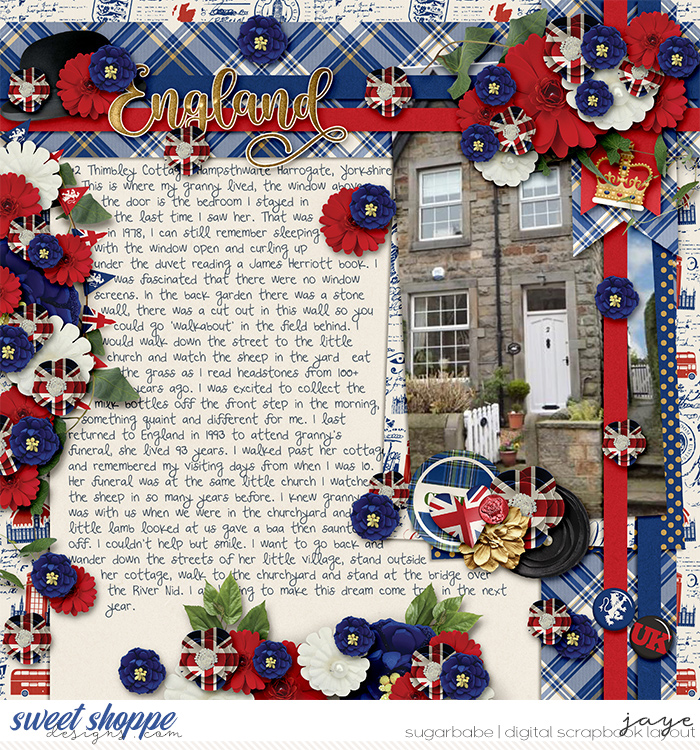 Why Jaye is proud of this layout: "I love this layout because I got to sit back and go down memory lane. Jo's kit and Amber's template were the perfect match for me to get my story, and my memory out."
Jaye's Shout Out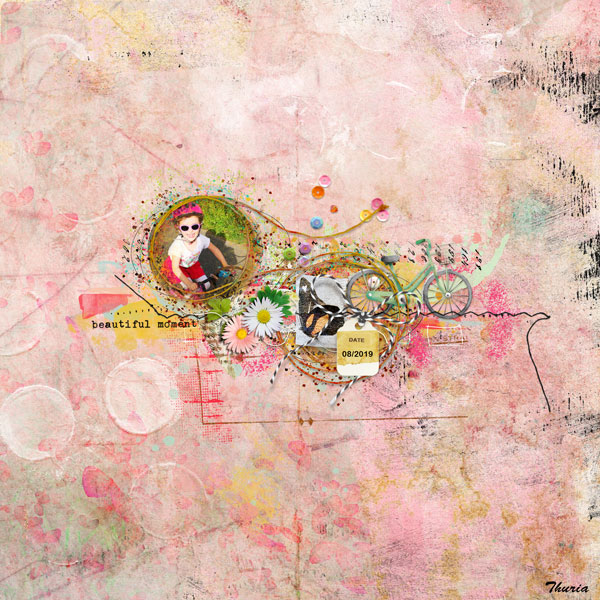 Why Jaye loves "Beautiful Moment" by Thuria: "Where do I begin? I love the soft pink background and how it is kind of grungy but still very soft. The arrangement of the paint work is amazing as are her arrangement of elements. Lastly that sweet photo in a circle just makes the whole page dreamy."
Sarah's Show Off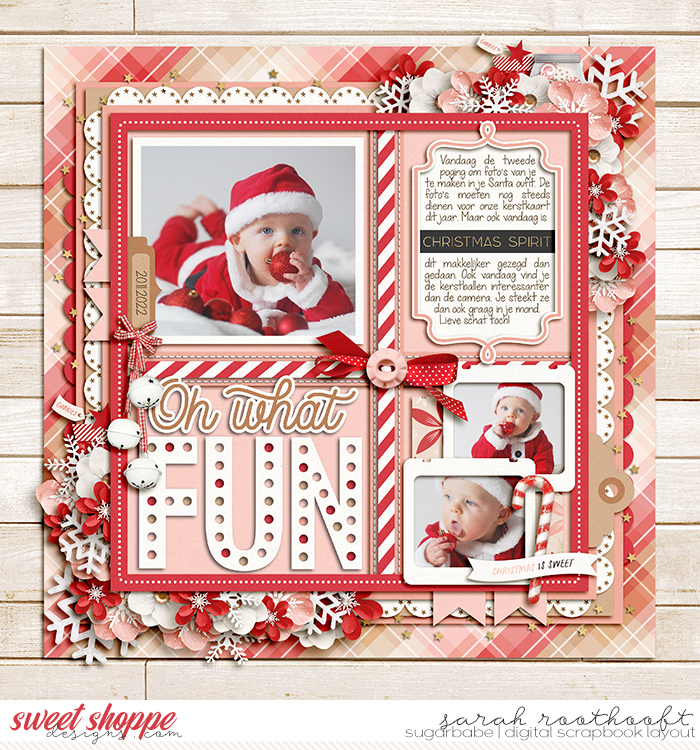 Why Sarah is proud of this layout: "I wanted to photograph him for our Christmas card. But the thing with babies is, they don't always cooperate like you want them to. So I have tons of photos of him in his Santa outfit. And I scrapped multiple layouts of him. But I also wanted to scrap a layout with a more or less monochromatic color scheme. Then I found this baking collection from Kristin with the colors I was looking for. I love how out of the box my layout is and how beautiful it came together. I am very happy with how it turned out."
Sarah's Shout Out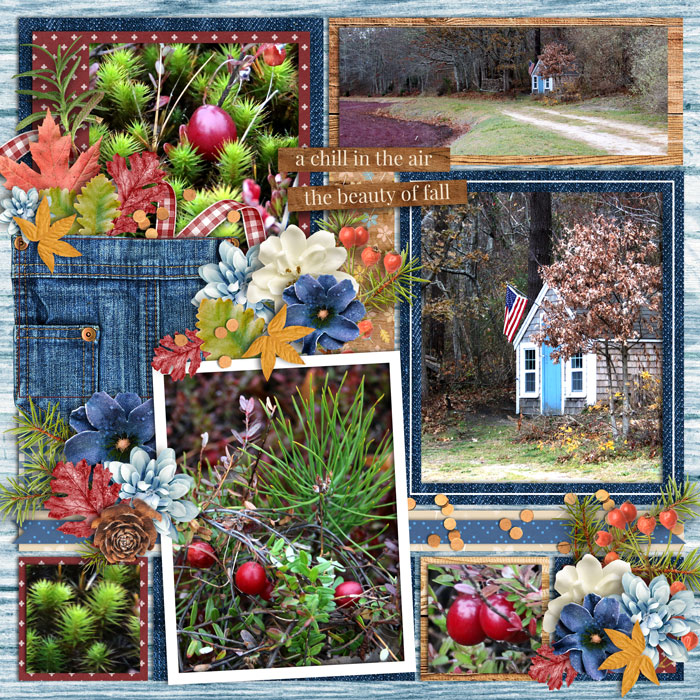 Why Sarah loves "Cranberry Bog" by sarahorton: "Sara's gallery is exploding with beautiful layouts. This layout is the left side of a two page spread. I love the photos here. The isolated house and the beautiful close ups of the trees. And I love how beautifully she embellished her page. I love how she used the jeans pocket and how the elements are beautifully placed under it so it seems that they come out of the pocket."
Eve's Show Off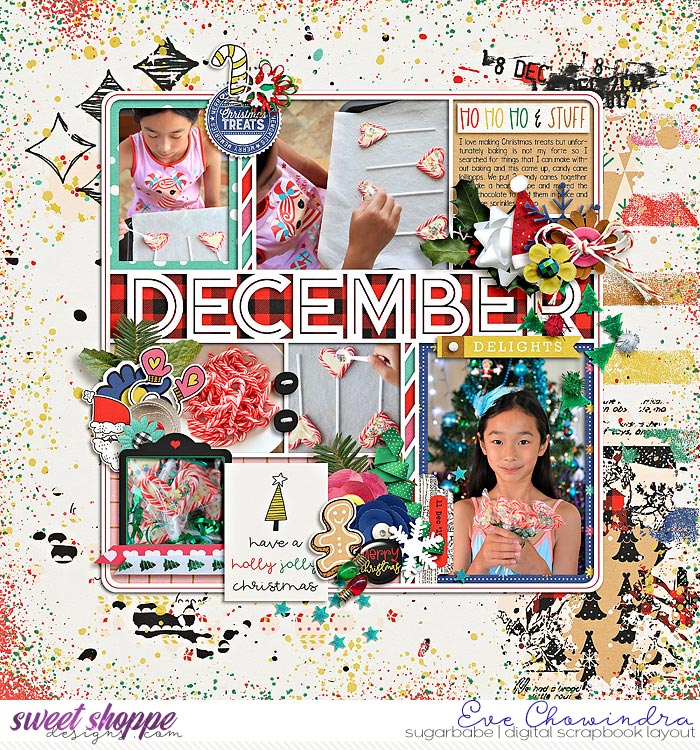 Why Eve is proud of this layout: "I love using Cindy's templates because they are very easy to use, just clip papers and place the elements on the designated spots. But I love playing with messy paints too so I shrunk the template that I have extra space to put all the artsy stuff and I love how it turned out."
Eve's Shout Out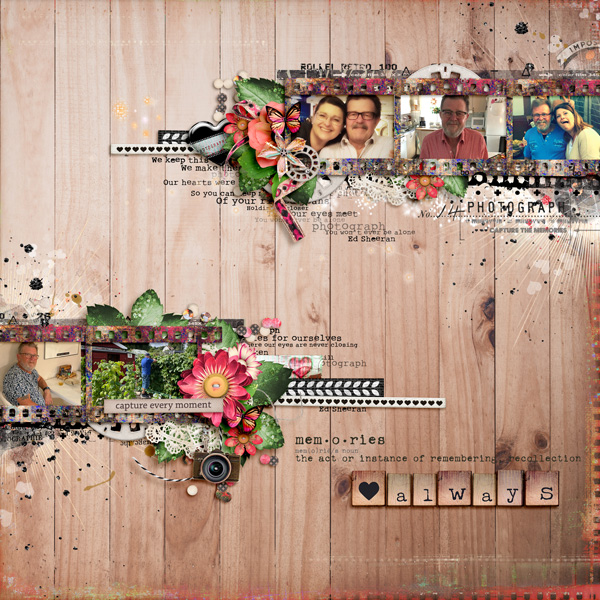 Why Eve loves "In Loving Memory" by cinna: "I love the use of film strips and the composition of this page. I love the word arts and all the artsy stuff she used on the background paper as well and when I read that this page is a tribute to her dad, I think this is a very lovely tribute capturing the memories that they shared together."
Jenny's Show Off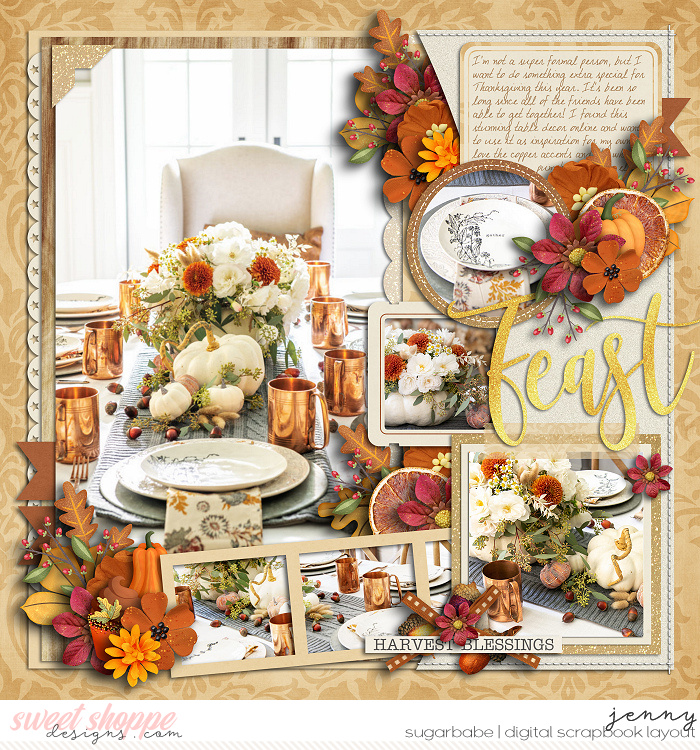 Why Jenny is proud of this layout: "I go through color phases where I am drawn to certain colors for a period of time and want to use them everywhere in my life. Right now, I'm loving creams and oranges. This kit was perfect for these decorating inspiration photos and I love how it makes the copper accents pop!"
Jenny's Shout Out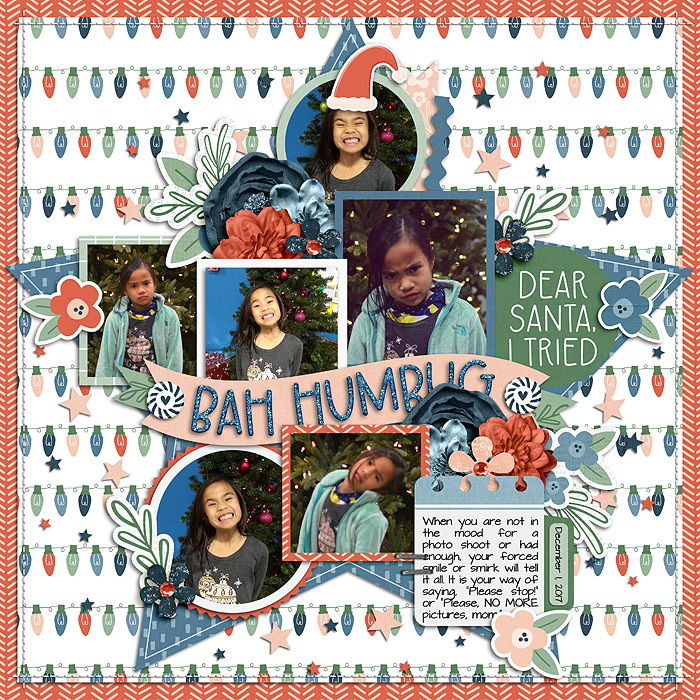 Why Jenny loves "Bah Humbug" by immaculeah: "I love the fun series of photos and how they capture the true spirit of teens/tweens. HAHA! The whole page is filled with fun little details and the title work is perfection!"
Sherly's Show Off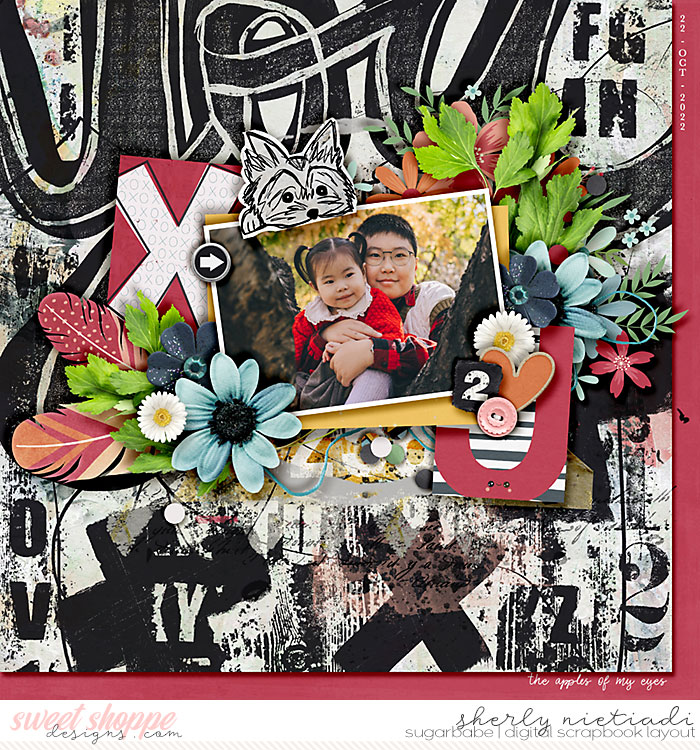 Why Sherly is proud of this layout: "I love to challenge myself to use busy and bold background like this one. (Though, I found myself pretty contradicting in the fact that I choose a minimalist layout to shout out to.) It's just so unique and, if I can do it right, it makes the layout pops and I feel that I've done that here. On top of that, it features my beloved kids, what's not to be proud?"
Sherly's Shout Out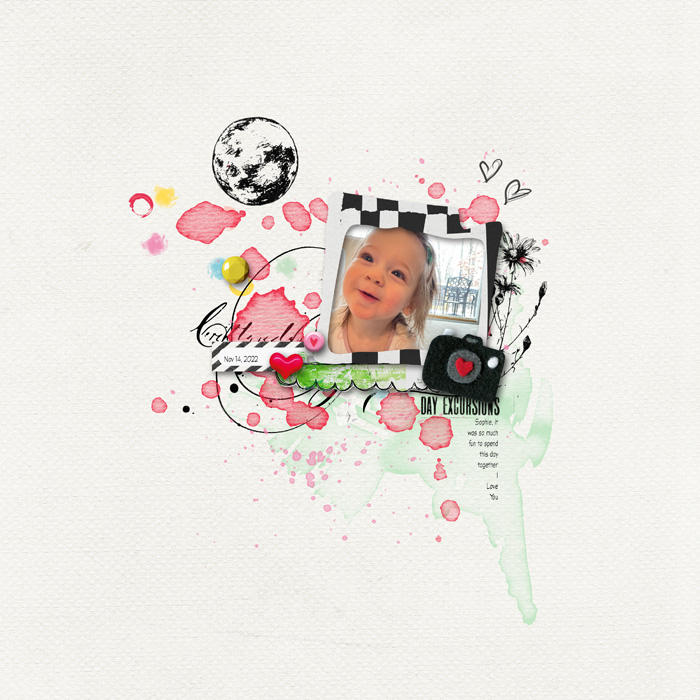 Why Sherly loves "Sweet Sophie" by sokee: "I admire those who scrap minimally! This one is no exception! Gorgeously done! I love the cute photos, the use of paints and doodles and the composition. They just perfectly fit together!"
Krista's Show Off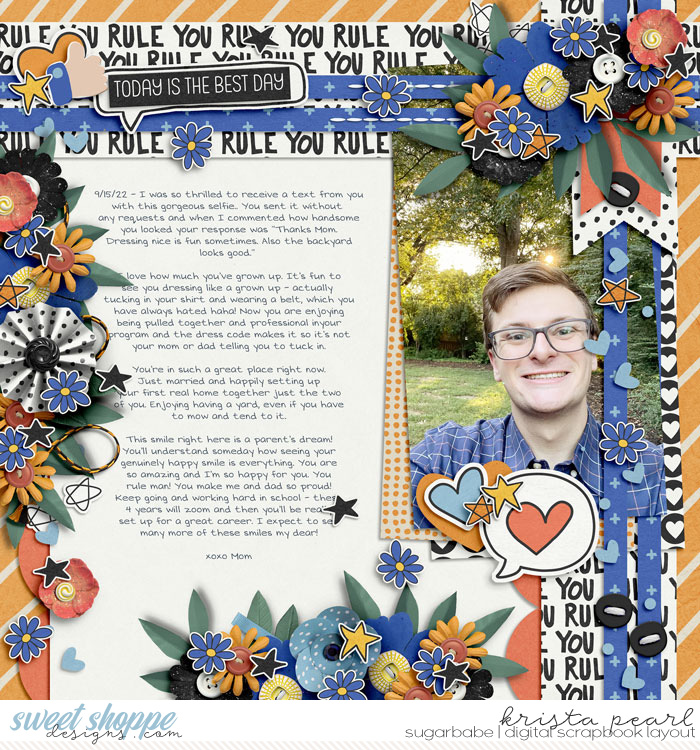 Why Krista is proud of this layout: "I'm proud of this page because I wrote my son a letter, which I hope will make him happy someday in the future when he reads it. I think journaling is a challenge, but worth it."
Krista's Shout Out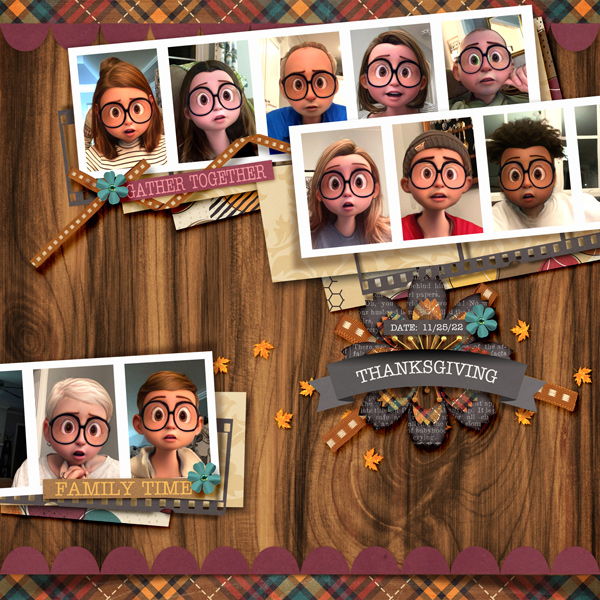 Why Krista loves "Thanksgiving Snap Chat Style" by Chocl8Snob: "I thought this was so clever because she said that since they had a non-traditional Thanksgiving with pizza, it called for non-traditional photos. How funny and memorable!! She did a great job making a beautiful page that drew me in from the gallery, but then made me laugh too."
---
As author, speaker, and teacher Dr. Barbara De Angelis said, "Love and kindness are never wasted. They always make a difference. They bless the one who receives them, and they bless you, the giver." It's true – in fact, if you go leave words of kindness on 3 layouts right now, I can almost guarantee you'll find your spirits lifted and your world a little bit brighter. Go on and give it a try in the Gallery – I'll see you there!