Featured Designer – Tracey Monette aka Clever Monkey Graphics
It's Friday y'all!  Who's ready for the weekend?  I know I am!  I'm going to keep this short and sweet, our next featured designer is Tracey Monette of Clever Monkey Graphics and I'm going to let her introduce herself to you all if you don't know her, but before I do, let's look at her featured designer kit.  Keeping with the festive spirit in mind of our big birthday, our designers decided that a year long celebration of everything that makes our lives special would be the perfect way to keep the party going, "Celebrate YOU!" is the theme that will be inspiring our Featured Designer freebies this year!
From your job, to your school, to your favorite holidays and more, we're celebrating all of life's memorable moments this year, I think you're going to love Tracey's, especially if you create your own planners! 
Celebrate You: Planner Nerd
is so much fun, even if you don't create your own planners, there is so many things you can use this kit for.  I can see some many personal pages in my future or even monthly wrap up layouts with this beauty!  I love neutral colors like this as well.  It seems to work well with everything!
She also created some additional papers if you needed even more to go with this lovely kit.
Here is Tracey's interview…
"Hi all, I'm Tracey Monette of Clever Monkey Graphics. I've been designing in this industry for even longer than Sweet Shoppe Designs existed. Luckily I have greatly improved over the years! Ha ha. I am certainly known for creating so many of my own graphics and adorable characters or elements, bright colors, and probably over-stuffed kits because that's the type of kit I like to scrap with. There is no better moment when creating a new kit then when I start to sense it all coming together cohesively. At that point I just want to keep creating more and more. I also have created lot of products in the CU section of our store. I created my first scrapbook page when my daughter was an adorable 5-year-old. Now she has a Masters Degree in Accounting and has just started her first adult career job this past week. She doesn't let me take as many pictures anymore – surprise surprise.
As the new year was approaching, I knew I needed a better plan for getting things done. You know the old saying "If you don't plan then you plan to fail". Well I found myself feeling overwhelmed through this past year and retreating more and more from our world where Covid is still a thing. I needed a better plan! I started researching planners. Then I remembered that I had bought a cheap dollar store one once and only ever entered one thing in it. But I followed that rabbit hole and I also discovered habit trackers, and cool grocery lists, and lists and trackers for so much else and I love organization and I love organization that looks pretty! So this year, trackers and pre-set-up lists are going to be my thing. They are also a part of the whole planner world. This is how I came to choose Planner Nerd as my Celebrate You kit to create as a Free With $10 Purchase this January.
What is my favorite thing to celebrate… it's not a holiday or a birthday. I mean, I do love birthday cake and I very much enjoy decorating the house for the winter holidays because it makes my family happy or my husband laugh at my Martha Stewart tendencies but what I get great joy out of, when I think on this subject deeply, is bringing a smile to someone else's face. To brightening someone's day with an honest compliment. We don't do that enough and one nice remark can change a persons direction in life. I especially like when I can get TSA agents at airports laughing.
My next kit releasing will probably be about how cold winter is. The winter storms seem to be getting worse and worse and so many of us have experienced some unusually cold temps this year. I haven't named it yet because I'm not far along in it, but I was playing in Procreate, drawing different polar bears and I'm thinking this bear will be landing in the kit! How cute is he? There are so many interpretations of what he might be thinking. I kind of love this bear! I've also included a video recording of his creation in Procreate!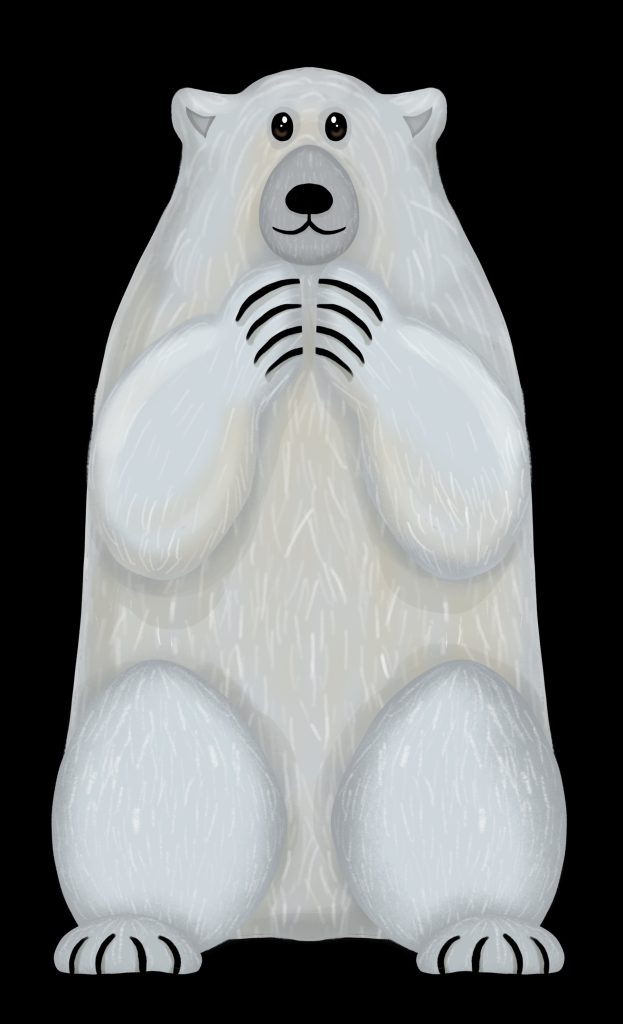 I may soon have to create a new weather disaster kit as I watch the damage in California from the rainstorms. My current kit, Stormy Weather, has certainly been a popular kit and I am excited to revisit this theme in future. I want to say that I plan my kits way ahead. Sometimes I state my hopes and dreams but then it's like someone screamed squirrel and I detour in other subjects to design kits for instead. I have a huge list of kits I want to do and a huge collection of inspiration to help me in their creation. I peruse the web, I peruse stores like Target as I think they do a great job with their graphic design for holidays and such – just look up when you walk in one of their stores and you'll probably see what I refer to, and I take lots of photos that land in my inspiration files or I use to help me draw things. I've even asked my daughter to make various expression and do different had positions to have reference for my own drawing. Some kits practically create themselves with reference to design ideas – while others I mull over on my computer for months. I can design under pressure but I prefer time to slowly perfect a kit in my eyes.
There are many kits that I have created that truly make me feel proud. I look back at them and I'm amazed they are one of my own creations. The kit I have been most proud of was My Chronic Life. I literally have had people tell me that this kit made them feel recognized. This kit touches people on an emotional level.
How about some quick question answers… fav movie – THE TEN COMMANDMENTS. What am I reading? Today I just finished One for the Blackbird, One for the Crow by Olivia Hawker. Next up I'm exploring a new cookbook called Plant You by Carleigh Bodrug – one of my long term goals is bring more vegetarian meals onto my menu's. I loved this girl's Instagram and decided to try out her cookbook. However, you are just as likely to see me reading fiction books about killer megadolons or Sasquatch or Natural Disasters or historical fiction and/or romances. Come summer there are always a few beach aimed books that I add to my list. Music, TV, or quiet when designing – mostly quiet because when I start to concentrate on my designs, I stop following the plot of my tv shows. And finally, do I like to scrapbook? Unless I'm facing deadlines of various sorts, I love to scrap with my own kits when I am finished them. Here are a few samples of my own creations.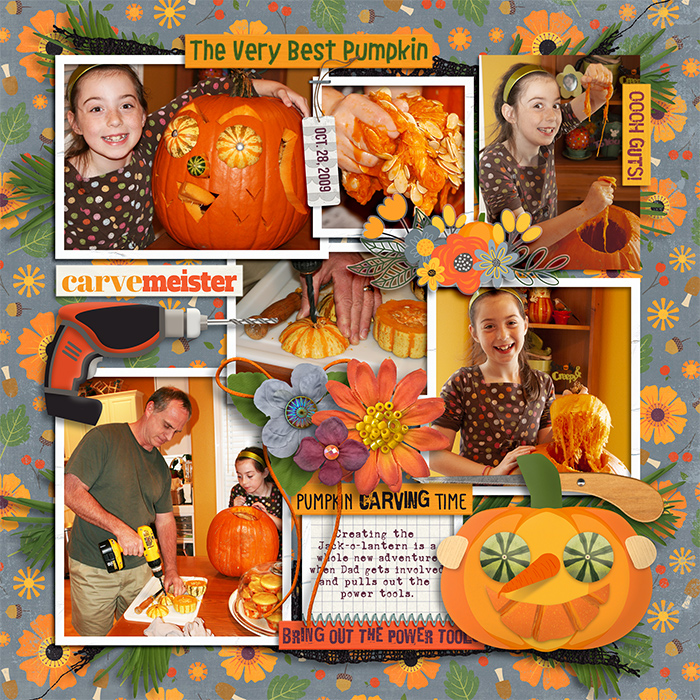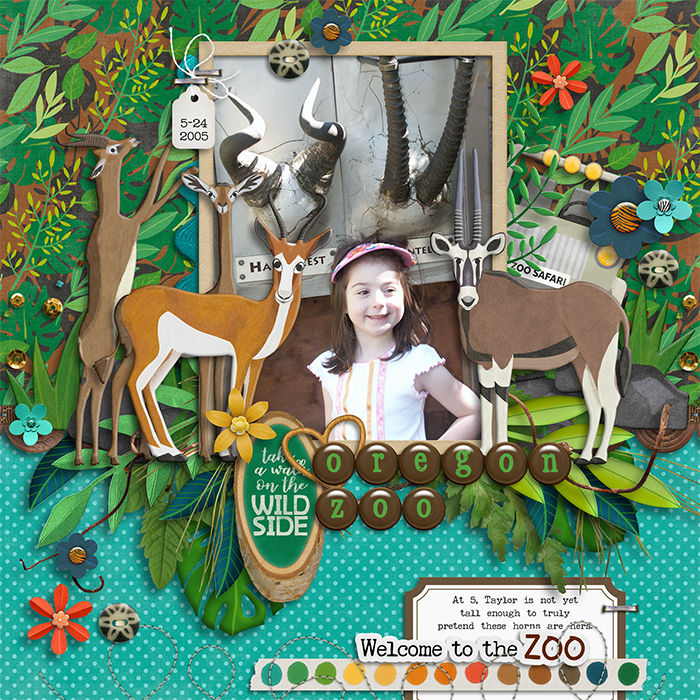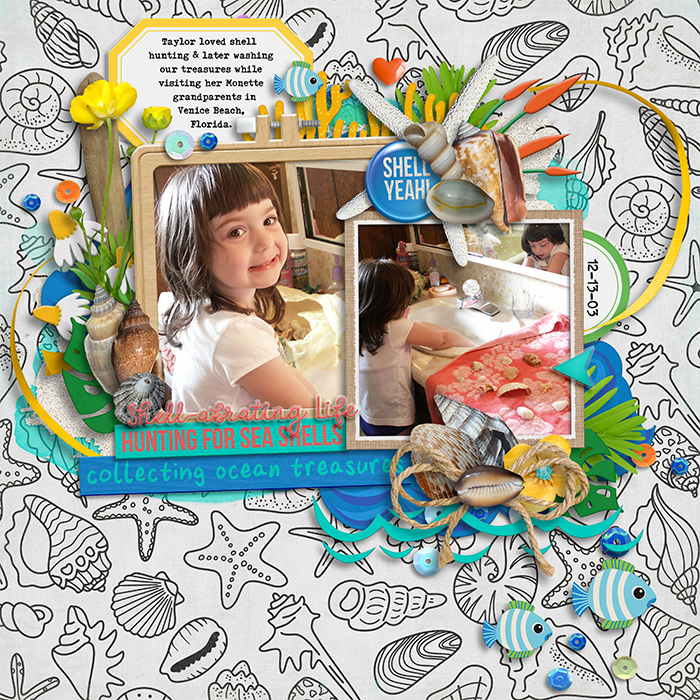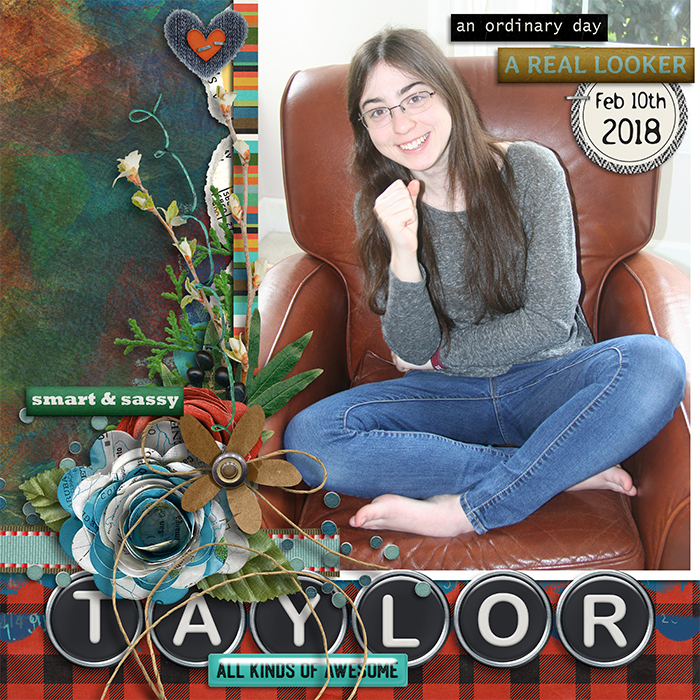 That video was so cool!  I had no idea that designers could do that!  Now let's see what the team has come up with.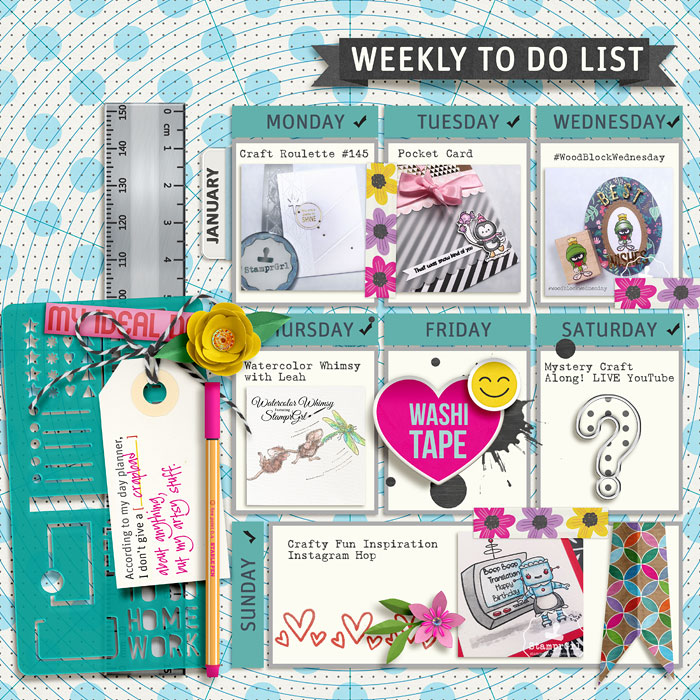 So much fun!  I think y'all are going to find so many fun ways to use this collection!  Remember, Celebrate You: Planner Nerd is yours free with a $10 purchase now, until our new releases go live on Friday, January 27th!  Come back next Friday for a sneak peek of Tracey's Featured Designer 15 sale.