Sweet Talk with: Romajo 1/9
Hey everyone I'm excited to bring you one of our blog feature, Sweet Talk, which sheds some light on YOU. Our amazing community members. Once a month we will indulge in some "sweet talk" and have some fun getting to know you all a little bit better.
"When someone tells you a piece of their life, they're giving you a gift." – Patrick Rothfuss
We'll start off with an ice breaker and show off some gorgeous pages then we'll end the interview with a lightning round of 15 questions to learn some fun, interesting and cool things about a different member of the sweetest spot in town!
This month I'm excited to introduce: Marieke (Romajo in the forums)
Tell us a few facts about yourself?
Marieke says: "My name is Marieke, married for almost 21 years to Robert and we have an 18 year old daughter Joline (when did that happen?). Together we are Romajo (as you can tell, I'm Ma part), which is my nickname online ever since. We live in the middle of the Netherlands in a little town with a lot of history (from the Romans to the Vikings and even a famous monk have been here in a time long ago. Now it's a little sleep town at the crossing of a river and a canal)."
How you came to find digital scrapbooking?
Marieke says: "About 20 years ago I came across a Dutch magazine about being creative with photos, something I did before, but didn't know it had name. In one this these magazines they showed what you could do digitally. I tried it, but in the beginning I was more looking for freebies than I was scrapping."
What's your day job, where you live, pets, kids?
Marieke says: "At the moment I work as a receptionist for 15 to 20 hours per week. When not working, I'm scrapping (those challenges have to be done). When not scrapping, I'm walking with the dog while listening to a book (something I discovered in 2022. During my burn-out at the beginning of the year, I just couldn't set myself to read, but listening while walking made me enjoy the stories anyway). Beside a dog we also have a cat."
I always enjoy looking through her gallery and finding something beautiful like this page doesn't take me long:
"Her Christmas pages are full of joy and spirit of the season. This one jumped out at me and I can't stop looking at it. I love all the slightly off patterns/cards as the background, the alpha title with the word strips just continue conveying the holiday spirit. Those photos are adorable and the clusters are perfection!"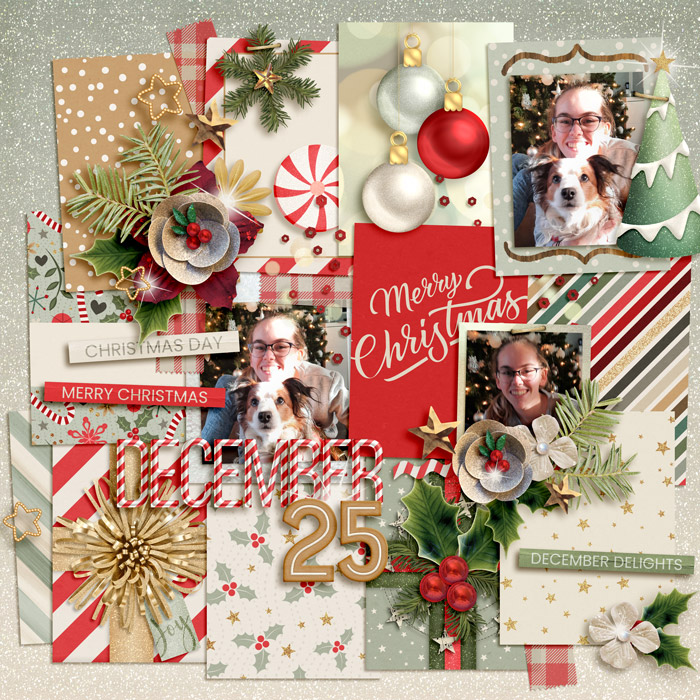 I also asked Marieke about her favorite pages from her own gallery and this is what she shared:
"I like this page, because it's made with one of my favorite photos of Joline, plus I love how the clustering came along."
"another favorite photo and clusters that turned out great."
"a few years ago we had a photoshoot for my mom's birthday. This is one of the photos and I think it shows the love and the connection we have. The challenge was to scrap a recipe… so a recipe for love it was."
What's the next place on your travel bucket list?
It's probably Japan (including Disney Tokyo). Robert wants to go here and I love to travel anyway. I don't think we will make it to Japan soon. Another trip I would love to make is a solo trip to Disney World.
Are you an introvert or extrovert?
I'm in between… not sure if I'm an introvert who can be a show-off or if I'm an extrovert who likes her quiet time…
What's your favorite pizza topping?
There's not a topping I pick all-the-time. There are many things I like on my pizza. So let's make a pizza Marieke: cheesy crust, cream or cheese as the base/sauce, chicken pieces, bacon slices, mushrooms, peppers, olives, spinach, tomatoes and a 4 cheese mixture.
Are you a binge watcher? What's the last show you binged?
I don't watch much TV, but there are a few vloggers I love. They all vlog about Disney World and/or the other Disney Parks. But I do watch their vlogs with other topics too.
Back, Stomach, Side….what's your sleeping position?
It used to be stomach, but this year I found out I have sleep apnea. Since I'm sleeping with my CPAP, I sleep mostly on my left side.
Amusement park or National park?
Both… I love to go to theme parks (Disney addict and we have a similar theme park here in the Netherlands that's all about fairytales and stories we have annual passes for), but I also love to go for a walk in the forest. During my last vacation in Florida we not only went to Disney World, we also visited Honeymoon Island State Park.
You have one superpower, what is it?
Spreading love and happiness around the world.
Everyone loves it, but you just don't get the appeal…what is it?
Pasta in any form, since I was a child I just didn't like macaroni, spaghetti or any other pasta… Even noodles that are too dough-y are not for me. But it's not only the dough-y-ness, it's also the sauce.
What's your favorite season?
Spring and not only because I'm born (and married) in April. The longer days, the warmer days, the flowers, the leaves coming back.
What is your go-to app for wasting time?
Right now I'm playing Township a lot, but I like to scroll through Facebook and Insta as well.
What's your "regular" coffee order?
No coffee for me, something else I just don't like (I don't even like the smell).
What is the first thing you'd spend money on if you won the lottery?
Travel, travel, travel, a newer car, paying off the mortgage and I would adopt a rescued lion of tiger.
You're alone for 24 hours, what do you do?
Scrap, sleep, walk while listening to a book, sleep, eat, repeat.
What was your first job?
My first job was as an assistant at a hairdresser's. It was the business of my friend's father where I worked on Saturdays when I was 15. Wiping away the hair, washing hair, rinsing of the dye, but also serving coffee and tea, doing the dushes and the laundry.
What's your job now?
Right now I work as a receptionist at the European headquarters of a Japanese company. What I like the best is the people that visit us and preparing for meetings.
Well I thought I was brave and I love all the big "cats" but I don't think I'd adopt a lion or tiger lol, she is braver than I am. Amen to that superpower too!!! I enjoyed learning more about her and I hope that you all did too. Thank you again, Marieke.