Celebrating 17 Years of Sweetness!
Happy Friday Sweet Shoppers! Not only is your favorite day of the week here, but it's time to party because we're celebrating our 17th Birthday here at the sweetest spot in town! Every year when our birthday rolls around, I am always blown away that we've been doing this for as long as we have. Some of us who had babies when we first opened are watching our kids drive and graduate from high school at this point… it is nuts!
I say this every year, but we are so blessed to have been part of your lives for such a long time, and to find a career where we're surrounded by talented women and beautiful things week in and week out is the. best. thing. EVER! I've known from the beginning that we had something special here at Sweet Shoppe Designs, and each year keeps getting better and better. From the brilliant designers who create the products we love, to the SugarBabes who inspire us with their amazing pages week in and week out, to each and every one of YOU who support us with your purchases and enthusiasm… THANK YOU for 17 years of oh-so-sweet memories!
Like we do each year in February, we have sooooo much planned for you throughout the upcoming month, but today we want to get the party started with a fabulous sale where you'll save 40% storewide including this week's scrumptious new releases…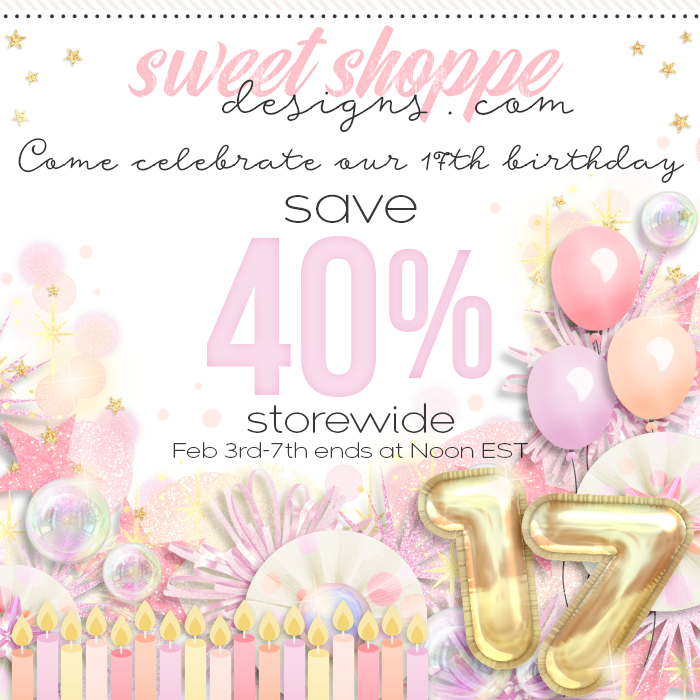 We know you guys love a sale, and this one is pretty sweet! With the exception of a few bundles which may already be deeply discounted, you can save 40% on everything in the shoppe including our newest releases, and the designers didn't hold back this week in creating a heap of amazing new goodies for you to fall in love with too!! I seriously adore the products that are making their debut this weekend, so without more babbling from me, take a peek at…
There is seriously so much yummy stuff hitting the shoppe tonight, and I know you guys are going to love the scrumptious savings on everything new and old! Like I always say, those tiny images above don't do this week's goodies justice and some of the girls are running a bit behind schedule, so be sure to take a closer look at each product in our new release section so you don't miss anything!
If you were holding off on shopping last weekend, don't forget that the last of our Celebrate You! series of Featured Designer freebies from Ru was released last weekend, and it may be one of my favorite in the series! Even sweeter, it's yours FREE with any $10 purchase you make for a few more days! Take a peek…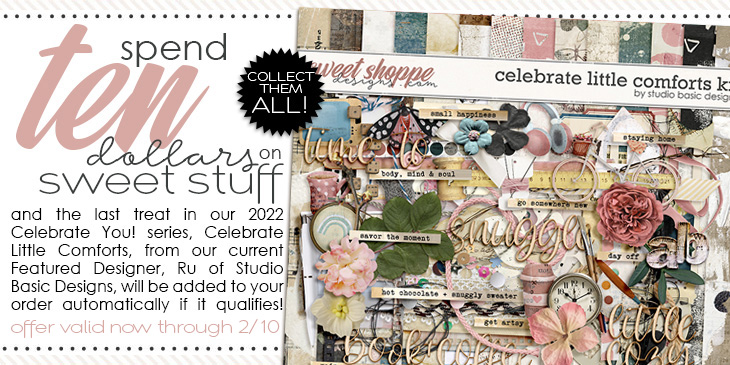 Celebrate Little Comforts is Ru's tribute to hot chocolate and snuggly sweaters and taking comfort and joy in life's little moments. The color palette is truly scrumptious and the epitome of cozy, so be sure to make it yours before it's too late.
Like always, our amazing team of SugarBabes was on fire behind the scenes getting ready for this weekend's festivities, so I couldn't resist pulling together some serious inspiration to get you guys in the mood to do some shopping, scrapping and sharing this weekend! There were so many gorgeous pages that I had a hard time choosing this week, so I hope you'll indulge me by checking out a little (ok… a LOT of) eye candy from the team showing off this week's newest releases…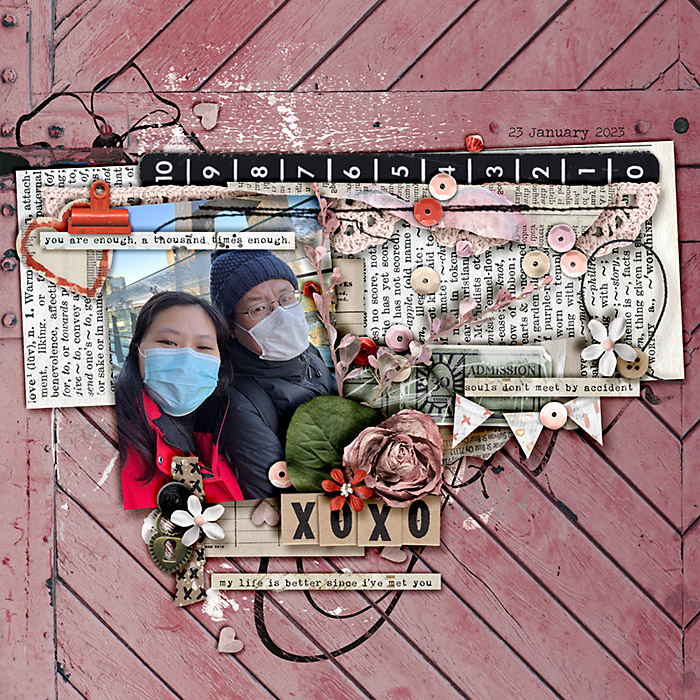 layout by SugarBabe Sherly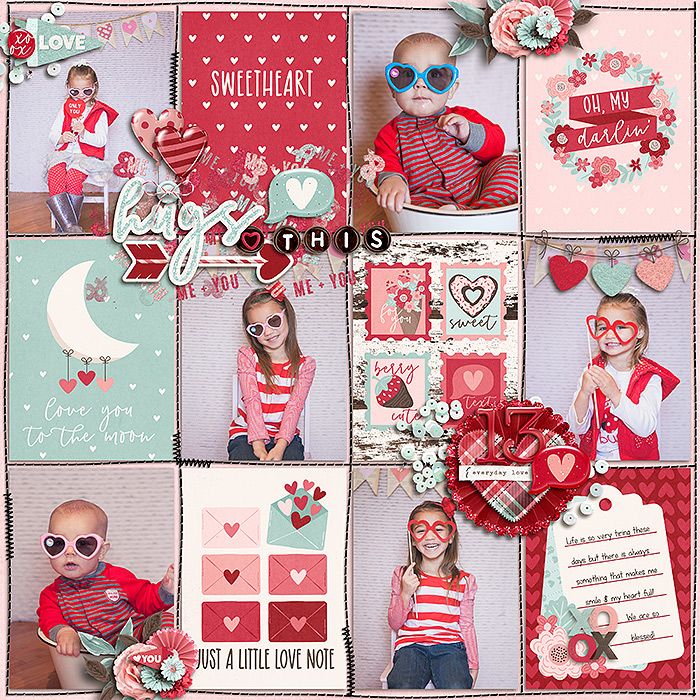 layout by SugarBabe Krista L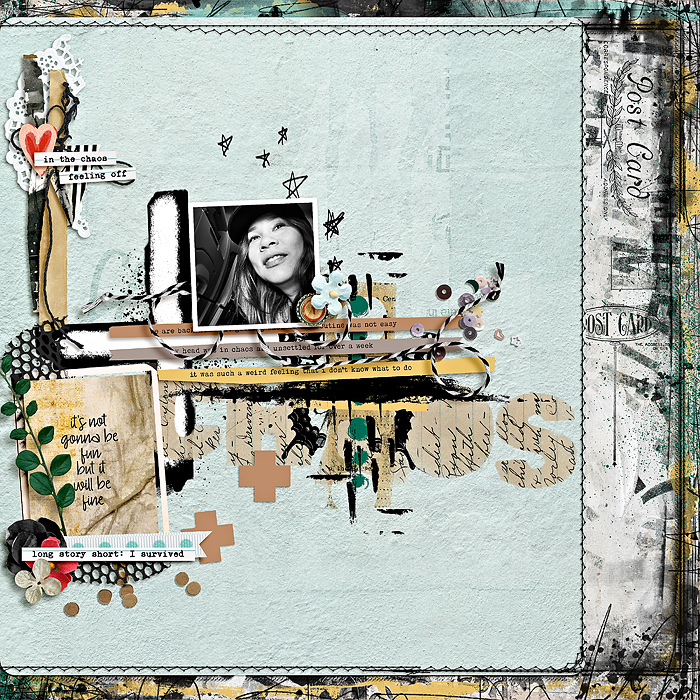 layout by SugarBabe Eve

layout by SugarBabe Kiana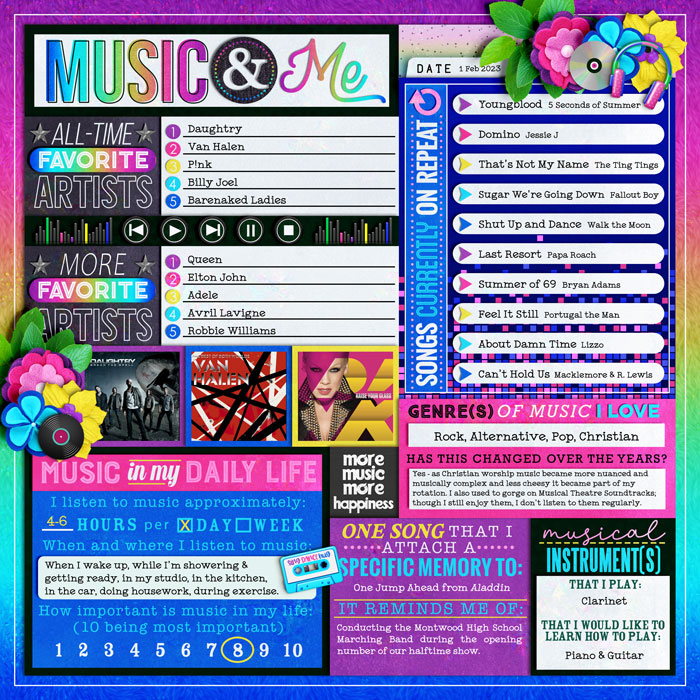 layout by SugarBabe Angie

layout by SugarBabe Rebecca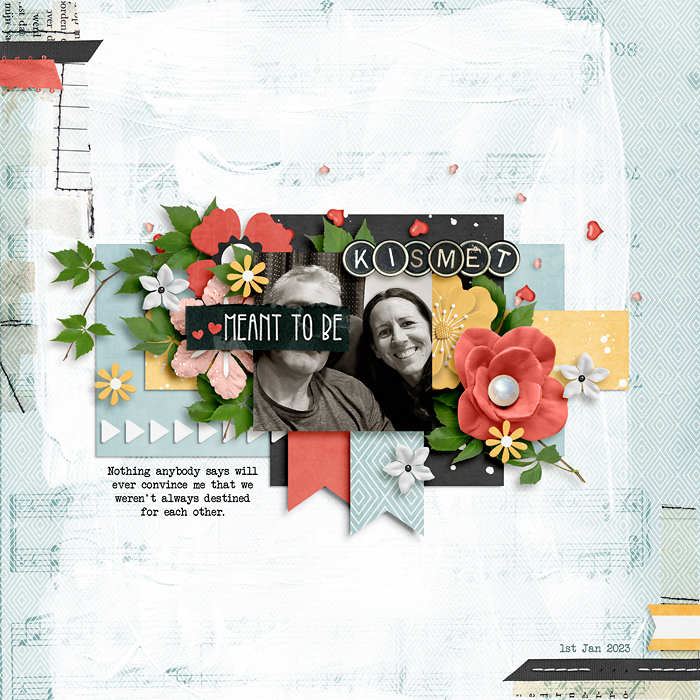 layout by SugarBabe Jacinda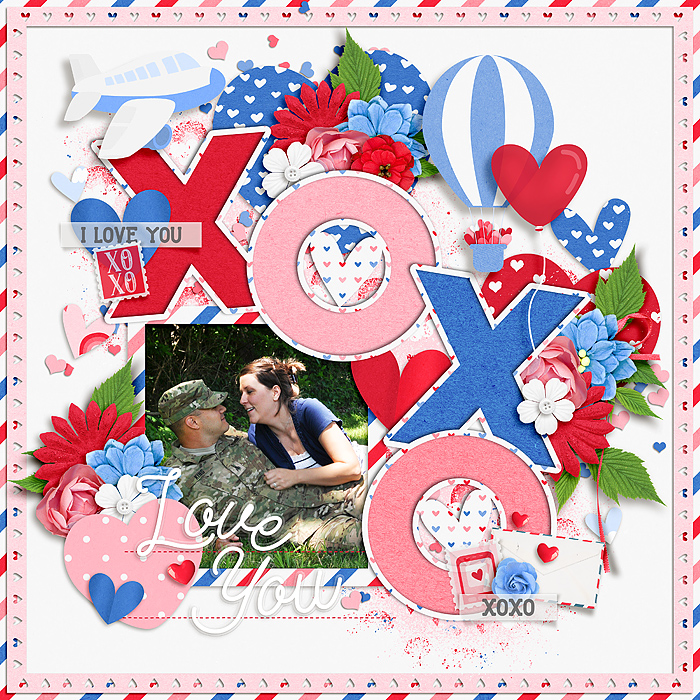 layout by SugarBabe Cassie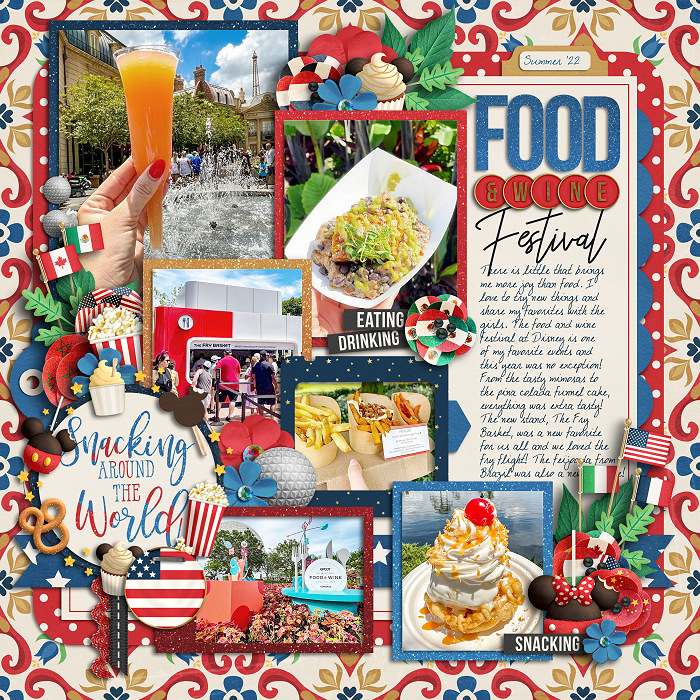 layout by SugarBabe Jenny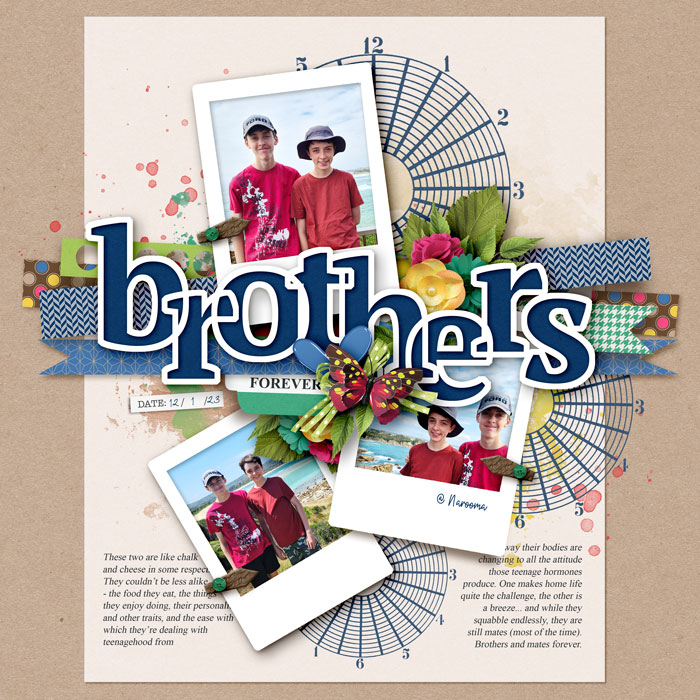 layout by SugarBabe Kim B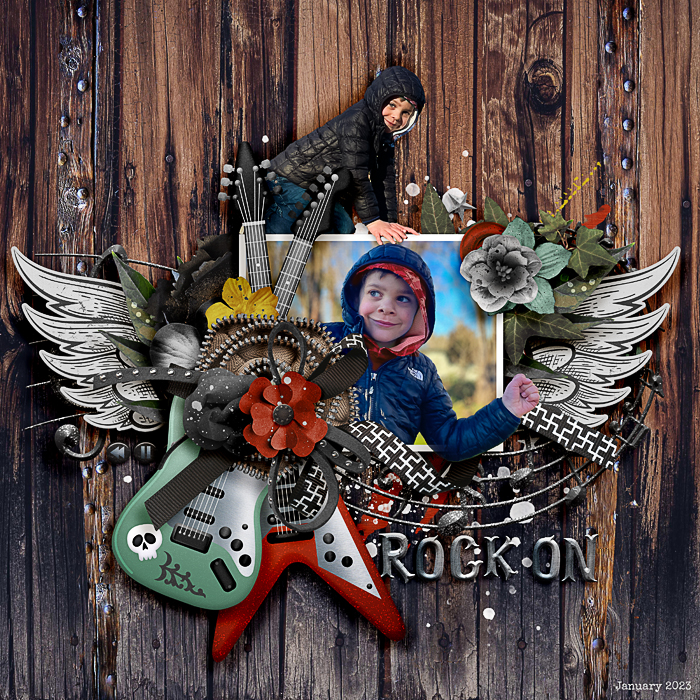 layout by SugarBabe Sheri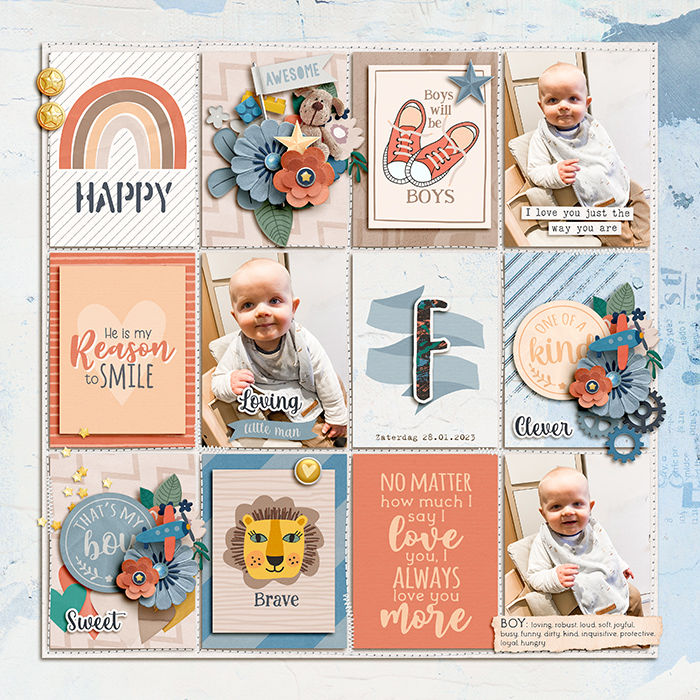 layout by SugarBabe Sarah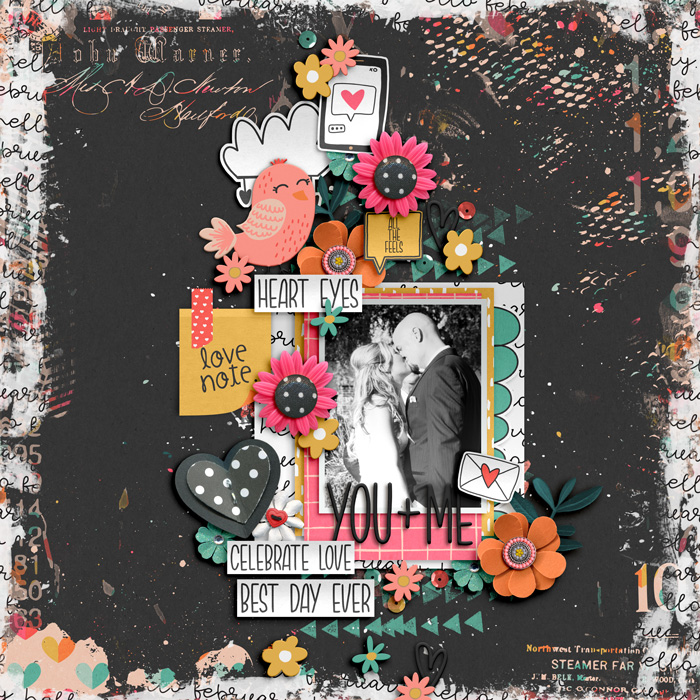 layout by SugarBabe Carrie
Like I said, seriously fantastic new kits, bundles, and templates are making their debut tonight, so don't miss stopping by to pick up some new beauties for your Sweet Shoppe stash! With savings so sweet, we hope you'll treat yourself to help us celebrate!
While all of that is pretty awesome… there's also lots going on in the forums because Party Game-A-Day is back for this year's celebration and the games and challenges are already in full swing! If you haven't stopped by the forums yet, you'll definitely want to make time to join us each day in February for playful games, scrap challenges, fun conversations, and more, because when you do, you'll collect the pieces to a Totally Tweet Bee Day, one of three team mega-collections that we think you're going to love!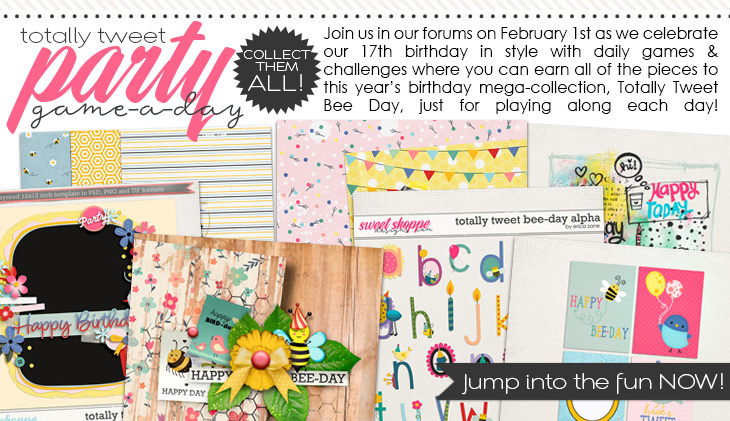 The designers have outdone themselves with this whimsical and sweet birthday collection! Best of all, you'll be able to pick up each designer's contribution to this fun collection FREE just for helping us celebrate! The seven beauties above are just a taste of what's in store, so if you haven't already stopped by, there's still a few hours left to grab the freebie from February 1st! New challenges will be posted each night at 11pm Eastern, so set your alarms so you don't miss a single piece of this party perfect limited edition collab!
On that note, I'm off for a couple of days, but I'll be back with a reminder a little later this weekend to make sure you don't miss these sweet savings! Before I go though, I want to express a little gratitude to all of you! So, from the bottom of our hearts… thank you guys for making Sweet Shoppe Designs the sweetest spot on the web for the last 17 years. While it's never fun to "get older", the fact that our sweet spot has been around so long is a major source of pride for our team. All of us are looking forward to many more birthdays to come, and we couldn't do it without each and every one of you, so thank you! Thank you! Thank you!
Until next time sweet friends, keep making memories and scrap MORE!