Show-Off & Shout-Out with the SugarBabes – 2/21
It's never too late to leave love on a layout!
Happy late February, my sweet scrapbooking friends! Angie here, after several weeks away from the blog. I took a break while on a long-awaited vacation to Kauai, Hawaii with my husband and several of our friends. I've come back armed with over a thousand photographs and I'm all charged up about scrapping them!
Today's post is a couple weeks late – since I usually do our Show-Off & Shout-Out round-up the first week of the month – but the truth is, it's never too late to leave love on a layout. And it can even give you a chance to earn a free kit or mini bundle!
You'll find the February 2023 Show Off & Shout Out thread in our This or That Challenges forum. Reply to the thread to claim your spot. You have until the last day of the month to update it with
links to 15 pages in the Gallery on which you've left a comment (we call it "leaving love"),
an image of a layout you created this month and posted in the gallery you want to show off,
a sentence or two about why you're proud of the layout you created or why you love it so much,
an image of a layout someone else created and posted in the gallery to which you want to give a shout out, and
a sentence or two about why their layout inspires you or what you love about it.
That's all there is to it: leave love for 15 layouts in the gallery, share your Show-Off, and share a Shout-Out, and at the end of the month, you could win a free kit or mini bundle up to $15 in value. Our winners for January were Lidia G for "leaving love", Romajo for her "show-off", and the winner for the "shout-out" category as nominated by HeatherH was Electra. Congratulations!
I asked some of the Sugar Babes to join me in sharing our Show-Off and Shout-Outs to wrap up the month of January. Here's what Jacinda, Jaye, Kim B., Dalis, Sarah, and I had to say.
Jacinda's Show Off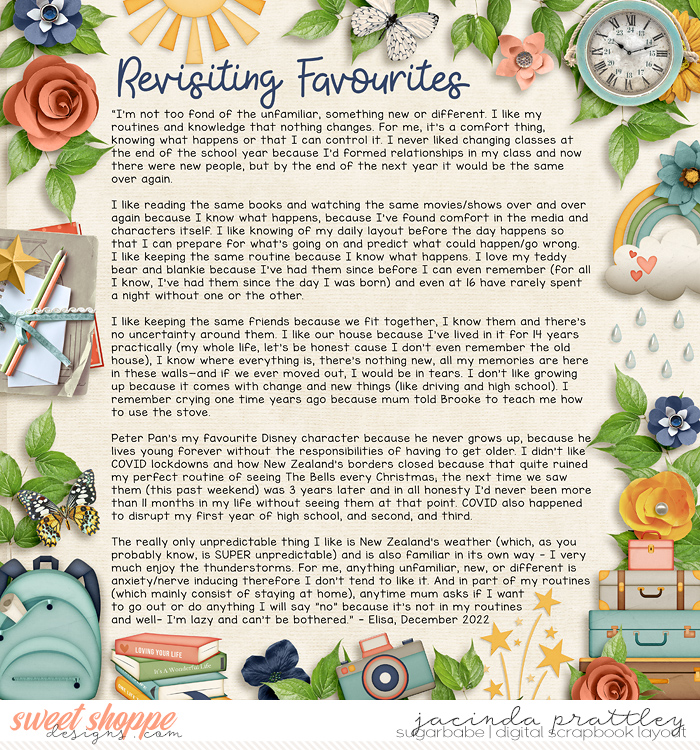 Why Jacinda is proud of this layout: "Journalling layouts are always my favourite. I got my 16 yr old daughter to write the journalling for this page and I have to say I learnt so much about her through her words. It's these kinds of layouts that really tell you about a person and they're the ones I love to look back on most."
Jacinda's Shout Out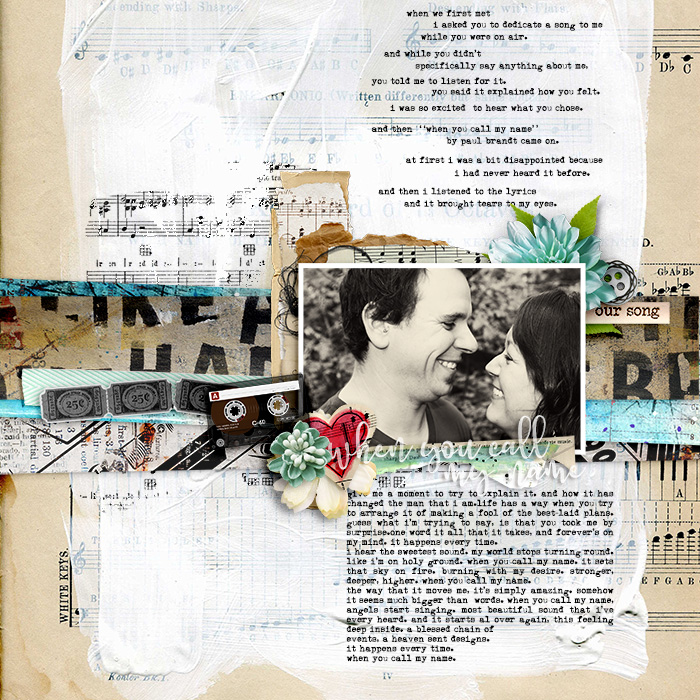 Why Jacinda loves "When You Call My Name" by bcnatty: "For starters the overall composition is beautiful. The way she used the old typewriter font and made some of the text offset really gives the page a handmade feel. The elements across the centre ground the photo and draw the eye. Everything compliments the theme of the page beautifully and gives it a romantic feel. I just think this whole page is fantastic."
Jaye's Show Off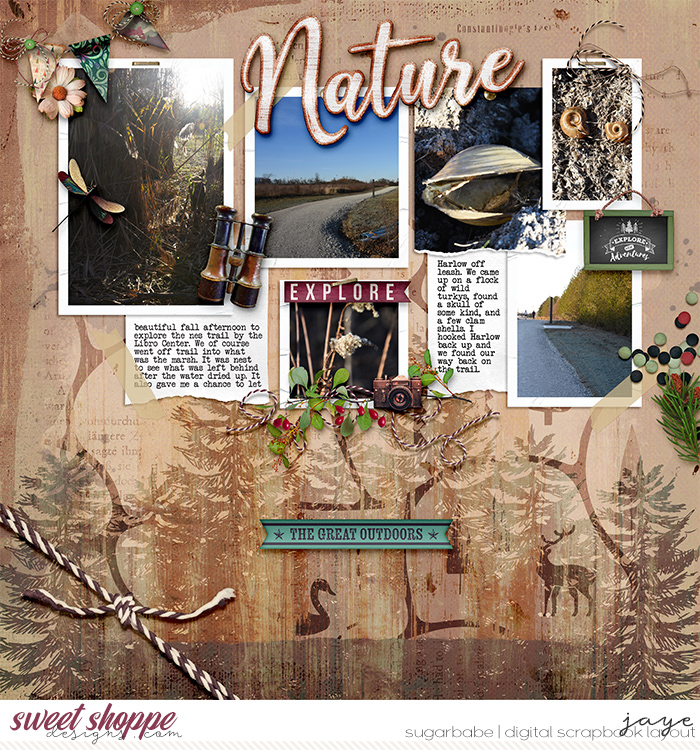 Why Jaye is proud of this layout: "I really enjoyed the tall photo spots mixed in with the torn pieces for my journaling in Lorie's template. Jen's kit with the earthy neutral colours was perfect for my photos of a wonderful fall walk. I look at this page and am reminded of the peaceful, fun few hours of exploration we had that afternoon."
Jaye's Shout Out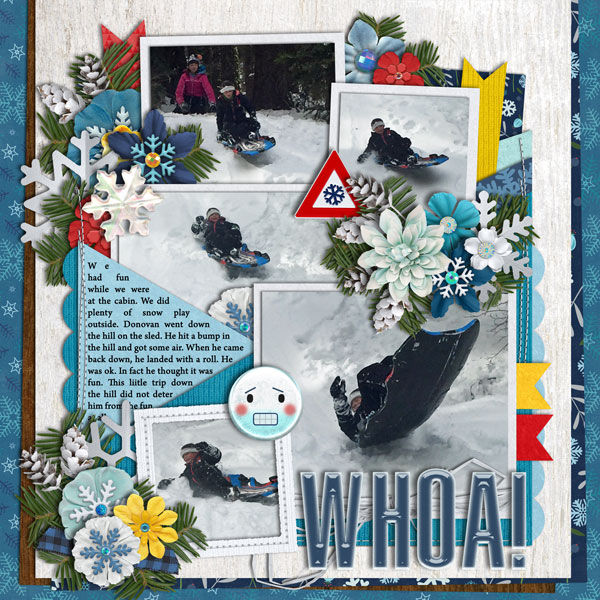 Why Jaye loves "Whoa!" by jnac916: "I love the action shots and the timeline of this young man's adventure sledding. The journaling in the triangle/flag shape was a great idea rather than your traditional square spot. Her clustering and title work just top off this fun page."
Kim B.'s Show Off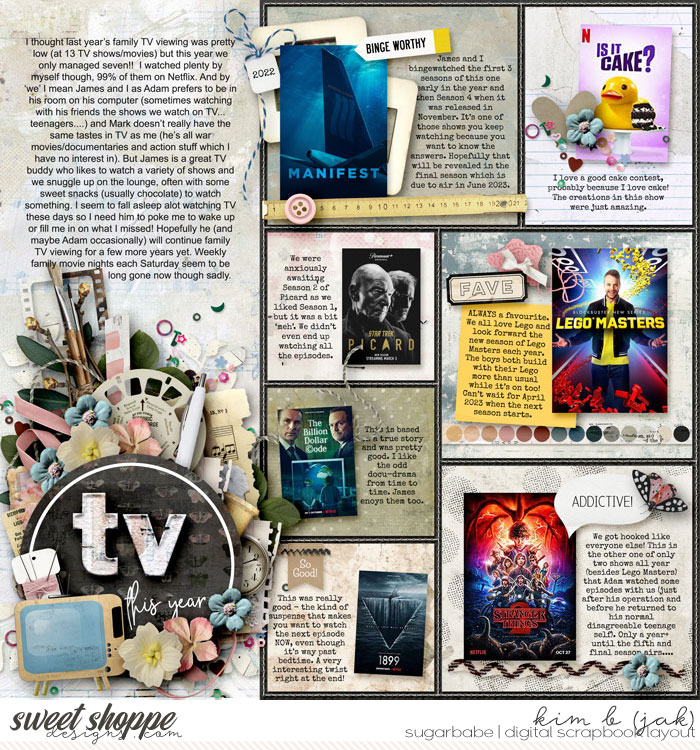 Why Kim is proud of this layout: "This is my latest favourite layout because it's a pocket page which I don't do that often, and a page that doesn't feature my boys or some other person… so a more everyday kind of page."
Kim B.'s Shout Out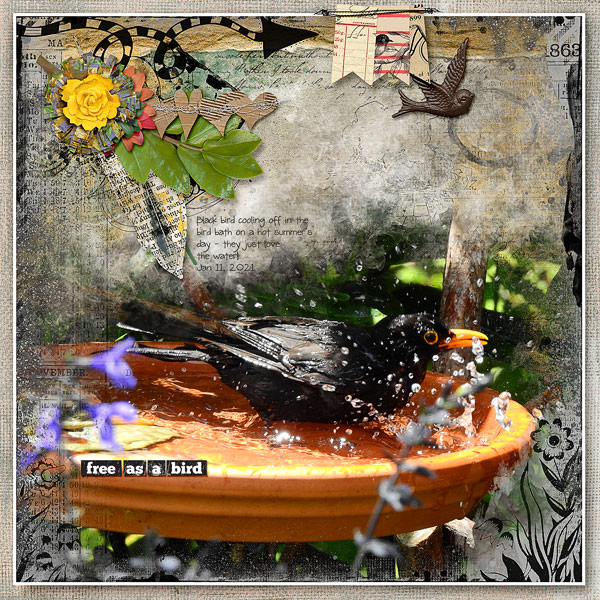 Why Kim loves "Free as a Bird" by wombat146: "I love the photo! It's perfectly captured with the water splashes. I also love how she's blended it with the background and used only a small amount of strategically placed elements so that the focus of the page stays on the photo."
Dalis's Show Off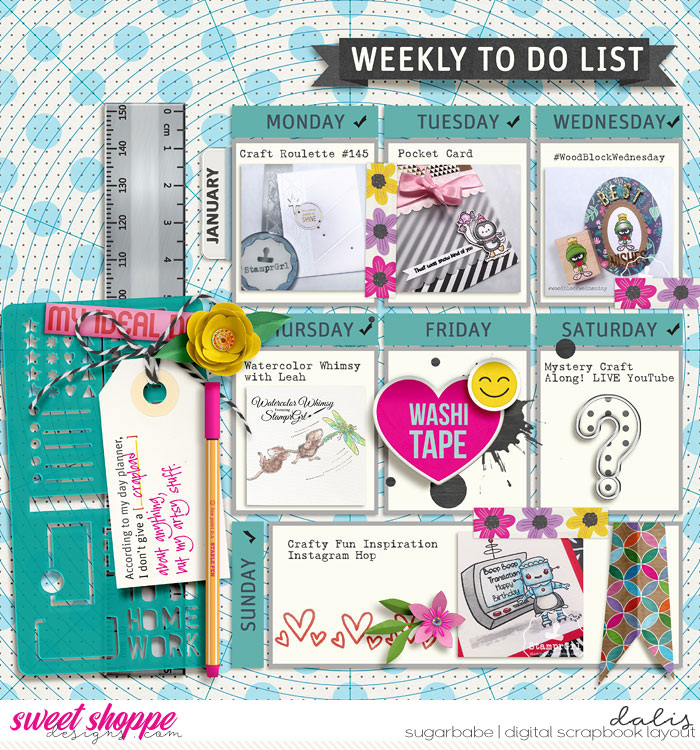 Why Dalis is proud of this layout: "This is not my usual free-spirit, no-rules page. This page is blocky and organized and I love that I tried that look, because I am really diggin' how this page turned out!"
Dalis's Shout Out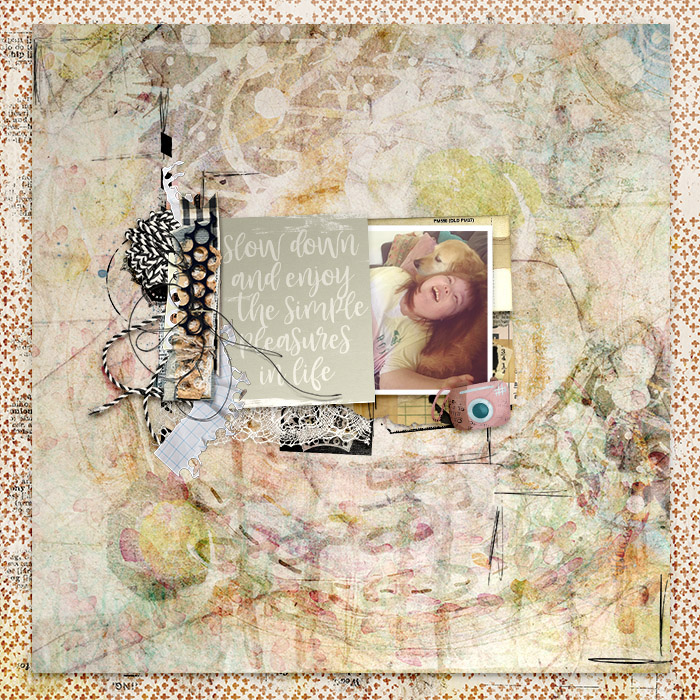 Why Dalis loves "Slow Down" by geek_girl: "This entire page is framed around the happiest girl, with the biggest smile! I love when you can't miss the entire reasoning behind a page, in this case the smiles and little things in life!"
Sarah's Show Off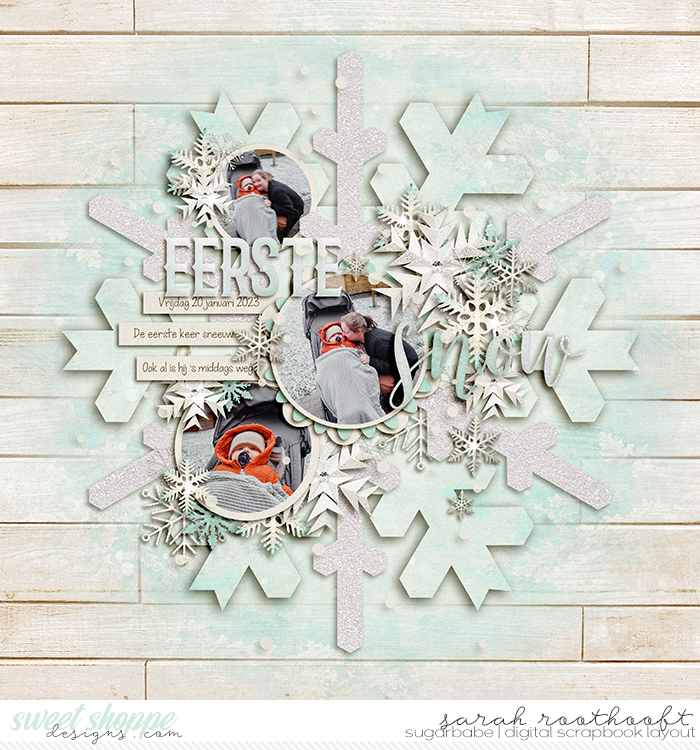 Why Sarah is proud of this layout: "I love how this one turned out. I love the use of colors of the kit and I love the little pops of orange of Finn his jacket. I LOVE to use flowers in my layouts and this one has none of them. I used snowflakes instead and I love how it looks."
Sarah's Shout Out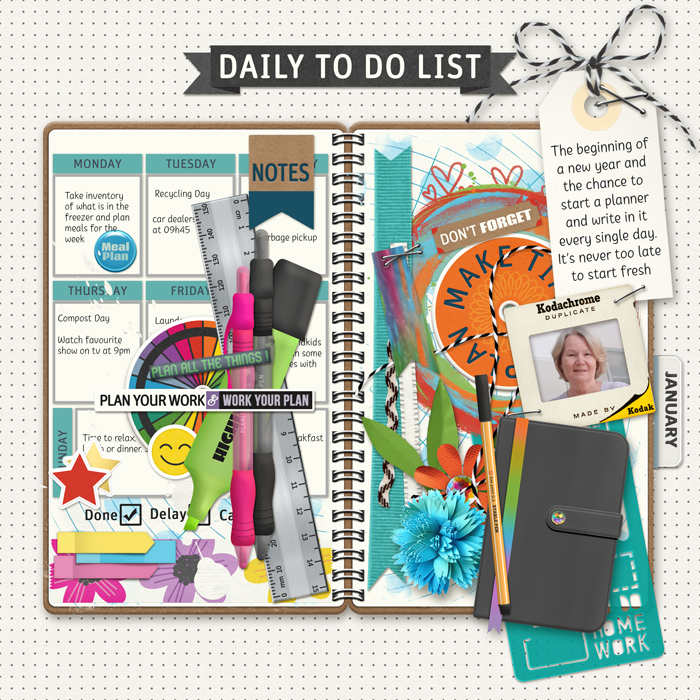 Why Sarah loves "Start Again" by Lidia G: "I love how she scrapped her daily to do list. I love the page design with the diary, the selfie, the marker and all the other layers and details. She did such an awesome job with this collection."
Angie's Show Off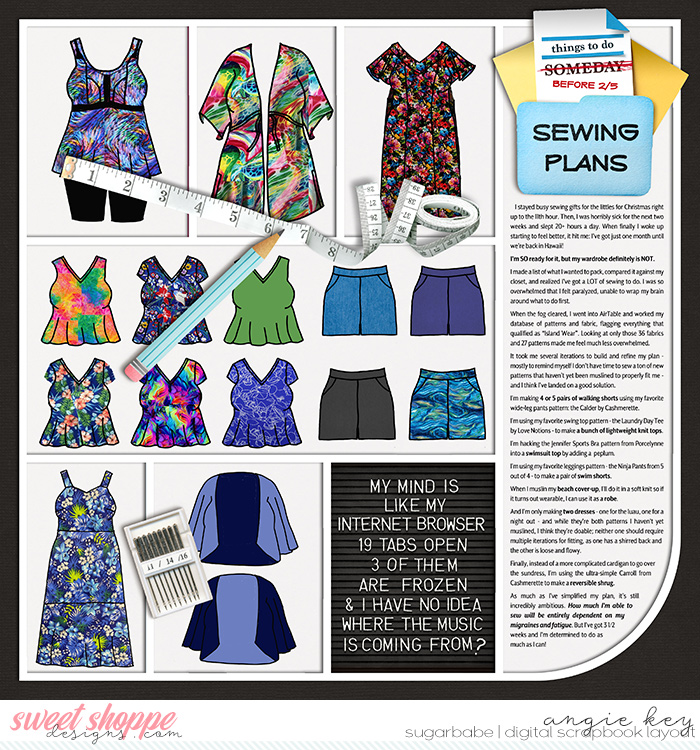 Why Angie is proud of this layout: "I'm not sure if it's the layout itself I'm proud of, or the story behind it. After collecting fabric for our pandemic-delayed trip to Hawaii for 39 months, I was overwhelmed when I actually sat down to sew my vacation wardrobe. By sketching out a series of croquis on my body model, I was able to see what patterns would look the best and which fabrics I should use. I managed to get 11 of the articles of clothing pictured here sewn up and into my suitcase before we left in February, along with several other garments not pictured here. As for the layout itself, I'm tickled by those few elements – the needles, pencil, and measuring tape – and the way it looks like I just left them piled atop my sketches."
Angie's Shout Out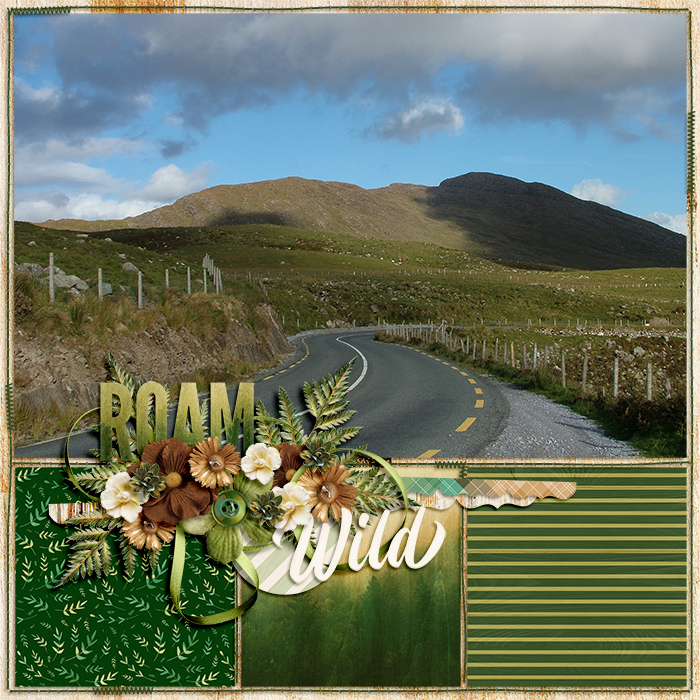 Why Angie loves "Roam Wild" by Romajo: "It's that gorgeous title cluster and big photo that made this layout a stand out for me. The way she combined two pieces of word art to create her title, and then layered all those gorgeous flowers and foliage elements – and that lovely ribbon! – to create the perfect title to accompany her photograph. And then she placed it oh-so-perfectly at the beginning of the road – telling our eyes "start here" – and then used the leading lines of the road itself to draw us further into the photograph. This is a masterful way of taking an otherwise simple layout and elevating it with just one cluster. I love it!"
---
Bob Kerrey, former US Navy SEAL officer, governor of Nebraska, and US Senator, said "Unexpected kindness is the most powerful, least costly, and most underrated agent of human change." Leaving words of positive feedback for another scrapbooker is such an easy way to spread kindness in our little corner of the online world. Even a simple "So pretty!" or "Beautiful layout!" will make the maker smile. So the next time you're browsing the Gallery, I hope you'll take a moment to spread some kindness by leaving love on the layouts you enjoy. Have a great week, Sweet Shoppers!