Featured Designer – Blagovesta Gosheva
Welcome to another Friday!  Are you ready to see what our next featured designer has cooked up for you?   Blagovesta Gosheve is in the spotlight with a Daily Dose of Happy and wow!  It's just that.   This year our theme is 'Designer's Choice'  What does that mean? Well, just what it sounds like! This year our wonderful team of designers will be coming up with a heap of fantastic new collections inspired by whatever is exciting or motivating them in the moment. They have total freedom to express themselves however they'd like, and we're super excited to see where this adventure takes us over the next year.  I think Blagovesta nailed it with Daily Dose of Happy!  It's so bright and I just love all those adorable little emojis!   Don't forget you can grab this beauty free with a $10 purchase, just add $10 worth of goodies to your cart and #daily life will automatically be added!  The offer is good until our new releases go live on April 7th.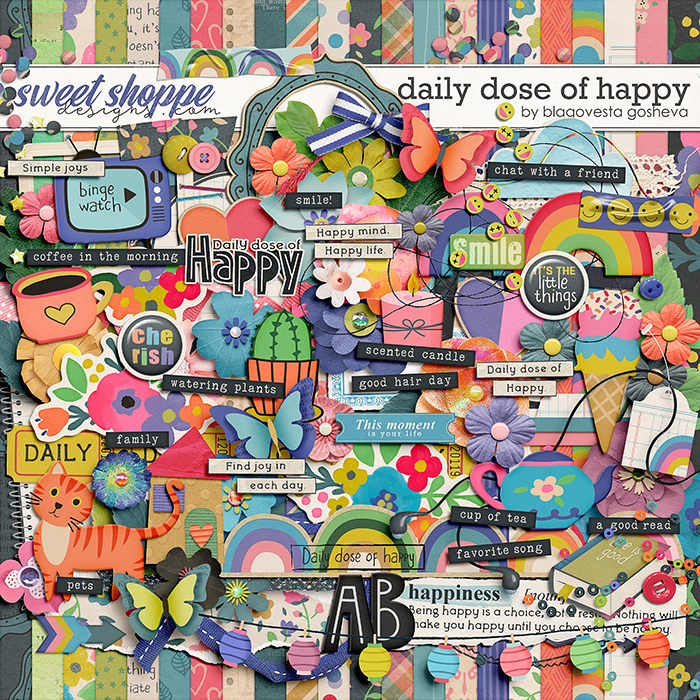 This year our interview questions for the designers came straight from you all!  It's always so much fun to see what questions the designers picked to answer and to see what their answers were.  Here's our interview with Blagovesta.
Tell us about your journey with digital scrapbooking… How did you find out about it? Did you start with paper first? How did you get started designing? Where was your first shop? How and when did you end up at Sweet Shoppe Designs?
Blagovesta: I came across Digital Scrapbooking by chance in 2007 while I was reading the posts in a forum. It seemed quite interesting to me and I decided  I should have a try at it. So I did and I just got addicted. In 2011, a van hit me as I was going to work in the morning and I had a leg badly broken. I had to undergo several surgeries and was bed-ridden for a very long time, and I couldn't go to work. I spent those endless days at the computer at home scrapping while my daughter was at kindergarten. I had many photos of her with her dinosaurs (she was crazy about them) and I started looking around the shops for a good dinosaur kit. Then I thought I might  try to make my own. I've been working as a graphic designer from many years and I was familiar with Photoshop and other graphic software. So I got to it and made a  dinosaur kit as well as some other stuff… it was such a fun!!!  At first, I did not intend to sell them, but then I decided to try out of curiosity and in June 2011, my first kit was released in a small shop where I asked for a spot first. I stayed there just 2-3 months and was invited to join Scrapbookgraphics. After few years there I joined Sweet Shoppe Designs and since then I feel I'm home.
What comes first when designing… theme or color palette?
Blagovesta: The theme always comes first. I choose the colors according to it. It often happens in the process of work that I add color or change other. I have a specific taste for colors and maybe that shows in my kits. I just can't work if I don't like the colors. My inspiration disappears.
How long does it take you to put a collection together from start to finish?
Blagovesta: It's different every time. My life is busy and my time is limited because in addition to digital scrapbooking design I'm a full time graphic designer for many years now. And to make it even more fun – I'm a single mom and OMG all the things I have to care of…. You know what I mean. So, sometimes a collection can take me even a month. In most cases, however, I find time to work, and even that calms and relaxes me. Usually I need 8-9 days to finish a collection but sometimes, when a massive dose of inspiration hits me, I am able to create a whole collection in 3-4 days!
Do you use your own art in your kits? Show us some of your favorite original illustrations.
Blagovesta: Sometimes I have lazy moments or lack of time and use CU graphics in some of my kits, but most of the time I draw my own illustrations. Here are few of them:
Is there anything you don't like about designing?
Blagovesta: I love to design and I am happy and grateful to make a living doing something I love so much. The only thing I don't like about it is that while I work I sit without moving for too long. I try to compensate with walks, but… for me it is not enough.
Show us a preview for one of your first kits, compared to a recent kit you're proud of. We want to see how far you've come!                                                                       
Blagovesta: Here is one of my very first kits I mentioned above and a revamped version I made about 9-10 years later.  Actually I still like the old version 😀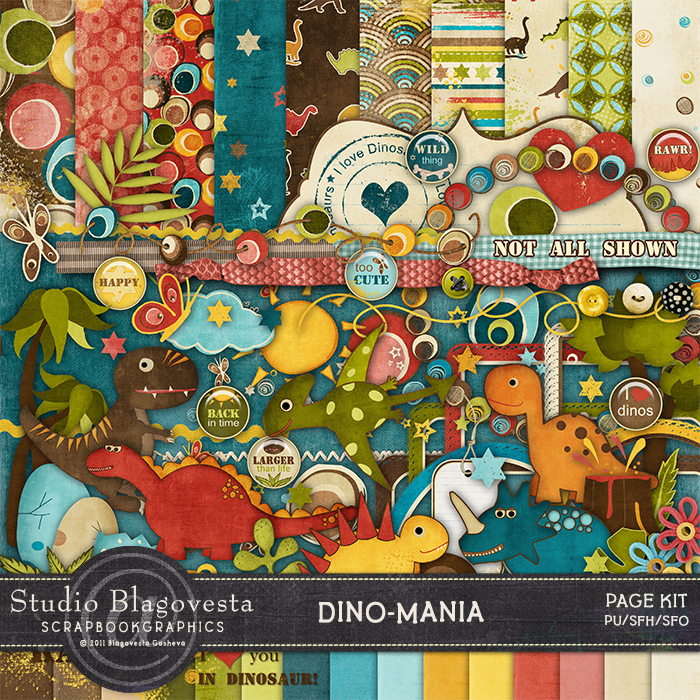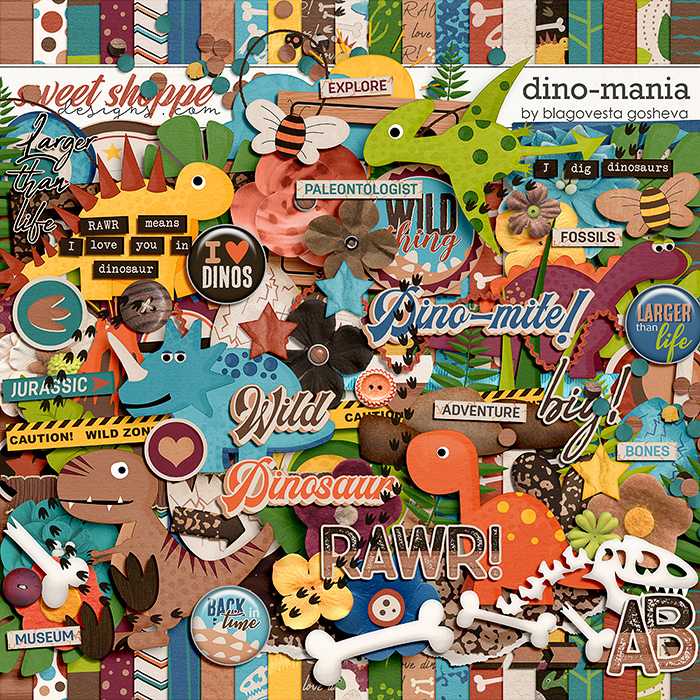 What brings you joy?
Blagovesta: Мy greatest joy is the time spent with my daughter and my family. Мany other really simple things also bring me joy – my walks with my audiobooks (I'm addicted), cycling, going to the mountains when I can, reading, playing with my cat, one day trips, designing and scrapbooking and much more.
What's the last really great book you read or tv show you watched?
Blagovesta: I read a lot and listen to audiobooks, too. I've red many great and not so great books lately but the last I finished and loved was The Cormoran Strike series by Robert Galbraith. In fact, Robert Galbraith is a pen name of the author of Harry Potter J. K. Rowling of which I am a fan. There is a TV show based on the books, too and I just finished the last released season few days ago. I'm always very curious to see a movie or show based on a book I've red.
Our team has been hard at work this past week with a Daily Dose of Happy!  Let's see what they came up with.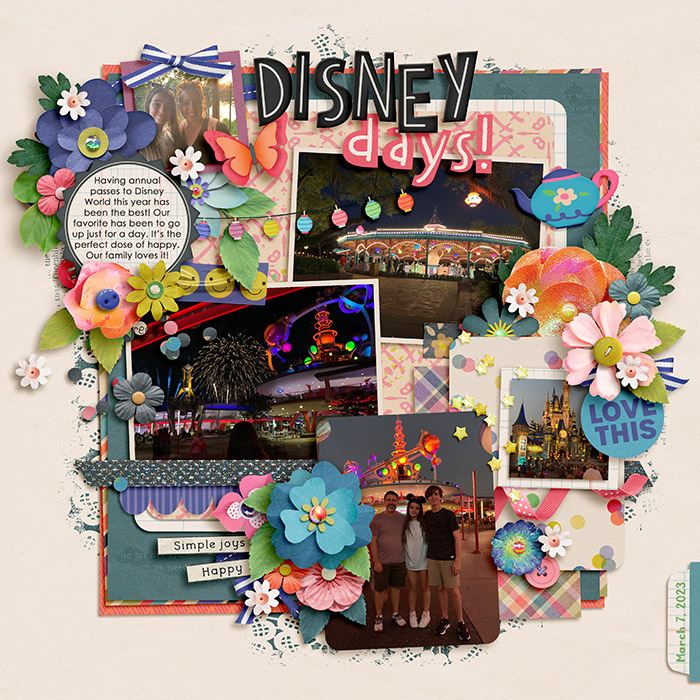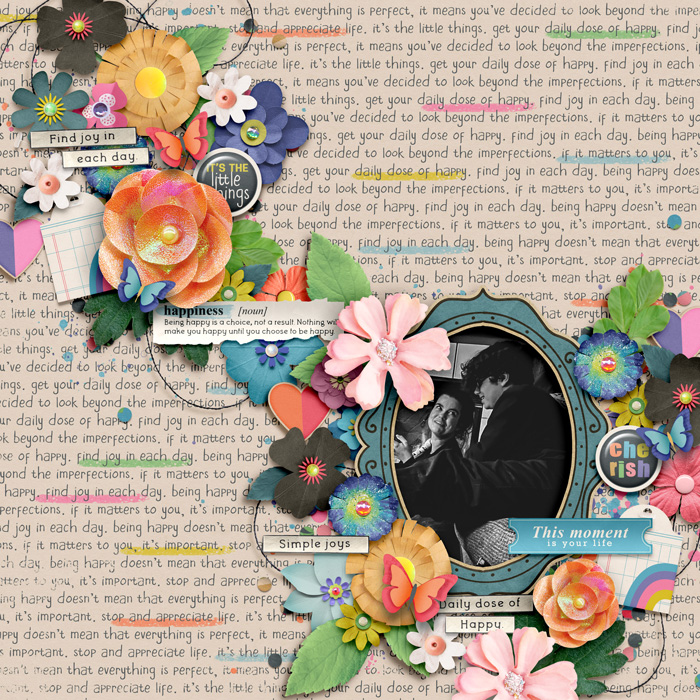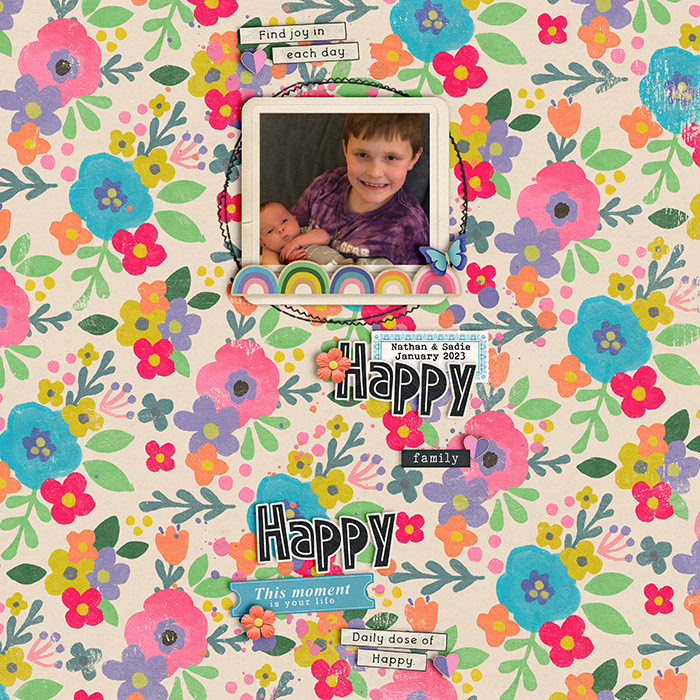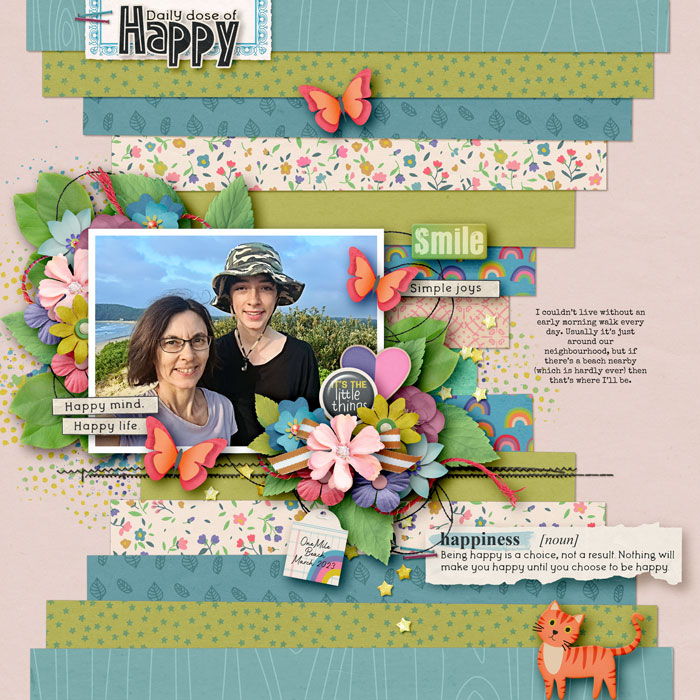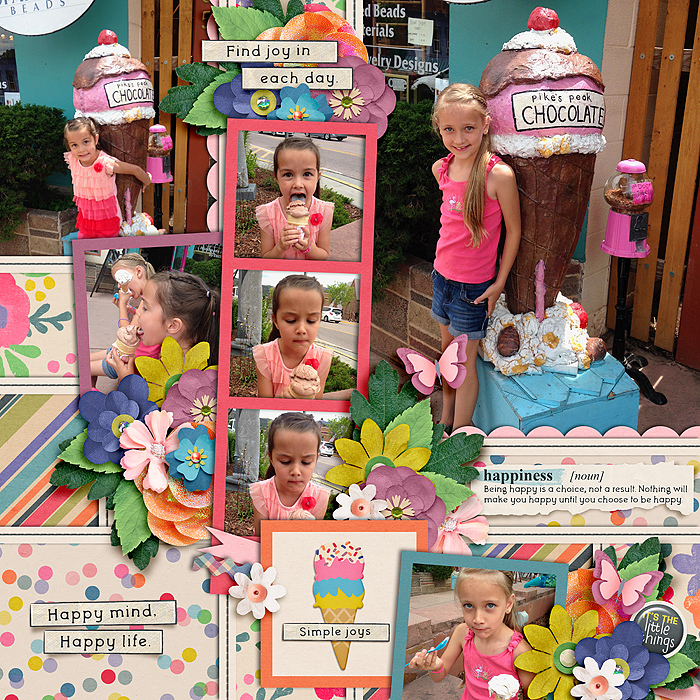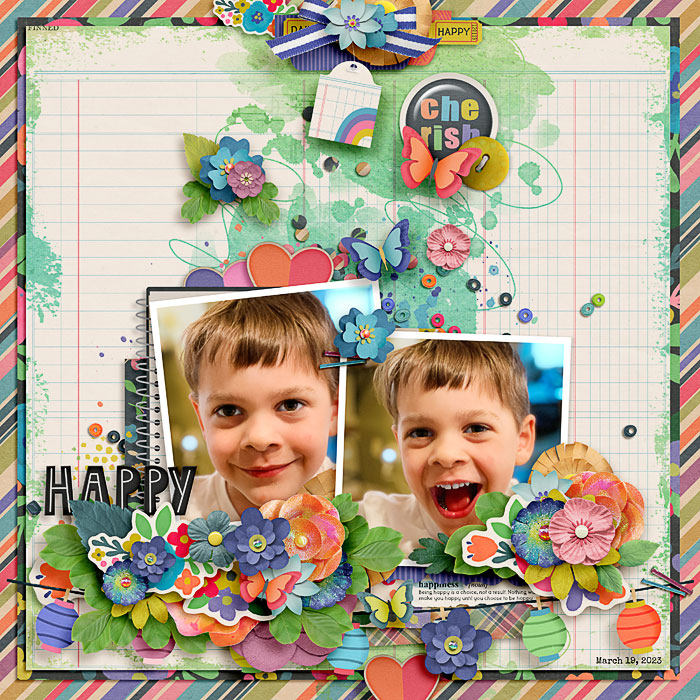 So many beautiful layouts!  I love how everyone's vision is so different!  Don't forget you can get this darling kit for free with a $10 purchase through April 7th when our new releases go live!