Featured Designer – JoCee Designs
Happy Friday!  It's time for our next featured designer.  This year our them is 'Designer's Choice'  What does that mean? Well, just what it sounds like! This year our wonderful team of designers will be coming up with a heap of fantastic new collections inspired by whatever is exciting or motivating them in the moment. They have total freedom to express themselves however they'd like, and we're super excited to see where this adventure takes us over the next year.  This week we have JoCee Designs and she has created #dailylife, what a great kit!  I think we all make a point to scrap our daily lives!  The colors are perfect for spring and I just adore all the camera elements!  Don't forget you can grab this beauty free with a $10 purchase, just add $10 worth of goodies to your cart and #daily life will automatically be added!  The offer is good until our new releases go live on March 24th.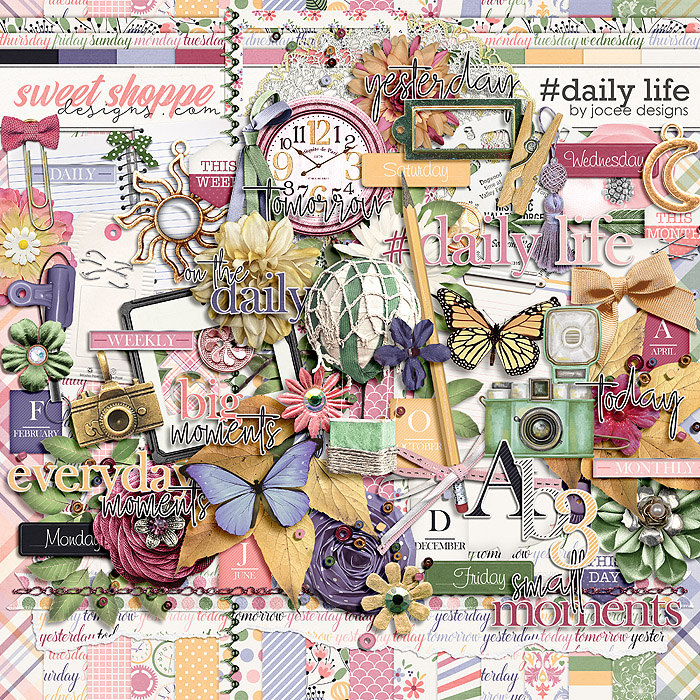 Jo has also created a ton of add ones for this kit!  Let's take a peek!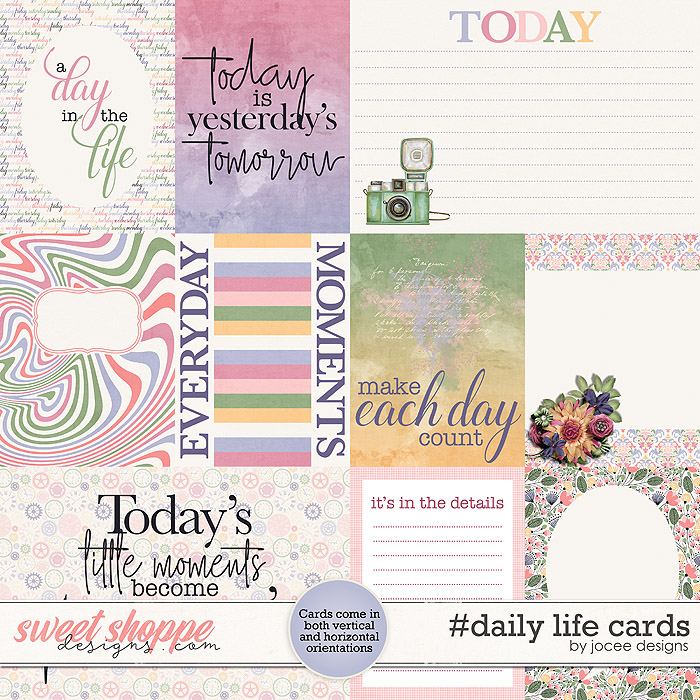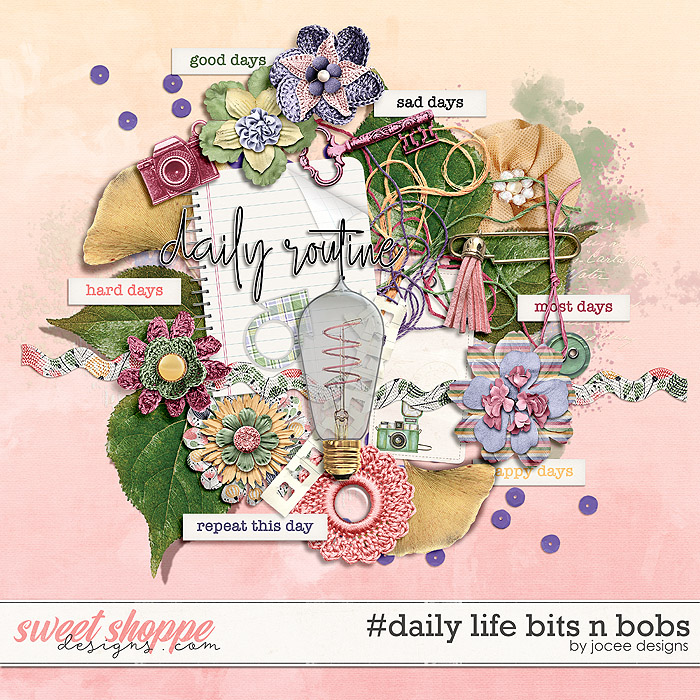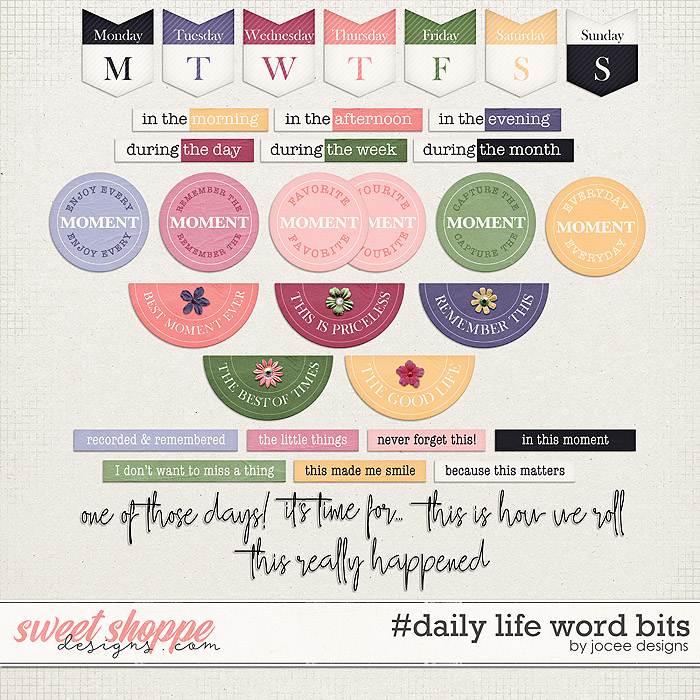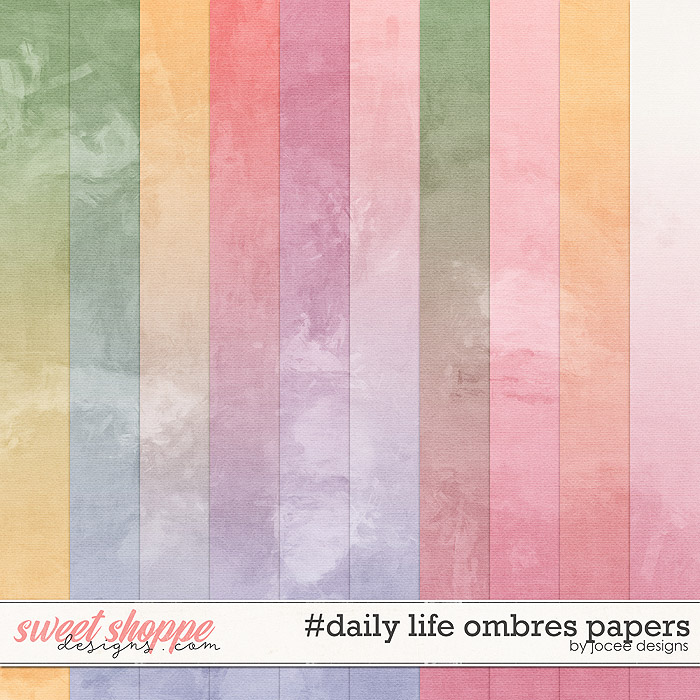 Before we get to Jo's interview, we asked some of her Creative Team to share what makes her designs so special and this is what they had to say.
"Why I love Jo's designs: I love creating clusters and layering elements, I can never put enough on my page, and Jo always has tons of flowers, foliage and other clusterable goodies in her kits. Although a lot of her kits are theme specific, they are so versatile. Jo creates kits that mean something to her, especially her travel kits. Love patterned papers and Jo's are amazing."  Jenni Bowen Rousseau
"Why I love JoCee Design's Amazing Kits!
As you can see by my title, JoCee's kits are amazing!  Her kits are so well put together.  There's not a single piece that seems like it doesn't fit.  There are so many gorgeous elements and papers that I want to use them all!  They are colorful and so realistic.  JoCee's papers and elements are always well designed with crisp and vibrant colors.  She always picks colors that coordinate so well together and are visually eye catching.  Her kits contain so many papers and elements that also make them a great value.  You can achieve so many different looks from one kit.  Once you buy one of her kits you will be a fan and have to have more!  Her kits are fantastic!"  Evelyn Stevenson
"Constantly evolving is the first thing that comes to mind when thinking about JoCee Designs . She is one of those fabulous designers that comes up with great color schemes, unique themes for kits, and fills each to the brim with a delectable amount of themed goodies along with the more generic items to make each kit more useable for a variety of scrapbook pages. As you browse through her products, you will find that each kit is so different than the previous one resulting in fresh designs which are so fun to create with! On a personal note, I have known Jo for a while now and she is such a genuinely nice person who is supportive, encouraging, and fun-loving too!"  Annemarie MacLean
Now, are you ready to read a little more about our featured designer?  These questions came directly from the Sweet Shoppe community this year!  
Tell us about your journey with digital scrapbooking… How did you find out about it? Did you start with paper first? How did you get started designing? Where was your first shop? How and when did you end up at Sweet Shoppe Designs?
Jo: I am a graphic designer by trade and training and so have always loved to dabble in creating things. I started creating invitations for my kid's birthday parties, by hand, and it went from there. I used to include their photos and little knick knacks in the artwork and as time went by, I researched creating all these things on the computer. I stumbled across digital scrapbooking probably around 2008 or so and fell in love immediately. My first every digital scrapbooking programme was ScrapBook Max, lol. But, as a graphic artist I was using Photoshop and so, one day, I decided to try scrap in Photoshop. I still remember how nervous I was to use Photoshop in that manner but am so glad I gave it a try because there was NO turning back after that.
I started designing in about 2009/10. I was a layout artist at ScrapGirls and was encouraged by a good friend to give designing a try. The wonderful owner of ScrapGirls at the time, Ro, was kind enough to let me give it a go and I haven't looked back since. ScrapGirls was my first store and it still holds a special place in my heart.
I loved looking through SweetShoppe and all the talented ladies producing gorgeous product and knew that that is where I wanted to lay my hat and make my home. I applied a few times, and each time came away with wonderful creative criticism from Robin and the team on how to improve on my designs. Eventually, in December 2019 THE email from Robin came inviting me to join the team. I can still see myself running up and down the house to tell my husband I had made it to the team. I am so very grateful for the opportunity Robin has given me and continue to try and improve on my designing to the best of my ability. Some days I do, some days I don't but I won't give up trying.
Do you ever feel like you've done it all already and your style is repetitive?
Jo: There are times I do feel this and then I try and come up with ways to improve and grow my style. I will look back through some of my products and see that I am moving forward in my style, even if it's incremental at times.
How do you stay motivated or deal with the loss of mojo?
Jo: I finally allowed myself to take a week off a month to just recoup, recover and enjoy stepping away from the computer. I also do outside of digital scrapbook design work at home, on the computer, so there are days when I don't go near my designs. and I am finally getting comfortable with that. Loss of mojo is a hard one and there are definitely days when I sit looking at a blank screen going 'what now?' but I then get lost in Pinterest or looking at inspirations all over the place and somehow, it comes back and then I can get into my designing again.
What comes first when designing… theme or color palette?
Jo: Ah, the multi-million-dollar question…for me, I need the theme first and then I do a deep dive into colour palettes/combinations. There are times I think a combo works, and then I hate it and there are times it all just falls into place. I've been known to be nearly done and then totally change the colours… fun time!
How long does it take you to put a collection together from start to finish?
Jo: If I'm lucky and it all falls into place, it can take me about 4 days in total from start to finish. Also, if I have nothing else on work wise then this is a good amount of time. If I have other work on, it can take over a week of trying to fit in designing with everything else.
When it comes to collabs, do you usually work with designers that have styles that you're comfortable with and you think complement your own designs or do you like to challenge yourself and work with designers that have a completely different style?
Jo: I am blessed to have a good friend of mine, you will know her too 😉 Em of The Nifty Pixel, who is my collab partner. We have known each other a very long time and have always had a very easy-going relationship that is honest and genuine. Working, or as I like to call it, playing, with Em on a collab is pure joy. Our styles are so different and yet, when they come together in a collection, it just works like a charm. We discuss theme, colours, everything about our collections and hit the ground running. We share and show each other how we are going and it just works beautifully. I look forward to many more amazing collaborations with Em.
Show us a preview for one of your first kits, compared to a recent kit you're proud of. We want to see how far you've come!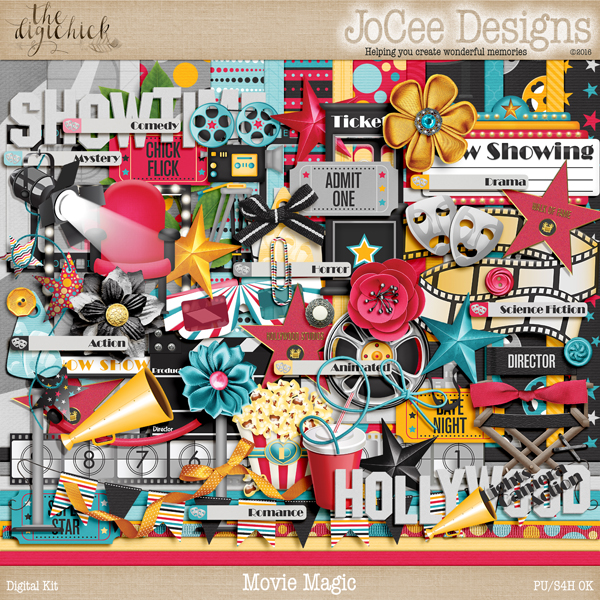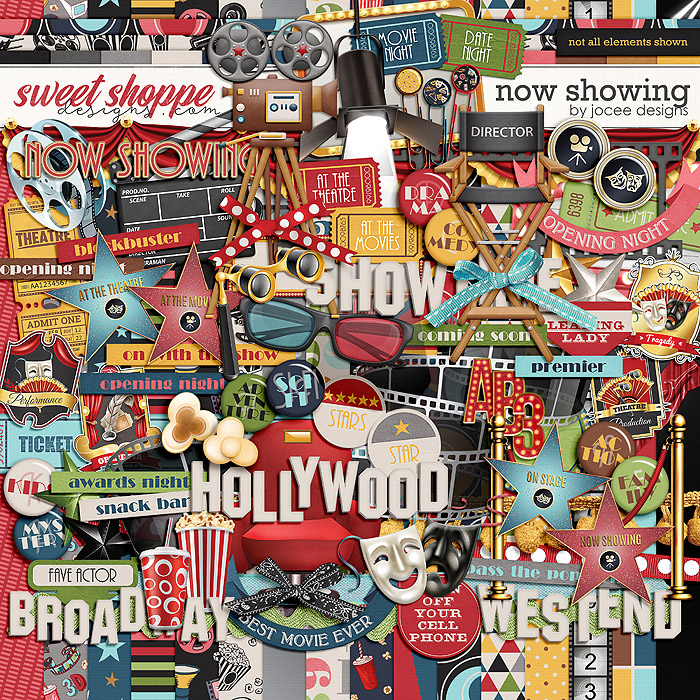 What brings you joy?
Jo: My husband, kids and cat are truly the pure joy of my life, but I absolutely LOVE planning holidays (vacations) for my family. I am the one who researches, plans, books, arranges etc all our holidays and my husband and I absolutely LOVE cruising… so my focus is on that pretty much all the time, lol!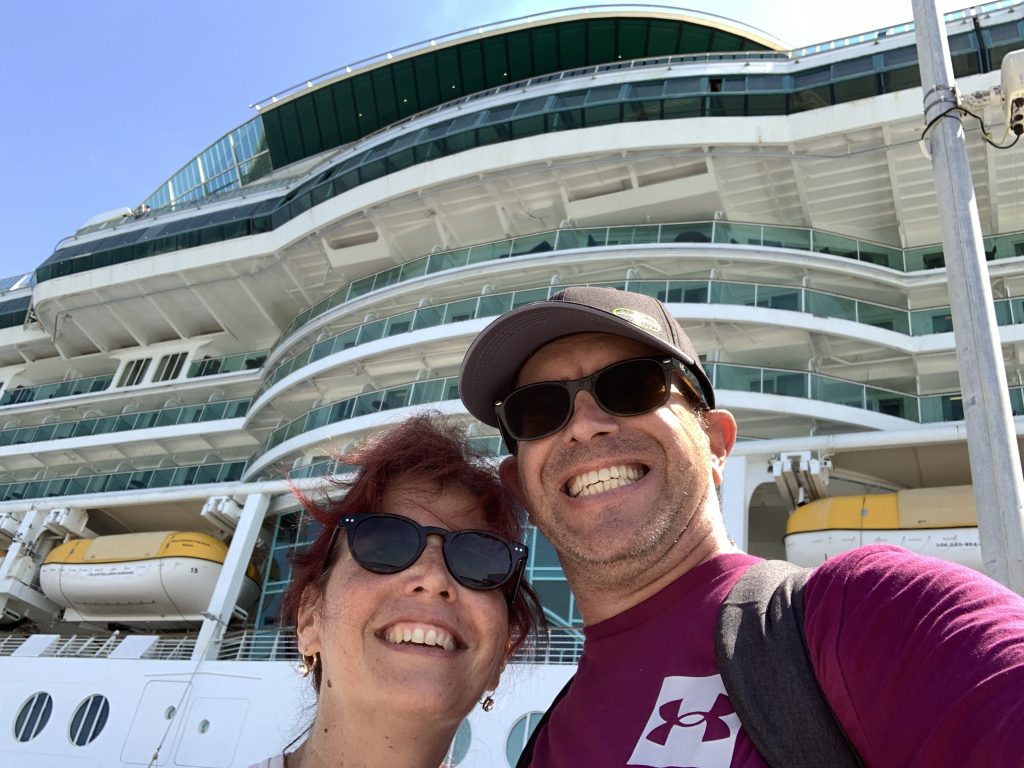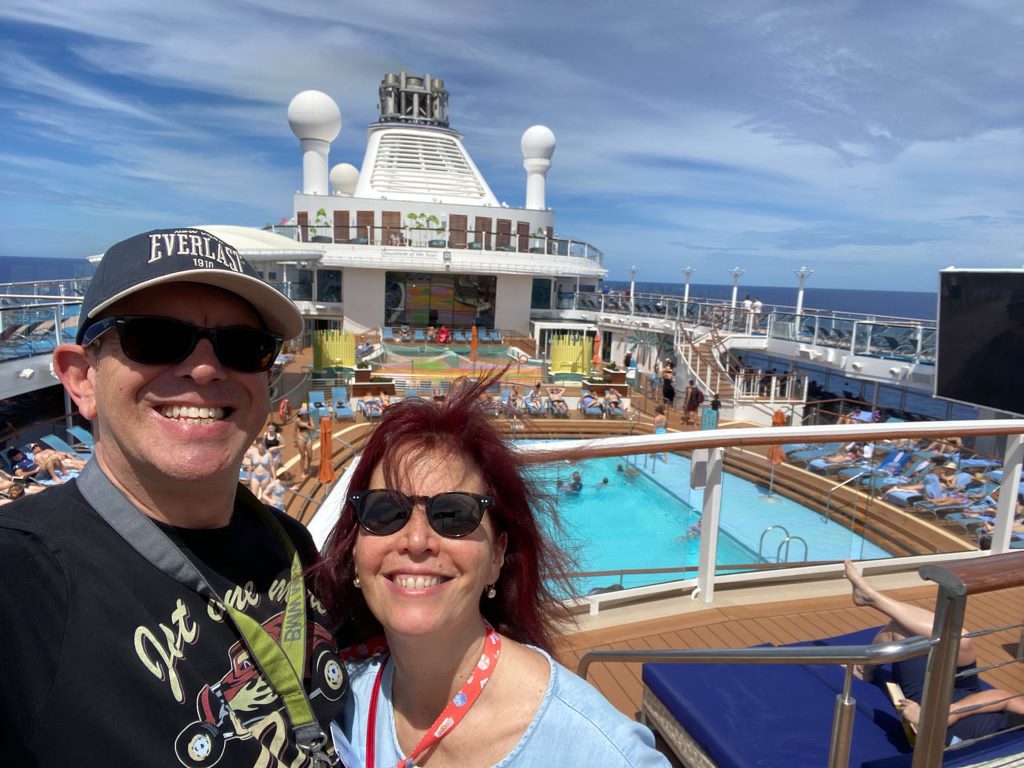 If you had an hour to yourself, but were not allowed to use it to scrapbook or design, what would you spend the hour doing?
Jo: Deep diving our next cruise, reading, and watching a good show.
What's the last really great book you read or tv show you watched?
Jo: I am a huge fan of Nora Roberts. She writes in a few different genres but her latest one I really loved… Nightwork. I couldn't put it down. Also, an amazing Australian authoress, Natasha Lester is one I can't put down either. Check her out, she is amazing.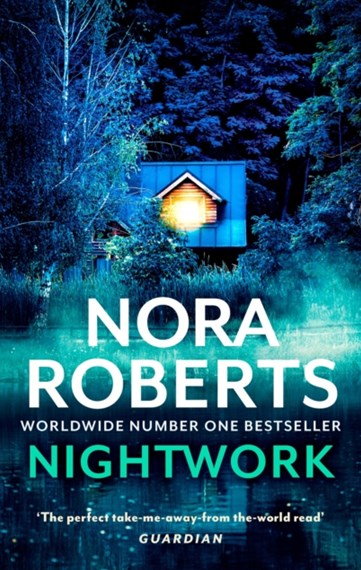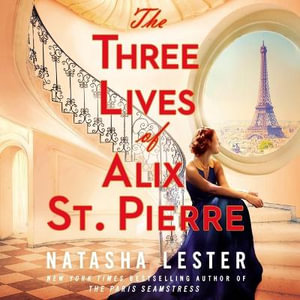 Oooh, I love cruises!  We haven't been in forever!  We had one scheduled in 2020, and then rescheduled for 2021, and it didn't happen.  maybe one day soon.
What better way to wrap up today's spotlight of Jo than by sharing some incredible pages our talented Babes created with her gorgeous Featured Designer freebie! Check out these beauties and be sure to grab #dailylife while it's FREE with your $10 purchase through March 24th…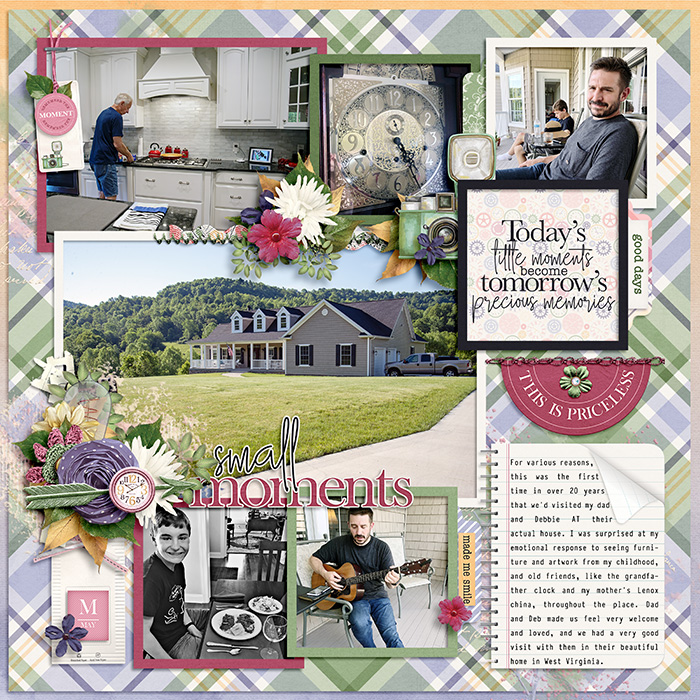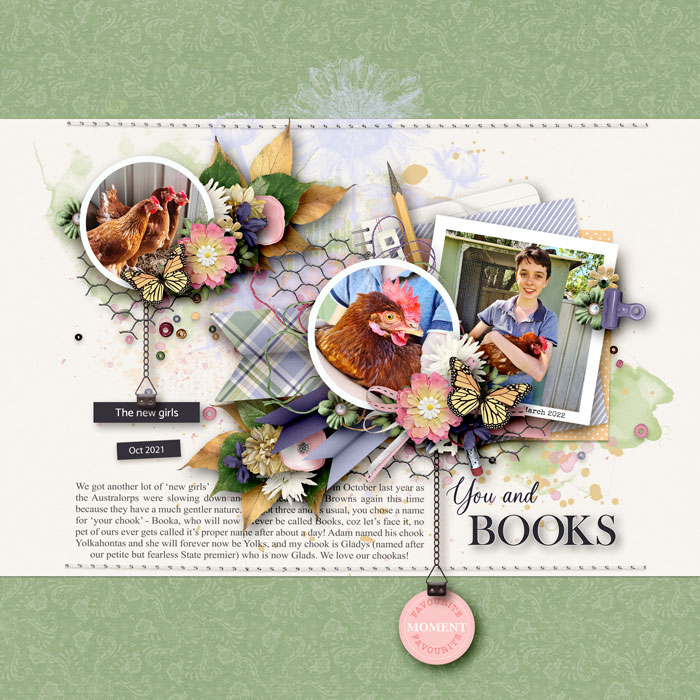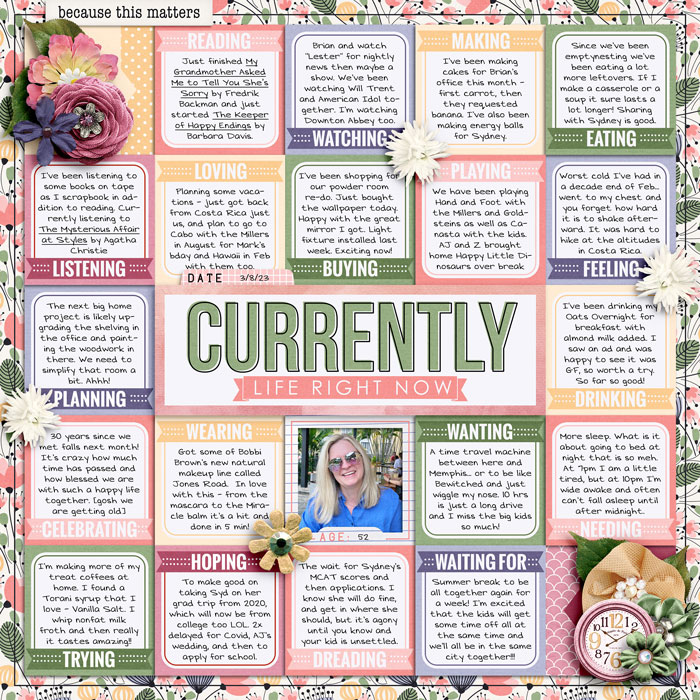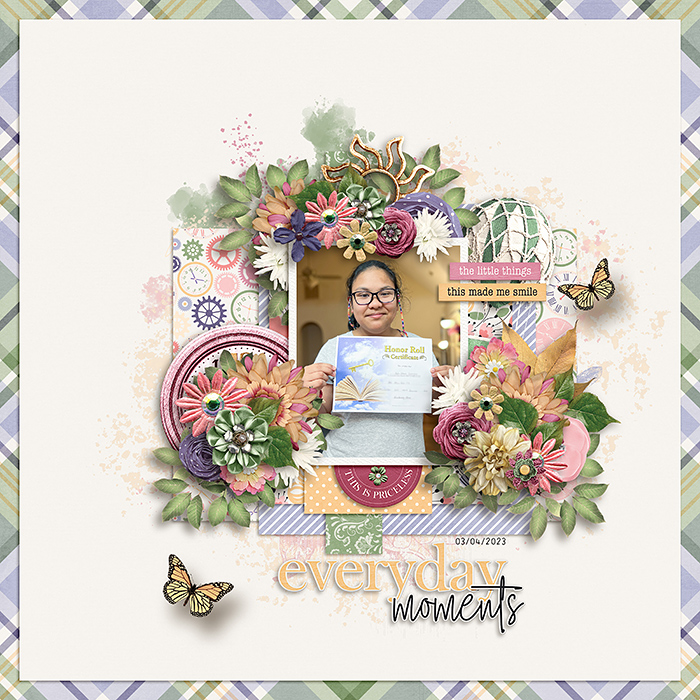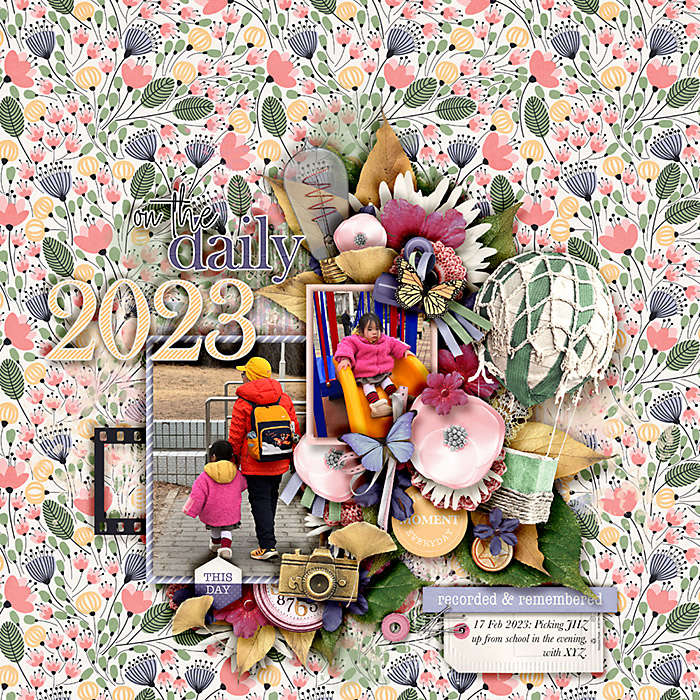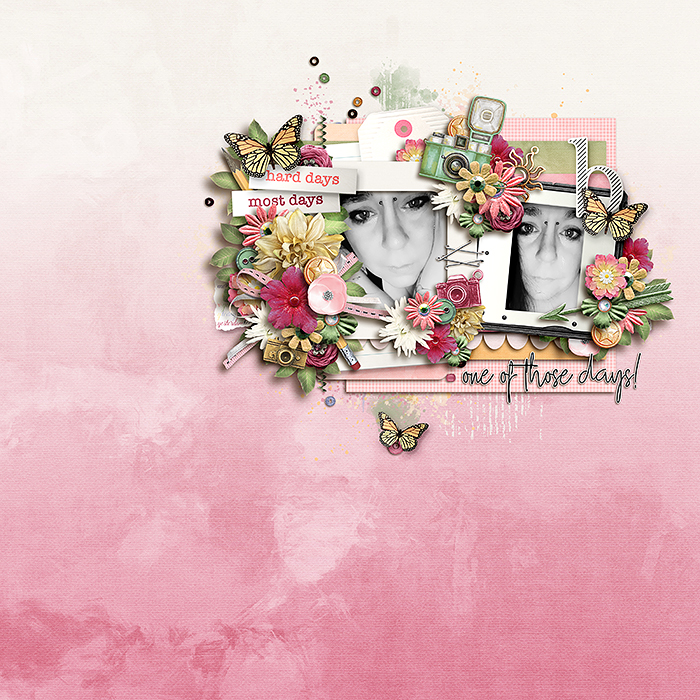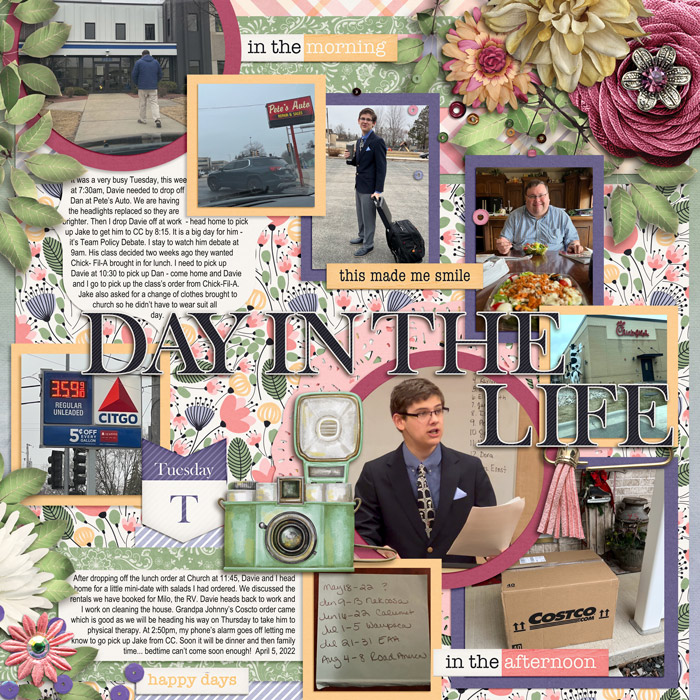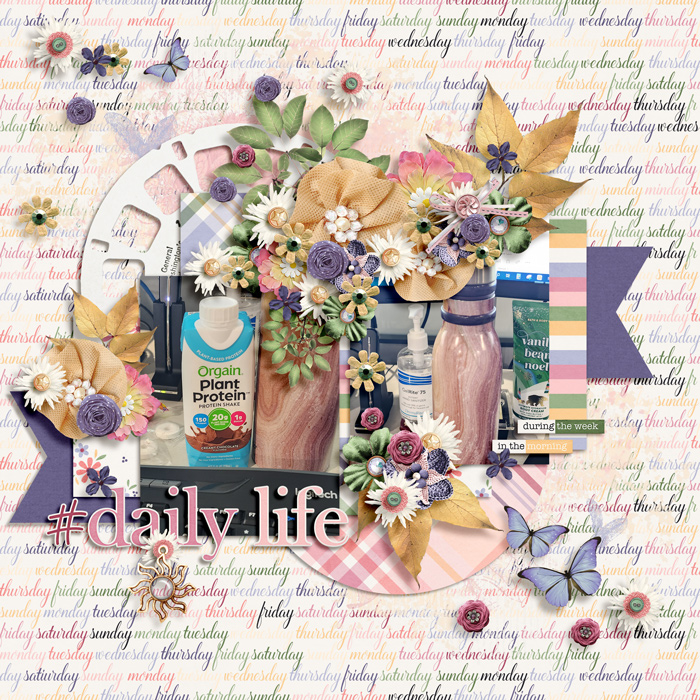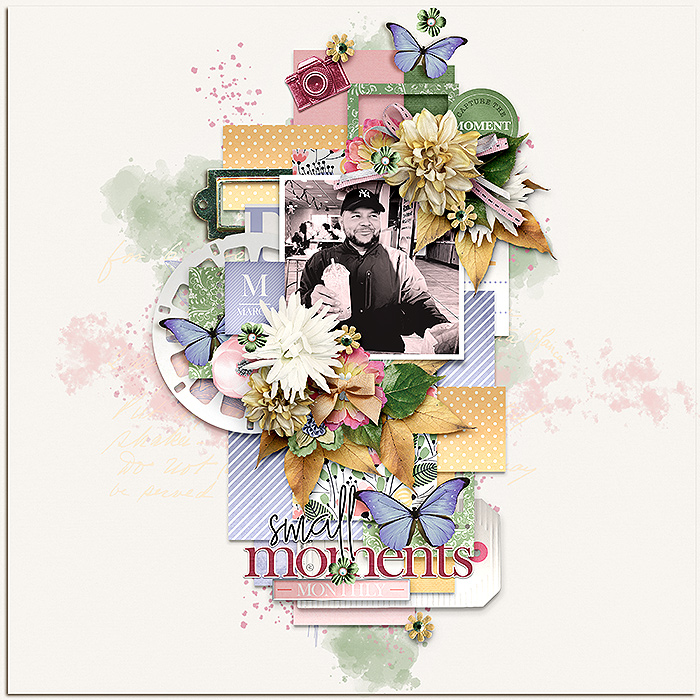 On that note, have a great weekend sweet shoppers and be sure you come back next Friday to see the goodies Jo will have in her featured designer 15 sale!