Sweet Talk with: Kimberly27 – 3/6
Hey everyone I'm excited to bring you one of our blog feature, Sweet Talk, which sheds some light on YOU. Our amazing community members. Once a month we will indulge in some "sweet talk" and have some fun getting to know you all a little bit better.
"When someone tells you a piece of their life, they're giving you a gift." – Patrick Rothfuss
We'll start off with an ice breaker and show off some gorgeous pages then we'll end the interview with a lightning round of 15 questions to learn some fun, interesting and cool things about a different member of the sweetest spot in town!
This month I'm excited to introduce: Kimberly (Kimberly27 in the forum)
Tell us a bit about yourself. How you came to find digital scrapbooking? Day job, where you live, pets, kids? Give us the tea!!
She says: "My name is Kimberly, not Kim. I live in San Antonio, Texas with my high school sweetheart and our 2 boys ages 18 and 12. I stay at home and manage the family calendar. No pets, just messy boys!
I started scrapbooking in high school with small little embellishments in a paper album, then was introduced to Creative Memories. I soon found Stampin' Up and when they introduced Digital Scrapbooking I was hooked. I jumped into designing for several years before taking a break. I jumped back in around 2020 and am playing catchup."
I enjoy browsing Kimberly's gallery and can always find something to inspire me for the day like this layout:
I love those cut-out hearts with the dark paper peeking through. Love all the paints and the beautiful photos of them too.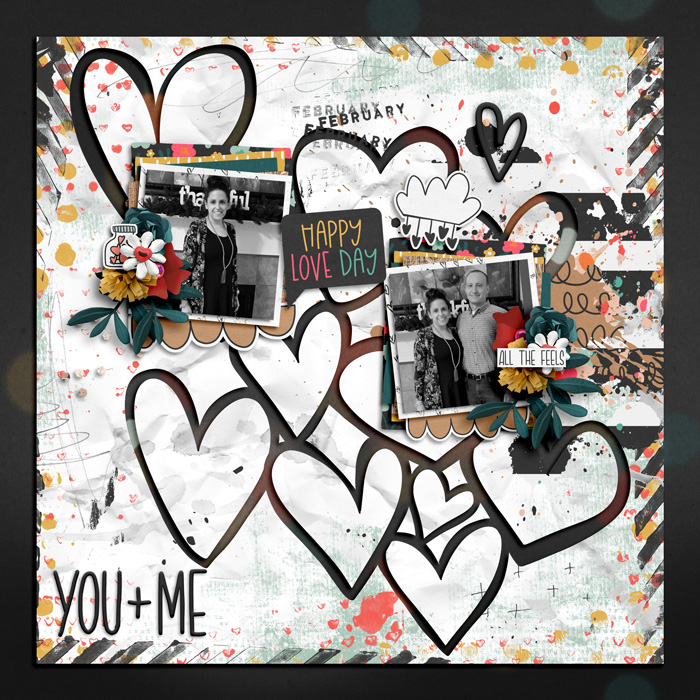 I also asked Kimberly about her favorite pages from her own gallery and this is what she shared:
Only 3? I have to say that I love all my pages and it is hard to pick three. I love being able to capture day to day as well as our trips and big events.
This first one is a family photo. I love how the photos came out as well as the clustering and word art.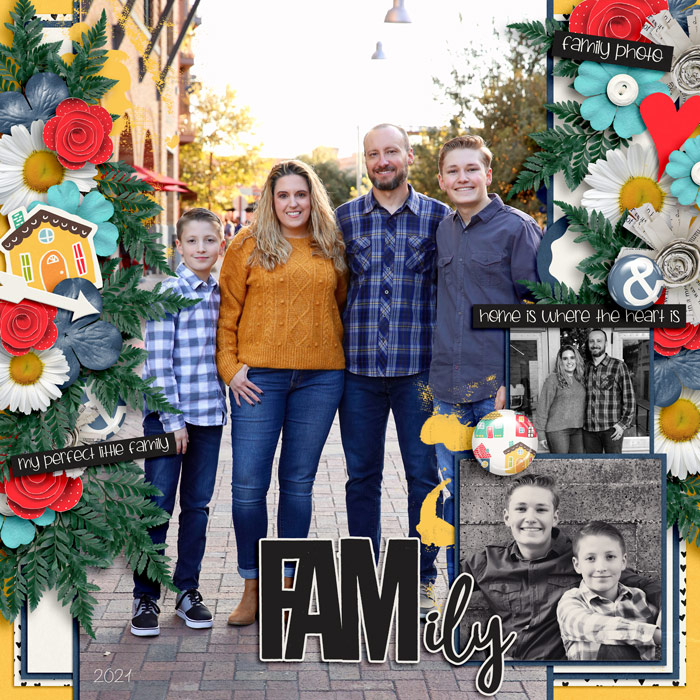 This one is also a recent photo from the summer. I love the kit and the photo of us after 20 years of marriage 26 years together standing on the spot we got married. We got married at my grandparents cabin in the middle of nowhere VA. <3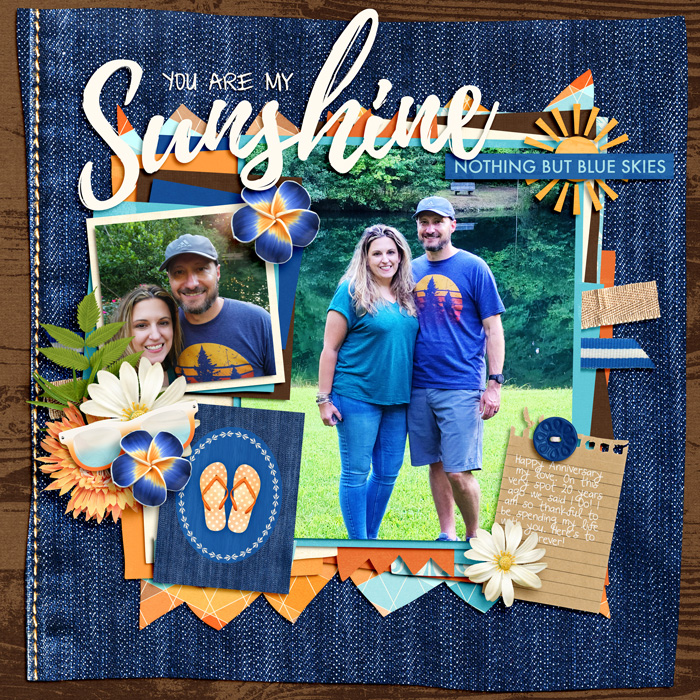 I am going with this one as my 3rd. I love this sweet picture of my boys and I love the bright yellows with the bw photos.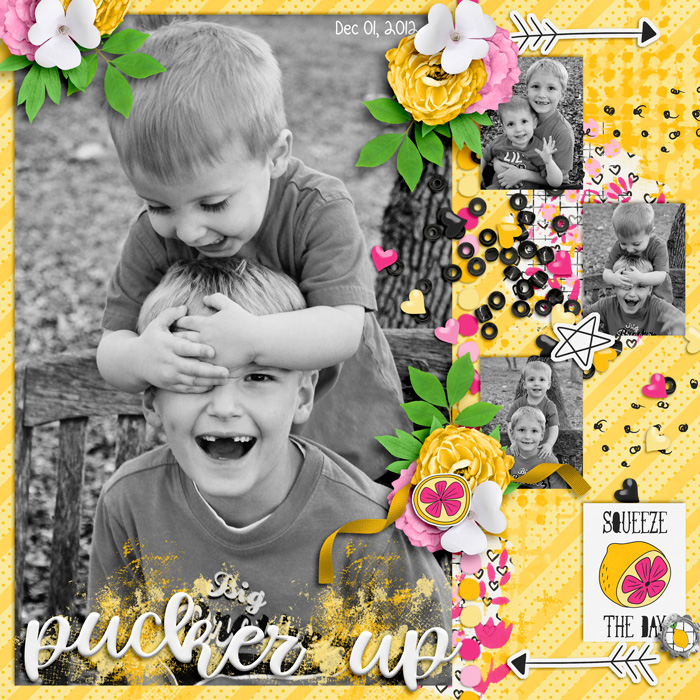 If you want to see more of her beautiful pages, check out
her gallery
here at SSD. But this interview isn't all about her gorgeous creations before we go let's learn some more about
Kimberly
. I gave her a list of questions to choose from and asked her to answer any 15 of her choice.
1. What type of music are you into?
I am an old soul for music. We listen to a lot of classic rock and 80s, 90s music but if you are in my car with me you are going to hear old church hymns. Sweet By and By, Just as I am, Standing on the Promises. It is relaxing and puts me in a good frame of mind.

2. What's the next place on your travel bucket list?
Hubby and I are slowly checking off the national parks. We want to visit the ones in California as well as Florida and the East Coast next.

3. What's your favorite pizza topping?
I am boring with just cheese (lots of cheese) or add pepperoni

4. What's your favorite board game?
Ticket to Ride, Settlers of Canton, Kingdom Builders and Villains (I am super competitive though…it can get brutal

5. Amusement park or National park?
National Park all the way. I am not a fan of huge crowds and I don't ride roller coasters. I love getting out in nature and seeing beautiful scenery. God's creation is amazing.

6. Everyone loves it, but you just don't get the appeal…what is it?
Coffee! I am not a coffee drinker and never have been a fan.

7. Are you a binge watcher? What's the last show you binged?
I am a huge binge watcher but only of one show in particular. I watch Criminal Minds all the time and have several times through. I have also binged Gilmore Girls, Manifest but mostly Criminal Minds

8. Back, Stomach, Side….what's your sleeping position?
Side usually

9. What's one family tradition from childhood? And did you keep it for adulthood?
We have a lot of traditions around Christmas that we have kept. My favorite thing to do is going out looking at Christmas lights. We would walk the neighborhood or drive as a family. Hubby even took me out Christmas eve to look at lights and propose to me. <3

10. What color dominates your closest? Is it the same for your home décor?
My closet has a lot of black but I have done better at mixing it up. Black is my comfort color though, I will even wear a black tank under a sweater just because. My home is a lot of earthy tones…browns, grays, burgundy, dark green

11. You have one superpower, what is it?
I think flying or teleporting would be nice so I can visit family whenever I want

12. Dead or Alive, who do you want to have one conversation with?
My grandfather. He passed away in a car accident after I got married. I feel like we missed so much plus I want to write down all his stories. He told all kinds of stories and played beautiful music on the guitar.

13. What is your go-to app for wasting time?
Happy Color or Jigsaw puzzle are the ones I frequent. There are a few other games that I play off and on but Coloring is just therapy

14. What is the first thing you'd spend money on if you won the lottery?
A new truck for hubby (our son totaled his car) and a camper…so we can hit the road and explore!

15. You're alone for 24 hours, what do you do?
Scrapbook, binge watch some tv and nap!
I am definitely with you about coffee, lol, I do not get the appeal!! I think we all can relate to 24 hours alone too! Thank you again, Kimberly for taking time to have a little fun with us. I enjoyed getting to learn more about her and hopefully you all did too. Until next time. ♥