Show-Off & Shout-Out with the SugarBabes – 5/2
We can't heal the world today, but we can begin with a voice of compassion, a heart of love, an act of kindness. – Mary Davis
Here at the Sweet Shoppe, we believe in spreading love and kindness by leaving words of praise on layouts shared in our community Gallery. In fact, we believe in it so much, we've made it an integral part of our monthly challenge system! You'll find the "Show Off & Shout Out" thread in our This or That Challenges forum. When you leave love for 15 layouts in the gallery, share a layout you created this month and want to show off, and share a layout someone else created and posted in the gallery to which you want to give a Shout Out, you could win a free kit or mini bundle up to $15 in value. Our winners for the month of March 2023 were Stefanie, AmieN1, and angels. Congratulations to you all!
I asked some of the Sugar Babes to join me in sharing our own Show Off and Shout Outs to wrap up the month of April. Here's what Cherry, Kiana, Kim B, Krista, Rebecca, and I had to say.
Cherry's Show Off

Why Cherry is proud of this layout: "I love this page I made. If you will look into my gallery, you will realize that I love, love, love to make clusters. Lots and lots of flowers and greeneries, the better. But When Kris (Humble & Create) came here to make SSD her home, I checked the pages her creative team make for her and I realize, they're more of a minimalist time. And gosh am I not that. So I tried my hands into it, no leaf, no flowers, just themed elements, and here it is. Simple layout that focuses more on the photos I took. And I just love it!"
Cherry's Shout-Out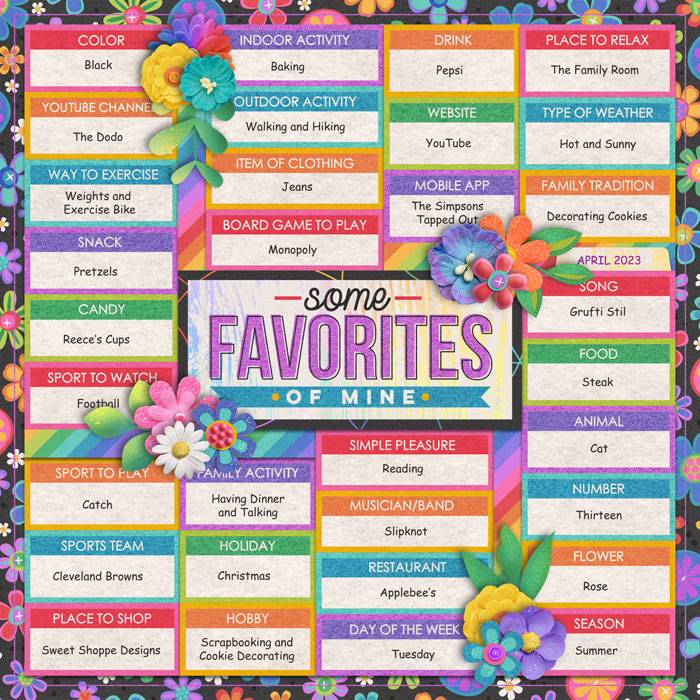 Why Cherry loves "Some Favorites of Mine" by LynnZant: "How cool is this? It's so colorful and just simply eye catching. The small clusters are so pretty, they make you look on the small important detail which was the journaling!"
Kiana's Show Off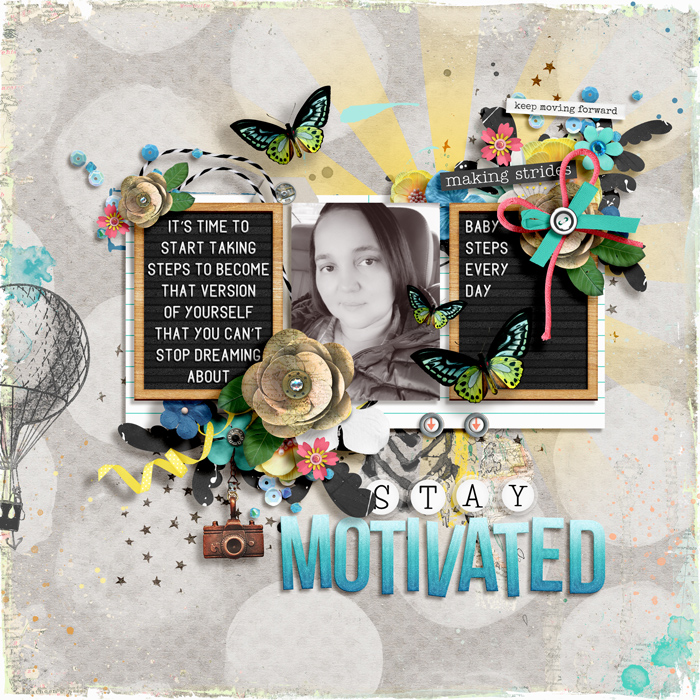 Why Kiana is proud of this layout: "This layout is a bit of creative motivation. I have been on a health journey for the past year and have fallen off the wagon a few times. I've been back on and trying to stay motivated as much as possible while still allowing myself some grace. This layout was just some motivation to keep doing what I am and that I'm taking the right steps."
Kiana's Shout-Out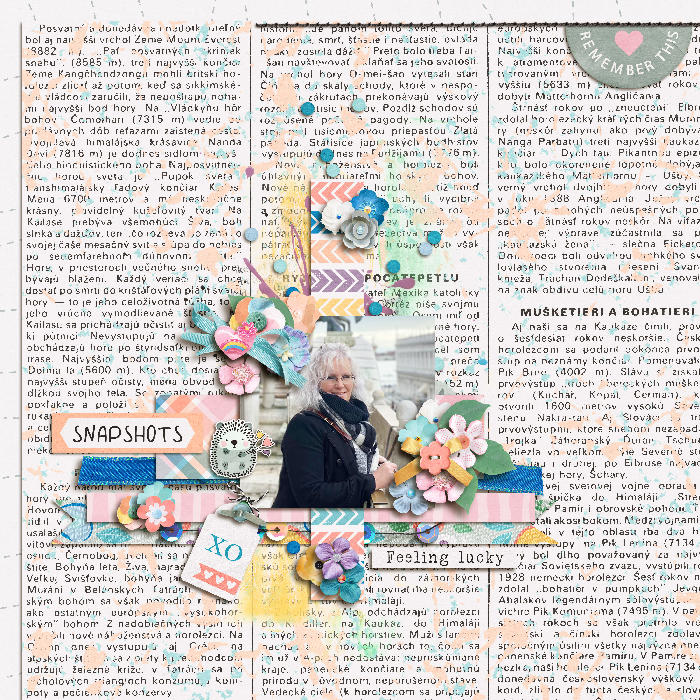 Why Kiana loves "A Month in Review: March" by MirandaB: "I really love the paint and pattern layers on top of the fun newsprint here. I was drawn in by all the paper layers and elements used to frame the gorgeous photo and enjoy the smaller clustering to allow it center stage and focus."
Kim B's Show Off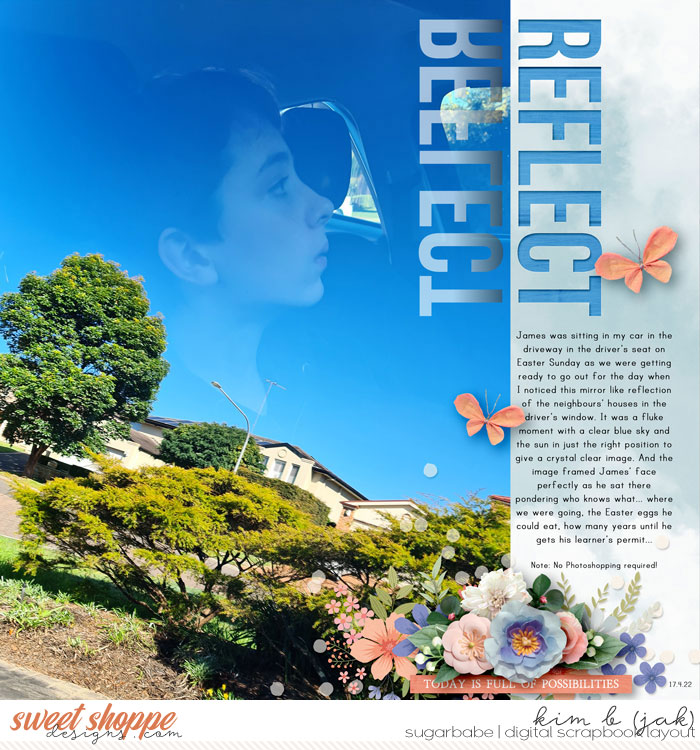 Why Kim is proud of this layout: "I took this photo about a year ago and loved it, including the expression on my son's face, but hadn't got around to scrapping it. The April 'This or That' challenge (a photo reflection) was the perfect opportunity to scrap it. I thought it deserved to be big on the page and the cut-out, reflected title complemented the theme of the challenge."
Kim B's Shout-Out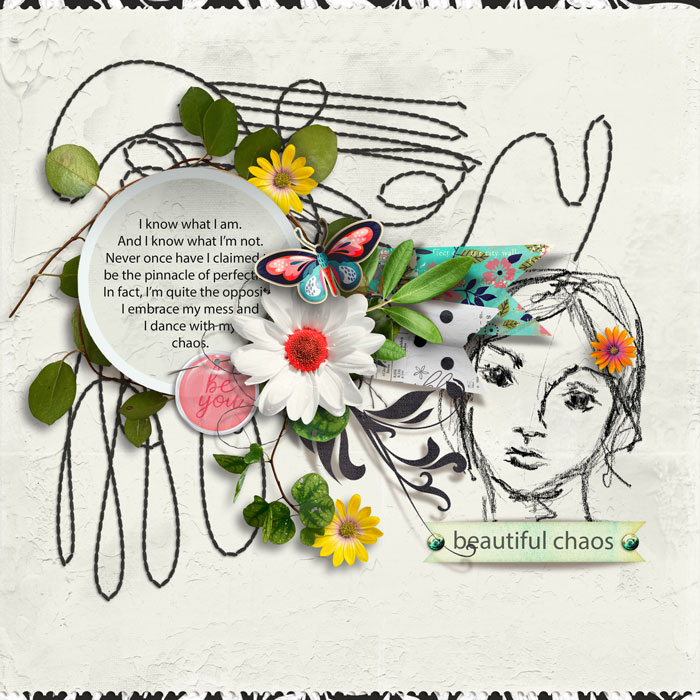 Why Kim loves "Beautiful Chaos" by Scrappy Penguin: "She hasn't used a whole lot of elements on this page, or a photo, but making the elements large, including the stitching, fills the page and creates enough attention to draw your eye to the LO in the gallery."
Krista's Show Off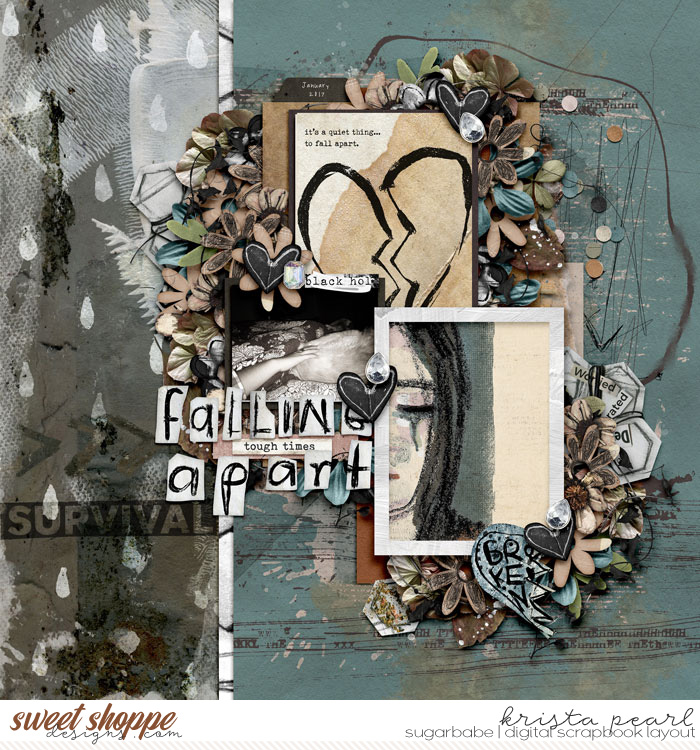 Why Krista is proud of this layout: "I don't do non-photo pages often, but I was inspired by this kit and did. I'm proud of scrapping the unhappy moments too, because they make up our life as well. This was a really hard time back in 2017, and as my husband captured so perfectly 'a parent can only really be as happy as their least happy child.'"
Krista's Shout-Out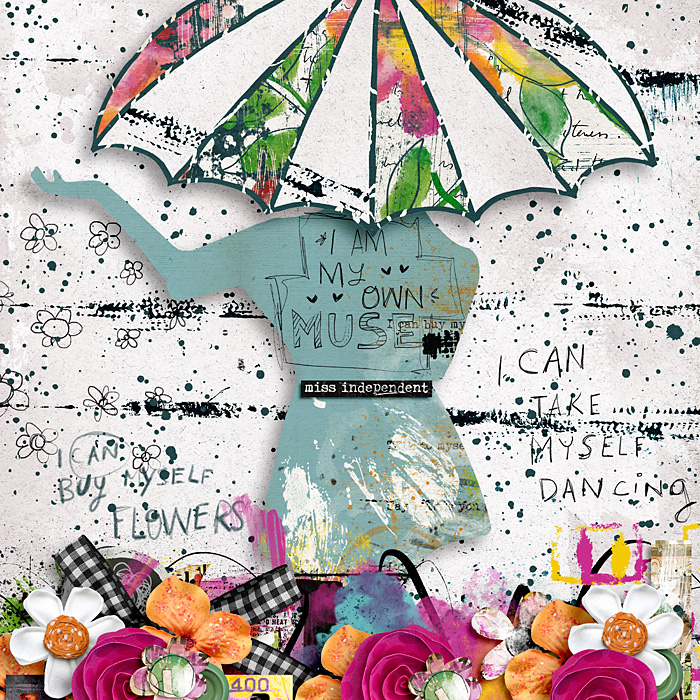 Why Krista loves "Miss Independent" by cinderella: "I'm so inspired by this non-photo layout! I love the way she uses color and word art. I also love the element clusters anchoring the page."
Rebecca's Show Off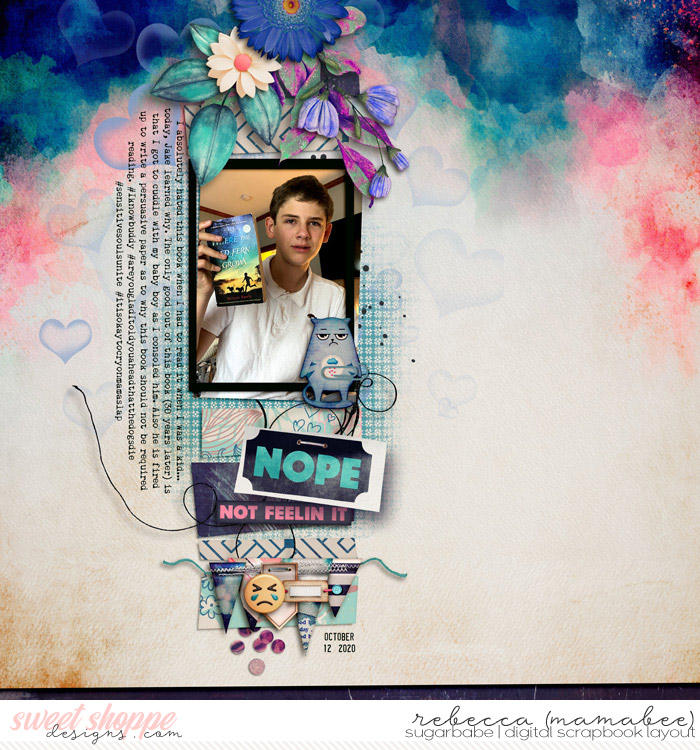 Why Rebecca is proud of this layout: "I have been sitting on this photo/story for a few years. As an avid reader, I'm no stranger to being emotionally spent at the end of the book. My son likes to read, but has never experienced how a good book can really move to you tears. I admit that when I had to read "Where the Red Ferns Grow" as a kid, I vowed to never read that book again. So when it was time for Jake to read it, I didn't want to tell him the ending. After he cried, he was so angry that he was forced to read this book that he wanted to write a persuasive paper that if kids love dogs, they shouldn't have to read this book! I could have used a book themed kit… but this grumpy kit seemed to fit the mood better. Nope – he was not having it – it being how the book ended."
Rebecca's Shout-Out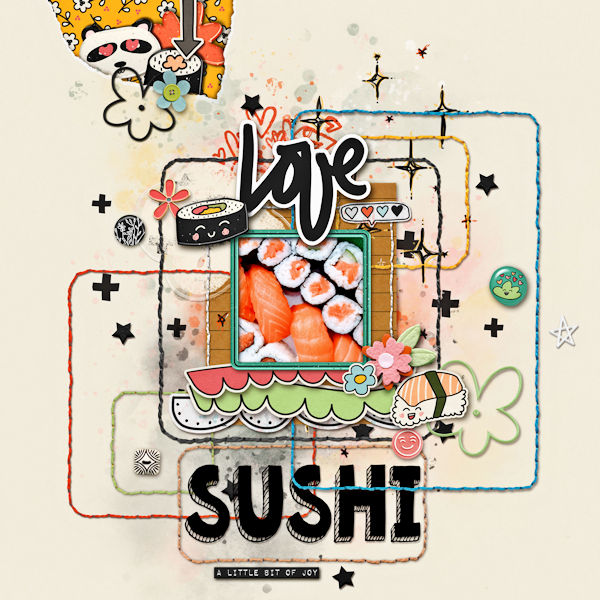 Why Rebecca loves "Love Sushi" by Giseli Freitas: "This layout has so many layers that adds to its depth. I love the torn paper on top down to the smattering of paint and the carefully placed stitches. The elements are perfectly shadowed and places… it should be an ad for a sushi place!"
Angie's Show Off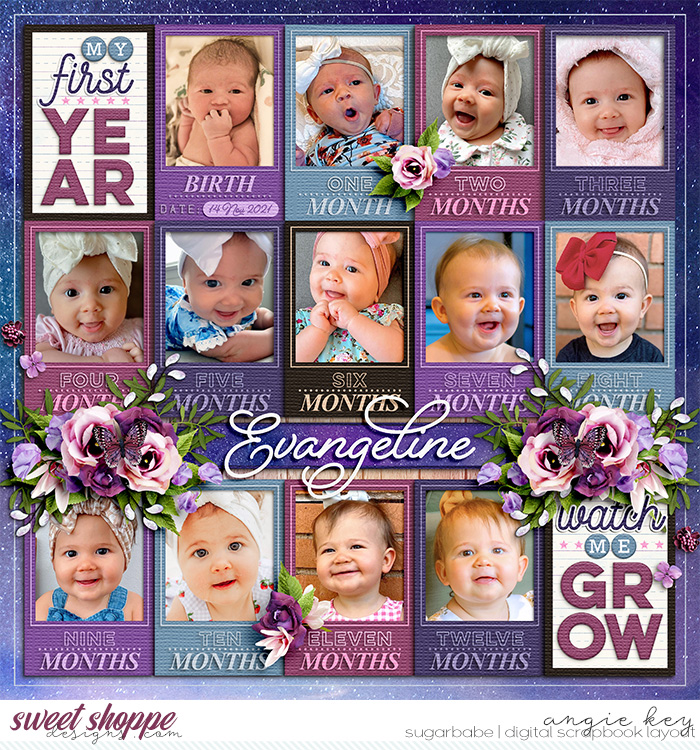 Why Angie is proud of this layout: "I absolutely love scrapbook pages that illustrate the progress of time, and nothing beats a series of month-by-month photos of a baby's first year. I'm having a major love affair with Cindy's "All About Me" template series! It's so versatile – not only am I creating layouts about myself, but I'm using the templates for other family members, too. Thanks to my daughter-in-law's frequent snapshots, I was able to quickly assemble this layout about my granddaughter Evangeline. She's got the most expressive face, and I can't help but grin when I look at this layout!"
Angie's Shout-Out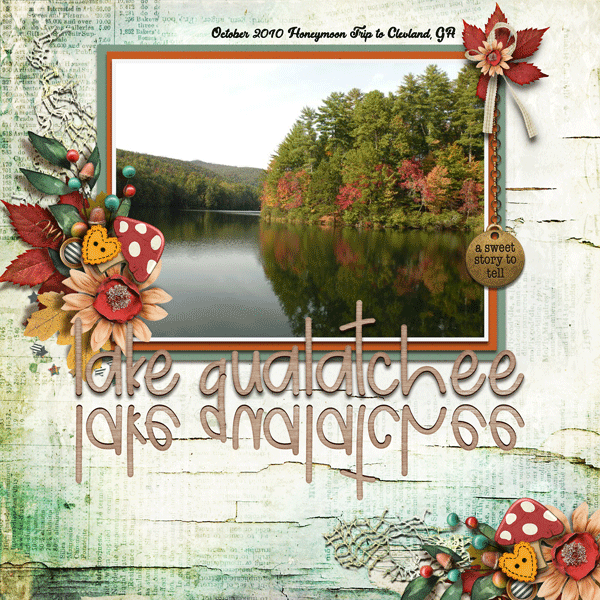 Why Angie loves "Lake Qualatchee" by Scrapcrazy: "Do you see that title?!?! I am completely enamored with the way she reflected (pun intended!) the photo's subject in the title design. Not only did she create a vertical reflection of the alpha elements, but if you look closely, you'll find they're shadowed differently. The right-side-up title has a drop-shadow to make it look like chipboard pieces, and the reflection lies flat against the background paper, just as it would if reflected in water. It's so clever!"
---
As the 13th century mystic and poet Rūmī wrote, "When we practice loving kindness and compassion we are the first ones to profit." Why not take 10-15 minutes out of your day to browse through the gallery and leave some kind words of feedback for your fellow scrapbookers? Not only will it lift their spirits, but it will also lift your own. That's what I'd call a win-win!