Sweet Talk with: MommaTrish 5/3
Hey everyone I'm excited to bring you one of our blog feature, Sweet Talk, which sheds some light on YOU. Our amazing community members. Once a month we will indulge in some "sweet talk" and have some fun getting to know you all a little bit better.
"When someone tells you a piece of their life, they're giving you a gift." – Patrick Rothfuss
We'll start off with an ice breaker and show off some gorgeous pages then we'll end the interview with a lightning round of 15 questions to learn some fun, interesting and cool things about a different member of the sweetest spot in town!
This month I'm excited to introduce: Trish (MommaTrish in the forum)
Tell us a bit about yourself. How you came to find digital scrapbooking? Day job, where you live, pets, kids? Give us the tea!!
She says: "I started digital scrapbooking in 2007. I joined a parenting forum and started making signatures since I already had a very basic knowledge of Photoshop from high school. In looking for supplies to make them I discovered digital scrapbooking supplies and pretty quickly took to making pages."

"I am married and have six kids – the oldest is 18 and graduated high school last year; my daughter is 13; my three younger sons are 10, 8, and 4. My second oldest is forever 16. The younger four are all in school and the oldest works full-time so I have spent the past year and a half adjusting to life at home without kids. Outside of scrapbooking, I love to read, draw, and play The Sims."
I love our members and I love looking through the different galleries. Trish's gallery was full of artsy, eclectic and creative pages like this one:
Look at those sweet faces!! I love the eclectic mix of elements with painted hearts and paper hearts. I love the mix of b&w photos with the strip of color too. So much adorableness in this one.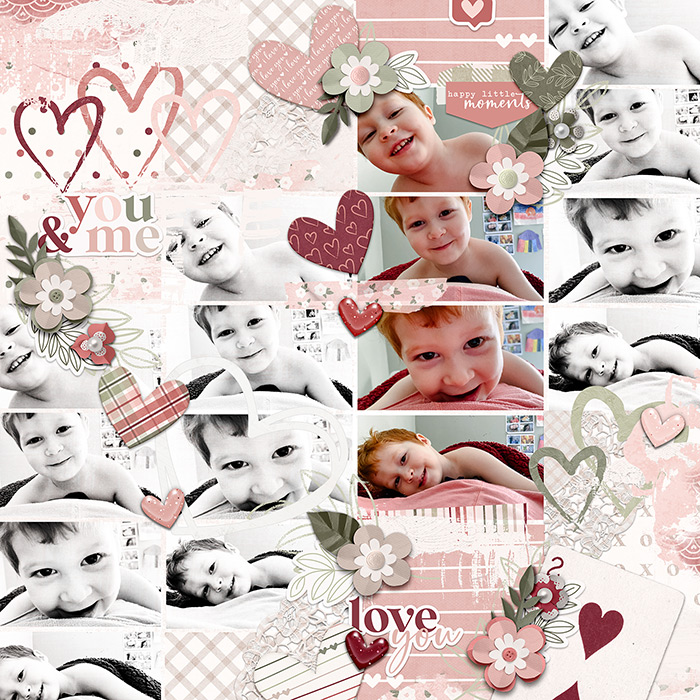 I asked Trish about her favorite pages from her own gallery and she was happy to share these with us:
"I chose these first two because I feel like they are both the most representative of my style. I tend to go for a combination of a lot of busy papers, artsy elements, and a sort of blend of art journaling, mess, and scrapbooking. I love to use a lot of textures, hand-drawn elements, and my own touches using brushes, glitter, and foil styles, and my own drawn bits using my iPad and pencil."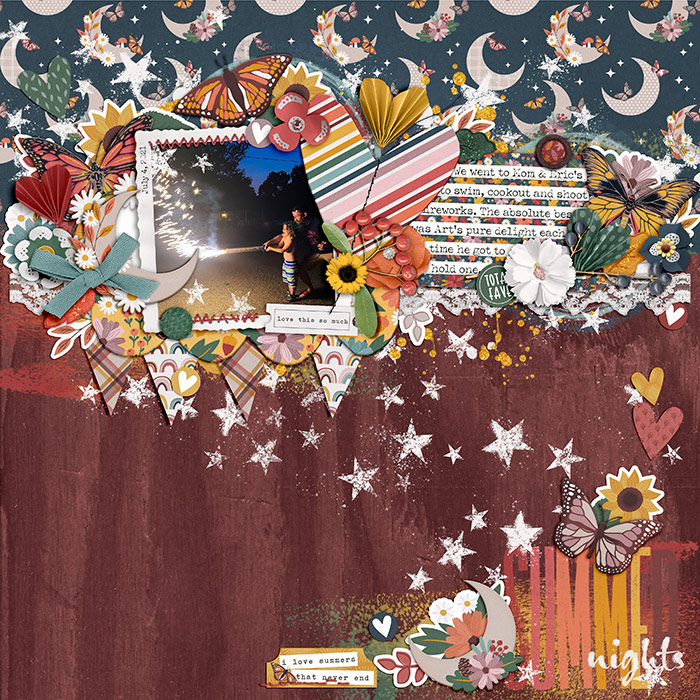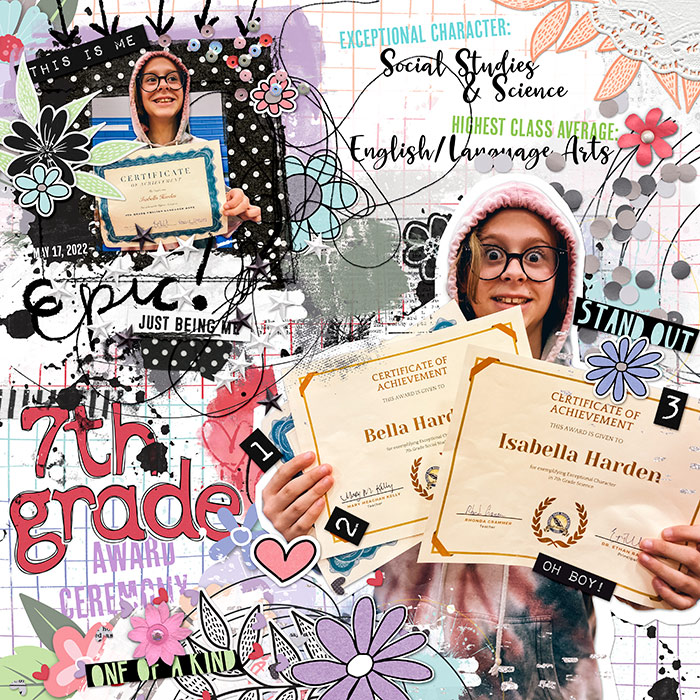 "I am a HUGE champion of making sure that we document ourselves as well in our scrapbooking and have been doing my all about me pages for the past several years. I love to look back on what I was doing, watching, and reading. This was my favorite from last year because the colors and busyness of it is just so… me."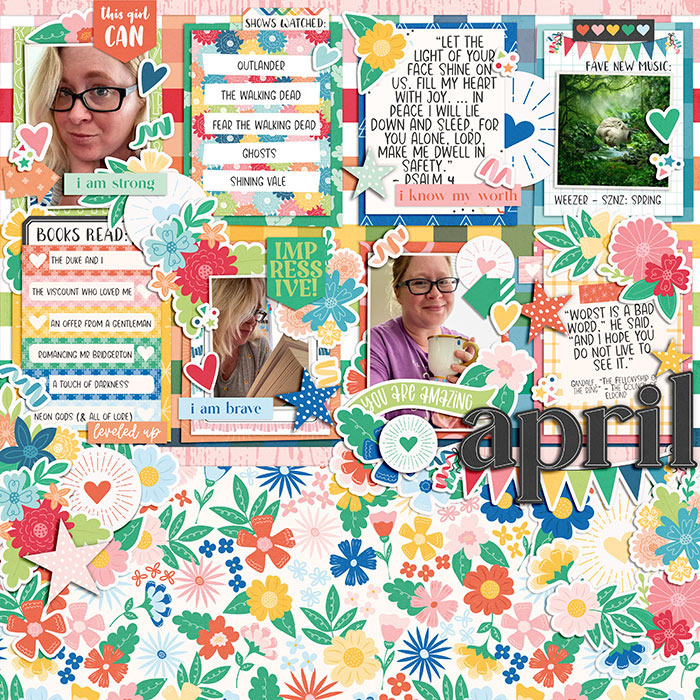 Of course, she's got lots more of beautiful pages in her gallery as she's been a long-time member here. If you want to see more or leave her a little love in her gallery. I'm sure she would like that.  But this interview isn't all about her gorgeous creations before we go let's learn some more about Trish. I gave her a list of questions to choose from and asked her to answer any 15 of her choice.
1.What's your favorite way to spend a day off?
Napping, reading, and doing nothing.

2. What's the next place on your travel bucket list?
Ireland. We were supposed to go this year for our anniversary, but due to big life changes and some health issues, we have had to put it on the back burner. But I am super excited for us to go when things calm down.

3. If you could tell us to read one book, what would you recommend?
Whatever that one book is that you have always wanted to read but feel like you just don't have the time for – you totally do.

4. Tell us one of your nicknames?
I mean, technically Trish is my nickname since my full name is Patricia.

5. What color dominates your closest? Is it the same for your home décor?
Tie-dye. Tie-dye dominates my closet. But for solid colors, dark green, gray, and mustard. One color doesn't really dominate my decorating since the house is mostly decorated in random things and kid art.

6. Amusement park or National park?
Amusement park. I love national parks and parks, but I'm almost always going to pick amusement parks.

7. Do you believe in aliens and unicorns?
Unicorns? I've never really thought about it. I definitely believe in life in other places because I feel like it would be egotistical of humans to believe that we could be the only beings in the universe.

8. Everyone loves it, but you just don't get the appeal…what is it?
Cheese.

9. What's your favorite season?
Summer, every other season wreaks havoc on my allergies and head.

10. What's your "regular" coffee order?
Just regular coffee when out of the house – a medium roast with a splash of vanilla and heavy whipping cream and three sugars.
Starbucks – caramel macchiato

11. You're alone for 24 hours, what do you do?
Read, play on the computer, take a long uninterrupted shower, and watch shows that I can't watch with kids around. (The last time I had the house alone for a day I watched all of the first season Bridgerton in one day.)

12. What's inside of your purse right now?
Some pens, a notebook, allergy medicine, Benadryl, arthritis medicine, a handful of lipsticks, one chapstick, emergency caramels, and usually a book. Plus whatever trash or small bits of junk kids give me to hold at any given time.

13. What is the first thing you'd spend money on if you won the lottery?
Practical stuff. I would pay off our debt, buy working reliable vehicles, and buy a house (we currently rent).

14. What's on your desk at work or home?
Everything? Here is a list of things I can see without moving things – 5 color pencil sets, 2 watercolor pads, 3 mixed media notebooks, a sketchbook, my iPad and pencil, my grief journal, some tape, two candles, a collectable Misfits figurine, a Cassian Andor funko, a Jimminey Cricket funko, 3 records, 3 watercolor sets, a gauche set, watercolor pencils, 3 boxes of paint pens, a candle, paint palettes, my camera, my son's wallet, a dead vase of roses, 2 empty cookie tins, a plant, a TARDIS, several cups and jars of paint brushes, pencils and pens, my headphones, matches, about a dozen books, my junk notebook, a coffee cup, a gooseneck phone mount, and a stone gargoyle. Oh and my laptop.


15. Is there ONE job you'd NEVER do?
Teach middle school. I've had three in that age group, and one of them at a time is enough for me. There is no way I could do a classroom full of them.
I loved learning more about Trish and definitely agree, I would never be a middle school teacher, lol. I love that her color is ? tie-dye! lol. I think that totally fits her aesthetic of her pages too. Thank you so much Trish for taking some time to answer my questions and share with us. Hope you all enjoyed learning more about Trish too. Until next time….see ya!