Sweet Shoppe Saturday 8/18
Hey Hey Sweet Shoppers! Tonight is the night many of you have been waiting for. Along with sharing our newest releases, I am also sooo excited to bring you the official results of the 2012 Sweet Shoppe Summer Games! I know you guys are eager to find out who our medalists are, so without any delay let's get our winning athletes on those podiums…
As one of the judges who made her picks for the individual all-around finalists, I can tell you with all my heart that I was blown away by how spectacular each and every participant's portfolio was at the end of this competition. You guys absolutely poured your hearts into these challenges and my entire team was soo impressed by your effort. We are not only beaming with pride on behalf of those who won, we are thrilled to have each one of you who participated as a member of our community. You have inspired us beyond what we imagined possible and we're so grateful to have been host to the Summer Games this year!
Congratulations to each one of our medalists up there! Traci will be in touch with you this week via private messages in our forums to coordinate your prize packages. To each of you who took part in the games in any way be it scrapping along with the events or cheering on the contestants, thank you so much for being part of this special competition! We look forward to bringing you more exciting contests, games and inspiration in the coming months and years!
Now, I know you guys are going to take a while to peruse those mouthwatering finalists up there, but we can't let you forget that your favorite day of the week is here! That means I have lots of sweet new goodies from our talented designers and inspiring Babes to share with you tonight too…

As always all of our newest releases are 20% off all day long, and if you haven't already seen, we put another one of our amazing designers in the spotlight as our Featured Designer on Thursday! I love Ericas' whimsical and unique style and her kit, Beachy Keen, is not only perfect for those last minute Summer memories, it's yours FREE with any $10 purchase made in the shoppe between now and August 31st…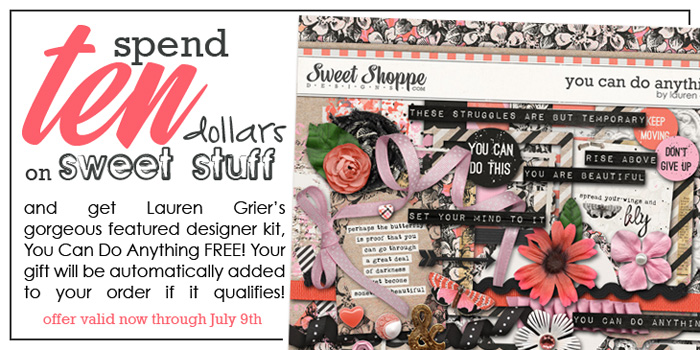 Speaking of kits you won't want to miss, this is the final weekend you'll be able to grab our limited edition Summer Games collab, A Better Me. The kit will be retired into the vault for good at the end of the day on Sunday, August 19th, so if you haven't already picked it up, please do before it's gone for good. I can promise this is one kit you'll want to have in your collection…
Finally, our very own Krystal Hartley is looking for a few talented scrappers to join her creative team! Her call is going now through August 26th, and you can find all of the details by clicking on her fantabulous ad below…
On that note, I'm off for the week, but I'll see you here in your inbox next weekend for lots more sweet new stuff. Until then, keep going for the gold, making memories and don't forget to scrap a little MORE!