About The Boys: Favorite Boy Pages by Sweet Shoppe Members
Erin shows off "boy" pages that we love, created by YOU, our community.
Hi all! I am here today to share with you some of the SSD staff's favorite boy pages, from YOU . . . our community! So sit back and enjoy some amazing layouts all about the boys.  🙂
Here are SugarBabe Tara's picks and what stood out about the layouts to her:
I love this one for the journaling and paper pieces. Also the messy feel of it made it more masculine.
I love the layout design on this and I am a sucker for banners. I am totally going to do a lift of this.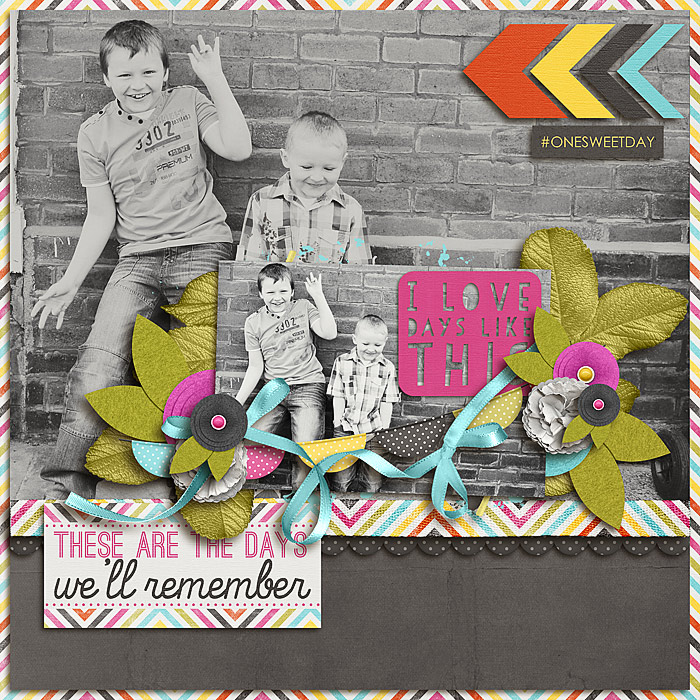 The composition of this is beautiful, and the large photo I love.
The layers made me happy.
Here are a few that SugarBabe Trish loves: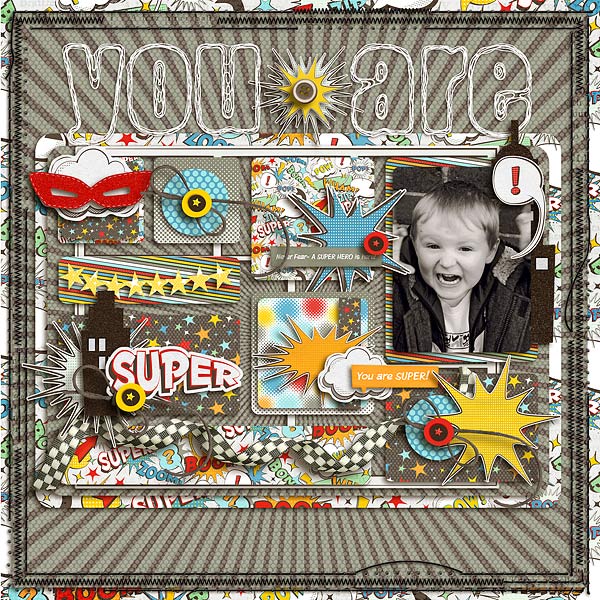 Everything about this page just screams boy to me! I love the mix of all those yummy patterns, the wonderfully done clusters, and the shadowing. And that black and white conversion with the rest of the layout just works so well.
I love that this is a boy layout but not a BOY layout. It's a wonderful example of a boy page that isn't scared to have flowers and a slightly softer feel.
Designer Heather Roselli got in on the fun and shared these two pages:
Next up are SugarBabe Lizzy's fave boy layouts: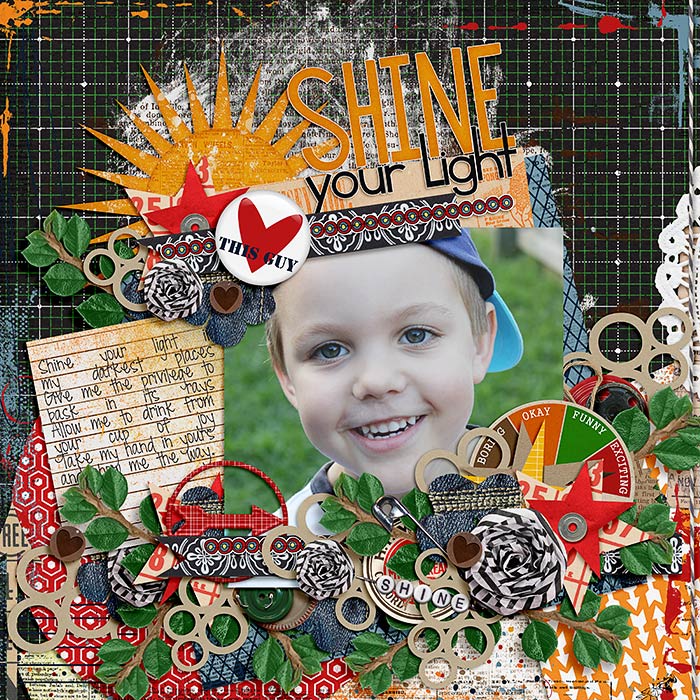 I love this one from Julie (MotherBear). Her clustering and layering is awesome. She has filled the page without it looking cluttered.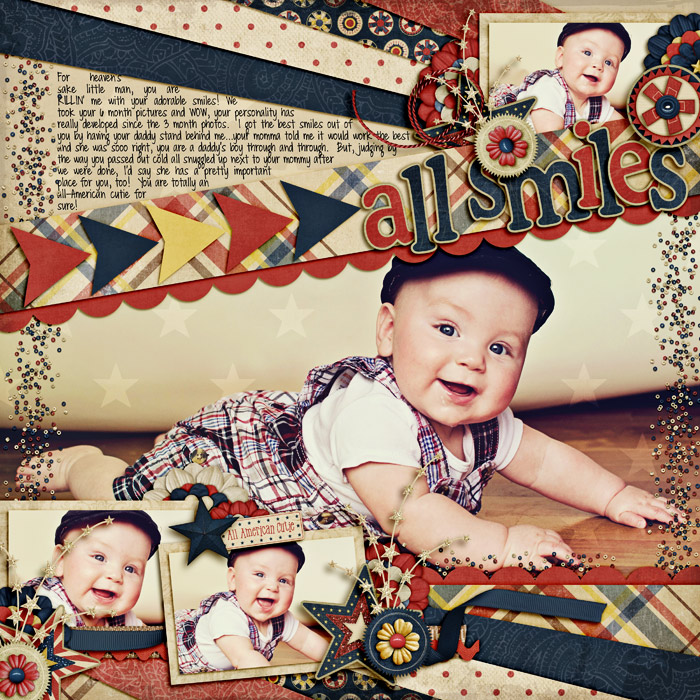 And this one from Sara (misfitinmn). She used the perfect kit to highlight the photo—colours are perfect and all the little details add so much to the layout. And most importantly, there's that adorable baby face!
And this one from Aly (AJM). She used the perfect kit to scrap her photos, and all the wordart and paint splats really highlight the fun photos.
One from SugarBabe Steph:
I love how she captured the craziness and spontaneity of the situation. the colors are bright and wild and what really gets me is the "let it be" word art. Cause really—what more can you do? He put a whole sheet of tattoos on his torso. Let it be. Move on. Scrap it. THIS is what I imagine life with a boy in the house is.
SugarBabe Tracy loves this layout: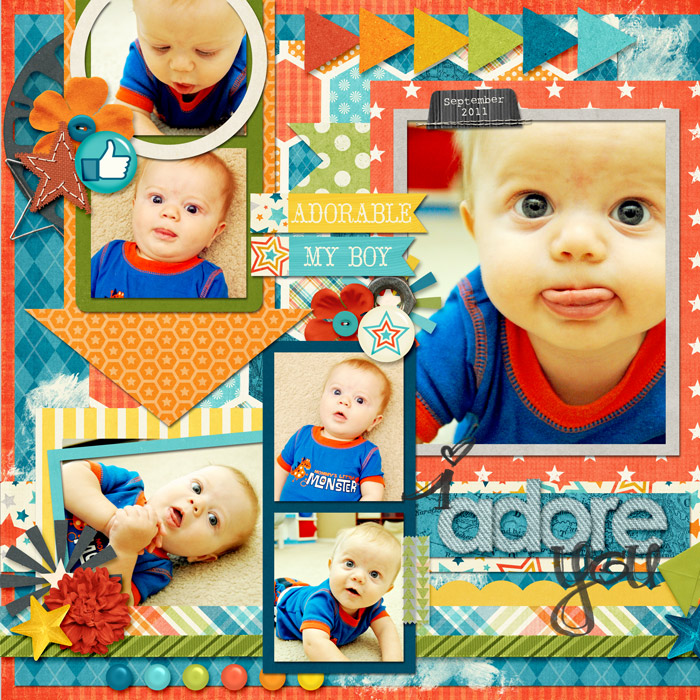 I Adore You by sarah8914 – This one is actually a 2-pager, but this side is my fav because of that large photo with his tongue sticking out. It's such a fun, cheery layout and really captures the joy in her son.
Next are a few from SugarBabe Jacinda:
I like this one by Kristin (SmallMoments). I love that even though there's no photo, she's captured the essence of her son with all the interview questions. Her use of patterned papers across the middle is a neat design element too.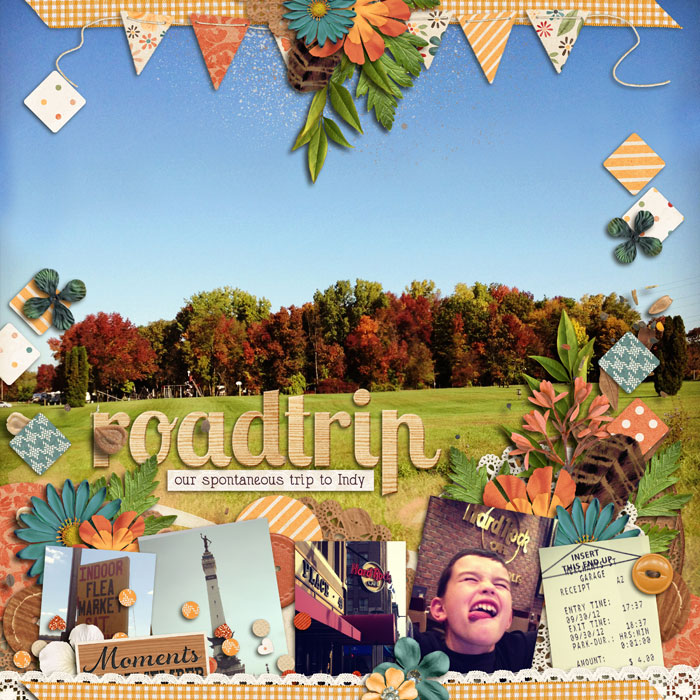 This is another by Kristin. Loooove the big photo and the cluster along the bottom. A great boy page. Almost don't even realise there's flowers on there unless you specifically look for them. They merge with the theme beautifully. Her whole gallery is chock full of fabulous boy pages.
And here are a few from me that I absolutely adore: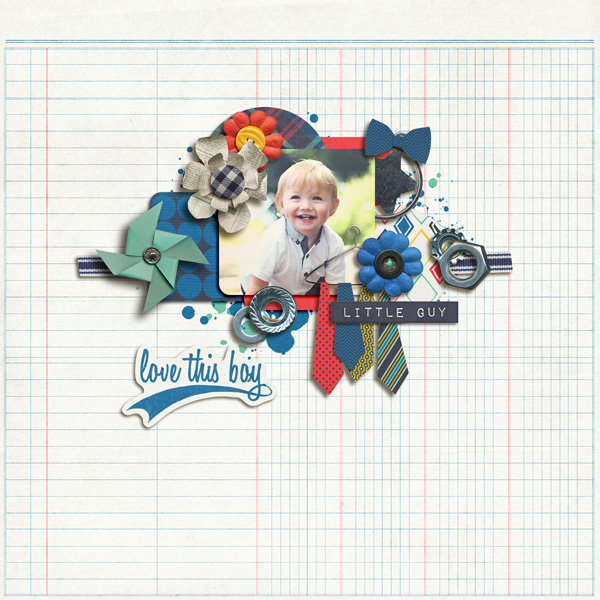 I love this picture! And how she mixed flowers with nuts and bolts to make the perfect boy page!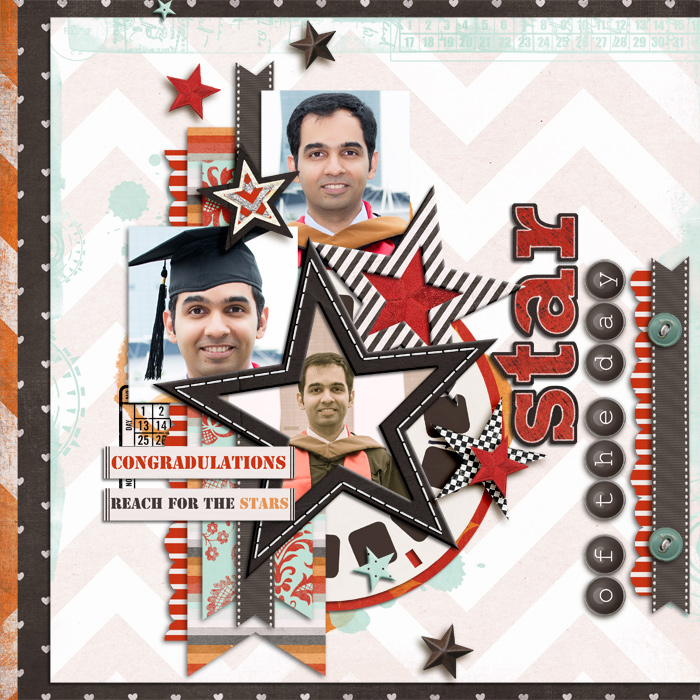 This layout by Sugi is fantastic! I love how it's a layout about her husband and his graduation. It's just perfect!
I hope you all found a few layouts to add to your favorites. We have so many inspiring members in our community. Thank you all so much for inspiring us!