Sweet Shoppe Saturday 1/7
Hey, hey Sweet Shoppers… Happy 2017! Another year has come and gone, but no matter which year we're in, there is always Friday night which means oodles of sweet stuff is hitting the shoppe for your digital scrapbooking pleasure tonight! I know you're eager to get shopping, so without unnecessary babbling from me, here's your first look at…
If you're a template fan, you're in for a treat because there are a slew of new templates hitting the shoppe tonight from so many of our designers! No matter what your scrapping style, you're sure to find something that suits the pages you want to create, so be sure to head to the shoppe to take a look at them all. We also think our newest designers are hitting it out of the park creating scrumptious new goodies each week, so I hope you guys are loving our newest additions as much as we do!
I also wanted to remind you guys that NOW is the perfect time to jump into our Bingo Challenges here at SSD! If you're looking to get those pages scrapped with lots of fun & flexible inspiration each month, I'd encourage you to check out this month's card and join in on the fun. It's a great way to earn discounts in the shoppe each and every month and you'll also have a chance to win free stuff too!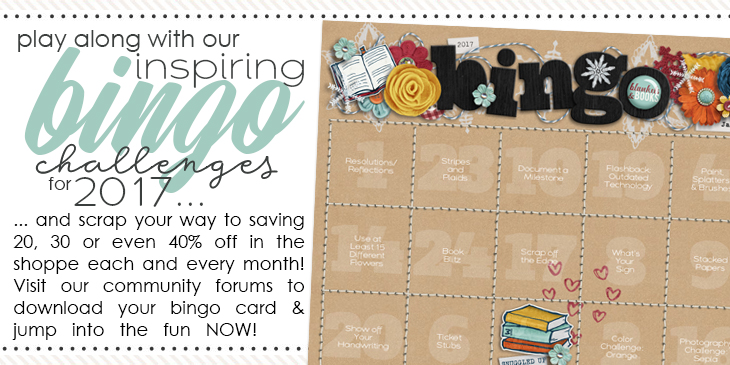 On that note, I'm keeping things short and sweet this week, but I'll be here in your inbox next weekend with lots more sweet new stuff! Until then, keep making memories sweet friends and scrap MORE!