Sweet Shoppe Saturday 2/11
Hey, hey Sweet Shoppers! Your favorite day of the week is here, and the month-long party to celebrate our 11th Anniversary is just getting started here at the sweetest spot in town! I have lots to tell you about tonight including a brand new featured designer freebie from Cheri of Dream Big Designs, but this week's big headliner is the fact that we're having a Buy This / Get That weekend where oodles of our newest releases come with bonus freebies all week long! The designers have been hard at work creating awesome treats for you to indulge in tonight, so let's get right to it with your first look at…
As you can see, all of our newest releases are 25% off from now through Monday at 6am EST, and this week is even sweeter because oodles of the new goodies hitting our shelves tonight come with bonus freebies too! From project cards to templates, titles and more, you're sure to find lots of reasons to shop these sugary sweet deals including a brand new free with purchase offer from our newest Featured Designer, Cheri Robinson of Dream Big Designs!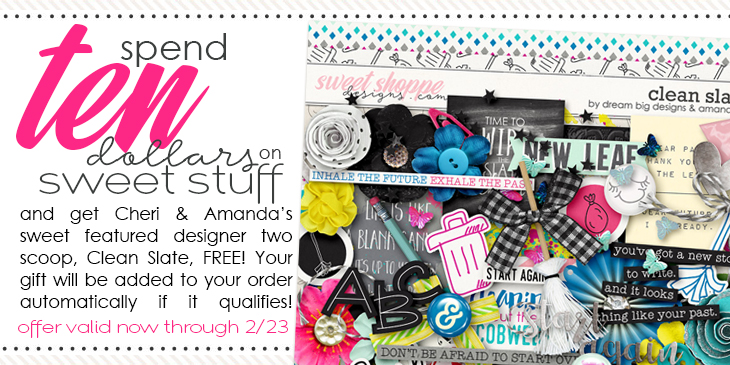 Cheri went into the spotlight earlier this morning and I just adore the kit she's created with Amanda, and think you will too! Clean Slate is a bold and graphic kit that's perfect for an out with the old in with the new attitude and so much more! Our Babes did fabulous things with this beauty, and there's lots more to see in this week's featured designer showcase on the blog too, so be sure to check it out if you're looking for lots of inspiration featuring Clean Slate!
In other news, I wanted to remind you guys to keep your eyes on our community forums for fun and games throughout the month. There are prizes to be won and fun to be had getting to know and scrap with your fellow sweet shoppers, so be sure to stop by and join in on the fun over the next 20 days so you don't miss a thing! Today is also the last day you'll be able to pick up our 11th Anniversary collab, Life's Little Pleasures which is FREE with your $20 purchase, so be sure you head to the shoppe NOW so you don't miss it!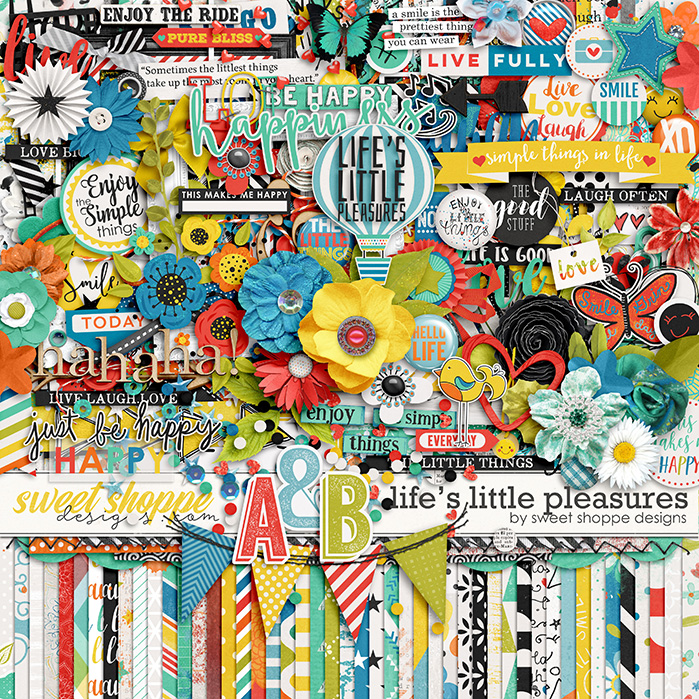 On that note, I'll wish you guys well for the week, but I'll be here in your inbox next weekend with lots more sweet new stuff! Until then, keep making memories and scrap MORE!