Sweet Shoppe Saturday 8/5
Happy weekend Sweet Shoppers! It's my favorite time of the week, and tonight, in addition to having tons of scrumptious new goodies to show off to you, I also get to put the second of our summer sixlets into the spotlight, and I have lots more info for you on entering Scrapaneers' Masters of Scrap competition too! I know you guys are eager to see and hear more, so without further delay, here's your first peek at…
As always, all of this week's newest goodies will be 25% off through Monday at Noon EST, and there are oodles of treats to fall in love with this week! From back 2 school to the far east to the old west and beyond, our designers are always showing how creative they can get when it comes to themes. I think you guys are going to love what's hitting the shoppe tonight, and while you're there, you aren't going to want to miss picking up the next in the series of our personality inspired Summer Sixlets, We are the Dreamers from Megs, Alice, Willemijne, Christine, Amber & Brook!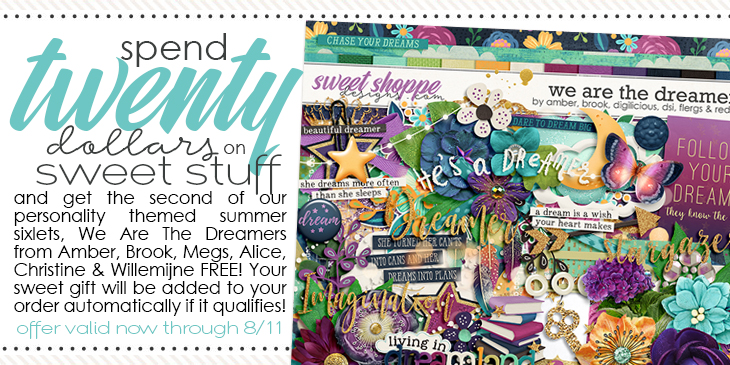 You guys, this kit is seriously so beautiful! It's absolutely packed with goodies from these talented girls, and the template that Brook created is sheer perfection! I know you guys aren't going to want to miss having this one in your stash, and best of all, it's FREE when you spend $20 on your choice of anything else in the shoppe until our new releases go live next Friday night!
The Babes made some fantastic pages with We are the Dreamers, so I thought I'd share just a few of their layouts to inspire you, including this one made with that dreamy template from Brook created by Sugarbabe Carrie…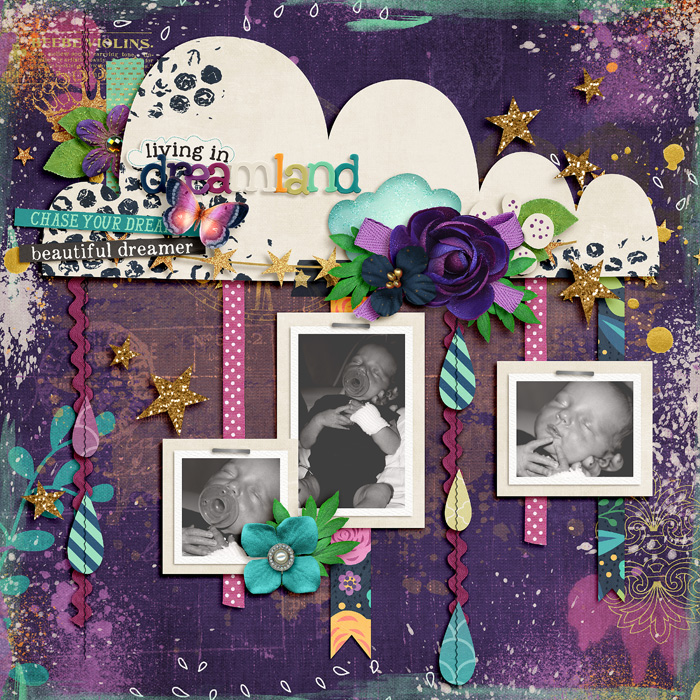 layout by SugarBabe Carrie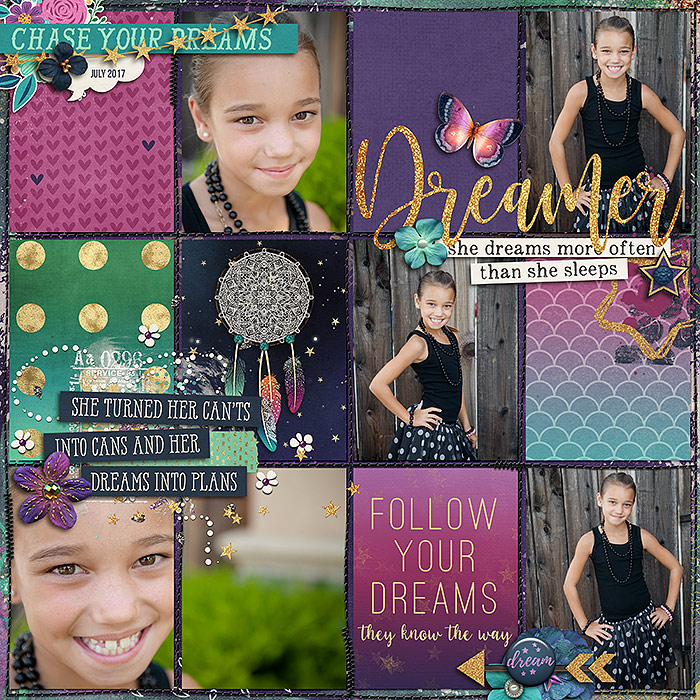 layout by SugarBabe Krista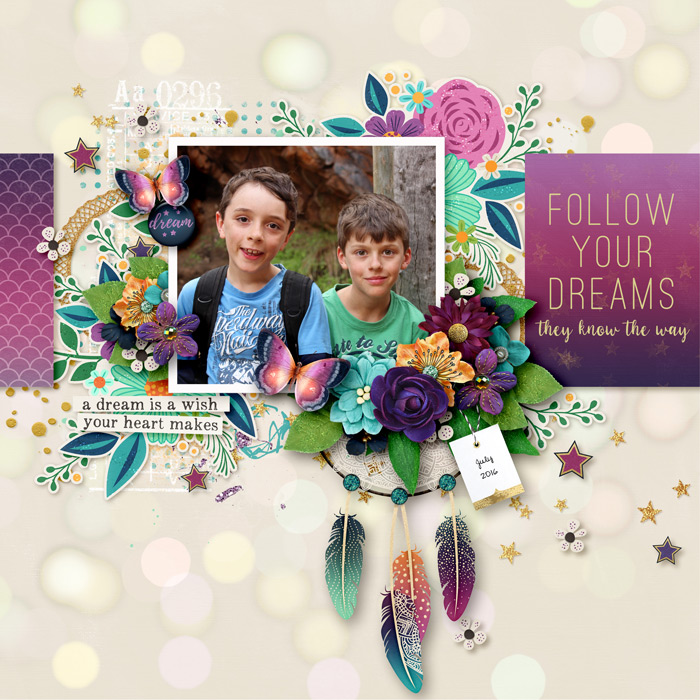 layout by SugarBabe Kim B.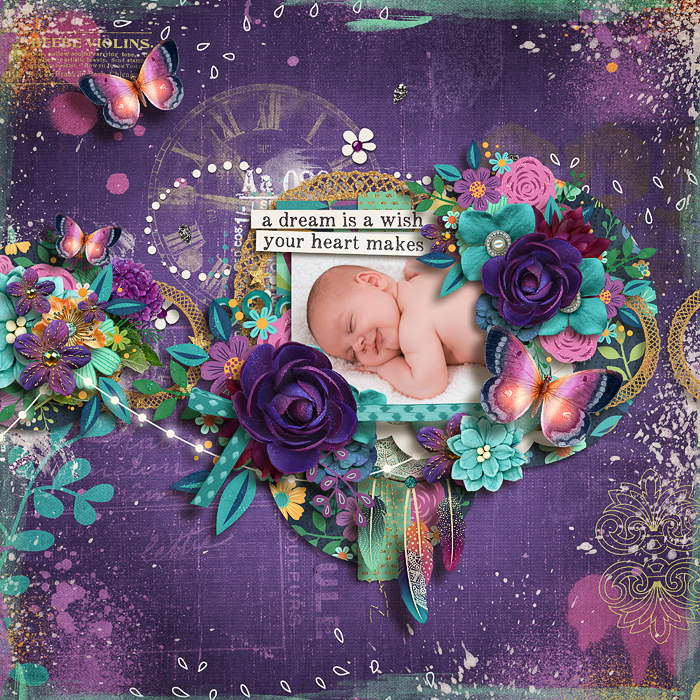 layout by SugarBabe Sheri
In other news, I know I mentioned this on Tuesday when our Oldies But Goodies sale went live, but registration is on NOW for Scrapaneers' Masters of Scrap competition where you can win tons of amazing prizes from sponsors all over the digital scrapping community! I haven't seen a contest this big, supported by this many sites in a really long time, so I encourage anyone out there reading this to take the leap and enter to play along with this fantastic event throughout the month of August…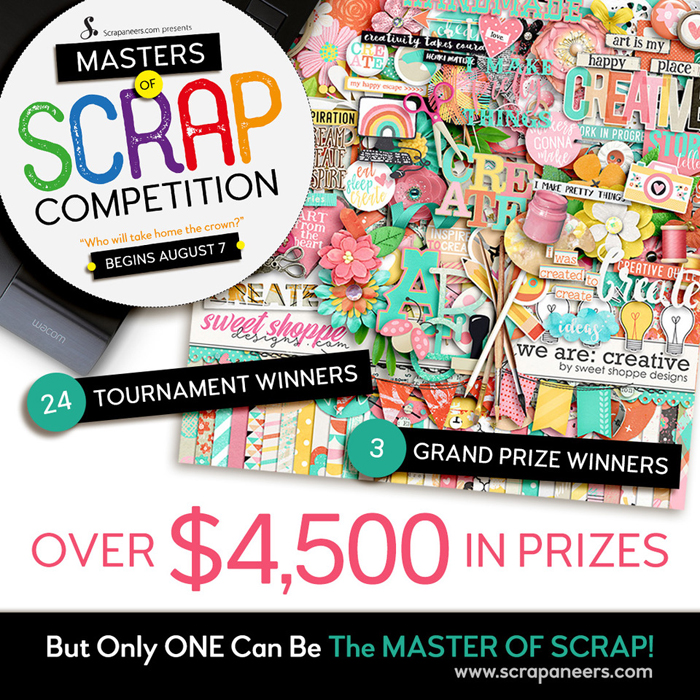 Scrapaneers has started sharing the incredible prizes at stake in each event on their site here, so check it out and register to play NOW before registration ends August 6th! We've also started a thread in our forums for our talented Sweet Shoppe family to tell us who will be competing, so be sure to let us know if you plan to participate so we can cheer you on! Don't forget, everyone who registers to participate gets a pretty fantastic welcome package that includes lots of special offers including info on how you can get We Are Creative, the absolutely HUGE collab we created exclusively for this special event!
Finally, I wanted to note that if you had any trouble shopping this week, our SSL certificate expired midweek and several customers received security errors when trying to make purchases and log into the shoppe. I wanted to take just a moment to reassure you that this issue has been resolved and you should be able to make your purchases without issue this weekend. I'm extending our Oldies But Goodies sale for a few more hours, so if you missed any of those treats because of this hiccup, feel free to grab them until tomorrow at Noon EST! Thanks so much for your patience during our little glitch, we really appreciate it!
On that note, I think I'll spare you from any more babbling from me and wish you well for the weekend! I'll be here in you inbox on Tuesday with Krystal's fantastic Featured Designer 15 sale which you can get a peek at on the blog right now! Until then, keep making memories and scrap MORE!