In Memory of Amber Shaw: How YOU Can Help
Sweetest friends…
As you guys know, we've been taking a moment of silence this week to honor and remember our friend, Amber Shaw. Amber lost her life last weekend alongside her husband Larry, and their 12 year old son, Elijah. Our community was heartbroken to hear such tragic news. Amber was a dear friend to many on this team and inspired our community through her drive, creativity, talent, warmth of spirit, generosity and so, so much more. Saying she will be missed is barely touching the surface of how deep her loss truly is to our sweet little family.
Since then, we've had so many members of the community reach out to us to find out what they can do to help support Amber and Larry's family members who are experiencing this loss on a level that is even deeper than ours. A Go Fund Me campaign has been set up by the family to help their children, Devan, Xavier and Darian with funeral costs and other expenses related to their loss. As a community we want to support that effort the best way we possibly can.
The designers at Sweet Shoppe Designs, The Lilypad, The Digital Press & OScraps have come together on a very special project to celebrate Amber in our own special way. Follow Your Dreams, a collab created with her favorite colors in the spirit of her design legacy, will be our community's gift to you when you donate $20 or more to the family's Go Fund Me campaign.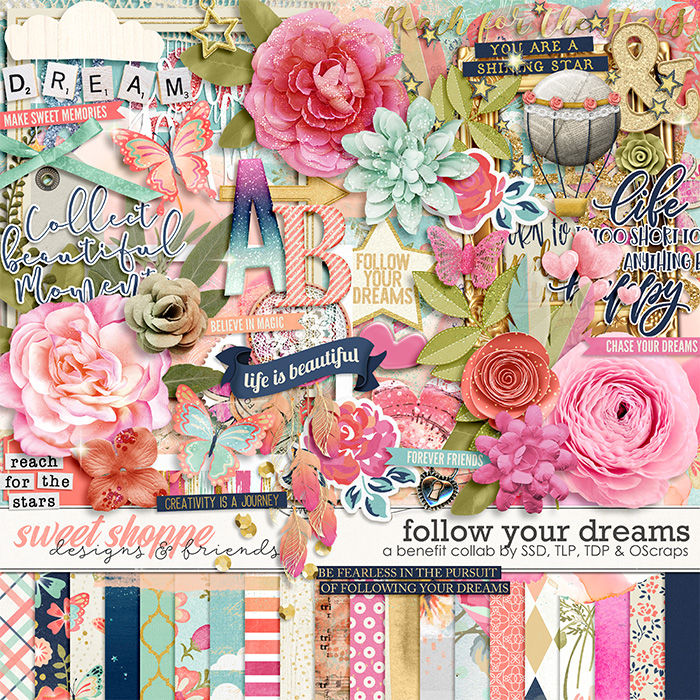 This project is extensive and still in progress, with dozens of designers from across the digital scrapbooking community contributing in their own little way to supporting this important effort. Because of the scale of this project, Follow Your Dreams will not be distributed until the weekend of June 9th, but we will be happy to send it to anyone who has made a $20 donation to the Go Fund Me campaign any time prior to or following that date.
To receive Follow Your Dreams, simply forward your Go Fund Me donation confirmation email similar to what's shown below to challenges@sweetshoppedesigns.com, and we'll reply back to your message with information on how you can pick up this special collaboration as our way of saying "Thank You" for helping us support the people Amber loved.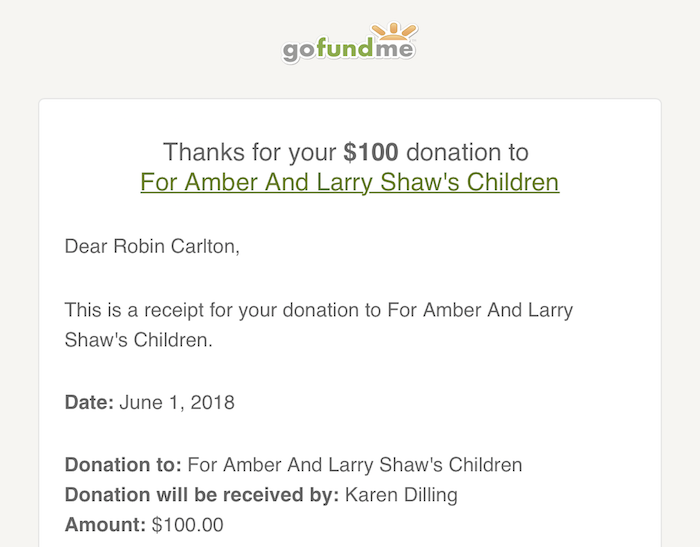 In addition to asking what you can do to help, many of you have also asked how long Amber's store will remain open here at Sweet Shoppe Designs, and what will happen to the sales of those products. After thoughtful consideration, we have decided that her store will remain open until 11:59pm on June 30th, 2018. All sales made in her store through that date will be paid to her as directed in her designer contract. From there the court appointed executor or administrator of her estate will close her paypal account and distribute those funds according to the law.
This week has been incredibly difficult for our team. We have been grieving together, working on ways to become closer than we already are, and have been celebrating Amber's legacy here at SSD the best way we know how. We've had to make decisions that were no brainers and others that were very difficult, and we appreciate that you, our sweet community, has been there supporting us through it all.
Amber was incredibly proud of being a Sweet Shoppe Designer. She felt it was an extraordinary opportunity to be able to do something she loves, working from home, being her own boss, supporting her family with her talent and drive. It is for this reason, and in the spirit of her ambition and determination as artist and designer, that we will be getting back to doing what we love beginning next week here at Sweet Shoppe Designs.
Until then, keep making and cherishing your sweet memories…