Sweet Stuff from Sweet Shoppe Designs 3/12
Hey, hey Sweet Shoppers! Your favorite day of the week is here, and tonight is pretty exciting because not only do I have a heap of scrumptious new treats to show off including a brand new Featured Designer freebie, but I also get to share some news on the incredible scrappers we've chosen to join our team of SugarBabes too. There's a lot to tell you about tonight, but before we dive into the fun, here's your first look at…
Like I mentioned last week, Spring is seriously my favorite time of year here in the shoppe, and tonight's newest goodies just keep the trend of gorgeous colors and whimsical themes going strong! The colors are bright, there's tons of sunshine and more flowers than you'll know what to do with, and it never gets old to me!
The spring-y goodness is just the beginning of what's in store for you in the shoppe tonight, so head there to take a closer look at all of our newest releases and pick up some of your faves! When you do, a brand new featured designer freebie will be yours because the ridiculously talented Cheri Robinson of Dream Big Designs went into the spotlight earlier this morning, and her kit Lucky Charm is yours free when you spend $10 in the shoppe between now and March 24th…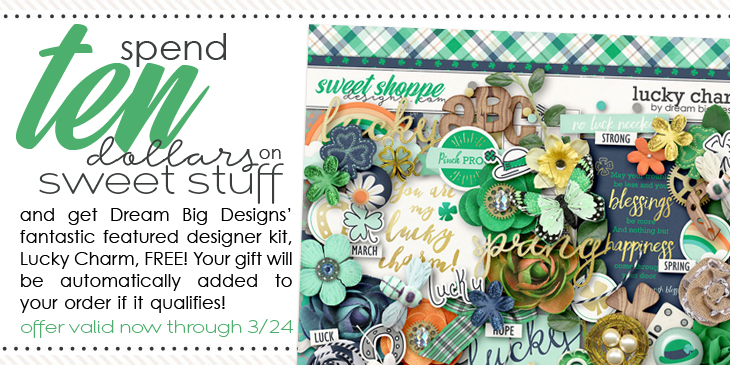 As usual, the Babes have created a slew of sugary sweet pages with Lucky Charm to give you ideas on what to do with this festive kit, so be sure to check out Cheri's feature to see what they've been up to! Whether you're looking for St. Patty's Day ideas or looking to scrap your everyday memories, the Babe's layouts are sure to inspire you!
Speaking of our incredible team, I'm sure the call that's been going on over the last couple of weeks is on more than a few people's minds, and I know you guys are ready to find out who the newest members of our team are! So without further ado, let's get to it…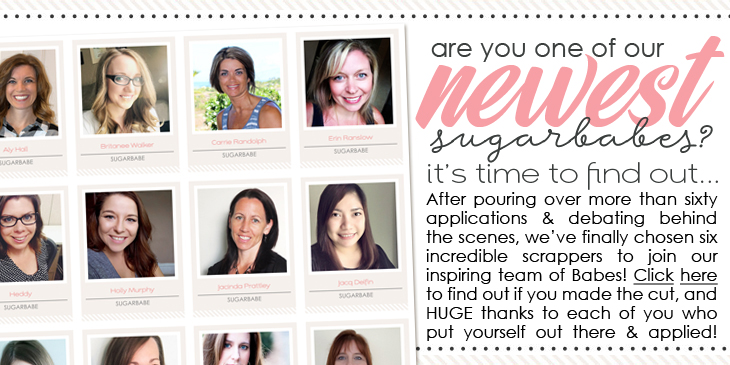 I have got to tell you guys that this call was BY FAR the most difficult Babe call we have EVER had! With more than 60 applications to sift through and the most talented field of scrappers who have ever applied, our decision was absolutely agonizing! We are beyond thrilled to have the 6 scrappers we've chosen join the Sweet Shoppe family, but are a little bit heartbroken that we couldn't take more of you.
All of that said, there will be more calls in the future, and we definitely have our eye on lots of you, so if you didn't make the cut this time, there is always, ALWAYS a next time! From my entire team and I, thank you SO much for applying to be part of our sweet little family. Every one of you is amazing and it was truly a pleasure looking through your galleries and getting to know a bit more about you!
On that note, I'm off for the week, but I'll be here in my inbox next weekend with lots more sweet new stuff. Until then, keep making memories and scrap MORE!