Sweet Stuff from Sweet Shoppe Designs 5/14
Hey, hey Sweet Shoppers! Your favorite day of the week is here and I have lots to show off tonight, but before I do, I just wanted to say thanks soooo much for making our iNSD celebration extra sweet! We had tons of fun last weekend and hope you guys did too and most importantly we just wanted you to know how much we appreciate your business!
After the heaps of products we released last weekend, lots of our designers are taking a little breather this week, but those who aren't, have created some scrumptious new goodies for you to enjoy this weekend. There's no time to delay, so let's get right to it with your first look at…
Seriously, every single product hitting the shoppe this weekend is a winner, and if you missed last weekend's festivities, don't forget that today is the last day to pick up our incredible iNSD mega-collab, It's A Plan, which is FREE with any $20 purchase…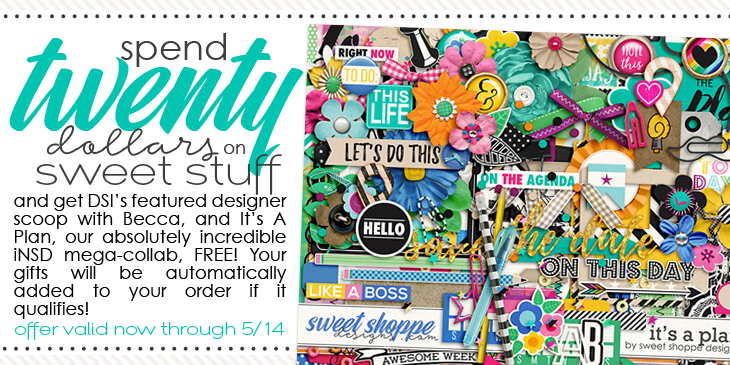 And finally, during the chaos of last weekend's celebration, you may have missed that we have a sweet new challenge bingo card for May ready to go! This month's challenges are awesome and there are still two weeks to get your card done, so I hope you'll jump into the fun and play along…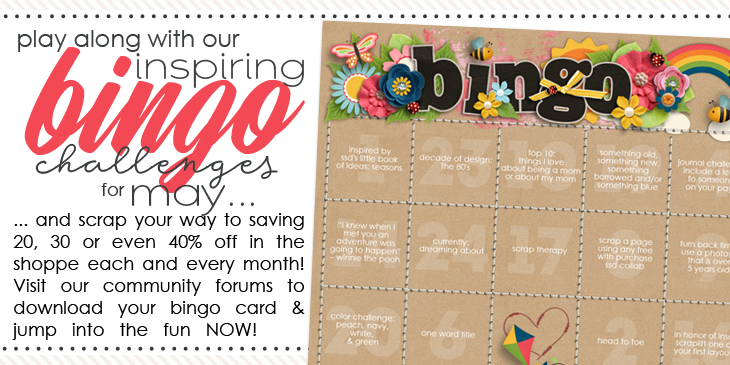 Now that iNSD is behind us, it'll be a few months before we have another storewide sale, but participating in our monthly challenges is a great way to earn sweet rewards! 40% is the biggest discount we ever offer on our products until they retire, and you can earn that each and every month just for playing along!
On that note, I'm off for the week, but I'll be here in your inbox next weekend with lots more sweet new stuff! Until then, keep making memories and scrap MORE!