Digital Scrapbook Day 2016 is HERE!
Hey, Hey Sweet Shoppers! Digital Scrapbook Day 2016 has arrived in its brand new home in the month of October, and to go with one of the biggest events in the digital scrapbooking community, I have a ridiculously HUGE Sweet Shoppe Newsletter for you to indulge in! Everything you need to know about our celebration of the hobby we love is below, so read on for the details on our scrumptious storewide sale, our special DSD edition challenge-mode Bingo event, and our fabulous limited edition DSD mega-collection, Do What You Love, which is yours FREE when you spend $20 all week long! With nearly 150 new releases hitting the shoppe tonight, I can promise you won't want to miss a moment of this incredibly sweet shopping event…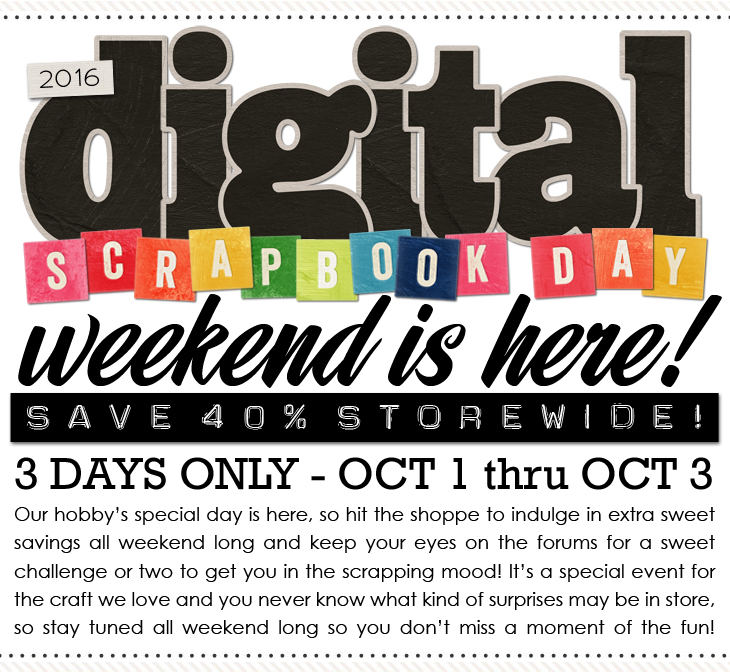 As usual, the designers have outdone themselves this week with oodles of sweet new treats for you to enjoy! We teased you guys with some of these goodies earlier this week in our In The Works Wednesday post on the blog, but take a look below for the full scoop on everything hitting the shoppe tonight! Each and every release is seriously amazing and the layouts from our talented Babes are sure to inspire you too! I'm always blown away by our team on special event weekends like this, and this DSD weekend is no exception. So without further babbling from me, take a look at…
Like I said, isn't everything delish?! As you can see, there's a heap of new treats hitting the shoppe this weekend and it is impossible to show you everything here in one little newsletter. We have a zillion new templates, lots of scoops and solos, tons of halloween treats and lots LOTS more, so be sure to take a closer look at everything now. Speaking of incredible goodies, if you missed the gorgeous new featured designer scoop from Kristin & Simone last weekend, now is a great time to make sure it's part of your Sweet Shoppe stash! Check out Always Be Kind, their delightful scoop which will be yours free with any $10 purchase over the next week…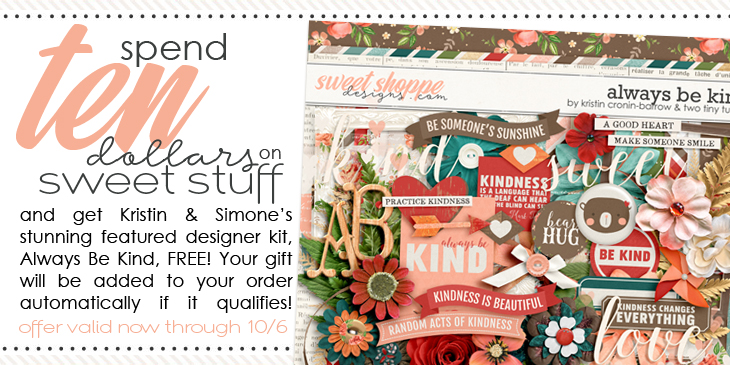 As if our storewide sale and a yummy featured designer scoop weren't sweet enough, our team of designers has also created an incredible mega collection that's yours FREE when you spend $20 in the shoppe all week long too! Do What You Love may be one of my favorite collabs ever (I know! I know! I say that every time, but this one really is soooo good!), and I'm so excited to finally be able to share it with you tonight! This tiny peek doesn't do this beauty justice, so head to the shoppe now to take a closer look at it, and fill up your cart so you don't miss out on this fantastic limited edition collab…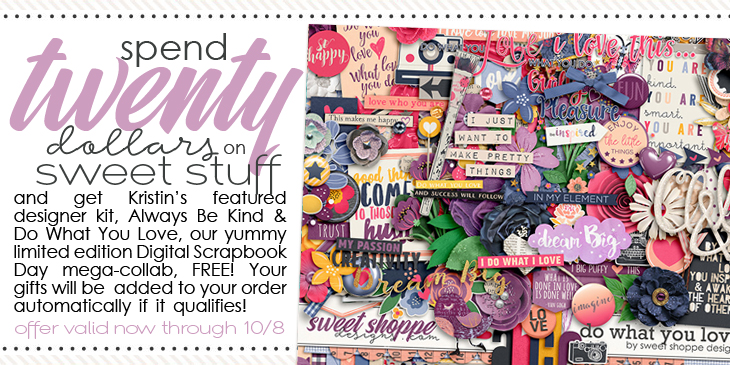 The Babes did fantastic things with Do What You Love, so I thought I'd share just a taste of a few of their stunning pages to show off what you can do with this bright and fabulous kit…

layout by SugarBabe Carrie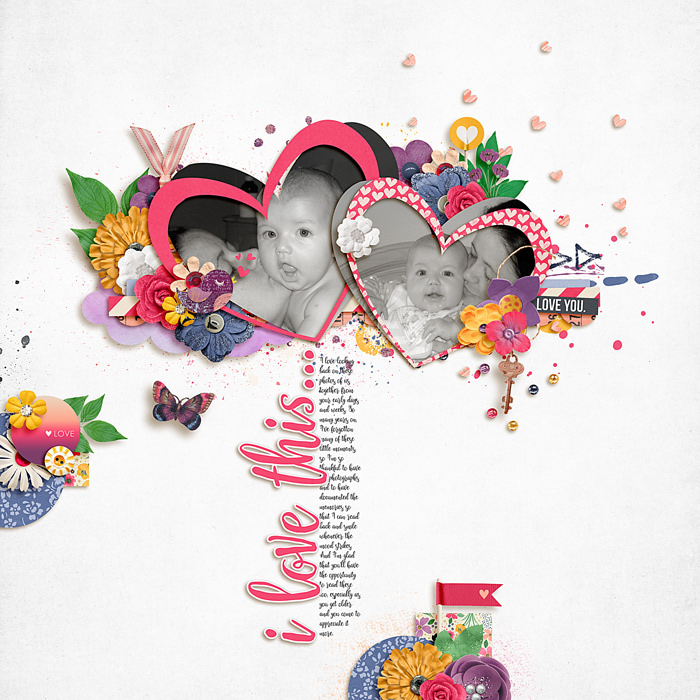 layout by SugarBabe Lizzy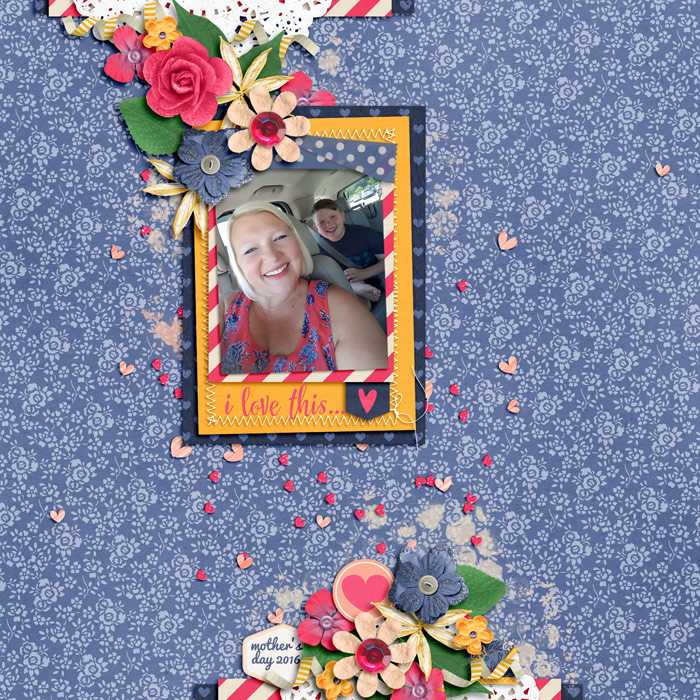 layout by SugarBabe Tracy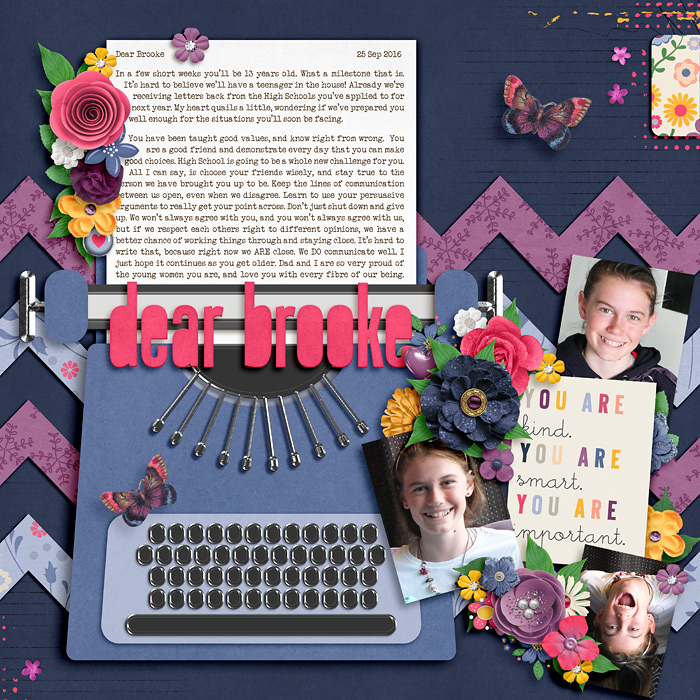 layout by SugarBabe Jacinda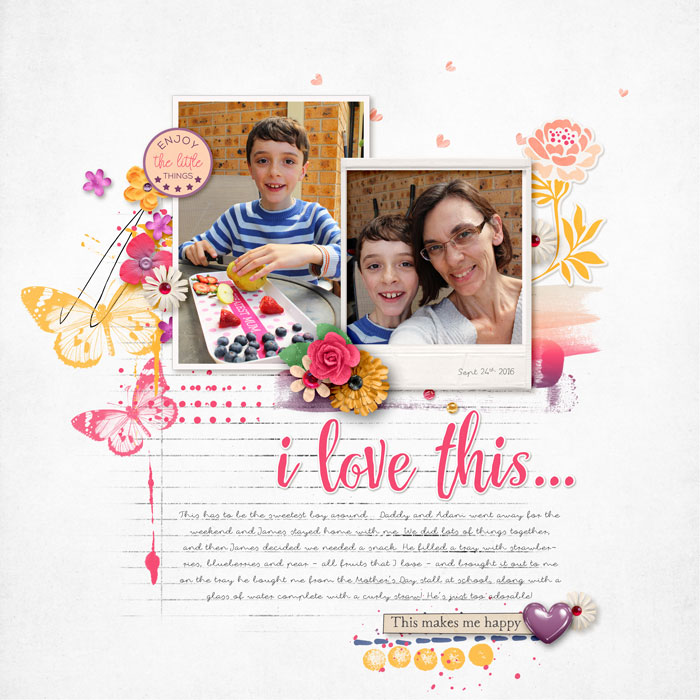 layout by SugarBabe Kim B.
I'm always so impressed by what these girls can do from week to week, and really hope you enjoy seeing what they've been up to too! We love seeing your pages hitting the gallery as well, which is why a lot of us have made a commitment to being more involved in leaving love for all of you! We'll be watching the gallery all weekend long and we have a fun way for you to get your scrap on to celebrate our special day while earning bonus discounts and a chance to win up to $100 in the shoppe too!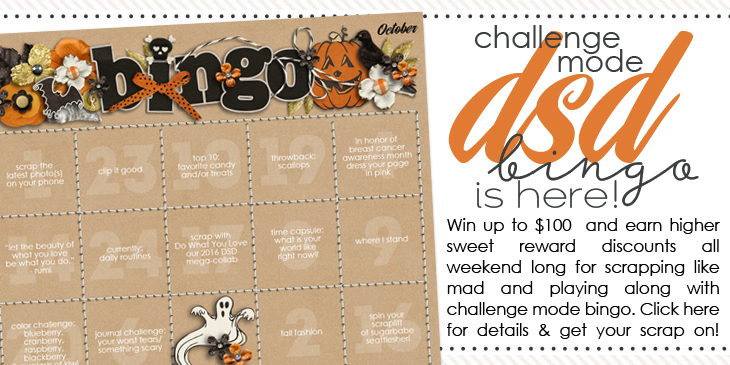 Since it's October 1st, a brand new Challenge Bingo card just went up in the forums and if you play along this weekend, not only will you earn higher discounts for scrapping like mad, you'll also be entered to win sweet stuff from the sweetest spot in town too! Playing along is pretty straightforward, so visit the forums now for the details on Easy, Hard & Expert Mode DSD Bingo!
On that note, I just want to say that I feel grateful every day to be surrounded by such an amazing community of Designers, Babes & YOU! DSD is the perfect way to celebrate what we love about our hobby so I just want to say thank you for being part of what we do. I'll be here in your inbox with our next batch of Baker's Dozen goodies on Monday night, but until then, I hope have a fantastic and inspiring DSD weekend, and that you keep making memories and scrap MORE!