Sweet Shoppe Saturday 9/14
Happy Friday Sweet Shoppers! We hope your week has been sweet as can be, and that you're ready for some weekend memory making. Our designers are absolutely on fire this week, and there are some seriously scrumptious new treats hitting the shoppe tonight including a heap of incredible templates that I know you're going to love! I'm excited to show off what's making its debut, so let's get right to it with your first look at…
As you guys can see above, there are so many amazing goodies hitting the shoppe tonight that are absolutely perfect for the changing colors and cooler weather of the coming season! Nat's Hello Autumn is warm and adorable, Melissa's Autumn Market is perfect for pumpkin picking and fall festivals and Amanda's 12 Months: September is the perfect jewel-toned addition to her ongoing monthly series! Like I mentioned earlier, there are also some fantastic new templates from Brook, Cindy, Janet and Lorie too, so if you're looking for a way to make scrapping this season's memories quick and easy, our designers have you covered! Those treats are just the beginning of the sweet new stuff hitting the shoppe this week, and best of all, ALL of our newest goodies are 25% off all weekend long, so head to the shoppe now to treat yourself to a favorite or two!
I also want to point out that if you haven't picked up Allie's featured designer freebie, W is for Weather, there's just one week left to grab it before the next kit in our 2018-19 Alphabet series is released! We're nearing the end of this special series with just three letters to go, so stay tuned for those fun kits in the next few weeks as there might even be a surprise from yours truly in the mix too…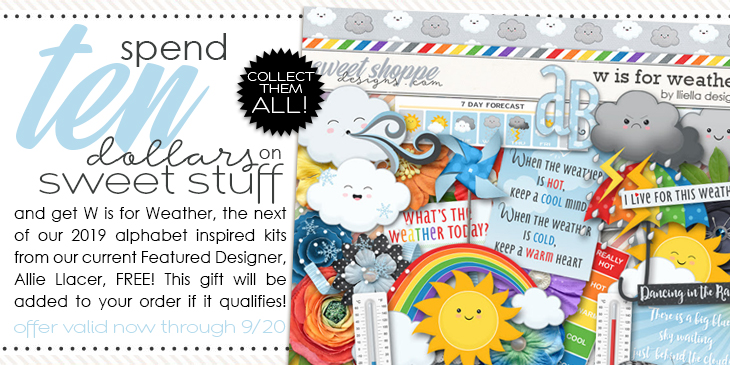 Allie's Featured Designer 15 sale is coming up this Tuesday, September 17th, and in it you'll find 15 of her favorite treats on sale for a whopping 40% off during that special mid-week promo, so if you love our mid-week steals, don't miss it!
Speaking of bargains, our very own WendyP is getting married today, and she wants to celebrate with all of you! For the next three days, you can save 30% on anything in her shoppe using the coupon below…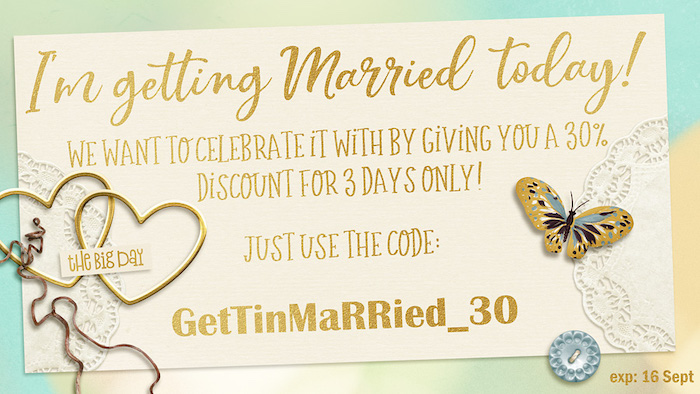 Congratulations Wendy! We are so excited for you, and wish you guys a lifetime of happiness!
On that note, I'm off for the weekend, but I'll see you soon with lots more from the sweetest spot in town! Until then, keep making memories and scrap MORE!