Featured Designer FWP – LJS Designs
Happy Friday, sweet friends! can you believe April is here? We hope that you're getting some beautiful weather in your part of the world this weekend.
Today, I'm excited to introduce Lorie of LJS Designs as our next Featured Designer! This year, our fabulous designers are celebrating some of our most memorable days in our new A Day To Remember series of kits! Lorie's contribution to this theme is perfect for April!  A Spring Day is just what we need to start scrapping all of those early signs of spring, the flowers, birds, even those Easter pictures from last weekend.  Take a look!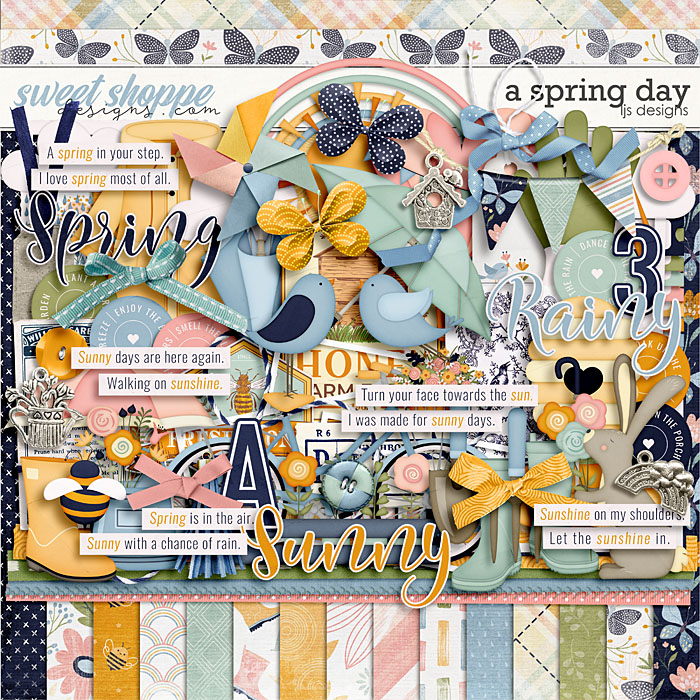 I know know about you, but spring is such a refreshing time of year after a hard winter.  This kit will be perfect for scrapping everything A Spring Day has to offer!
We asked Lorie questions about herself, her love for this hobby of ours, and some of her favorite layouts or products:
Walk us through a typical "day in the life" of you!
A typical day for me is waking up at 5 am to get ready for work. I am not a morning person at all, so it is always rough getting up that early. I try to be thrown together and out the door by 6 am for my half hour commute. I do a lot of planning for the day in my head on the way, so by the time I walk into the office, I have things mapped out in my head and am ready to get started. My work day is always, always chaotic, it is the nature of my job, so most of the time if goes by really fast, but not very smooth. My job is crazy and stressful, but for the most part I really enjoy it.
After work, it is another half hour commute and during that time, I "design" plan. I think of kit ideas and themes, or what I am going to work on that evening, deadlines, etc. If I am not planning in my head, I am talking on the phone. Really, about the only time I talk on the phone is in the car. LOL
First thing I do when I get home is change clothes and me and my two dogs, Murphy and Loki, go for a walk. They are both getting up in years, Murph is 14 and Loki is 11, but they love to walk. Since I need the exercise, it works out well for us all.
I am an empty nester now, which I love, so after the boys and I get back from walking, I feed them and make myself a quick dinner. Since I started on the Optivia diet plan this year, I have making dinner down to a science. It's really nice not floundering with what to cook any more.
I eat dinner in front of the TV, terrible habit I know, but it's really my first chance in the day to just relax and I take full advantage of it. I am hooked on real life crime shows and home improvement ones and usually have to watch one of each kind.
After eating and tidying up, I usually head to my office in the basement to design. I try to get started by 7 pm and then work until 12 am. Or at least I try to work. I am easily distracted, so some nights I spend more time shopping on line, chatting with my family, or looking up useless information I just have to know. I do, however, make sure I meet that goal I had planned out in my head on the way home.
It stinks that I am a night owl and don't actually get into the creative swing of things until around the time I should be going to sleep. I can't ever seem to get to bed before midnight, no matter how hard I try or how many promises I make myself. That means I get about 4 hours of sleep a night, wake up and do it all over again.
I was just saying to my sister today that my life is rather predictable and boring, and I should probably get out and get more involved with other people. But, while I think those thoughts, I am an introvert at heart and really enjoy being on my own and spending time alone, especially after a day in the office.
After 30 years of being a single mom and taking care of both my parents through their terminal illness, I feel like I have earned my quiet and don't see giving it up any time soon.
 Is designing your only job, or do you work outside of designing?
As alluded to in my first response, besides being a Designer at SSD, I also have a day job as a Production Planning Supervisor for an International Fruit Prep Company. Fruit prep is basically cooked fruit, think pie fillings, ice crean and yogurt, that we sell to other food manufacturers to use in the production of their products. To sum up my job in nutshell, my small team and I put the plant schedule together in the most effective way possible to meet our customers order needs by their requested delivery dates while trying to save our business money through efficient production runs. Unlike a lot of business, Covid did not negatively impact the food industry, so we have been busier than ever, and therefore crazier than ever.
 Do you have a fail-proof meal or recipe that you can make over and over? What is it and are you willing to share the recipe?
I actually do. I have fallen in love with Spinach and Mushroom Smothered Chicken which you can find on my Lean and Green Recipes board on pinterest: https://www.pinterest.com/pin/74802043801111214/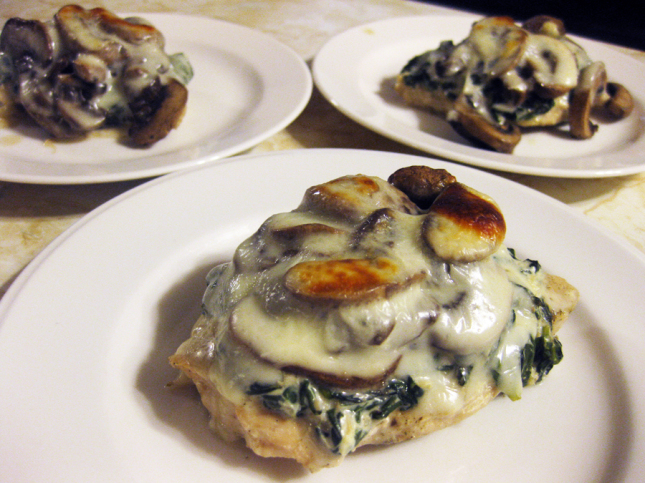 Here is the recipe:
6 oz bag raw spinach leaves
2 oz cream cheese, softened
2 cloves garlic, minced (I use 2 frozen garlic squares because you don't have to bother mincing the garlic yourself)
8 oz baby bella mushrooms
2 tsp garlic powder
2 tsp salt
2 tsp ground thyme
4 chicken breasts
4 slices mozzarella cheese, reduced fat
Spinach and Mushroom Smothered Chicken
1. Preheat oven to 400. Sprinkle 1 tsp garlic powder, salt, and ground thyme on one side of the chicken breast. PAM a 9 x 13 glass casserole dish. Place breasts seasoned side up in the casserole dish. Bake uncovered for 15 minutes.
2. If using frozen garlic, melt the garlic squares over medium-high heat in a large skillet. If using fresh garlic, mince the garlic cloves, lightly PAM the large skillet, and cook garlic over medium-high heat for 1 minute.
3. Remove the stems from the spinach and add leaves to the skillet one hand-full at a time. The spinach reduces significantly when it wilts. Cook until all leaves are wilted, about 10 minutes, stirring occasionally. Add the cream cheese to the wilted spinach and stir until melted. Remove from heat.
4. Gently wash the mushrooms and remove the stems. Slice the caps into 1/4 inch wide slices. Add the mushrooms to a large skillet and season with 1 tsp garlic powder, salt, and ground thyme. Cook over medium heat until browned, about 7 minutes, stirring occasionally. Remove from heat and combine with the creamed spinach.
5. Remove the chicken from the oven and flip the chicken over. Divide mushroom and spinach mixture over each chicken breast. Cover the chicken with one slice of mozzarella. Cook another 10 minutes or until cheese is melted and chicken is cooked throughout.
I make this at least once a week and some times more.
What is your least favorite, or hardest part, of designing a product?
For me the hardest part is always getting started. Coming up with new ideas, turning those ideas into patterns, elements etc. is really hard for me. For someone who likes to think she is creative, I am not a creative thinker. I need themes and tangible things that go with those themes to create. I suck at what I call conceptual design, which to me means a theme without already defined elements. I can do winter, or birthday, things like that, but I can't seem to pull off things like "Be The Light." I think too literally about everything to pull those ideas off and it makes me sad. I have been planning "Be The Light" off and on for months and still can't seem to pull it together.
 Are there any TV shows that you've binge watched recently? Why were you hooked?
I don't tend to watch a lot of TV, so binge watching is not something I do much of, but I did get hooked on Longmire on Netflix during my last vacation. While I loved the characters, the plot, etc, it was the location that really pulled me in. I have never been to Wyoming, but now it is on my list of places to go. I want to see the view Walt has from his front porch with my own eyes.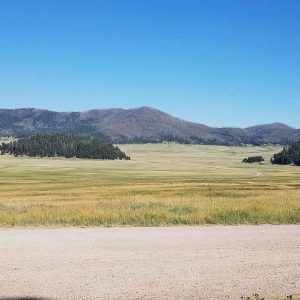 What do you look for in a creative team member?
Most of my creative team has been with me since I first started designing in 2013 and were my friends before that. So I guess I look for people who like me as much as they like my designs, who get me and don't mind that I ask a ton of questions, go to them for inspiration and talk a lot about random things. The fact that they make stunning pages week after week for me is a bonus!
 Do you have an all-time favorite kit or product? Share it! Even if it's been retired.
I think one of my favorite product ever is a template pack called Roots and Wings that is now retired. I was hard to let that one go.
I love genealogy as much as I love scrapbooking, so those templates are the perfect combination of my two favorite hobbies.
A more recent one that is still in the store is my bundle I Will Remember You. The idea for that one came to me as I was looking at a picture of my parents from the 1970s and thinking that is how I always wanted to remember them, young, healthy and strong. That kit is was made for them, so it has a very special place in my heart.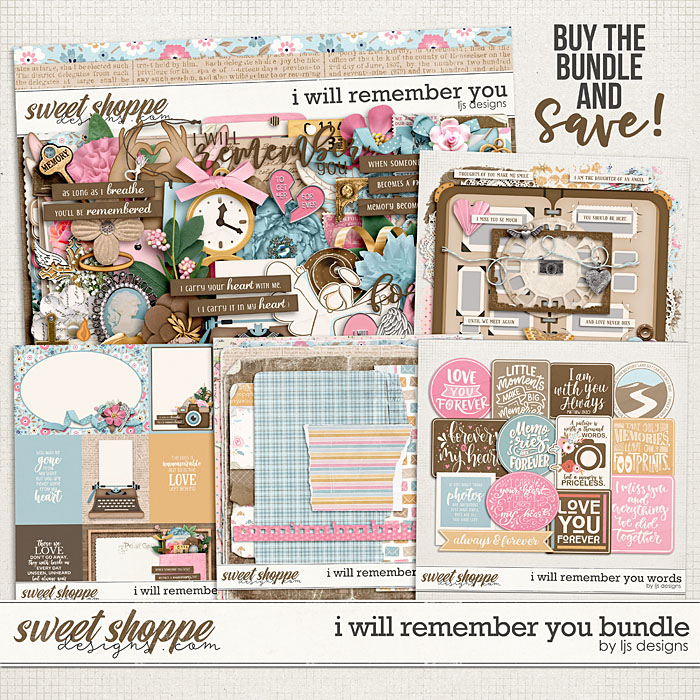 Do you have a contest, call or giveaway that you want to share with our readers?
I wasn't planning to do a call this year, frankly, they are my least favorite thing to do because I hate saying no to people. But I have lost a few good team members in recent weeks, so while I don't want to do an actual call, I do want to say that I am looking for a few scrappers to fill out my team and would love anyone who might be interested to drop me an email at Loriebug66@yahoo.com with their name and a link to their gallery.
Let's see this beautiful kit in action with a few layouts from our talented staff!!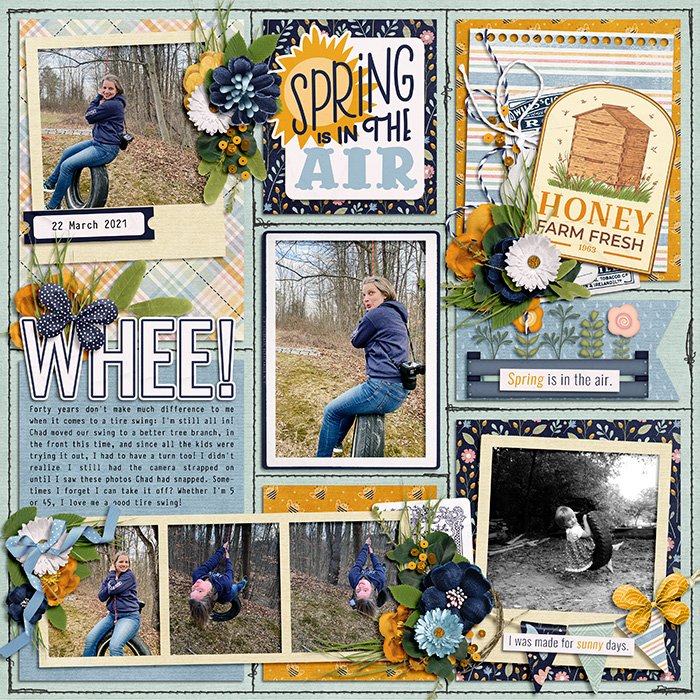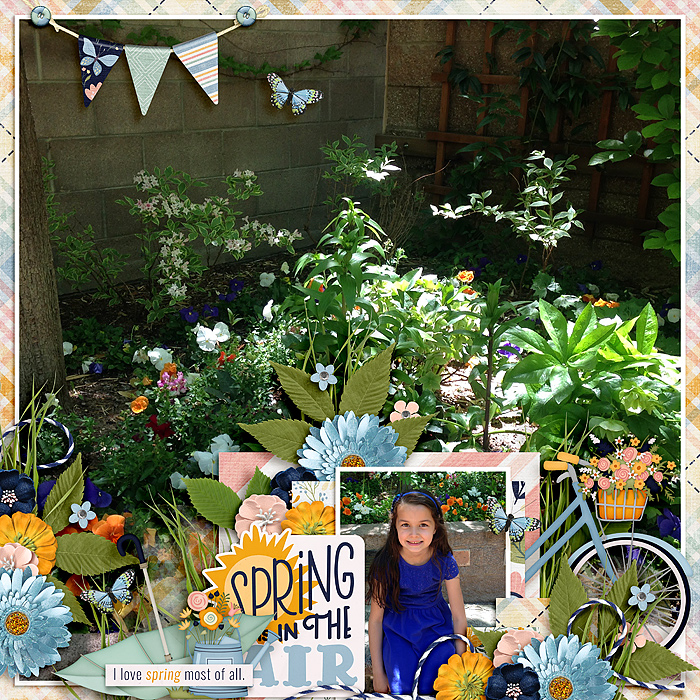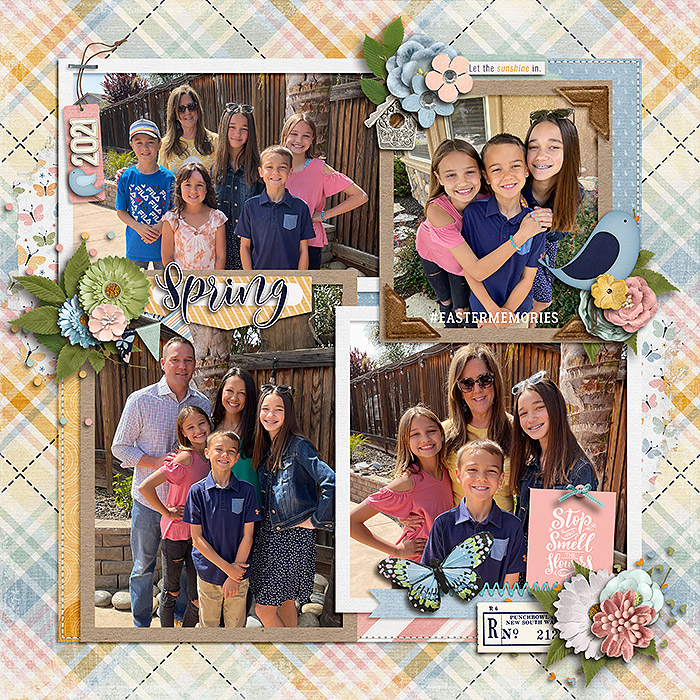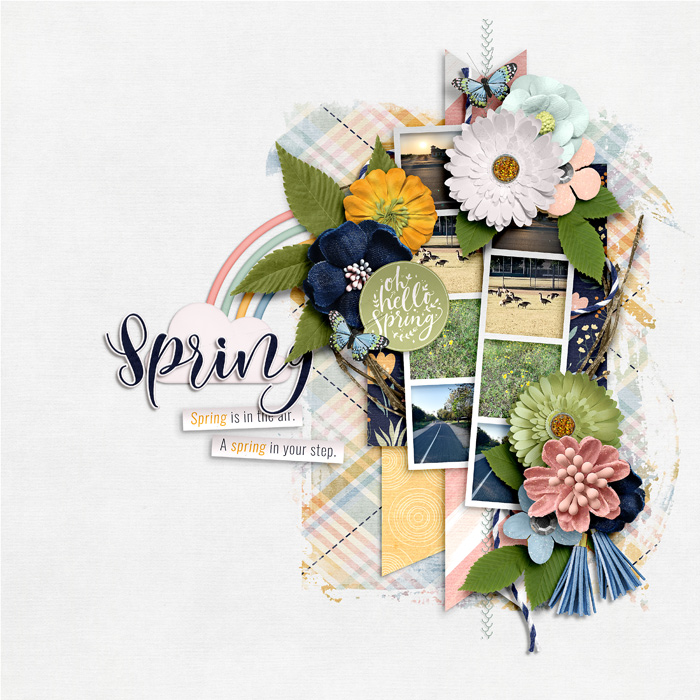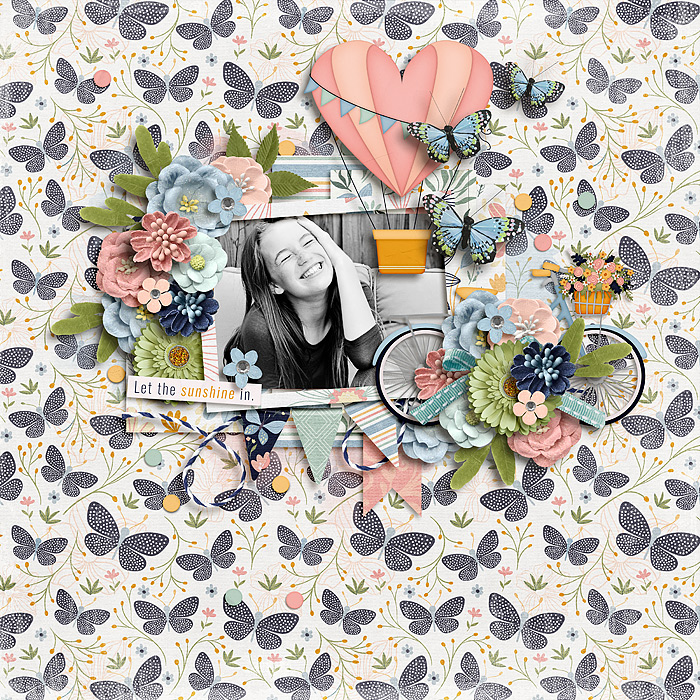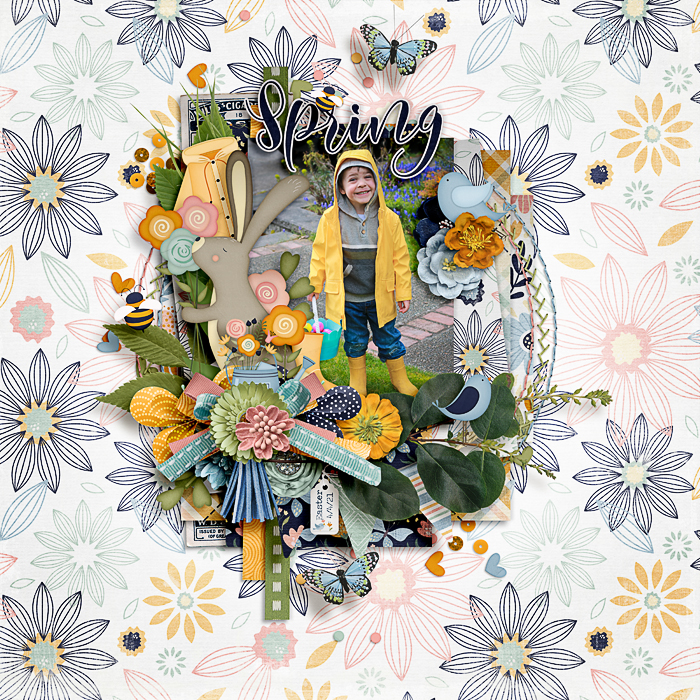 With that, go fill up your shopping cart with $10, and A Spring Day will be automatically added for FREE! This special offer will only be available through Friday, April 23rd when our new releases go live, so don't delay! And don't forget to come back next week when we have a little sneak peek into our fun, bi-weekly sale involving our amazing featured designers! Have a great weekend!