Featured Designer FWP – Tracie Stroud
Happy Friday, sweet shoppers!! April is almost over, did  you get any of the fun spring/winter weather this week?  We got a couple inches of snow here in Southern Michigan. It's suppose to be nice this weekend, hopefully we can get outside and enjoy it!
Today, I'm excited to introduce Tracie Stroud our next Featured Designer! This year, our fabulous designers are celebrating some of our most memorable days in our new A Day To Remember series of kits!  Tracie's A Brighter Day is full of light, it just feels up beat and hopeful.  I think we can all use a little bit of that right now.  Plus, it'll be perfect for those late spring photos as we're coming out of the darkness of winter.  Let's take a look!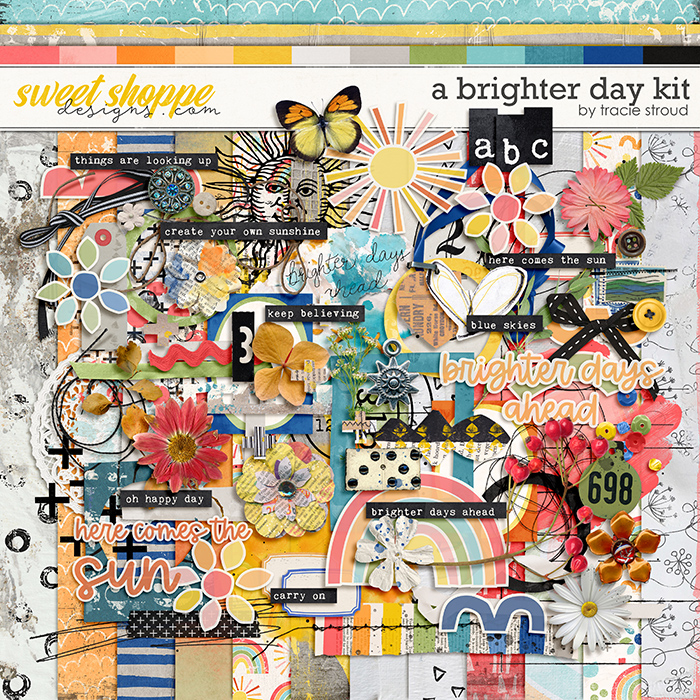 This kit is going to work perfectly on so many different types of layouts, and I love those alphas!
We asked Tracie questions about herself, her love for this hobby of ours, and some of her favorite layouts or products:
Walk us through a typical "day in the life" of you!
I homeschool our oldest and youngest, so the majority of our weekdays are school-related. We do most of our lessons at the dining room table so I can teach both of them together, but we can also be found outside, walking the neighborhood or visiting parks, or taking field trips to various places in the community.
In the afternoons, I pick up our middle kiddo from school. He attends a wonderful autism classroom at our local middle school. Then I take him to his therapy appointments in the afternoons, or doctor appointments when he has those.
After an early supper most days, we're taking the kiddos to various activities they have in the evenings, like scouts, choir, youth classes at church, etc.
After evening activities is when I get most of my designing and administrative work done, and I usually fall into bed a little after midnight most nights.
How did you discover what makes you, YOU as a designer? Do you think you have a niche?
It took me a little while to find my groove, as I imagine it does with a lot of creatives. I wasn't happy with what I was designing after a few years and stepped away from it completely for a while. While I was away, I began art journaling with physical materials – actual paint, paper, ink, etc., and I found a love for creating again. When I came back to designing, I began incorporating that style into scrapbook design, and I've never looked back.Share a kit or bundle plus the mood board or story that inspired it.
Loving Myself: Authenticity was inspired by me pushing myself to apply for a designer spot at Sweet Shoppe Designs and restart my designing career. I had to really dive deep and figure out what I wanted for myself and my future. I started it during the application process and finished it several weeks after my store opened.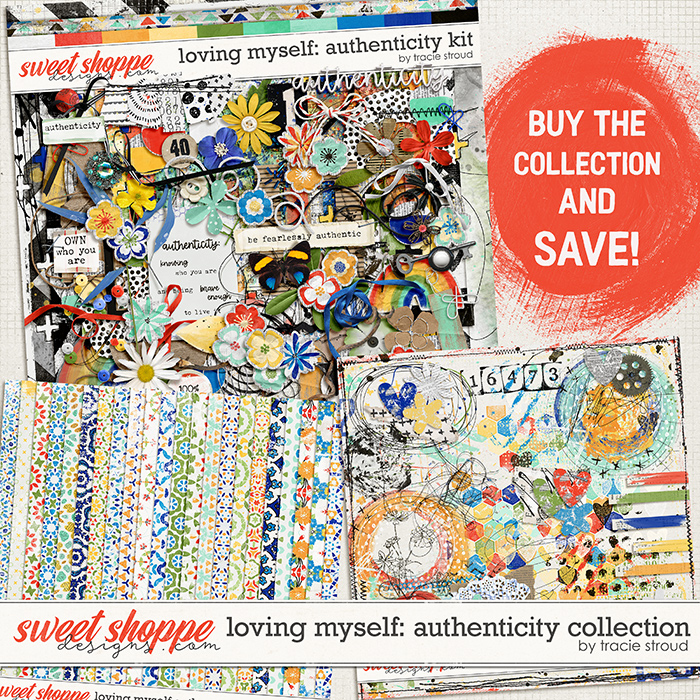 Yes, we have 3 cats. All of them are rescues. Loki is our oldest. He's a ginger and a biiiig boy. He's best friends with our youngest kiddo. Then we have a Freya, a tortie. She's quite the introvert, so she's my buddy and usually sleeps at my feet or snuggled into my back. Our newest is Sif. She's a small black cat who kind of adopted us. She was roaming the neighborhood with no owner, and we managed to gain her trust. Our vet said she had probably had 1 or 2 litters already, and we adopted her right before the rare freeze that came through this year, so we're really glad we were able to get her into a loving home and off the streets.
With that, go fill up your shopping cart with $10, and
A Brighter Day
will be automatically added for FREE! This special offer will only be available through Friday, May 7th when our new releases go live, so don't delay! And don't forget to come back next week for a sneak peek at Tracie's Featured Designer 15 sale which will be Tuesday, May 4th! Have a great weekend!