Sweet Shoppe Saturday 9/5
Happy weekend Sweet Shoppers! Can you believe it? It's September, and that means Fall is pretty much here! Once again, it's that time of the week when I get to show off the scrumptious new goodies our designers have been working on all week long, and this week there are oodles of seasonal treats that I know you're going to love! I have lots to tell you about tonight, including announcing the Win Your Wishlist winner of our Summer Shadowbox event, so let's get right to it with your first look at…
I loved looking through this week's behind the scenes new release thread in our staff forum, because there are some really awesome new goodies hitting the shoppe this week! First and foremost, I have to point you in the direction of Kelly's FANTASTIC new Body Positive collection which is full of her one of a kind illustrations representing women of all shapes and sizes! I truly love this collection and think you will too! Ru & Jennifer have teamed up once again in their scrumptious new collection, All in the Details and Traci has a wonderful new collection to kick September off in style with Harvest Moon! On top of those beauties, we also have a some fabulous templates from Em, Cindy, Lorie, Amber, and Wendy too! So if you're looking for more tools to make your scrapping quick, easy and beautiful, tonight is your night!
Those treats are just the start of the latest and greatest goodies from the sweetest spot in town, so be sure to stop by the shoppe NOW to take a closer look at everything making a debut tonight! As always, all of our newest treats are 25% off all weekend long, and if you still haven't grabbed the last of our Scrap It! Summer mega-collabs, Art Journal It Up!, this beauty will be available for a few more hours too!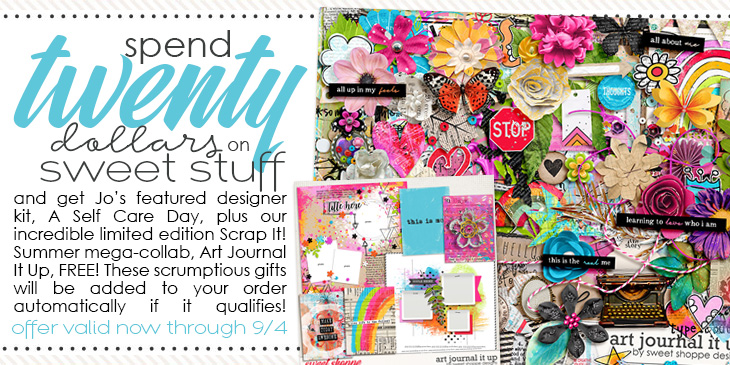 Our incredible team of SugarBabes had a blast creating pages with our newest releases this week, so check out the eye candy below and head to the shoppe for lots more inspiration showcasing all of this week's sweet new stuff…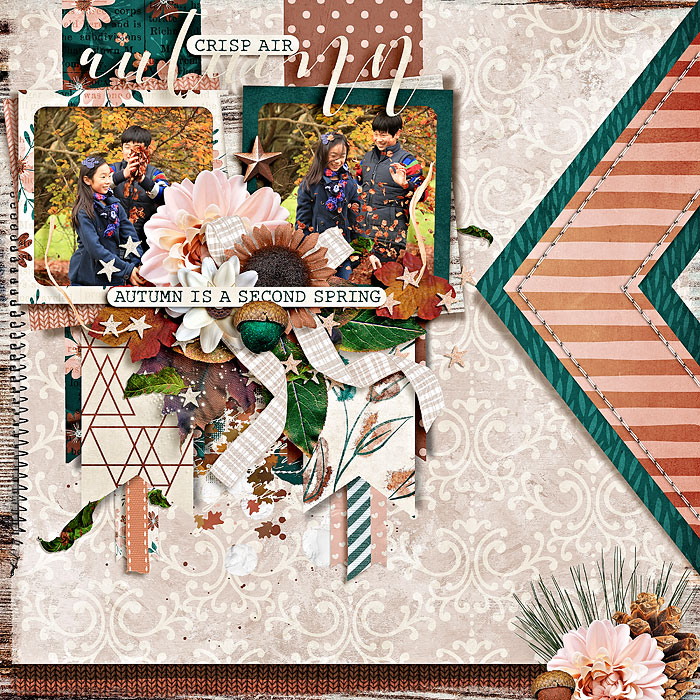 layout by SugarBabe Eve

layout by SugarBabe Biancka

layout by SugarBabe Cassie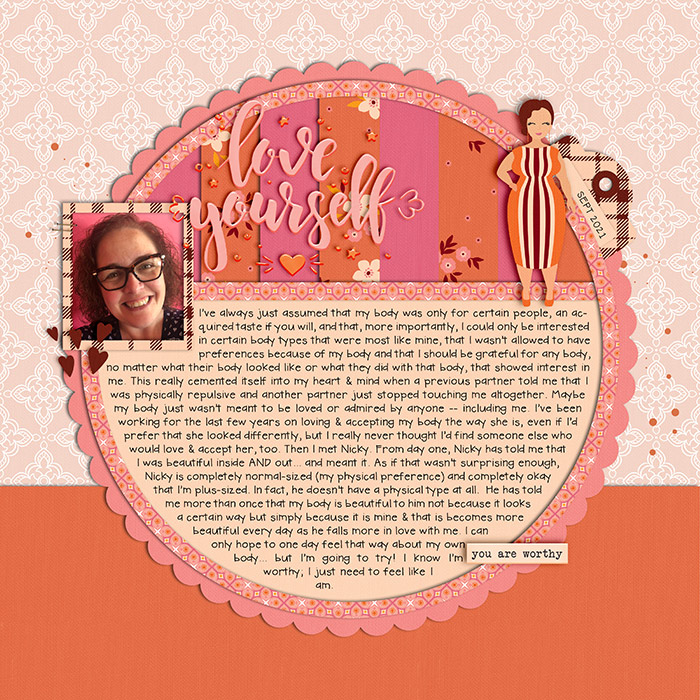 layout by SugarBabe LeeAndra

layout by SugarBabe Krista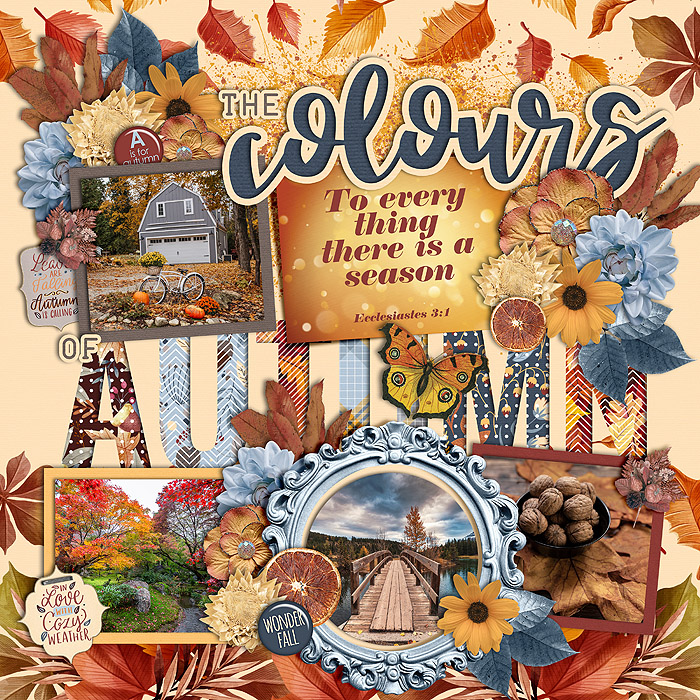 layout by Jo Corne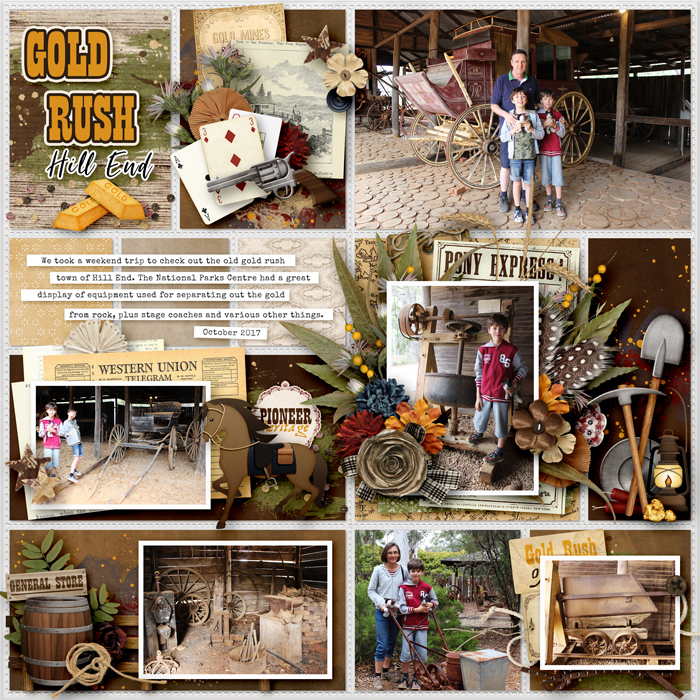 layout by SugarBabe KimB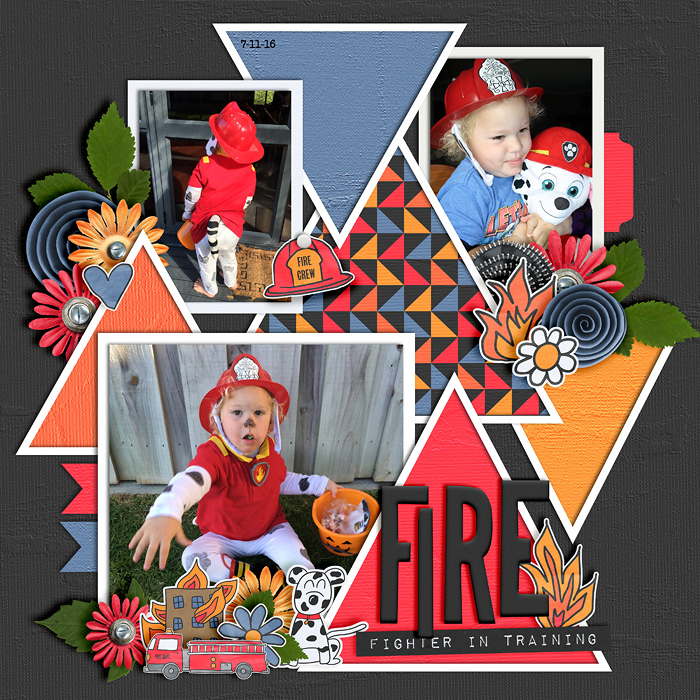 layout by SugarBabe Jacinda
Speaking of inspiring, our incredibly awesome community has been scrapping all summer long as part of our Scrap It! Summer, and August's phenomenal Shadowbox event officially wrapped up last night! In addition to earning gorgeous free goodies every day last month, scrappers could also opt-in to being considered for a position on our team or win their ultimate Sweet Shoppe wish list if they scrapped all 31 days of challenges! While it's going to take us some time to choose the newest members of our team, I'm thrilled to be able to announce the lucky scrapper whose scrap stash is a little sweeter today…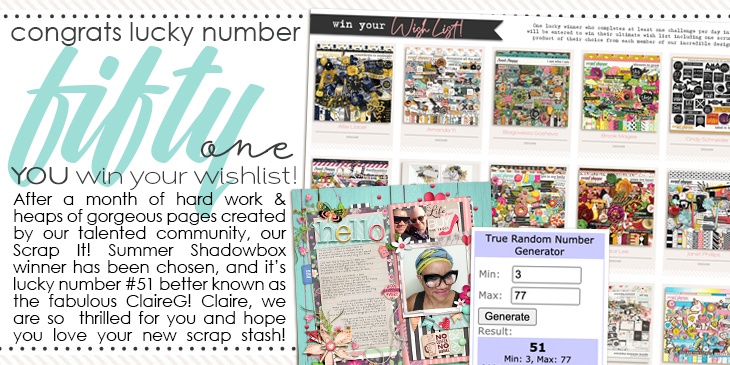 I know you guys will help me congratulate Claire, but I also wanted to say how proud we are of the women who call our sweet spot in the web home. You guys really knocked our socks off with the incredible pages you created for this special event, and we are so impressed with each and every one of you! With DSD and the holiday season just around the corner, you know there is more sweet stuff coming your way, but we want to thank you for being the heart of what we do day in and day out! You truly are amazing!
With that, I'm off for the week, but I'll be here in your inbox on Tuesday to share fifteen faves from the sweet and adorable Jo Corne of JoCee Designs. You can get a peek at her picks in today's post on the blog, so get those carts ready for next week's steals!
Until then sweet friends, keep making memories and scrap MORE!