Thursday Treats – National Coffee Break Day 1/20
"I don't really like coffee, she said, but I don't really like it when my head hits my desk when I fall asleep either. " – Brian Andreas
"Science may never come up with a better office communication system than the coffee break." – Earl Wilson
Happy National Coffee Break Day!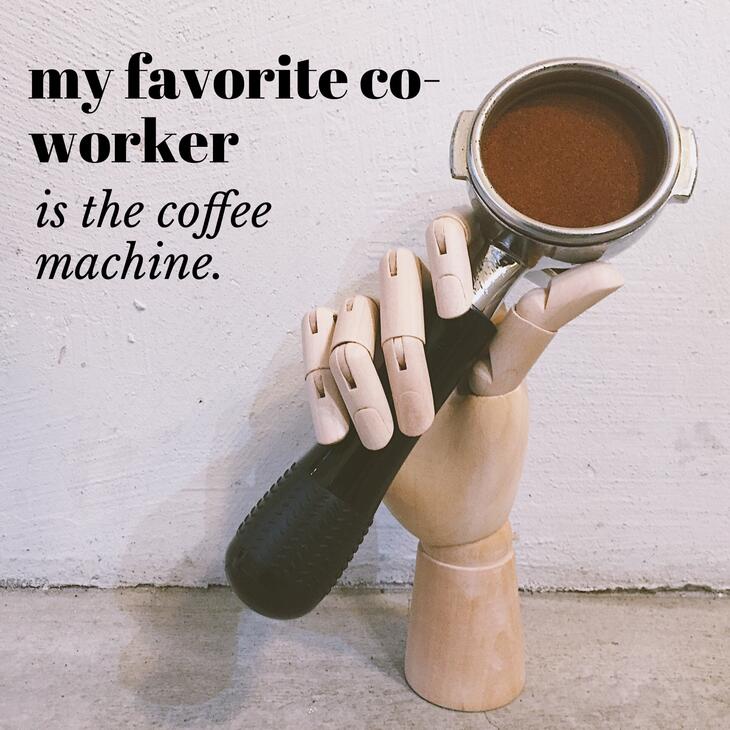 If you are a fan of coffee breaks at work, you might find it interesting "that the morning and afternoon reprieves so enjoyed by American workers come to you thanks to some working housewives back in the 1880's. Employed by a Stoughton, Wisconsin tobacco warehouse, the women took mid-morning and mid-afternoon breaks to run home to check on their children and do chores." (source) It wasn't until the early 1900s that US companies began offering their employees two paid 15-minute breaks. This allowed them to get away from their workstation, get something to drink, and chit-chat with their co-workers.
In 1952, the Pan-American Coffee Bureau ran an ad encouraging workers to "give yourself a Coffee-Break — and Get What Coffee Gives to You", and the term stuck. It's a bit like how all facial tissue is called a Kleenex – now, regardless of whether you drink a cup of coffee, or tea, or hot cocoa, or a glass of water, we say we're taking a coffee break.
So, in honor of this most caffeinated of days, I've perused the Shoppe and pulled together a plethora of kits, cards, and word art you can use to scrapbook your love affair with coffee. Be sure to read to the very end of this post where you'll find sayings & quotes you can use on your next coffee-themed layout!
Sayings & Quotes for your next coffee-themed layout:
Everybody should believe in something. I believe I'll have another cup of coffee.
Life begins after coffee.
My birthstone is a coffee bean.
Some girls just want to have fun. I just want to have coffee.
Drink Coffee … do stupid stuff faster with more energy
Coffee is a liquid hug for your brain
My favorite things are Coffee and Personal Space.
I think, therefore I've had my coffee.
"With enough coffee, I feel as though all things are possible. Many of them are highly unlikely, but they are possible." – Nanea Hoffman
"I love it when the coffee kicks in and I realize what an adorable bad*ss I'm gonna be today." – Nanea Hoffman
"May your coffee be stronger than any challenges you face today. But if not, remember: DON'T throw your cup at anyone. You need it for refills." – Nanea Hoffman
"Why, yes, I could start my day without coffee. But I like being able to remember things like how to say words and put on pants." – Nanea Hoffman
"Coffee is a kind of magic you can drink." ― Catherynne M. Valente
"Coffee: Creative lighter fluid." – Floyd Maxwell
"I like my coffee like I like myself: strong, sweet, and too hot for you." – Jac Vanek
"I orchestrate my mornings to the tune of coffee." – Terri Guillemets
"Coffee, It's the lifeblood that fuels the dreams of champions!" – Mike Ditka
"Coffee smells like freshly ground heaven." – Jessi Lane Adams
"It's when you look over the top of your coffee cup, that you can smile at life." ― Anthony T. Hincks.
"What on earth could be more luxurious than a sofa, a book, and a cup of coffee?" – Anthony Trollope
"As long as there was coffee in the world, how bad could things be?"― Cassandra Clare
"I'd rather take coffee than compliments just now."― Louisa May Alcott
"Behind every successful woman is a substantial amount of coffee." – Stephanie Piro
"Coffee should be black as hell, strong as death and sweet as love." – Turkish Proverb
"I was taken by the power that savoring a simple cup of coffee can have to connect people and create community." – Howard Schultz
"It's amazing how the world begins to change through the eyes of a cup of coffee." – Donna A. Favors
"But even a bad cup of coffee is better than no coffee at all." – David Lynch
"Once you wake up and smell the coffee, it's hard to go back to sleep." — Fran Drescher