Featured Designer – Ponytails Design
Welcome Welcome everyone to another wonderful Friday!  I'll spare you the chit chat and jump right to this week's featured designer, Natasha of Ponytails Designs!
Keeping with the festive spirit in mind of our big birthday, our designers decided that a year long celebration of everything that makes our lives special would be the perfect way to keep the party going, "Celebrate YOU!" is the theme that will be inspiring our Featured Designer freebies this year! From your job, to your school, to your favorite holidays and more, we're celebrating all of life's memorable moments this year, and Nat's contribution to this year's series doesn't disappoint!  Your Stories coordinates with this theme in the most wonderful way!  You can use it to scrap about yourself, or someone else, basically any topic.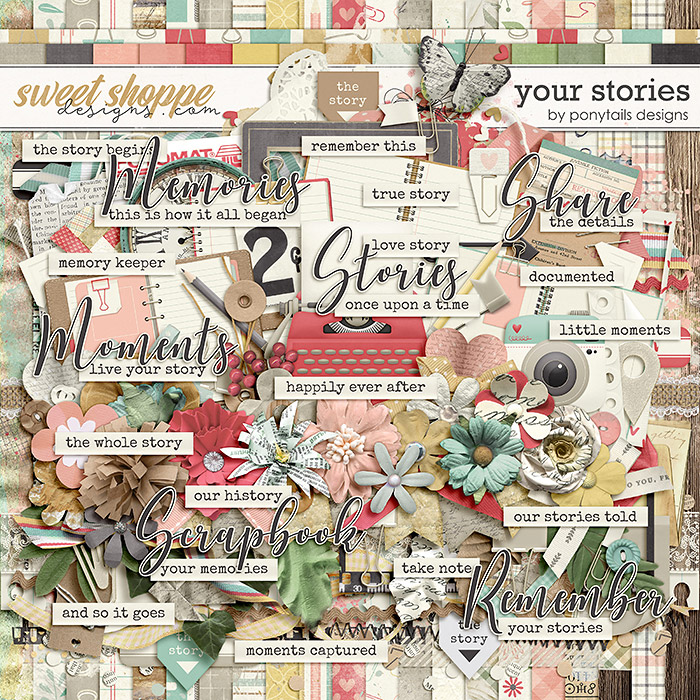 Now, as you know, we love to learn more about our sweet designers, we sent Nat a list of questions and here is what she had to say.
What is your favorite thing about YOU? Celebrate yourself and sing your own praises! Is there something you're really good at, something you're known for, etc?
A – I'm definitely the crafty girl in my circle of friends.  To toot my own horn a bit, I'd say that I'm good with my hands and at making things.  I suppose it's my perfectionist tendencies at work.  I see something I like and I want to be able to replicate it, so I make sure I learn how to do it right.  I've done all sorts of crafts over the years, but more recently my focus has been on wood sign painting/stenciling.  It's a great way to get my head out of the computer and just get my hands dirty a little bit.  And it's extremely satisfying to look at my finished work and feel pleased and proud of how it turned out.  A little sample of a recently completed project…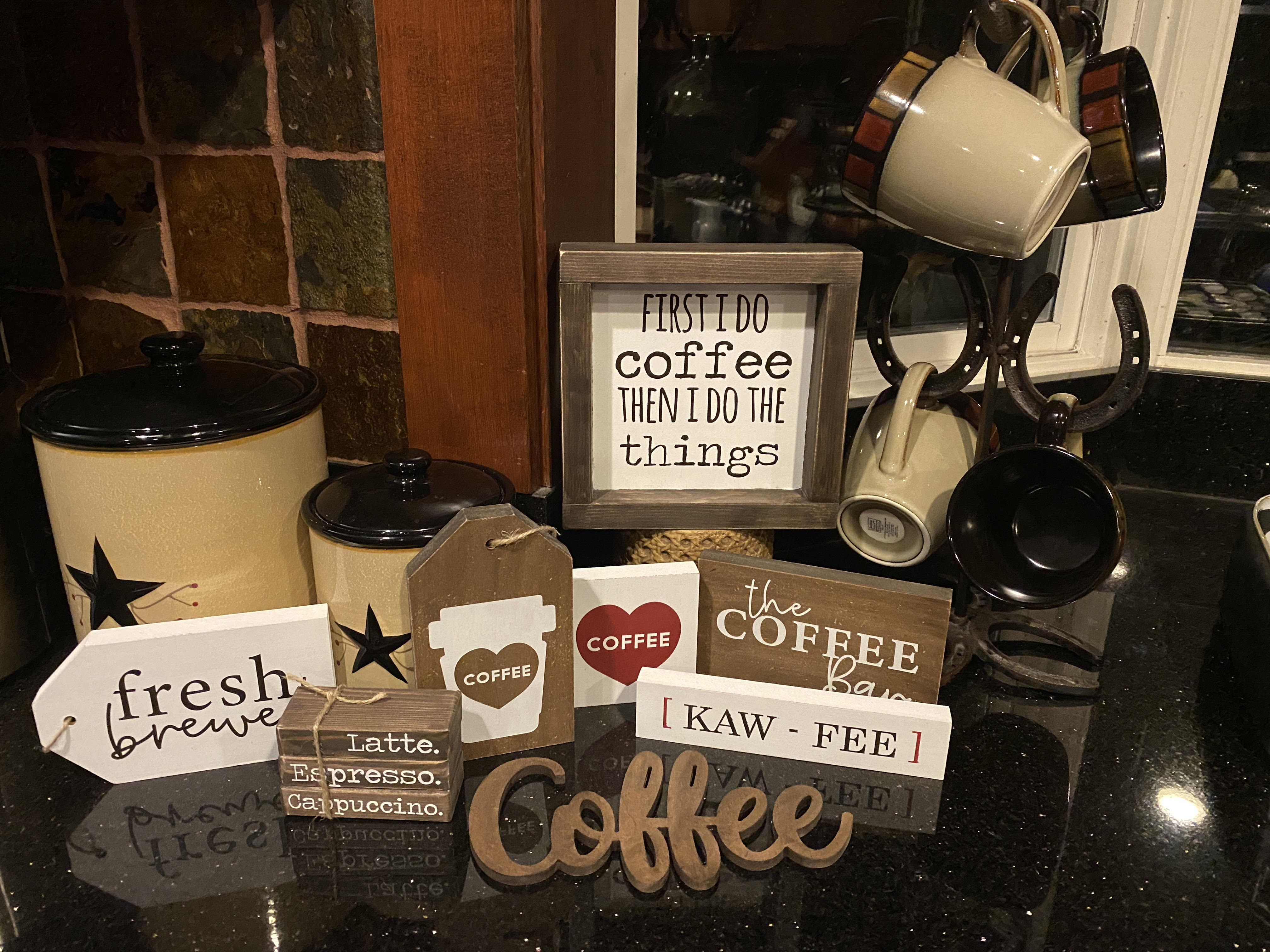 How did you discover digital scrapbooking? Were you a scrapper first, or did you jump right into designing?
A – I initially discovered digital scrapbooking through a friend.  She showed me an album that she'd created and I was instantly hooked.  It reminded me of a photo album I'd made on my computer for my grandmother back in the early/mid 90's.  It was very primitive of course, but that was the technology available at the time.  It was basically photos of my kids with pretty backgrounds that I found in my word processing program.  When my friend showed me the album she'd created I just knew this was something I wanted to do too!  I found an inexpensive program called ScrabookMax.  It was very user-friendly and got me started.  I'd just had my last baby and was looking for a quiet hobby to do while she napped, so digital scrapbooking seemed like a perfect fit.  Later, I discovered the forums and got involved in those.  I could see that there was a big difference in the quality levels of the products available, not to mention the talent of the scrappers out there!  I wanted to learn how to scrap the way they scrapped.  It wasn't long before I started examining the products themselves and how these amazing products were actually created.  I found a designer training class and started to learn Photoshop… and the rest is history!
Do you like to scrapbook? How often do you get around to it?
I really do like to scrapbook but for a while I was so focused on designing that I wasn't scrapbooking at all.  I found myself feeling a tad uninspired and was feeling somewhat "blah" about the genre in general.  Recently I made a conscious decision to do more personal scrapbooking.  It's been a great reminder of why I love this hobby and started designing in the first place!  Now I try to get in some personal scrapping time at least once a week and actually use the products I've made.  As a bonus, as I look through photos I want to scrap I've been getting ideas for new kits to create!
Favorite movie of all time?
I have two favourite movies.  The first is The Sound of Music.  I've been watching that movie for as long as I can remember and could probably recite it word for word.  It never fails to make me smile and sing along (much to my youngest's horror!)  My second would be the BBC version of Pride and Prejudice.  It's my all-time favourite novel and this movie version, at 6 hours long, is about as close as you can get to an accurate portrayal of the book.  And seriously… Colin Firth in the lake scene…
Share a photo or video of your workspace at home!
A – It's not super exciting… just a little corner of my kitchen, but it's completely central and I can see the main goings-on in the house and the TV if I want something on in the background.  What is exciting though is that for my birthday this year (I'll be 50 in August!) my hubby has agreed to give me the furniture I need to set up a whole office/design space/craft area of my own.  I've been searching online for inspiration and ideas and can't wait to get started!  I'm also about to upgrade to a new computer, as this old laptop isn't cutting it anymore.  I'm thinking of going to a desktop computer this time around, since I'll have the space for it now, along with a dual monitor setup.  Can't wait!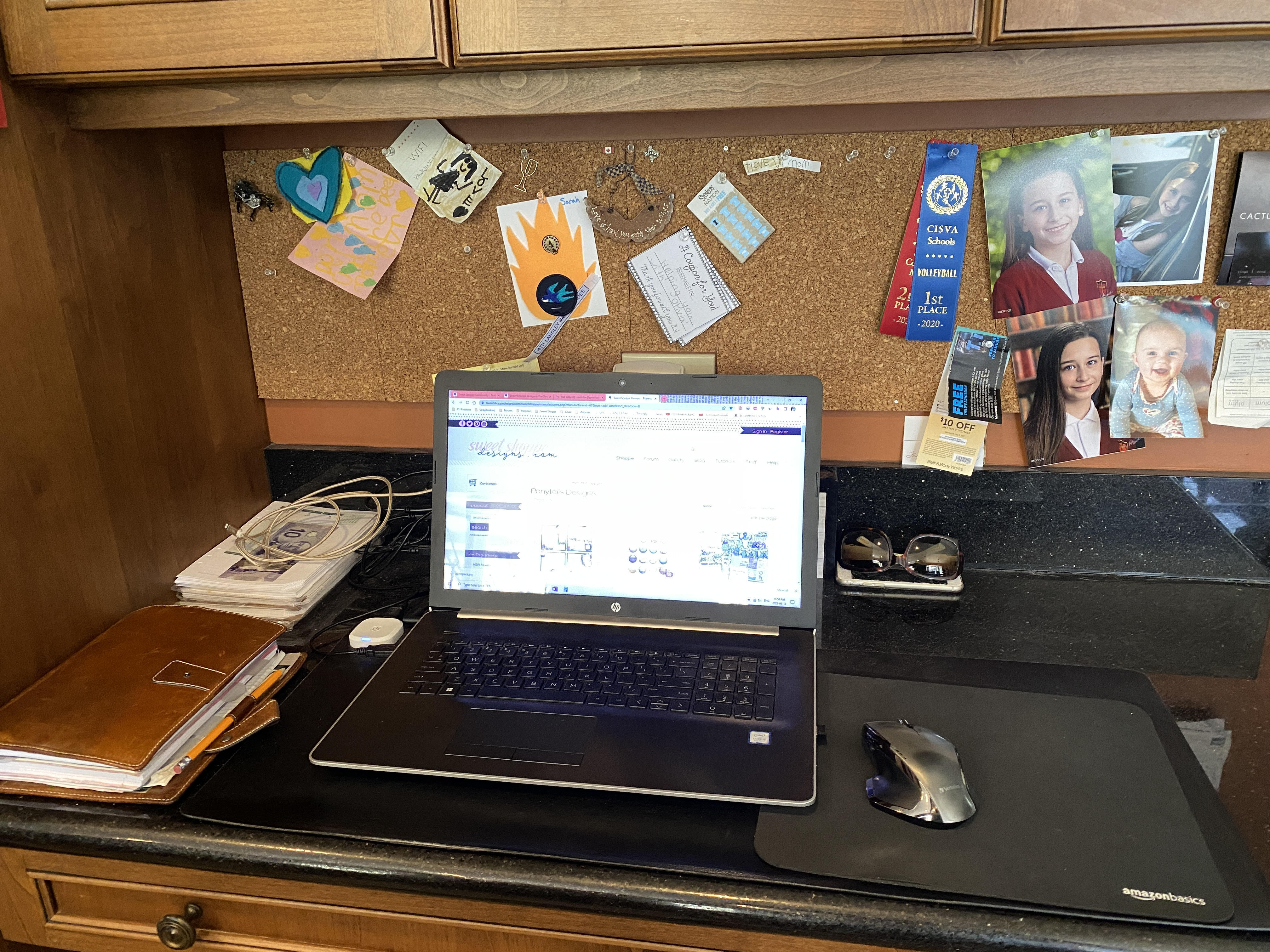 I couldn't agree more, I love Colin Firth in Pride and Prejudice!  I've never read the book, but I've watched the mini series more than once!  Before we head off and let you scrap, let's see some inspiration from the team.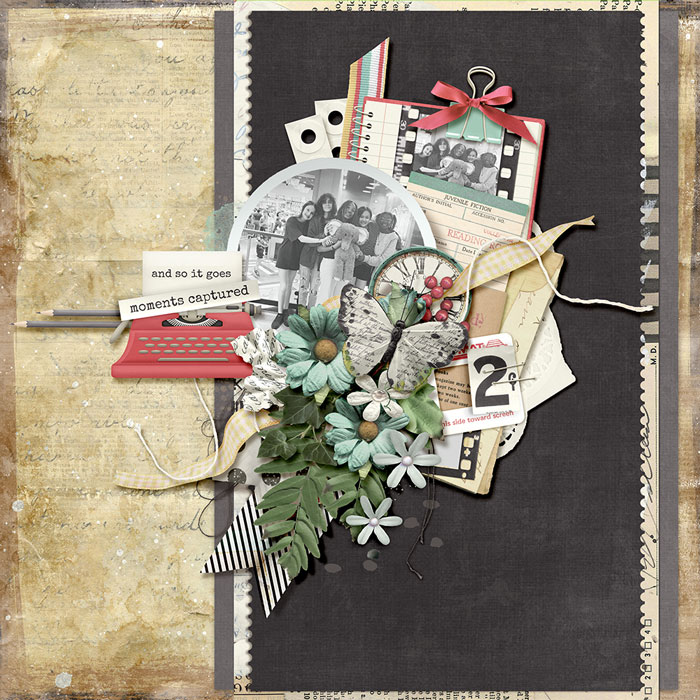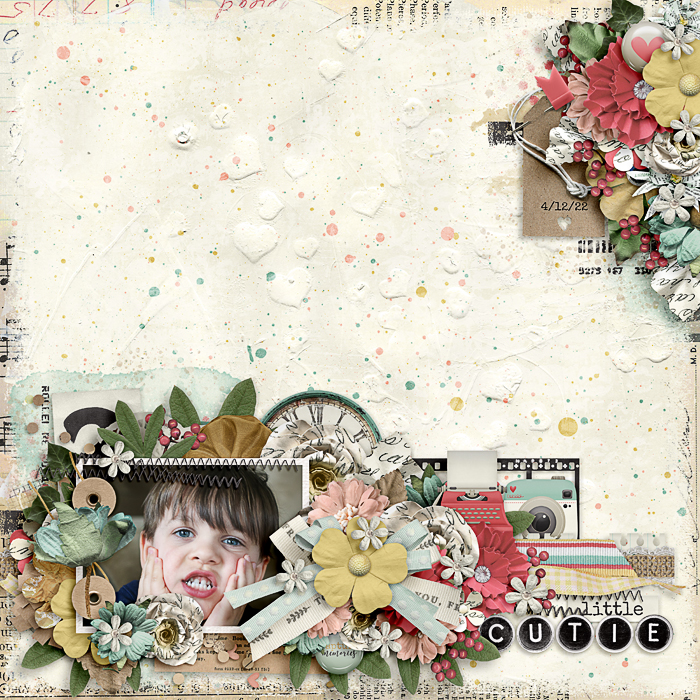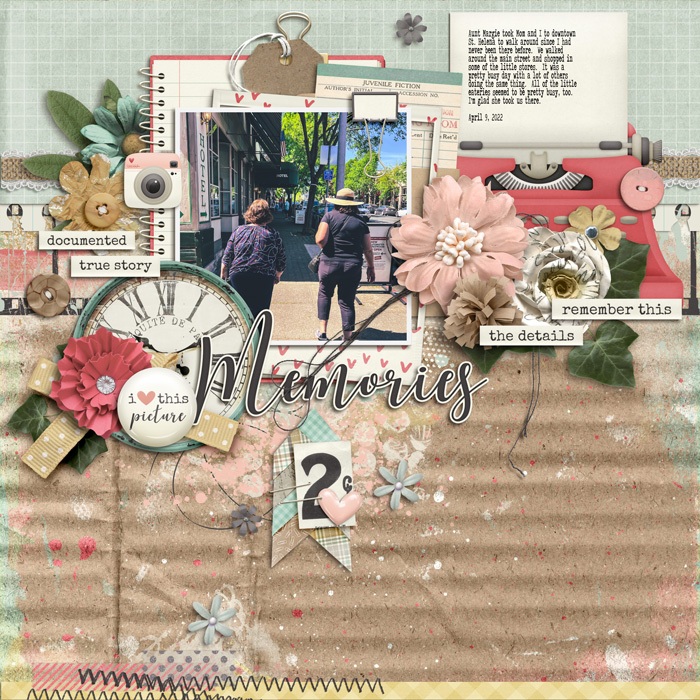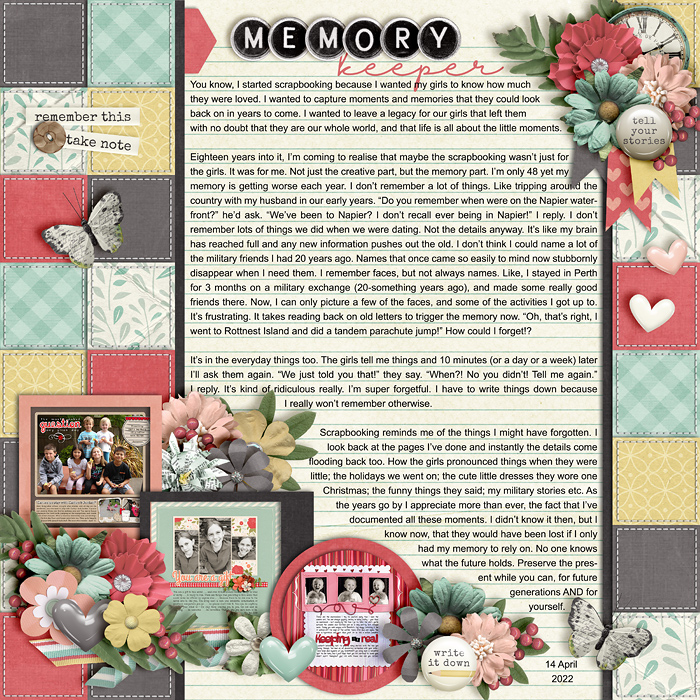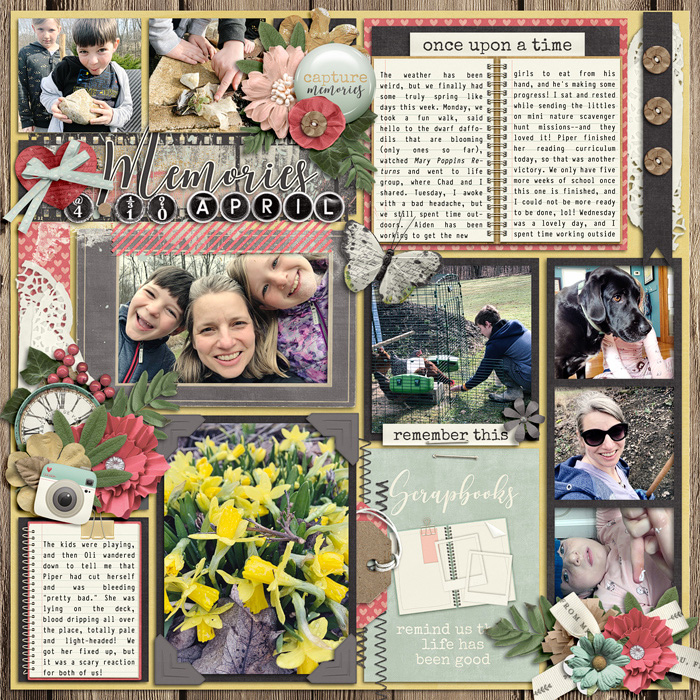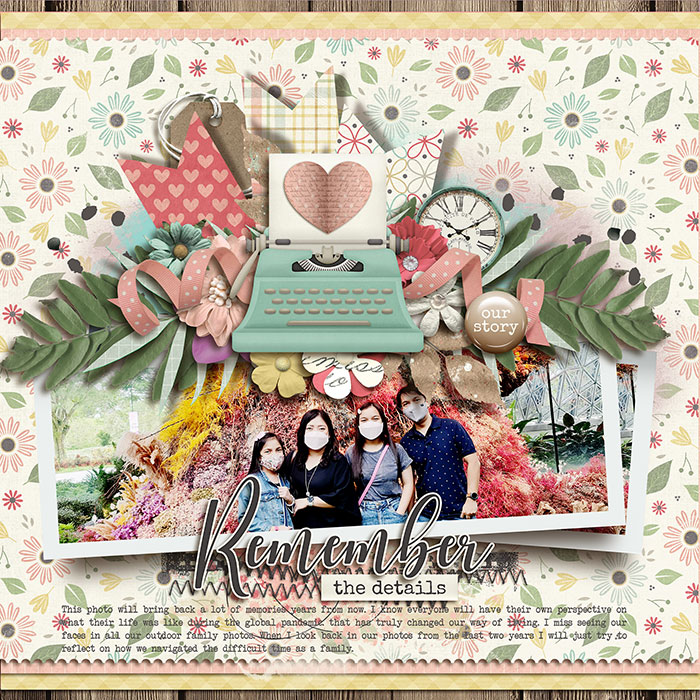 Now it's time to go fill up your shopping cart with $10, and
Your Stories
 will be automatically added for FREE! This special offer will only be available through Friday, May 6th when our new releases go live, so don't delay! And don't forget to come back next Friday for a sneak peek at Nat's Feature Designer 15 sale. It will start Tuesday, May 3rd. Have a great weekend!