Sweet Talk with: LynnZant 7/11
Hey everyone I'm excited to bring you one of our newest blog features, Sweet Talk, which sheds some light on YOU. Our amazing community members. Once a month we will indulge in some "sweet talk" and have some fun getting to know you all a little bit better.
"When someone tells you a piece of their life, they're giving you a gift." – Patrick Rothfuss
We'll start off with an ice breaker and show off some gorgeous pages then we'll end the interview with a lightning round of 15 questions to learn some fun, interesting and cool things about a different member of the sweetest spot in town!
This month I'm excited to introduce: Lynn, (LynnZant in the forum)
A few facts about you?
Lynn says: "I'm a SAHM from Ohio. I've been married to my husband for 23 years, and we have two wonderful daughters and our cat, Jacob."
How you came to find digital scrapbooking?
Lynn says: "Back in 2006, I was playing with tubes and frames in Paint Shop Pro and decided to look on the internet for more to add to my program. That's when I discovered digital scrapbooking, and I have been hooked ever since."
Our Babes get into everything behind the scenes and more than one nominated Lynn for this feature, so I went looking through her gallery to find some eye candy. I loved looking through her gallery and found this cute page:
"I almost chose another page from with her gorgeous cat, but I saw the Peanuts gang and wow, the colors here the kit choice and those great photos are all perfect with that glitter title!!"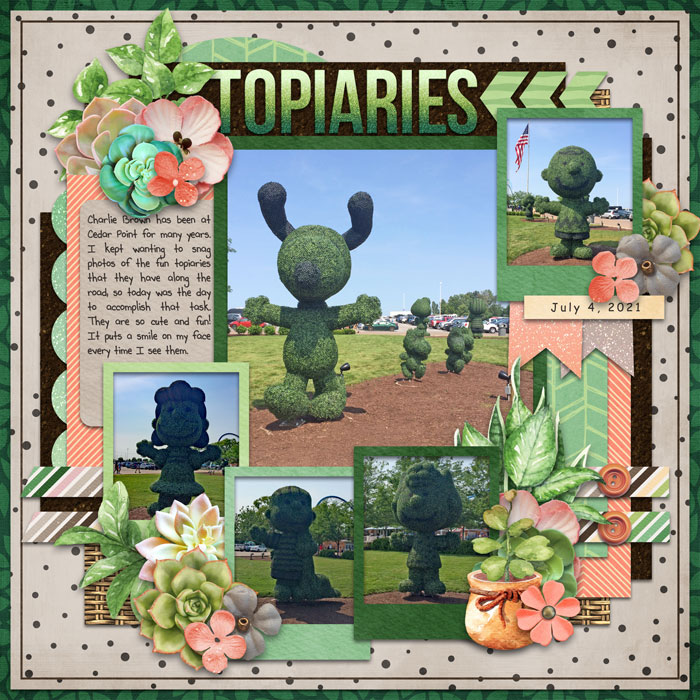 I also asked Lynn about her favorite pages from her own gallery here and this is what she shared:
"I really love landscape photos and nature photos, so this layout combines both those things."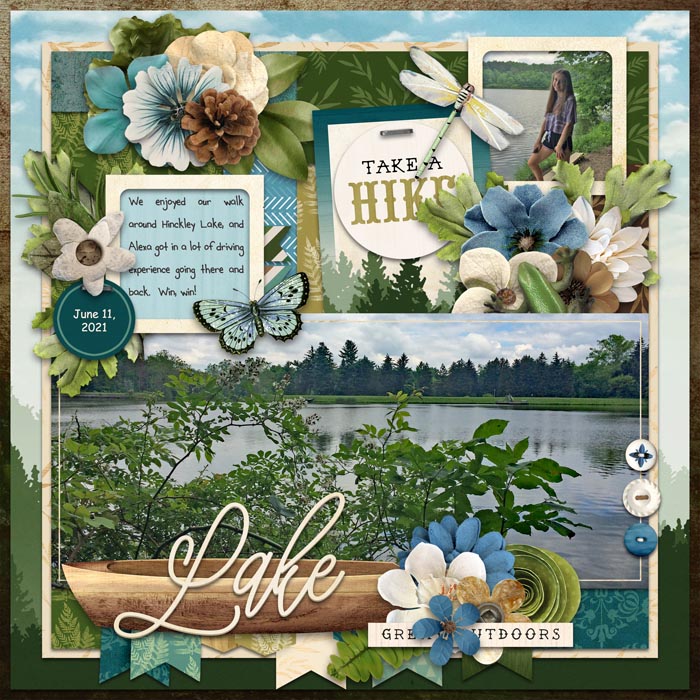 "Sometimes my pages are just an explosion of color, and I don't think that I have any other pages that showcase my fondness for color quite like this one does."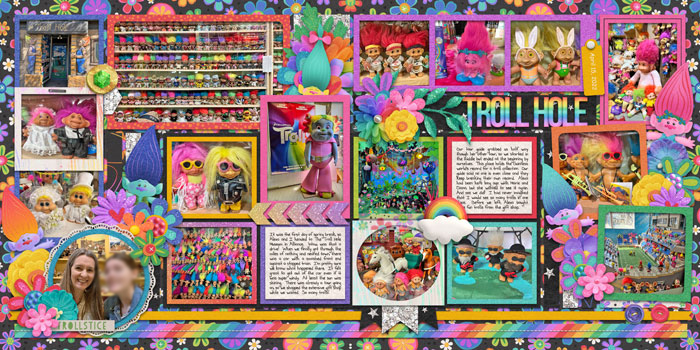 "I'm often not scrapping about myself, so I tend to use a lot of colors and flowers and more girly things. I think this layout speaks more about my personality and how I would scrap myself."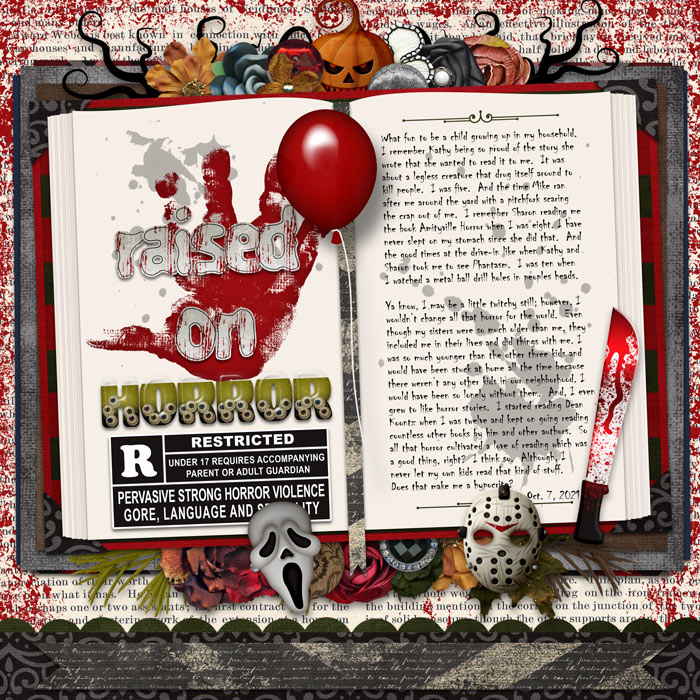 Shudder….that last page is super spooky and cool wow! I love that lots of her pages have BIG titles, check out her 
gallery
 here at SSD. But this interview isn't all about her gorgeous creations before we go let's learn some more about Lynn. I gave her a list of questions to choose from and asked her to answer any 15 of her choice.
What type of music are you into? Other than liking pop music when I was ten, I've always been a metal head. It really wakes me up and gets me going.

What's your favorite pizza topping? My favorite topping is just cheese. I don't get to fancy with my food.

What's your guilty pleasure? I have two glasses of Pepsi a day. My girls nag me about how harmful it is.

What color dominates your closest? Is it the same for your home décor? I love black and have lots of black clothes. It isn't around me house too much, though.


Amusement park or National park? Amusement! We have season passes to a great one that has been the subject of many layouts.


Ever had a bad date? What happened? My date suggested we go to a haunted house and then preceded to hide behind me with his hands on my shoulders when we went through. It's okay. . .I was brave enough for the both of us. lol


Choose a fictional character to be your best friend, who is it? I think Scooby Doo would make a great friend.


Everyone loves it, but you just don't get the appeal…what is it? Musicals. I'd rather go to the dentist.


What's your favorite season? Summer is my favorite season. I don't mind the heat.


Are you cooking at home or picking up to-go? I became a better chef and baker during the pandemic. I was no longer afraid to try recipes because no one else was going to make them for me.


What's your "regular" coffee order? My coffee order is none with a side of zero. I've tried to like coffee, but I just can't. I get a little sick from it each time I've tried it.


You're alone for 24 hours, what do you do? I would scrap, listen to music, and not cook for myself.


What's on your desk at work or home? A pile of papers to be filed. I handle things as they come in, but I like to do the filing all at once.


What was your first job? I worked as a housekeeper at a nursing home when I was sixteen. That taught me a lot about life and death.


What's your job now? My job as a SAHM is winding down, so I've been reading job postings in my area. I'll see if anything interest me.

Can I raise my hand for question 12?! I love that answer and it would totally be right up my alley too. It's been a pleasure to get to know Lynn more. I enjoyed learning more about her and I hope that you all did too. Thank you again, Lynn, for letting me interview you for this "sweet talk" feature.
See you all next time!