Featured Designer – Red Ivy Design
Hello All and Happy week before Thanksgiving here in the states!  I don't know how the weather is in your part of the world, but it went from the 70's a week ago here in Michigan to down right bitter cold this week!  I'm not sure who we offended, but boy it changed in a blink of an eye.  We trick or treated in short sleeves and now I'm looking at putting up outside Christmas decorations in the 20's.  Ugh!  Anyhow, enough about that, let's talk about someone that can make us all feel warm and toasty with her stunningly whimsical designs, Alice of Red Ivy Designs!  I am certain when you see one of her kits, you know it's hers without looking at the name attached to it, she has such an amazing eye unique style, it's so much fun!
Keeping with the festive spirit in mind of our big birthday, our designers decided that a year long celebration of everything that makes our lives special would be the perfect way to keep the party going, "Celebrate YOU!" is the theme that will be inspiring our Featured Designer freebies this year! From your job, to your school, to your favorite holidays and more, we're celebrating all of life's memorable moments this year, and  Alice's contribution to this year's series is no different! Favorites: Rainy Days will be perfect for anyone's collection!  Who doesn't love a rainy day?   Add $10 worth of goodies to your cart and this beauty will be added for FREE!
Now, for our favorite part, the designer interview.  As you know, we send our designers a list of questions to choose from so we can get to know them a little better, let's see what Alice had to say.
What is your favorite thing about YOU? Celebrate yourself and sing your own praises! Is there something you're really good at, something you're known for, etc?
I don't usually talk about myself much and I think I should learn to truly celebrate and appreciate different things about myself (like many of us I am lacking in that department 

 ). However, there is something I am really, really grateful for, and that is creativity. This applies not only to designing but to many forms of art (I also do oil and watercolor paintings), and also to the less colorful aspects of our lives such as fixing things or solving problems. I often encourage everyone around me to explore and develop their creativity, even with the smallest of things because it will truly change their lives.
How did you discover digital scrapbooking? Were you a scrapper first, or did you jump right into designing?
I discovered it by accident. When I first got married I couldn't find any wedding invitations that I liked, so I decided to make my own. They were really nice if I may say so myself 

 . One thing led to another and I started making invitations for friends and family. However, I felt restricted in the type of designs I could use and that was when I stumbled upon digital scrapbooking. The rest is history.
Celebrate some of our fantastic community members by sharing a few favorite layouts you've seen recently and tell us what you love about those pages!
I absolutely love every layout that is posted in my gallery! Every time I browse around I feel honored to be a part of people's memories through my creations. I am so grateful to all the people out there who chose my designs to document their lives, and it's super difficult to choose only a few!
Here are some pages that I picked, but really all of them are amazing.
This layout by shunnstergirl is wonderful! Even though the photos are small, the entire composition draws the eye towards them: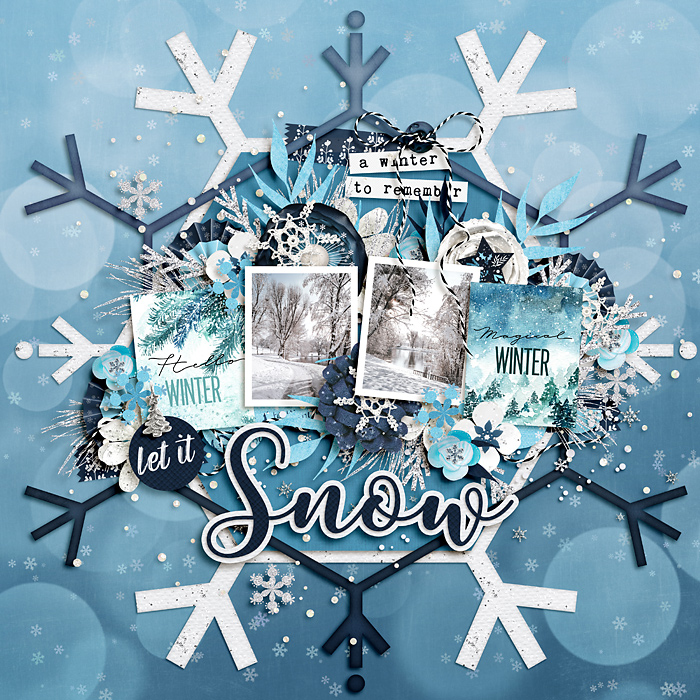 When I saw this layout by stormchaser I was stunned! It is gorgeous! The flower clusters are incredibly well done: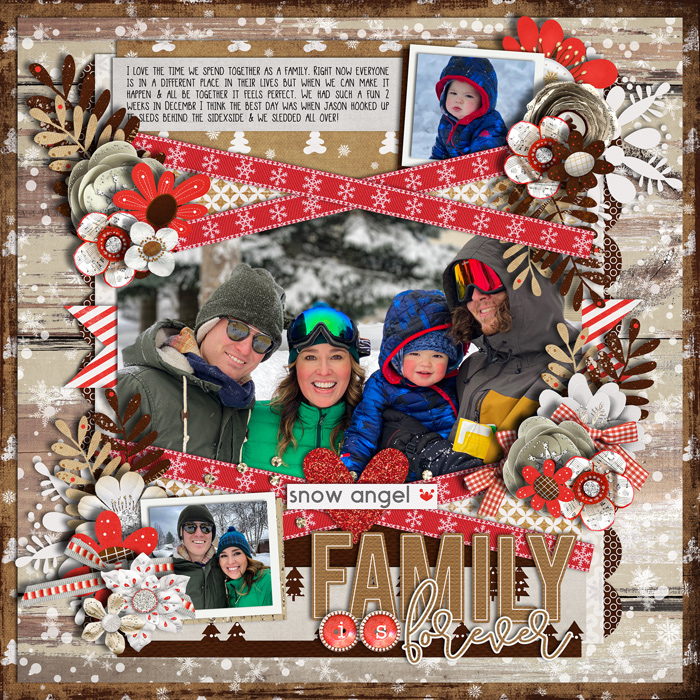 And then this page by CaroRen! I adore it! The placement of the photo, the use of white space, the clusters, all make the composition shine: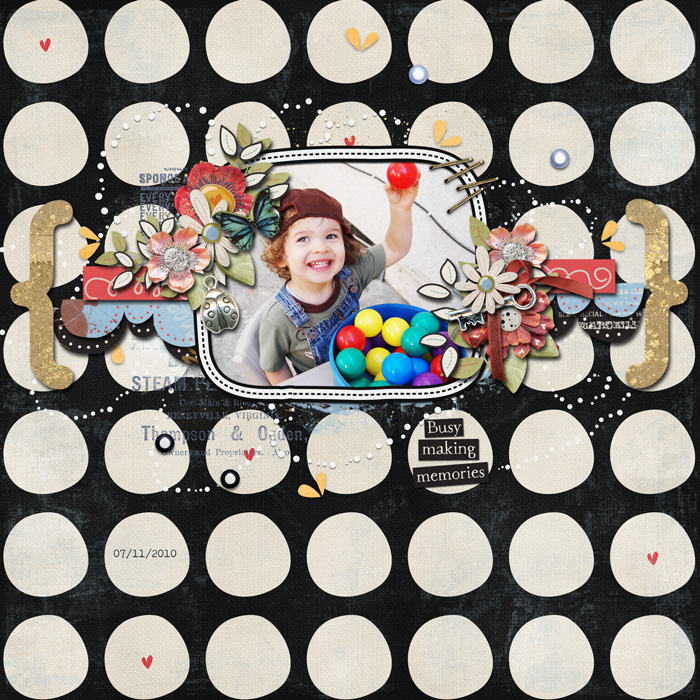 A big THANK YOU to everyone who chose my work for creating such beautiful layouts!
If you were going to give someone advice on how to start designing, what would you tell them?
It's the same advice I would give in any area: explore and find your voice. When you start creating you are inspired by many, many styles so the need to explore them and find what fits is real. However, the secret is to define your own style of designing to the point where it is recognizable.
There is one other important point I want to make. There are many moments when you think your work is no good or just plain ugly. Those are the moments when you need to push through. Often times there is an "ugly" stage to artworks. Don't stop there. I promise you, once you get past it you are on your way to an amazing creation, one that will make you (and others as well) happy.
Now, let's see how the team used Favorites: rainy days.





Favorites:  Rainy Days will be automatically added to your cart for FREE when your subtotal reaches $10 or more! This special offer will only be available through Friday, December 2nd when our new releases go live, so don't delay! And don't forget to come back next Friday for a sneak peek at Alice's Feature Designer 15 sale. It will start Tuesday, November 29th. Have a great weekend!