Sweet Talk with: keepscrappin – 11/9
Hey everyone I'm excited to bring you one of our blog feature, Sweet Talk, which sheds some light on YOU. Our amazing community members. Once a month we will indulge in some "sweet talk" and have some fun getting to know you all a little bit better.
"When someone tells you a piece of their life, they're giving you a gift." – Patrick Rothfuss
We'll start off with an ice breaker and show off some gorgeous pages then we'll end the interview with a lightning round of 15 questions to learn some fun, interesting and cool things about a different member of the sweetest spot in town!
This month I'm excited to introduce: Kayla, (keepscrappin in the forum)
How you came to find digital scrapbooking?
Kayla says: "My friend, Amy, introduced me to digi scrappin back in 2006 around the time my youngest was born. I had been a paper scrapper for a decade or more before and was skeptical about scrappin digitally. I was one of those paper scrappers who added in all the 3D elements, buttons, flowers, brads, etc so my pages were thick… LOL I was worried about my layouts looking flat, but once I figured out shadows, I was hooked and haven't looked back!"
What's your day job, where you live, pets, kids?
Kayla says: "I'm a SAHM – you might think that means stay at home mom to our 5 kids (3 biological, 2 in-laws) and a grandpuppy, but hubby would beg to differ. He says for me SAHM means Scrap At Home Mom, because I'm always scrappin. Hey a girls gotta do what a girls gotta do. Besides, I'm just livin up to my username, keepscrappin… LOL!"
I really enjoyed looking through her gallery and she does full page photos so well. I saw this beauty and was just wowed:
"The full page photo here with the close up on the loving wrapped hug after the big moment is both stunning and evokes all of the emotion. I adore the well done title cluster which just encapsulates the moment and the final answer YES!"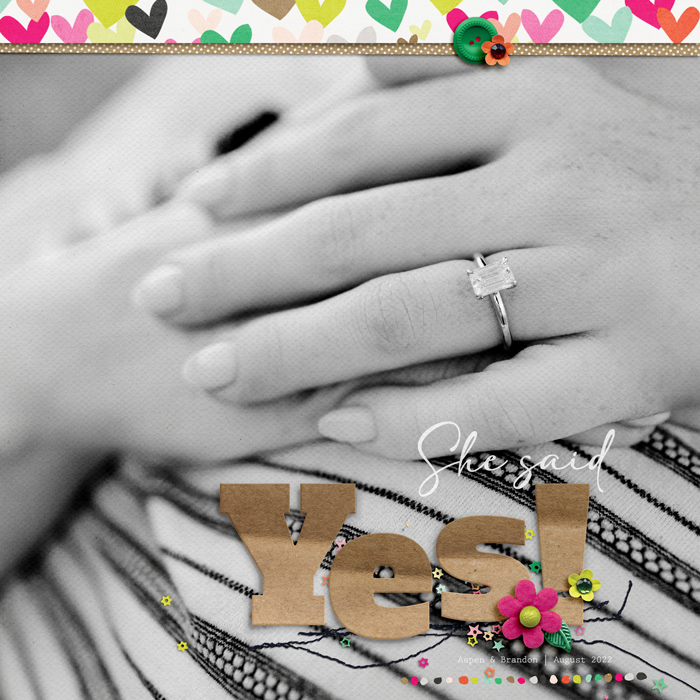 I also asked Kayla about her favorite pages from her own gallery here and this is what she shared:
"I love BIG photos and templates. This layout combines my love of both and it's full of fun!"
"Another BIG photo layout, but what I love about this layout most is the cascading cluster. I used to be cluster-challenged but not anymore. I learned how to cluster from the best, my friend, Cheryl."
"Last is this strawberry layout. Who doesn't love strawberries… YUM! As much as I love to pile it onto my layouts, there's times when I love a more clean and simple design. This one gives me both. I was able to pile it on for the cluster, but the c&s design and minimal colors gives the viewer breathing room… swoon!"
1. What's your favorite way to spend a day off?
I like to enjoy the 6 Ss – Sleepin in, Scrappin, Snacks, Shows, Solitude and Silence. I love it when I have the house to myself and can do whatever I want without any interruptions or judgement.

2. Are you an introvert or extrovert?
I think a little of both depending on the situation. Extrovert in small groups and introvert in large crowds.

3. What's your favorite pizza topping?
Pepperoni – lots and lots of pepperoni

4. Are you a binge watcher? What's the last show you binged?
I'm definitely a binge watcher. I drive my family nuts because I can binge for hours on end. The MacGyver from the 80s. I love science and how he can make things out of nothing to save the day!

5. Back, Stomach, Side….what's your sleeping position?
All of the above… whatever feels best at the time throughout the night.

6. What's your guilty pleasure?
I like to take bubble baths in my jetted tub while binge watching shows and having a Symphony bar.


7. What color dominates your closest? Is it the same for your home décor?
Black and white dominate my closest and yes, it's the same for my home decor, but with a few pops of color. Sometimes red, teal or blue.

8. What pop culture trend irks your nerves?
Calling people Karen – it's so rude! I know lots of Karen's who are wonderful ladies. Just do your job people and she won't need to speak with your manager… LOL

9. Is there a word that you hate when people mispronounce it?
Yes, it's hundred! Not hun-NERD! It's hun-dred! Everytime someone says hun-nerd, I kringe like when someone scrapes their nails on a chalkboard. LOL

10. What's your favorite board game?
I like any board or card game my family will play with me. Some that come to mind are: Rummikub, Quixx, Sequence, Trouble, Settlers of Catan, and Five Crowns.

11. Choose a fictional character to be your best friend, who is it?
Samantha from Bewitched. She could wiggle her nose to get all my chores done and dinner made, so we could hang out, scrap and binge watch shows all day.

12. Everyone loves it, but you just don't get the appeal…what is it?
The Office. I can't stand it, but my hubby loves it. I have to leave the room when he's watching it. I just don't get the appeal. I tell him 'Dumb is not funny, it's just DUMB!" LOL

13. Share a pet peeve with us?
When someone leaves an empty toilet paper roll on the rack. Apparently it's too hard to reach into the cabinet and put a new one on.

14. What is your go-to app for wasting time?
1010 and solitaire – depends on the mood I'm in.

15. Are you cooking at home or picking up to-go?
With food prices so high, I've been cooking at home more and more. I don't enjoy cooking, but I'm a good cook, so I'm putting my instant pot and air fryer to good use.
WOW she is speaking my language with many of her answers. Especially her favorite way to spend a day alone, favorite pizza toppings YES to both of those answers!!! Let's order pizza and just enjoy her 6 S's of life. lol 😉 I enjoyed learning more about her and I hope that you all did too. Thank you again, Kayla, for letting me interview you for this "sweet talk" feature.
See you all next time!