Sweet Talk with: Lidia G 12/5
Hey everyone I'm excited to bring you one of our blog feature, Sweet Talk, which sheds some light on YOU. Our amazing community members. Once a month we will indulge in some "sweet talk" and have some fun getting to know you all a little bit better.
"When someone tells you a piece of their life, they're giving you a gift." – Patrick Rothfuss
We'll start off with an ice breaker and show off some gorgeous pages then we'll end the interview with a lightning round of 15 questions to learn some fun, interesting and cool things about a different member of the sweetest spot in town!
This month I'm excited to introduce: Lidia G
How you came to find digital scrapbooking? What's your day job, where you live, pets, kids?
Lidia says: "Let's see – Two years ago, actually almost three now, I was a project manager in the market research business. My team worked with the public so when the pandemic hit and everything shut down I decided the best thing to do was to retire. It was a tough decision since I thought I'd still be working for a few more years but I don't regret my decision. I was lucky to have many hobbies to keep me busy plus my husband had already retired a year earlier so we now keep each other company. I am a mother to three boys and gained a stepson when I remarried after my husband passed away from complications due to multiple sclerosis. I consider myself a survivor and a fighter. My boys were all teenagers when their dad passed away so it wasn't easy, but we got through it! I own a small parrot named Coco. The only word he says is his own name and he's quite fun when he's not shrieking into my ear! I live in Quebec, Canada just on the outskirts of Montreal. I speak 3 languages. English is my mother tongue and I also speak French and Polish.
My road to digi scrapping – a few years ago, while looking through uTube for videos on adult coloring (that was one of my passions as the time) I came across a lovely lady showcasing one of the albums she had just created and she had a tutorial on how she did it. I was intrigued and before I knew it, I was hooked on paper scrapping. My dil was pregnant with my first grandchild and I thought it would be awesome to create a baby album for her. From there I started making cards, then dabbled a bit in art journaling. Another uTube video introduced me to digital scrapbooking, something I had never seen before and I immediately got hooked. No more glue, glitter, sequins, spattering, little bits of paper everywhere and the cost was so minimal. I gave it a go and never looked back! I still art journal a bit but digi scrapping is now my passion."
I really enjoyed looking through her gallery and I am never at a loss for finding something beautiful like this page:
"Maybe it's the seasonal sentiments right now, but this page really made me miss my nana. I love the treasure of a photo here and the bird card with all the clustering is well done and soft and perfect for the page. "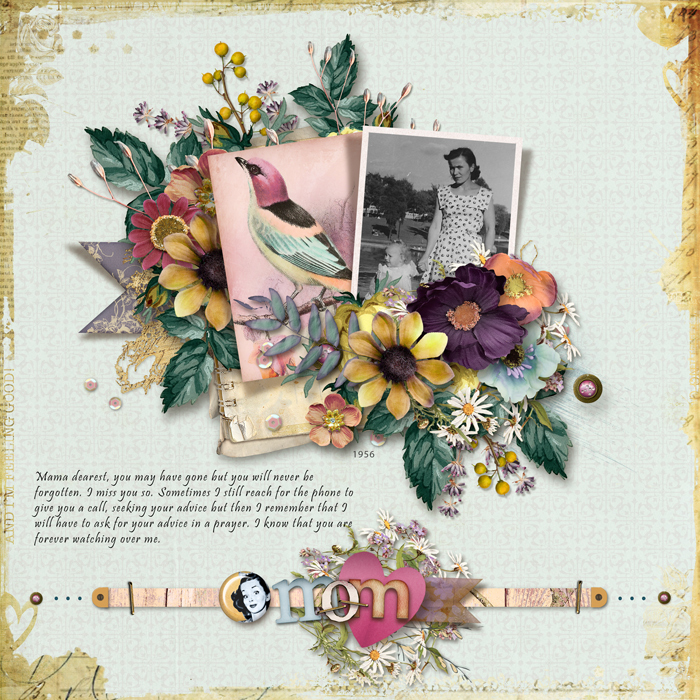 I also asked Lidia about her favorite pages from her own gallery here and this is what she shared:
"The dark background and the yellow of the flowers just worked out so well in this layout. I'm always hesitant when it comes to using dark backgrounds."
"I like the way my clustering came together with the banner on the top and the photo of me is acceptable. I really don't like being photographed. This one is a selfie."
"This was taken on my wedding day15 years ago. It's my new hubby with the toy poodle Gigi we adopted when his mother went into a nursing home. It was a happy day so it conjures up happy memories."
1. What's your favorite way to spend a day off?
Now that I'm retired, every day is a day off! I like taking walks in the rural neighborhood I live in or taking my electric bicycle along the bike paths. I'm extra thrilled when my grandkids come to visit.

2. What type of music are you into?
I like rock n roll and since my husband plays guitar and sings along to his favorite rock n roll tunes, there is constant music in my life. I also love listening to classical guitar.

3. What's the next place on your travel bucket list?
Because of the pandemic we haven't had much opportunity to travel but Europe is definitely on my bucket list. Italy, Spain, France, Greece. I love ancient, historic cities. I yearn to feel history as I walk through the old cities of Europe.

4. Are you an introvert or extrovert?
I'm more of an introvert although having to work with the public you wouldn't think so. I don't like crowds and too much noise around me. I will try to find any excuse not to go to parties. I like it small and intimate where I can have a one on one conversation.

5. Are you a binge watcher? What's the last show you binged?
If love spy or detective thrillers. The last one I watched was Archangel with Daniel Craig.

6. If you could tell us to read one book, what would you recommend?
Any Harry Potter book – I'm a big fan!

7. Back, Stomach, Side….what's your sleeping position? – I sleep on my side.

9. What's your guilty pleasure?
Dark Chocolate with an espresso

10. Amusement park or National park? National Park all the way!

11. Ever had a bad date? What happened?
I was dating this guy once that slipped drugs he planned on selling into my purse. I thought we were meeting one of his friends on our date but then when he asked me give him the baggie in my purse, I was floored and couldn't believe he would do something like that. I flagged down a cab and never saw or talked to him again.

12. If you could create the ideal career for yourself what would it be?
I always dreamt of being a ballet dancer.

13. Do you believe in aliens and unicorns? Absolutely, I believe in both.

14. Everyone loves it, but you just don't get the appeal…what is it? Corn. I don't like the smell of it boiling and I don't like the taste.

15. What's your favorite season? In the dead of winter I'll tell you it's Summer but in the heat of the summer I'll tell you it's Fall. It's 50/50. I love both equally.
Hey fellow introvert. Give me small and intimate any day and WOW for her bad date. Geesh that is one bad date!! I enjoyed learning more about her and I hope that you all did too. Thank you again, Lidia.