Happy Friday Sweet Shoppers! After a week of teasing and sneak peeks, the BIG event is finally here! National Scrapbook Day is upon us, and I'm super excited because we have SOOO much in store for you guys this weekend! I have oodles of sweet things to share with you tonight, so read on for your first look at our newest treats, the amazing limited edition collection of kits our designers have created for this special event, and all of the details on how you can scrap, share, win sweet stuff and SAVE BIG this year at the sweetest spot in town…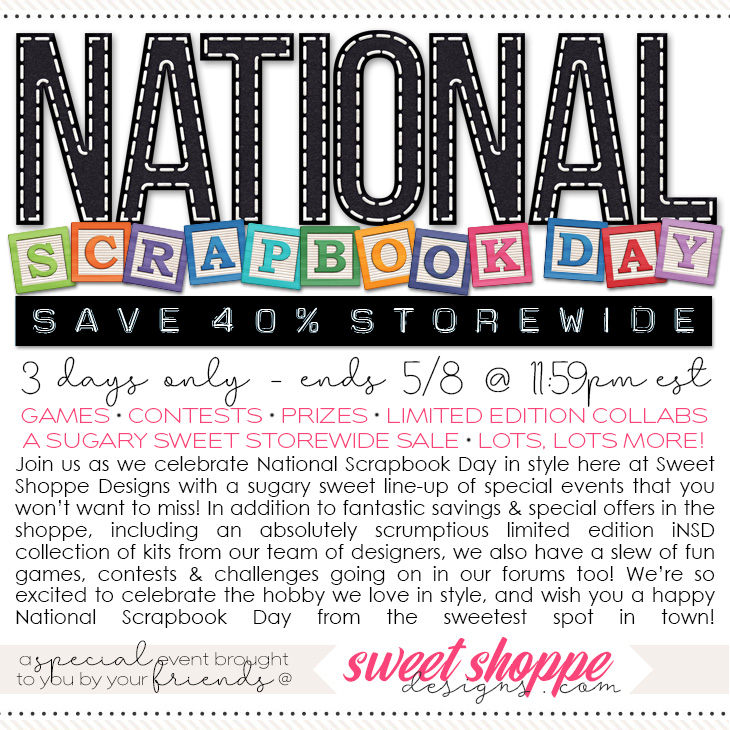 As usual, our designers have pulled out all the stops with an absolute slew of new treats that are sure to delight you! There are more than 200 brand new goodies hitting the shoppe tonight including some products that I think are must haves for just about every scrapper around. I know you guys are eager to get shopping, so here's your first look at…
Like I said, there is something for just about everyone hitting the shoppe tonight so whether you're looking to scrap a stroll along the shore, your seasonal allergies, a favorite character, or time in the garden, you'll find what you need and so, so much more in the shoppe tonight! Best of all, not only are our newest goodies simply scrumptious, everything in the shoppe INCLUDING our new releases and all of our fantastic CU Designer Resources are 40% off through Monday, May 8th at 11:59pm ET!
As if all of that weren't sweet enough, our newest Featured Designer went into the spotlight earlier this afternoon and kit she's created for our latest special offer is seriously gorgeous! Val of Little Butterfly Wings pulled out all the stops in her kit, Good Days Ahead, and from soaking in the sun to smiling more often, this mixed media masterpiece is one you'll want in your collection! Take a peek…
Val is such a talented designer and I am beyond grateful that she's part of our team! While I think most of you are familiar with her work, I love that everyone who spends $10 in the shoppe over the next couple of weeks will get a taste of what she has to offer, and if you aren't already a fan, I know you will be after creating with this whimsical and wonderful collection!
While our Featured Designer freebies are always an awesome bonus when you shop, we have to sweeten the deal because it's iNSD right? Well, I hope you're sitting down because we have some amazing new collabs from our team which are also FREE when you Spend $20 or more until May 12th @ 11:59pm EST!
As you guys know, it's tradition here at Sweet Shoppe Designs to have our entire team of designers collaborate on limited edition mega-collabs to help celebrate the biggest events each year at Sweet Shoppe Designs, and this iNSD is no exception! I'm so thrilled to tell you guys that like we've done in the past we've created not one, not two, but THREE amazing mega-collections that are yours FREE when you spend $30 in the shoppe over the next week! Check out the details…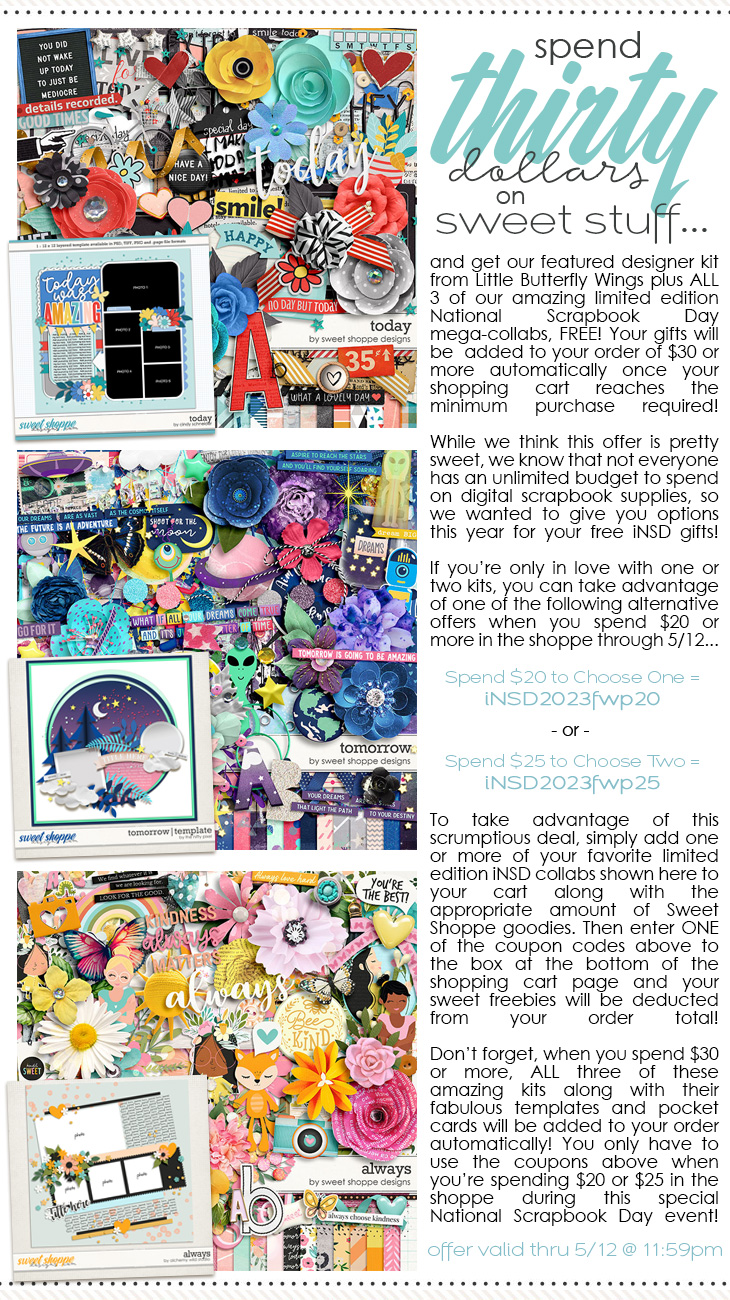 The designers and I are so proud of these gigantic kits so be sure you read all of the details on how to get them in the ad above. If you aren't a huge fan of all three kits or if you're on a limited budget this year, that's ok, because when you spend $20 or more you can choose your favorite (or two) to make the most of (and customize) this offer just for YOU! Each of these kits comes with a huge stash of papers and elements, two alphabets, a 12×12 template and a set of pocket cards too, so we think this special offer is an absolute steal! Not only do you get oodles of your favorite sweet treats at 40% off in the $30 you're spending, you also get up to 4 amazing goodies FREE, which is just awesome. We are continually striving to bring you the best digital scrapbooking products Today, Tomorrow and Always and we hope you love this sentimental trio of kits with a twist as much as we do!
Whew… believe it or not, that's not all! Don't miss out on spending some time this weekend scrapping and playing along with the incredible array of games and contests we have going on in our special iNSD 2023 forum! Our community is one of the best around, so don't be shy… join us and jump into the fun all weekend long for your chance to win lots of sweet stuff including your chance at a $100 Sweet Shoppe gift certificate for participating in this year's special edition iNSD Bingo game…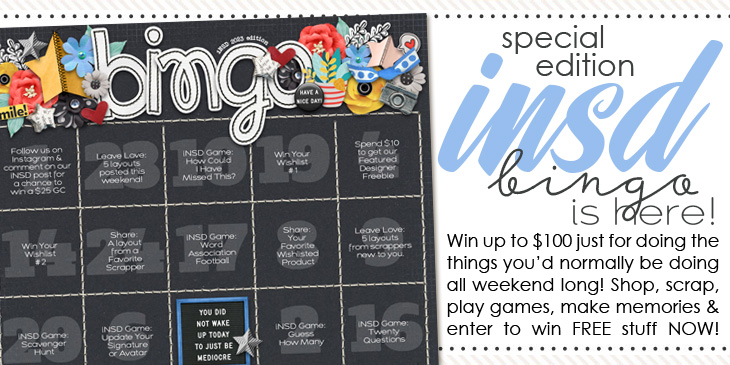 This year's bingo card has a couple of bonus chances to win free stuff including 4 goodies from your wishlist, but if you love social media, we have one more special treat in store for you this iNSD, and that's the chance to win a bonus wishlist too! All you have to do is check out our bingo thread above, download this year's template to create your own mini wishlist image, and post on Instagram to enter to win! You can choose anything you want from the shoppe with no restrictions, and as long as your post is live with the #nsdatssd2023 by 11:59pm ET on Monday night, YOU could be our lucky winner, and that's pretty sweet!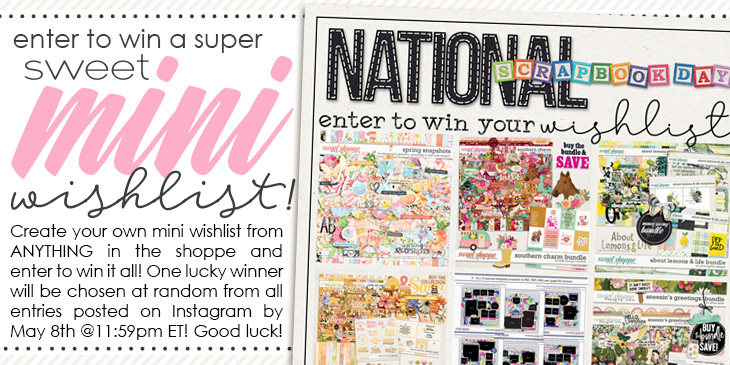 On that note, I'll wrap it up so you can jump into the fun, but I just wanted to say thank you for choosing Sweet Shoppe Designs. Your support means the world to our little business and we appreciate you every day, not just on big days like this! I'll be here in your inbox with a final day to save reminder plus a ton of iNSD inspiration a little later this weekend!
Until then sweet friends, keep making memories and scrap MORE!