Summer Scrap-A-Thon: 3 Challenges, 3 Ways
This is the season she will make beautiful things. Not perfect things, but honest things that speak to who she is and who she is called to be.
Morgan Harper Nichols
It is the season to make beautiful things, my creative memory-keeping friends – it is the season for our Summer Scrap-A-Thon!
Here at the Sweet Shoppe, we believe in the power of creative inspiration. It's one of the reasons you'll nearly always find us running some sort of scrapbooking challenge. During the summer months, we know things can get a little topsy-turvy. Kids are out of school, families are taking vacations, friends come to visit, and the normal routine gets turned on its head. Whether you have more or less time to spend on memory-keeping during July and August, we like to set aside our usual "This or That?" challenges and, instead, do something a little different. A little more laid back. A lot of fun with a lot of prizes.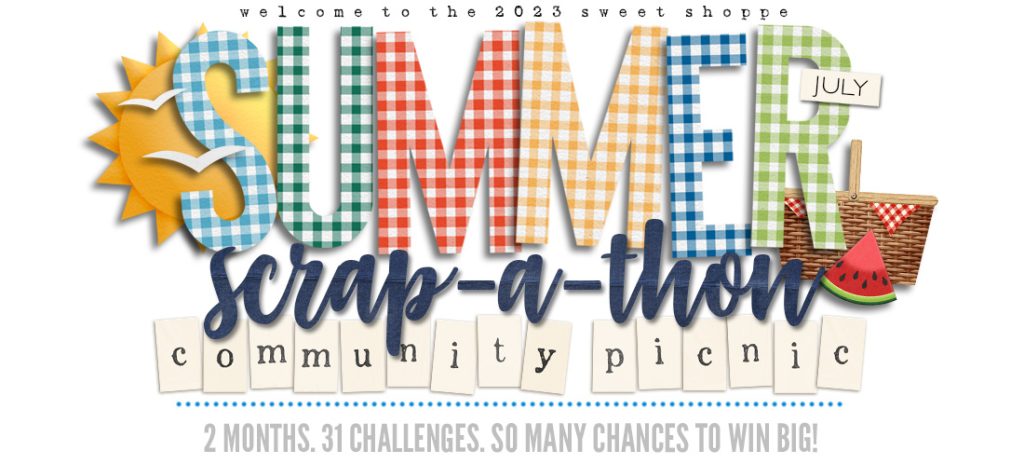 It's our Summer Scrap-A-Thon – and you can read all the details here.
The month of July is our Community Picnic, where every other day, we're taking on a challenge submitted by a member of our sweet community. We're off to a smashing start, and I thought it would be fun to take a look at three different approaches to each of the first three challenges.
July 1st – Same Photo, Years Apart
Our first challenge was submitted by community member Shellbyj and is being hosted by our Owner & Chief Candy Keeper, Robin Carlton. For this challenge, you're encouraged to scrapbook the same photograph taken years apart. That could be the same people, the same pose, the same location, the same subject … but there must be at least 2 photographs taken years apart.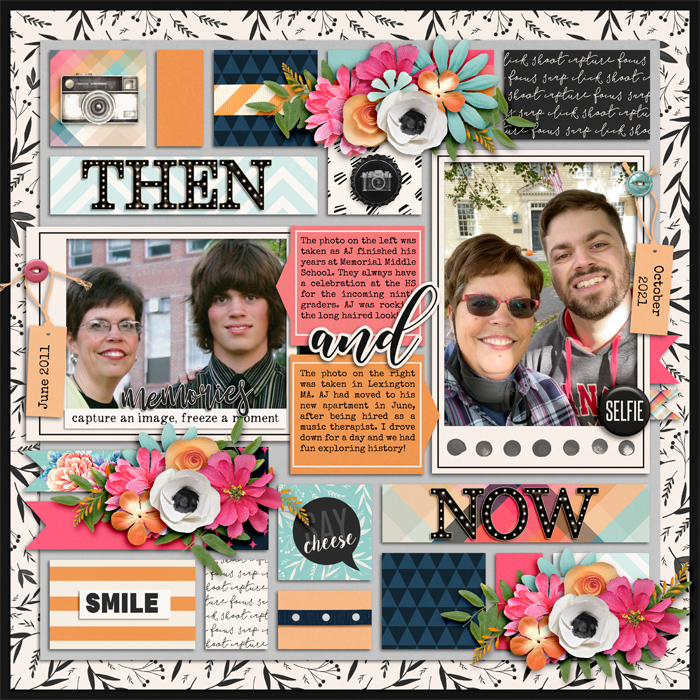 This layout by Lorigaud is a quintessential "then and now" scrapbook page, showcasing two photographs of her and her son taken ten years apart. When shown side-by-side, it's easy to see the changes that take place over a decade, and her journaling provides the perfect background for each shot. Add in those gorgeous floral clusters and you've got a stunning scrapbook page!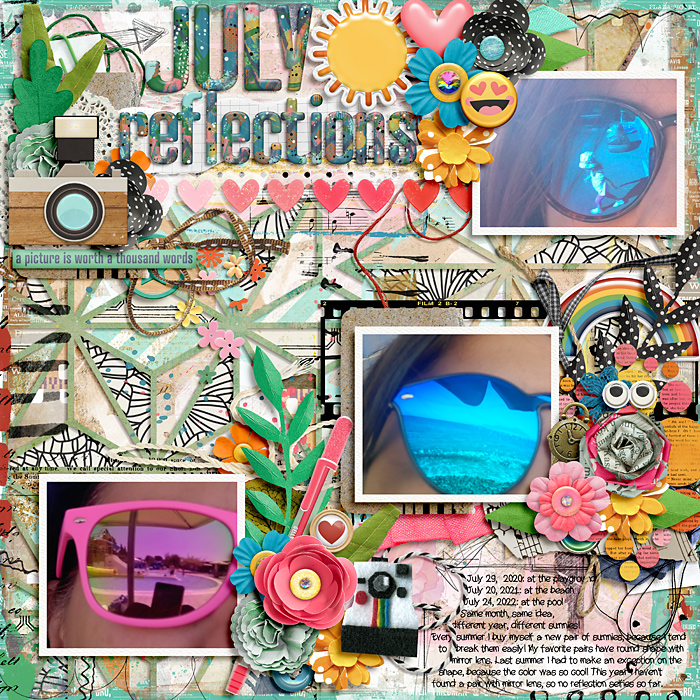 Community member Cinderella took a creative spin on the challenge and rather than focus her photographs on people, she focused on the reflections in her sunglasses. Her journaling focuses on the sunglasses themselves – that she gets a new pair each summer, her preferred shape and style – but in the photos, you can see the progression of the world around her. 2020 in the heart of the pandemic, the reflection is of a local playground. 2021 shows the reflection of a beach, and 2022 is a poolside reflection beneath an umbrella with a book or e-reader. I love that this layout tells now just one story but two!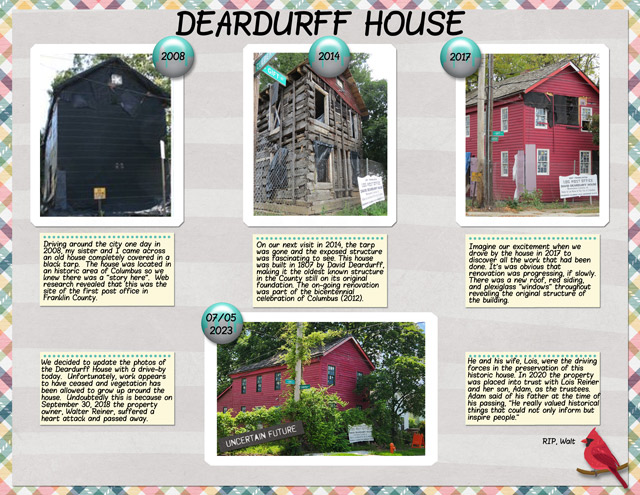 This layout by user Pups_R_Paps takes a third approach to this challenge by using photographs of a building. Taken over the course of fifteen years, it shows the process of restoration of a historic house in her city. Her journaling provides the back-story, and I love the picture she paints here: not only of a structure with over a century of history, but of a man with a passion for inspiring others.
July 3rd – Summer Getaway Flashback: Home
The second challenge in our Summer Scrap-A-Thon was submitted by AmieN1 and is being hosted by SugarBabe Mary. It's a fun way to get to know one another and learn a little more about where we live. In your post, you're challenged to list 5 facts about the place you call home. Then, use one of those facts as inspiration for your layout.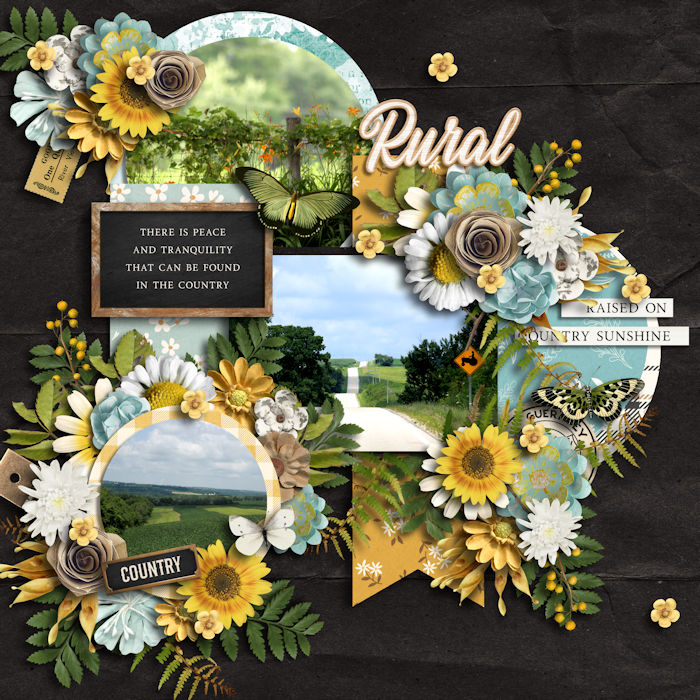 JillW grew up in rural northwest Illinois; in her layout, she focused on rural living using photographs of the area where she lived. I love the beauty and tranquility of these photographs – from the detail shot at the top to the mid-range photo of the dirt road to the wide landscape shot at the bottom – and those floral clusters surrounding the photos are absolutely stunning!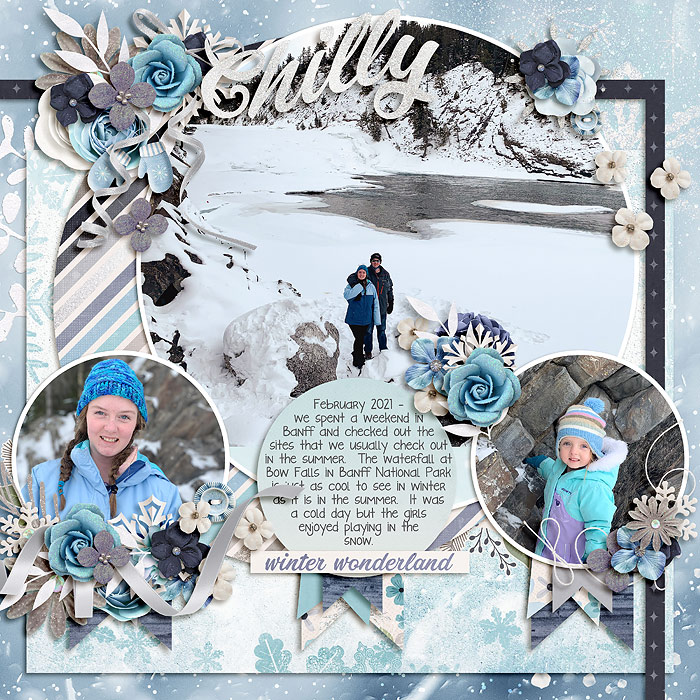 Community member tjscraps hails from Alberta, Canada. Among her list of five facts about Alberta, she included, "The oldest national park of Canada is located in Alberta (Banff National Park)." This layout chronicles a family visit to Banff in February 2021. I love the way she contrasted those beautiful closes-ups of the girls against that wide shot showing off the stark yet beautiful landscape of Banff. And the kit she chose to build her page with is the perfect match for both her photos and their subject. Love it!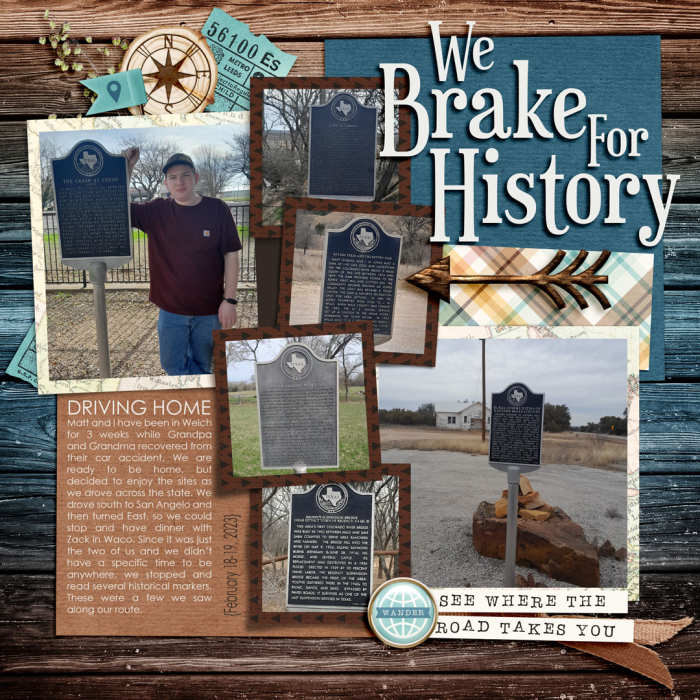 LorieS hails from East Texas – just down the road from me in North Texas (well, "down the road" by Texas standards anyway) – and on her list of facts about the area, she included, "The oldest town in Texas is about an hour from my home. Nacogdoches was founded in 1779. We have a lot of small museums and historical markers in East Texas." This layout – "We Brake for History" – shows off a collection of shots of historical markers taken on a road trip to San Angelo and Waco. I love that the photos themselves serve as a type of journaling! And the elements in the upper left of the page layered behind the photograph are simply perfect! Just the right amount of embellishment for this photo-rich layout.
July 5th – Unlikely Pairs
For our third Summer Scrap-A-Thon Challenge, we're focusing on the kits we use to create our scrapbook page. Submitted by Kimberly27 and hosted by SugarBabe LeeAndra, we're challenged to pick two wildly different scrapbook kits and use them both in roughly equal amounts to create a single layout. This could mean two kits with different themes or drastically different color schemes.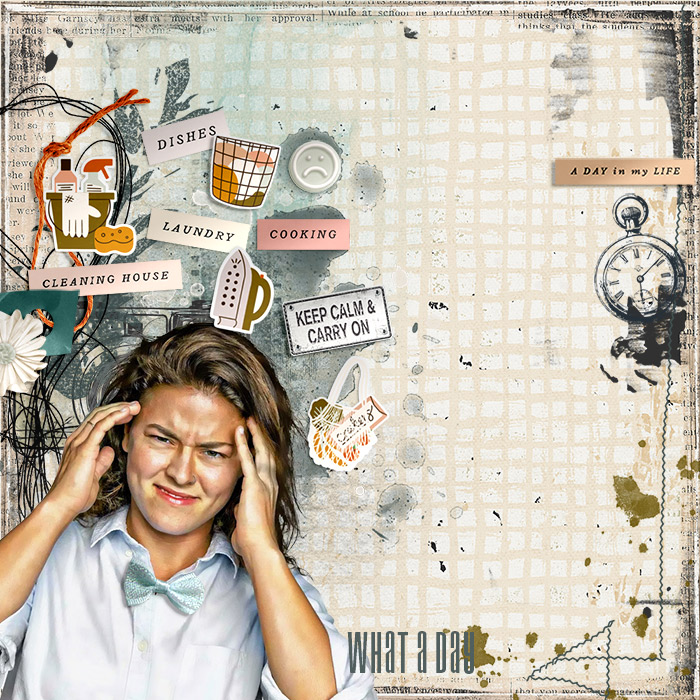 For her layout, Sylvia chose What a Day by Humble & Create and Anisoptera by Pink Reptile Designs. One is about household chores and the other about dragonflies, but she combined them to create this unique and artistic page about mental chaos, a busy day, and work around the house. I especially like the treatment she gave that stock photograph to make it look like a pencil drawing. It fits in beautifully with the rest of her page!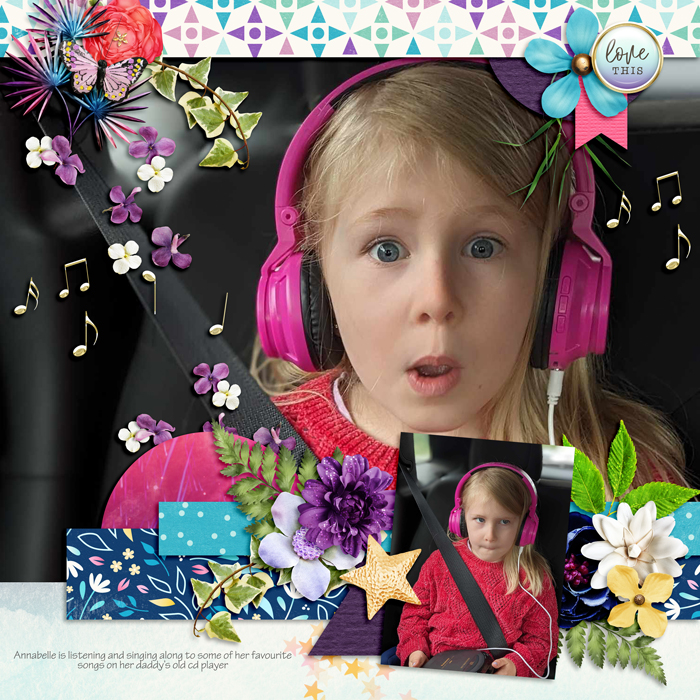 LidiaG combined two different kits by the same designer to create her layout: Good Night Moonlight and Fresh Air, both by Digital Scrapbook Ingredients. One kit contains bright, saturated color while the other is light and pastel. By combining them, she was able to create a layout with unique depth and really set off these beautiful photos of a sweet little girl singing along to music, in her own little world. And scattering those musical notes in amongst the flowers is a perfect touch!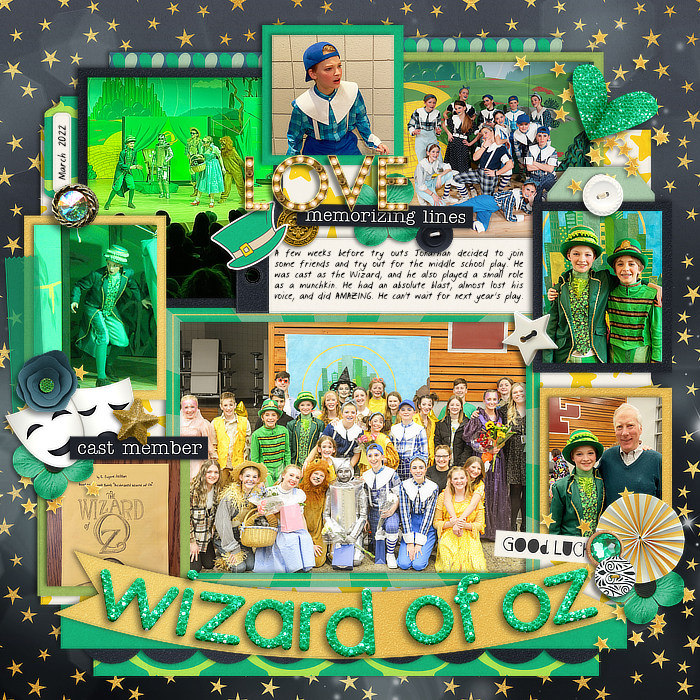 This layout by ChristyHC illustrates how the subject of your photos can sometimes drive the pairing of two uniquely different kits. To chronicle this stage musical, she went with a kit by Amanda Yi (Oh So Lucky) that was rich in greens and St. Patrick's Day imagery, as well as a kit by Meagan's Creations (Scholar: Theatre) that focused on the stage and theatre in general. The combination of these two kits gave her lots of fun elements to choose from, in the perfect shade of green and with those great topical word strips. Nicely done!
---
Our first three Summer Scrap-A-Thon challenges, each done three different ways. I hope this post has given you a bit of inspiration and encouraged you to join us in the fun! Whether you've got a pile of warm-weather photographs to scrap, if you're on the other side of the world in the throes of winter, or if you want to create something but don't know where to begin, these challenges are your ticket to not only creative inspiration, but a free kit and the chance for all sorts of other prizes. Check it all out in our Summer Scrap-A-Thon Forum right now, and jump right in and join us – I'll see you there!