Show-Off & Shout-Out with the SugarBabes – 9/12
Kind words are like honey – sweet to the soul. Proverbs 16:24
Hey there, my sweet scrapbooking friends! It's been a hot minute since our last Show-Off & Shout-Out blog post. This summer, we took a break from our "This or That" monthly challenges and, instead, held our Scrap-A-Thon: two months, thirty-one challenges, and so many chances to win! From July's Community Picnic, where every challenge was brought to us by a member of our community, to August's Endless Summer, where each challenge focused on a summer-related phrase that inspired our scrapbooking layouts, we saw the Gallery fill up with your gorgeous, creative, inspired layouts. Thank you so much for playing along, and congratulations to our Summer Scrap-A-Thon prize winners:
Free kit or mini-bundle up to $15 in value: clucaswvu04, smileark, 3BluEyedBabi, and Dady
$50 gift certificates: Route66 (July) and amyjcaz (August)
Win Your Wishlist: flutterby
Now that summer is over, we're back to our "normally scheduled programming", so to speak – and our September This or That? Challenges are off and running. That means it's also time to resume our Show-Off & Shout-Out thread. Here at the Sweet Shoppe, we love "leaving love" on one another's layouts in the gallery. Each month, you'll find the new "Show Off & Shout Out" thread in our This or That Challenges forum. When you leave love for 15 layouts in the gallery, share a layout you created this month and want to show off, and share a layout someone else created and posted in the gallery to which you want to give a Shout Out, you could win a free kit or mini bundle up to $15 in value.
I asked some of the Sugar Babes to share their our own Show Off and Shout Outs to wrap up our summer Scrap-A-Thon. Here's what Dalis, Jacinda, Jaye, Kiana, Kim B., and Sarah had to say.
Dalis's Show Off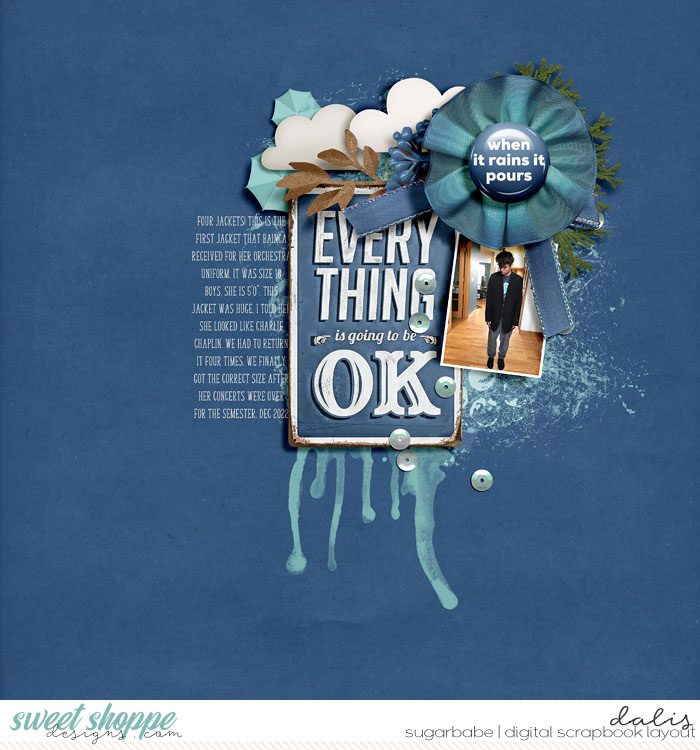 Why Dalis is proud of this layout: "The restraint I had on this page was mighty. I am usually a very messy scrapper, but on this page I am messy but not MESSY. It is simple on the eyes but with a hint of artsy and I love it!"
Dalis's Shout-Out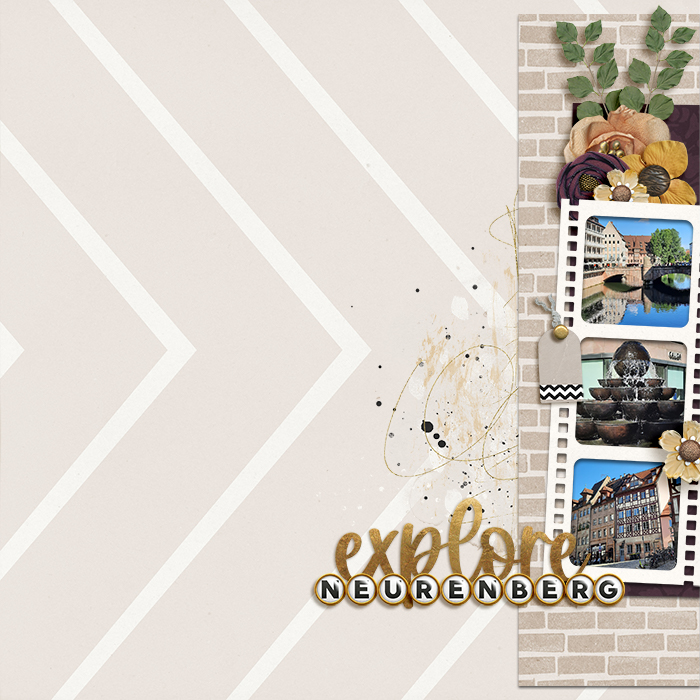 Why Dalis loves "Explore Neurenberg" by Romajo: "Romajo's page is simplicity and beauty tied together perfectly. Love how her chevron page guides your eyes to look at the film strip and the main focus of the page."
Jacina's Show Off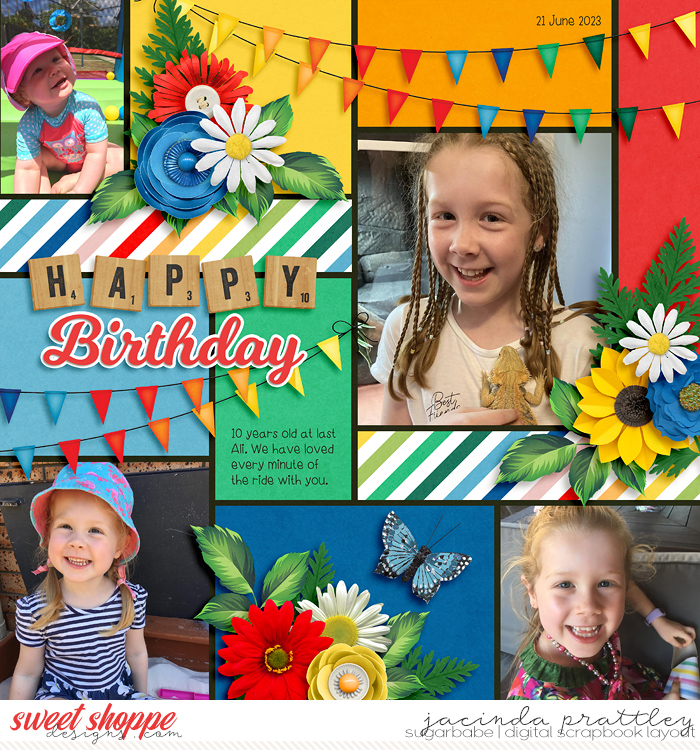 Why Jacinda is proud of this layout: "Colour blocking is one of the first techniques I did when I started paper scrapping. I love the clean lines and the ability to use lots of colour without it looking messy and overpowering the photos. Bringing it back for this month's This or That challenge was a fun reminder of just how much I love the end effect. AND, I don't need a template – it's easy enough to figure out a pattern myself."
Jacinda's Shout-Out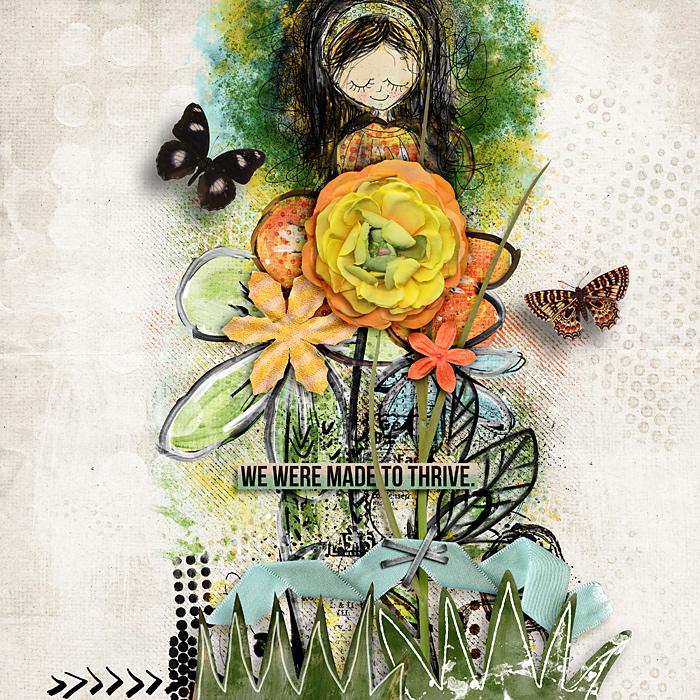 Why Jacinda loves "We Were Made to Thrive" by Cinderella: "I struggle with mixed media layouts, so really appreciate it when someone else knocks it out of the park. I just love the central focus and the shadows on the dimensional elements. Everything comes together so beautifully."
Jaye's Show Off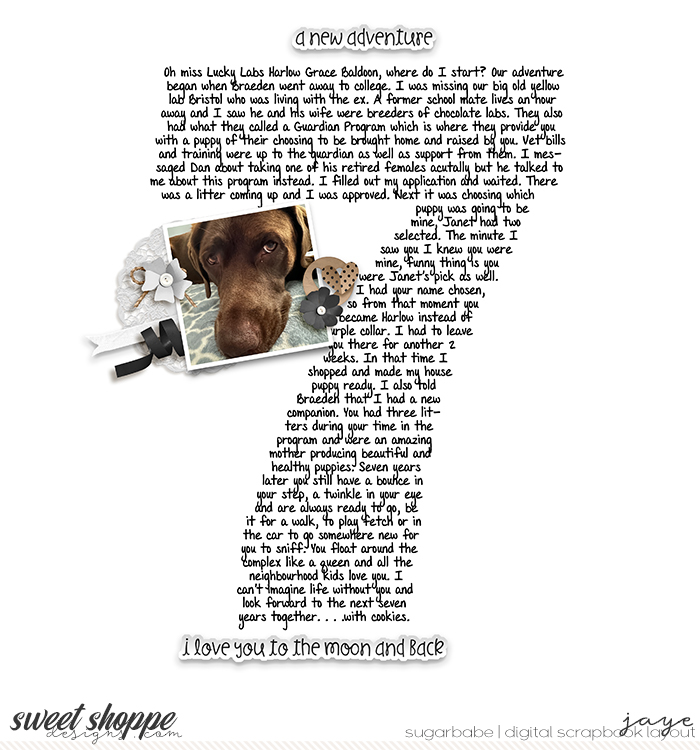 Why Jaye is proud of this layout: "I had a lot of fun with this page. It was a great way to tell a little of Harlow's story with the journaling in a different style. I like the crisp white background and minimal elements. It's funny how long this page actually took me as I was trying to let the journaling in the "7" stand out."
Jaye's Shout-Out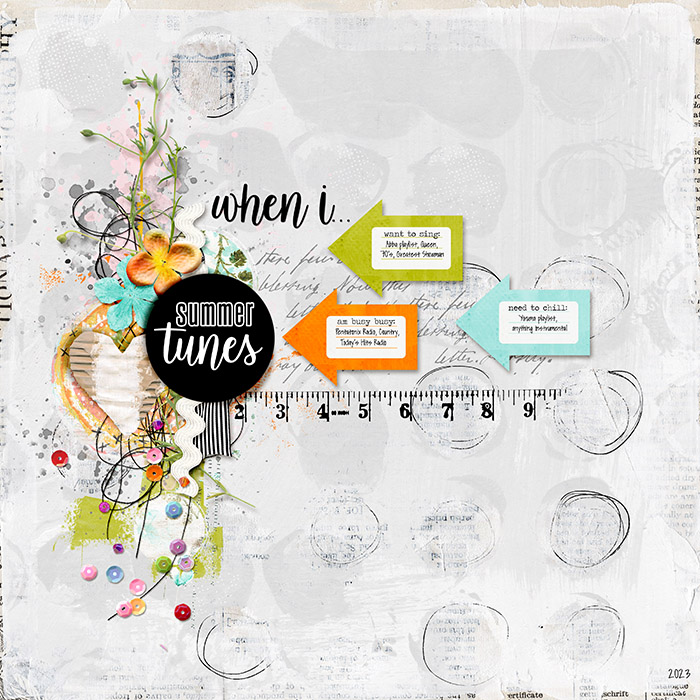 Why Jaye loves "Summer Tunes" by amyjcaz: "I am a fan of Amy's as it is, but I love the simplicity and delicateness of this page. The colours pop and I love the stamps/paint. The arrows with the types of music leading to the circular title is very creative and eye-catching."
Kiana's Show Off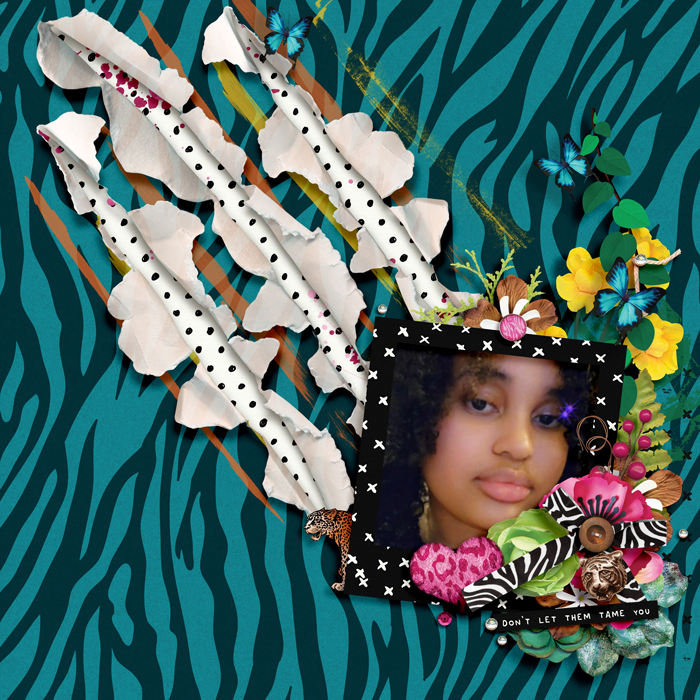 Why Kiana is proud of this layout: "I think this is my new favorite page. Grace's paper tears were the immediate inspiration in this kit when I saw them and the theme. I knew I wanted to create claw marks in my background with them and it worked out exactly how I envisioned."
Kiana's Shout-Out
'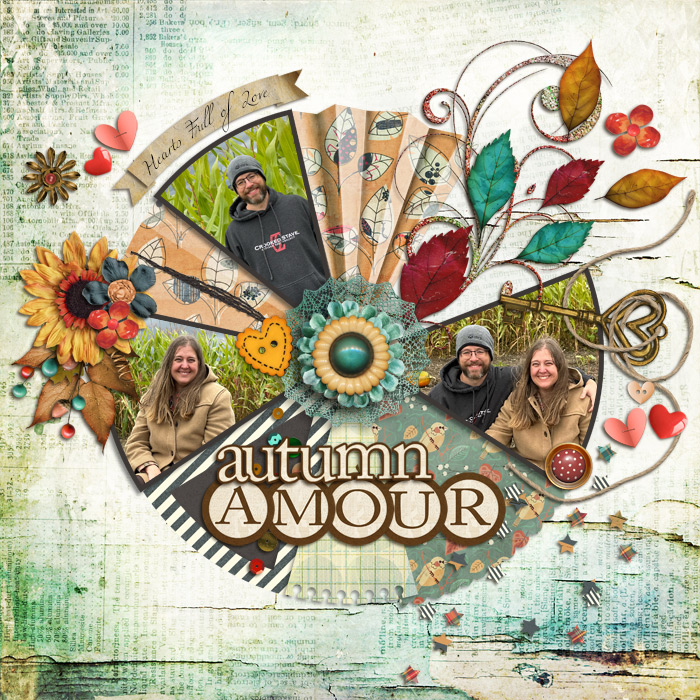 Why Kiana loves "Autumn Amour" by xboxmom: "I really love the use of the template here. The fun pie pieces of papers and photos lends itself well to the art journal feel. I love those outwardly scattering of leaves and her title work too!"
Kim B's Show Off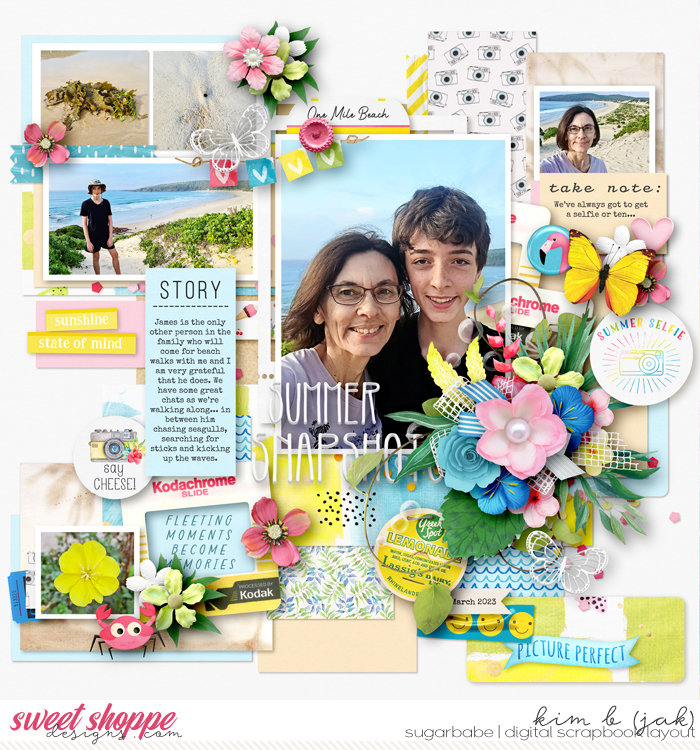 Why Kim is proud of this layout: "I created this page using a new template from Brook. Her templates are always so fun to play with having lots of different spots to put photos, journaling, elements and other little snippets. I love how it all came together, and the light, airy feel of the page."
Kim B's Shout-Out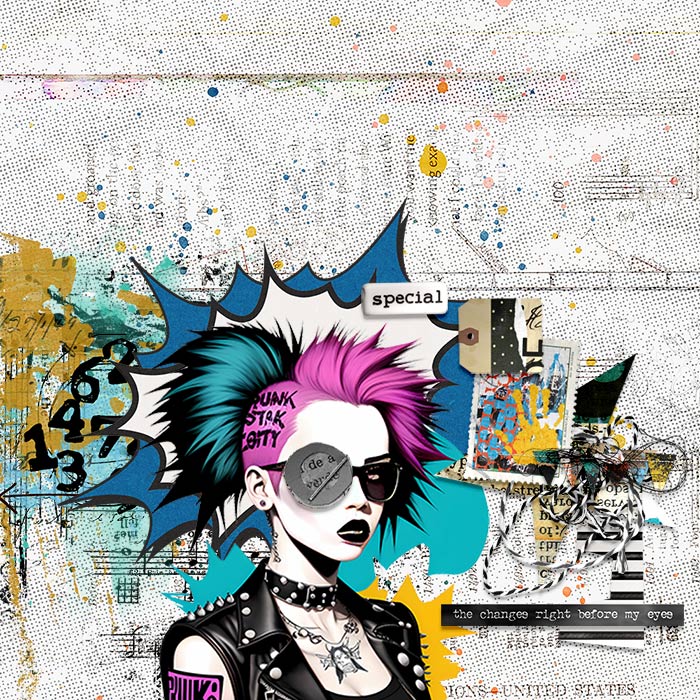 Why Kim loves "Special" by sylvia: "Sylvia created this page for the Boys of Summer challenge I hosted. Not only did she totally rock using a boy kit for a non-boy layout, her page is so striking and different to anything I've ever scrapped. I love the design and how the splash of pink contrasts with the more masculine colours."
Sarah's Show Off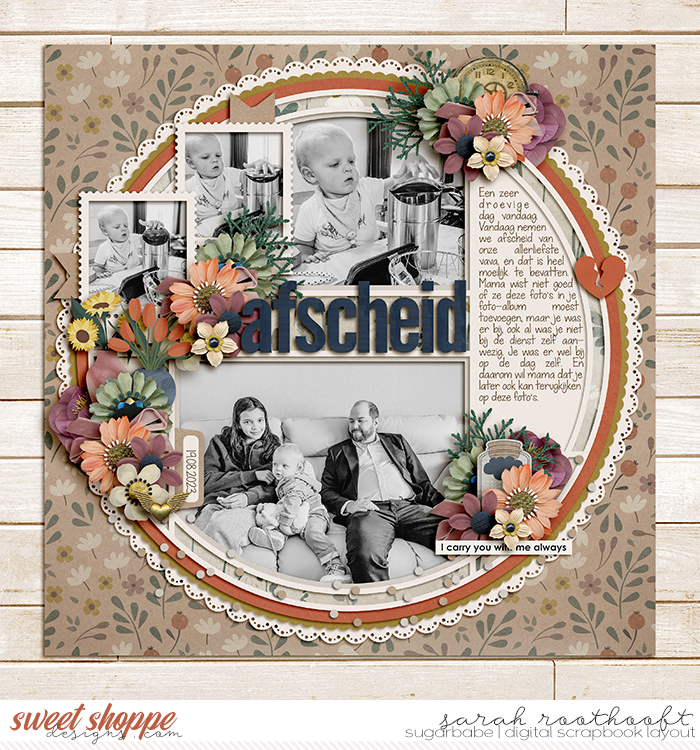 Why Sarah is proud of this layout: "I have a hard time scrapping bad memories, because I don't want to relive the emotions. These photos of Finn are taken on the day of my grandfather's funeral. He wasn't at the ceremony, but he was there before and after. It was hard scrapping those photos, but I love how the layout turned out. The colors of Erica's beautiful kit make the layout not 'too heavy'."
Sarah's Shout-Out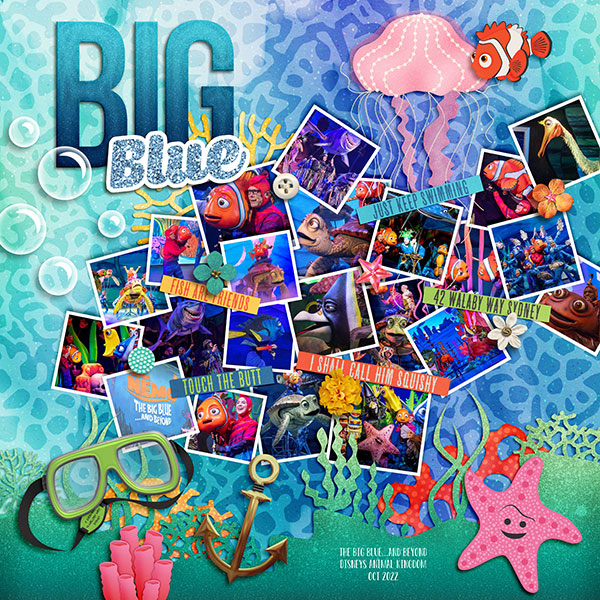 Why Sarah loves "Big Blue" by CindyB: "With this layout Cindy's challenge got chosen during our recent Summer Scrap-a-thon. I think it's such a creative and beautiful layout. I love the photos in the shape, the large title and the little scenery she created at the bottom of her layout. The bubbles are the perfect finishing touch. I get a smile upon my face by looking at this layout."
As for me, I had such fun reading through what these six SugarBabes had to say, I just had to play along!
Angie's Show Off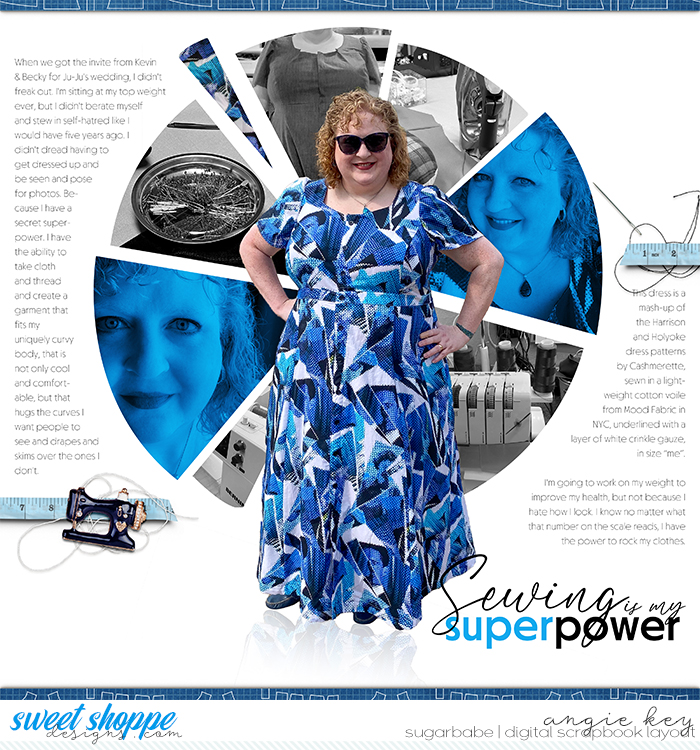 Why Angie is proud of this layout: "This layout began as a way to capture a recent sewing project, but as I began to write out my journaling, it turned into something much deeper and more meaningful. Rather than writing about sewing this one specific dress, the words that poured out of me were focused on the power I feel when I make my own clothes and how it has changed my mental and emotional relationship with my body. It never fails to amaze me how sometimes the creative muse takes me in a completely different direction than I initially intended!
Angie's Shout-Out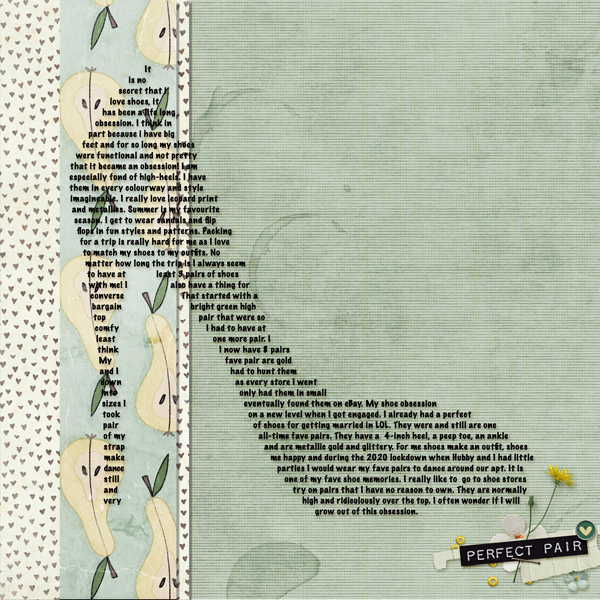 Why Angie loves "Perfect Pair" by ClaireG: "I was blown away by Claire's take on the Scrap In A Shape challenge. She placed her journaling in the shape of a sexy high heel – simply perfect for recording the story of her love affair with shoes. I especially like the details she included about dance parties with her husband during the 2020 lockdown. It's a sweet anecdote that provides an additional dimension to her story; it's no longer just about her obsession with footwear, but it also gives some insight into her relationship with her husband. So sweet!"
---
Author and speaker Anthony J. D'Angelo wrote, "Without a sense of caring, there can be no sense of community." We love our community here at the Sweet Shoppe, and what better way to share a sense of caring than by leaving kind words of feedback for your fellow scrapbookers? All it takes is a moment to hit the "comment" button and leave a few words of love on a layout. So what are you waiting for? Let's leave love all over the Gallery right now – I'll see you there!