Sweet Talk with: GrannyNKy
Hey everyone I'm excited to bring you one of our blog feature, Sweet Talk, which sheds some light on YOU. Our amazing community members. Once a month we will indulge in some "sweet talk" and have some fun getting to know you all a little bit better.
"When someone tells you a piece of their life, they're giving you a gift." – Patrick Rothfuss
We'll start off with an ice breaker and show off some gorgeous pages then we'll end the interview with a lightning round of 15 questions to learn some fun, interesting and cool things about a different member of the sweetest spot in town!
This month I'm excited to introduce: GrannyNKy
Tell us a bit about yourself. How you came to find digital scrapbooking? Day job, where you live, pets, kids? Give us the tea!!
She says: "I got my first computer in 2003 to aid in my love of genealogy and soon came across digital scrapbooking when a friend shared their Roxio Media Creator program with me, which uses PhotoSuite. That same program is still the primary program I use when creating my layouts."

"I have lived in Kentucky most all my life. Growing up, my only real ambition was to be a stay-at-home wife and mother in a little white house with a picket fence around it. I was blessed to have fulfilled that dream for the most part as I have three sons, and I was married to their Father for 24 years. I divorced him in 1997, and met by current husband (whom also divorced in 1997 and had 2 adult sons) in April of 1999; three weeks later we married. He and I enjoy living in our country 'holler' home in Butler County, Ky with our two little guys, Teddy (a shih-tzu) and Jax (a "rescued" Maltese). They were pups when we first adopted them, and like us they are growing older and enjoy nothing better than when some of some or all of our sons bring their wives and famlies (we have 19 grandchildren and one great grandchild) to visit."
I love our members and I love looking through the different galleries. GrannyNKy's gallery is full of love, family, and soul. Each page is centered around her life and the life of those she loves most and you can feel love flowing from her creations through the screen♥ just like in this beautiful page:
Not only is this page gorgeous, but the split photo of the beautiful girls radiates from the center and their proud achivement takes the stage!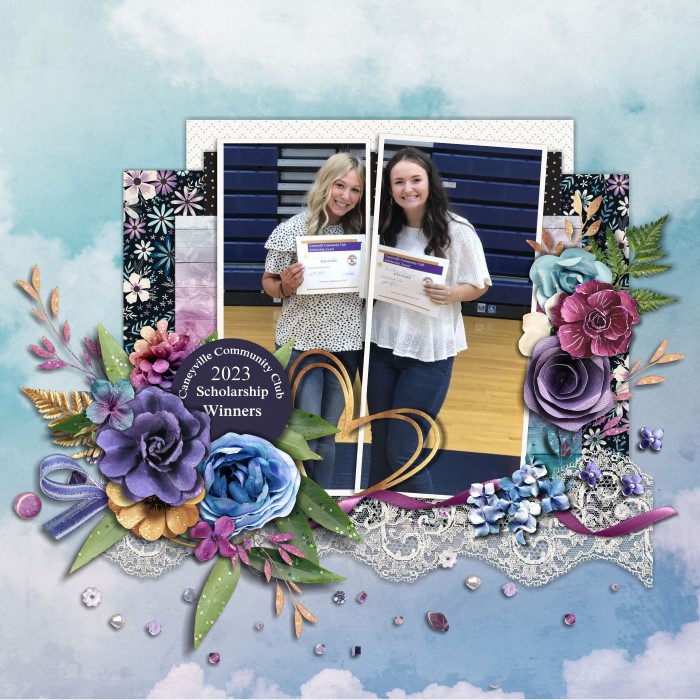 I asked herto choose three favorite pages from her gallery and she was happy to share these with us:
"The beautiful muted colors of all those elements inspired me to create this page with my sons and their their wives."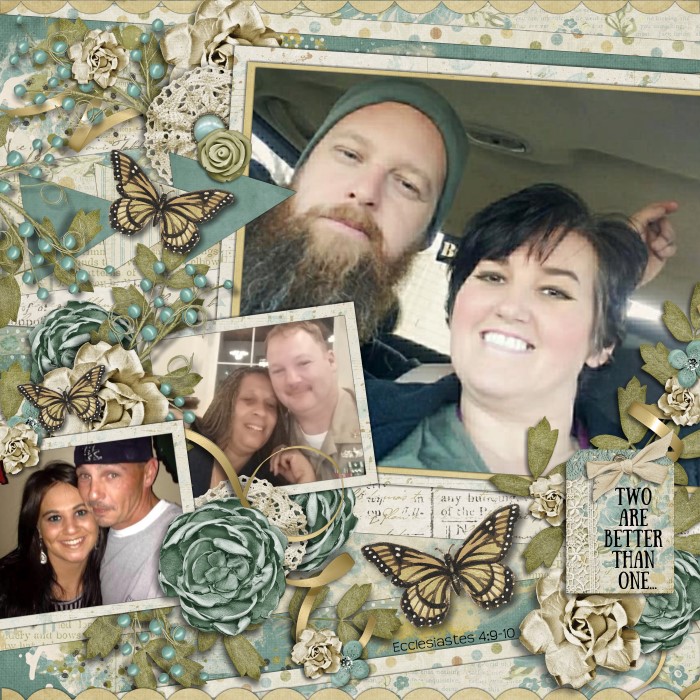 "This photo of Papa walking back from his mailbox made for the perfect page with his testimony"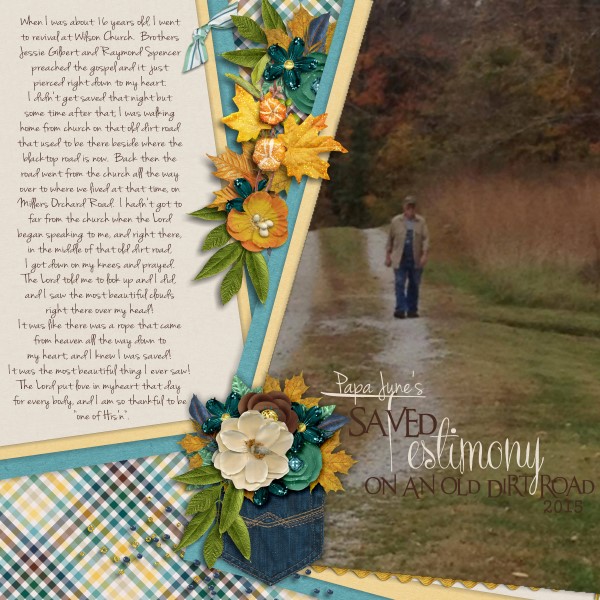 "Seeing the pic of my sons with their cousin for the first time in years just begged for a "now and then" layout."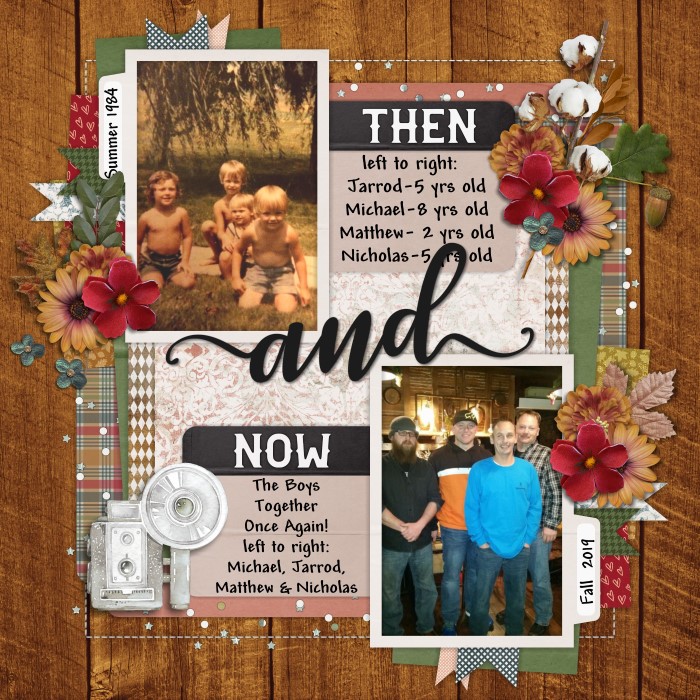 Of course GrannyNKy has lots more of beautiful pages in her gallery. If you want to see more or leave her a little love I'm sure she would like that.  But this interview isn't all about her gorgeous creations before we go let's learn some more about her when she's not scrapbooking. I gave her a list of questions to choose from and asked her to answer any 15 of her choice.
1. What was your first job?

In 1971 I worked the summer in a restaurant, washing dishes for 25 cents an hour; After a few weeks they let me waitress occassionally for 35 cents, plus tips, and I felt rich!

2.What's one weird fact you remember from school?
My friend Margaret's nickname was Maggot…and she seemed to like it!

3. Tell us one of your nicknames?
I married 'Scooter' in 1999 so I became 'Scootette

4. What is the first thing you'd spend money on if you won the lottery?
I would get my picket fence!!!

5. Do you believe in aliens and unicorns?
unicorns-no…aliens, yes…and I also believe Bigfoot-Sasquatch might exist!

6. What's your favorite board game?
Monopoly but I would rather play Rook!

7. What type of music are you into?
I enjoy all type of music except for rap… if I could understand what they are saying, I would probably like it too!

8. What song would be on the soundtrack to your life, and why?
Sunrise, Sunset from Fiddler On The Roof – Why? I miss being the Mama that was needed by three little boys. Those were definitely my happiest days; these days I mostly just feel very expendable.

9. What's your guilty pleasure?
COOKIES!

10. What pop culture trend irks your nerves?
anime anything

11. What pop culture trend are you totally part of?
wearing sneakers 

12. Are you a binge watcher? What's the last show you binged?
YES! I even watched Season One of Twisted Metal in one day recently.

13. Who would play you in a Lifetime Movie about your life?
Sally Field

14. Make up a title for the movie about your life?
Strong Bones, Bruised Heart

15. Dead or Alive, who do you want to have one conversation with?
In years past, my answer was always My Daddy but now I wish for just one more conversation with my son whom died in a car accident last October.
I loved learning more about GrannyNKy, hey fellow 'Squatcher!! I love the title she made up for the movie about her life too. Thank you for sharing so much with us about your life for this month's sweet talk feature. I noticed while I was writing this that yesterday was actually her join date Anniversary soooo Happy SweetShoppe Anniversary GrannyNKy!!!! Until next time, keep scrapping your memories! See ya around!