Getting Started: Common Mistakes of New Scrappers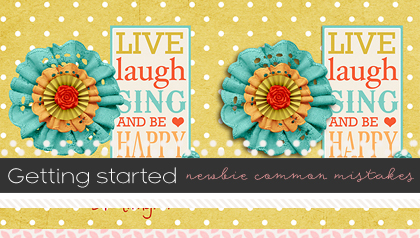 Hi Sweet Shoppers! Lex here, bringing you another tutorial on this awesome hobby of ours, digital scrapbooking. As with starting anything new, mistakes are inevitable in digital scrapbooking. In fact, I'd like to stress that mistake-making is pretty much the journey of any digital scrapbooker no matter when they started scrapping. Every skilled scrapper and every Creative Team member began somewhere and made their share of oopsies to get to where they are today. However, there are a few more common mistakes that come up again and again that can be avoided when you start your first layouts. Here's a quick list (sourced from informal interviews from scrap friends and my own journey) of these mistakes. Avoid them when you can, and shrink your scrapping learning curve.
DROPSHADOWS
Every digital scrapbooker knows that what often makes or breaks a layout are the dropshadows. They are what give a digital page the depth and realism that is otherwise absent. Dropshadows are what differentiate a digital scrapbook layout from, say, a graphic advertisement. In fact, for many scrappers, it is precisely the realism created by dropshadows probably drew their attention to the layout that got them interested in scrapping!
One of the hallmarks of a skilled digital scrapbooker is how s/he shadows his/her layouts. I personally believe that it's an ongoing process of trial and error until you find what works for you. Even today, I still find myself messing with my dropshadow settings until I get my layout to look the way I want it to. So don't worry if you don't get it right, right away! One of the best compliments I've ever gotten was someone who asked me, "Seriously, you did this on the computer? It looks so real!" And one of the best tips on dropshadows I've ever gotten is: be subtle. Your layout should never be about your dropshadows—like, you're never going to hear your family go, "Oh, what wonderful dropshadows!" However, dropshadows create an impact on your pages that can't be beat. So, avoid the following:
*Not putting any dropshadows at all. Uh, yeah, see the above reasons on why this is a mistake 😉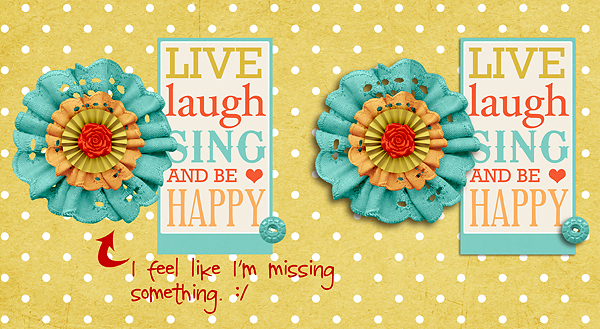 *Putting dropshadows on items that don't need dropshadows. Surprisingly, things like your journaling, doodles or sketches, and doodled wordart don't need dropshadows since on a paper scrapbook page they would have no depth on the page.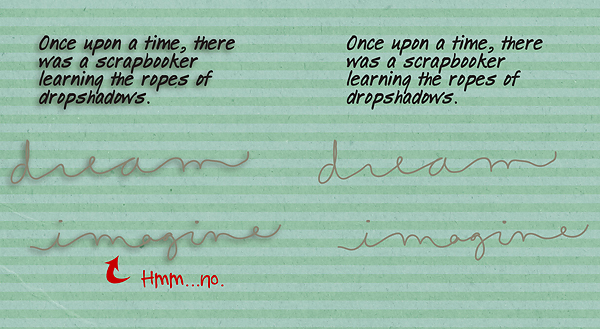 *Too-dark dropshadows. Remember what I said about being subtle? Too-dark shadows is the opposite of that and affects how the viewer sees the realism of your layout. It's akin to showing the zipper on a horror movie monster's costume.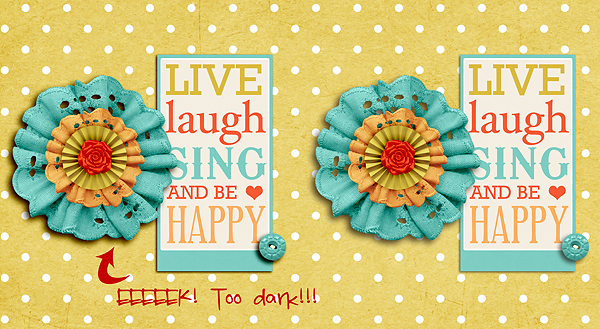 *Too-light dropshadows. The same can be said for too-light shadows–because now it appears as if everything on your page is floating.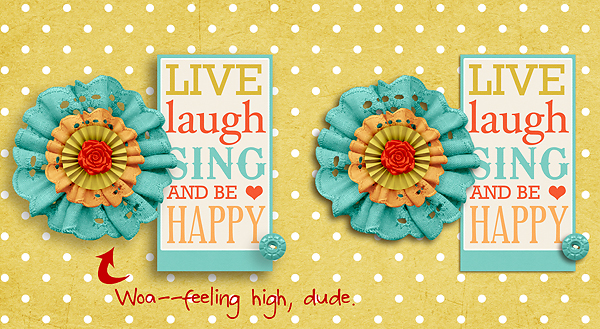 *Uniform dropshadows on different items. Not every item on your page will cast the same shadow. That's not realistic. Having dropshadows of the same distance and size will make your page look flat (ironically) or even have the same effect of too-dark shadows.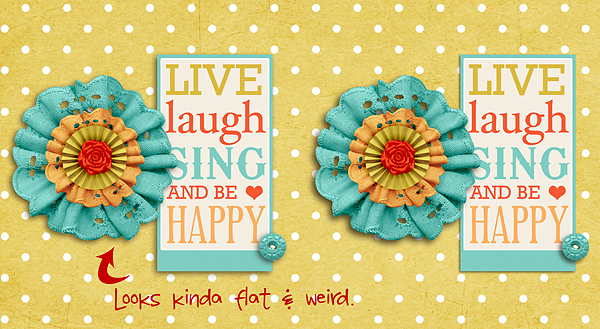 OTHER DESIGN MISTAKES
Technically, given that it is digital scrapbooking, you can argue on whether these are "mistakes." However, as most scrappers aim to make their layouts look as realistic as possible, it's best to avoid doing these as (a) they would look awkward if they really were on a paper layout, and (b) it's not possible to do this on a paper layout.
*Having photos or items that are out of proportion. This makes your items look like they came from a carnival funhouse mirror. (You can instantly correct this by holding down the Shift key when you use your Transform tool in Photoshop–it maintains the proportions of the item even as it shrinks or enlarges it.)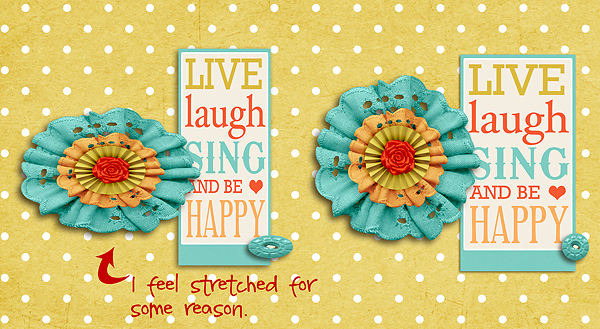 *Having items that are oversized in relation to the page. For instance, buttons as big as people's heads on your photos, etc.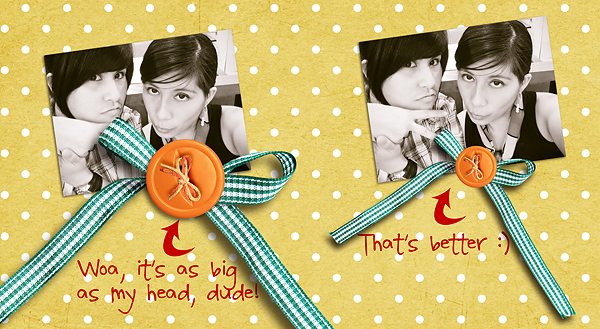 *Having flat items on top of bulky items. You can actually still create the look of a paint stroke running over a piece of paper down to your background, since the depth of those items are not too far off from each other, but having a doodle or piece of wordart running through a flower or a curled ribbon looks off and awkward. This same concept can be used with your fasteners–for instance, don't use a straight stitch across a curled ribbon or a brad right on top of a blooming flower.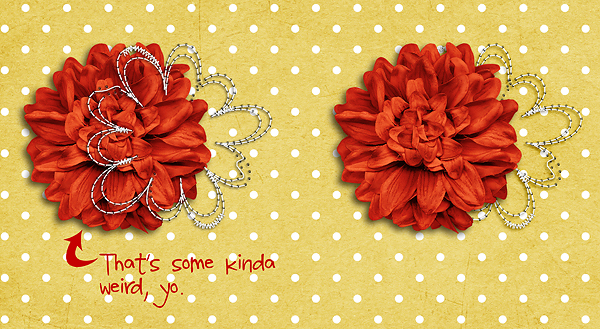 SOME OTHER THINGS TO AVOID
*Not optimizing your layout for print or sharing online. You don't have to share your layouts online (though we encourage it, because we love leaving love/comments to scrappers) unless you intend to share them with far-away family members and relatives, etc. Optimizing your layouts for print, however, will let you get the best print results from your printer and ultimately, make for prettier scrapbooks.
*Not doing basic edits on your photos. Even simply adjusting brightness, exposure, contrast, and/or diminishing red eye, etc. can do wonders for your layout.
*Not adding any journaling or a date to your layouts. I mention this because I've been guilty of this. I was so excited to be digiscrapping that many of my early layouts hardly have any journaling or even a date. So not cool if memory-keeping is your purpose for scrapping

*And this last one is really something that can immediately make you stand out as a beginning scrapbooker/layout artist: Using the fonts Papyrus and Comic Sans for your title work or journaling. Simply because of THIS.
TIPS TO MINIMIZE THE MISTAKE-MAKING
*Spelunk in the galleries. If you find a scrapper whose style you love or want to emulate, try scraplifting. If you want to know how a scrapper did a specific thing, sent her a private message and ask! I've done that several times when I wanted to know more about a technique or a font, etc. And, I've discovered that people are always happy to point you where you need to go or tell you what to do

*Download whatever freebies you can find. This is the quickest way to discover and nurture your style. This works especially if you're not totally sure you want to dive into scrapping and make the "financial investment" in this hobby. Instead, hunt around for some high-quality freebies (our designers here have plenty in their respective blogs and Facebook pages) so you can play with techniques and looks. The operative word here is PLAY; don't just mindlessly hoard.
*Hang out in forums and ask! One of the BEST things about the digicommunity is how helpful everyone is. Because EVERYONE's been a beginner. Whether you ask how to do a certain technique or if you're feeling braver–post your layout to get feedback, it's an amazing feeling to see a community that wants everyone to scrap awesome.
*Create that/those first layout/s & practice a lot! Honestly, all the planning to NOT make mistakes becomes counter-productive if you don't actually create your page. So just do it. I can still remember when I first got interested in scrapping: all I did was collect product, stare at layouts in the galleries, and read tutorials on how to use my program (at the time, it was Photoshop 7). This was a cycle on repeat a few times until I felt I was ready to play. I remember it took me THREE DAYS to finish my first layout (of about fifteen layers, lol). In the end, however, if I hadn't done that layout I wouldn't have had this story to tell, and if there's something every digiscrapper should have, it's the story of "that first layout." Find/download tutorials (like the ones we have HERE!) to create the look you want.
What I've realized is that I need to allow myself to make mistakes and not judge myself when I do. I look at my earlier pages and woooooah do I cringe when I see my mistakes. But, you know what's so cool? I can still remember clearly the scrapping process for many of them: how I laughed remembering the story of a photo I was editing (even if I didn't journal that story), or knowing the very first layout where I learned I could separate my shadow layers and play with the Warp tool–I'm still so proud of that one.
It's like the whole process of learning to scrap is a story in itself, and the thing is, I wouldn't have gotten that story (or be continuing to create the story, since I am still learning) if I hadn't allowed myself to make mistakes. So go forth and scrap–and make mistakes. It's no biggie, because you're still celebrating your memories by scrapping them, and you're still having fun while you're doing it!
Save
Save