Digital Organization: So Many Methods, So Little Time!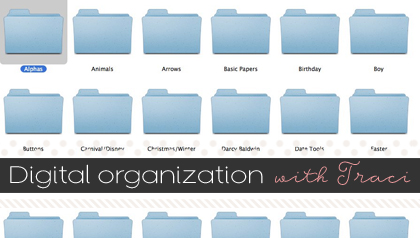 Hey Hey Sweet Shoppers!  Traci here with a little glimpse into how I organize my digital supplies!  There are so many ways you can organize and really, it's up to you to decide what works best for you.  I'm typically a kit scrapper and I stay within the confines of a kit, and really only pull in outside alphabets and stitching here and there so the method I'm going to show you today will work best for scrappers who scrap like I do.  In future instalments, we'll go over the other ways people organize their digi kits too!
Organizing Scrapbook Kits
So, if you've been at this a little while, you know that your files stack up fast once you're an avid digital scrapper.  Most likely, you've found a method that works for you when you unzip your files, but what happens after you've got them unzipped?  Do you throw them all into a folder by designer?  Or maybe even by store?  I used to organize this way but after a few years found out that it just wasn't working for me.  I never knew where to look for "that one Halloween kit that had the cute Frankenstein in it".  Ah, descriptive.  Because all of my files were organised by store and then designer, I had no idea where to start looking!
I was constantly coming across kits that I forgot I even had and even repurchased things that I didn't know I'd already bought (oops…this happens to the best of us!)  So I took matters into my own hands and decided to organize instead by theme…voila!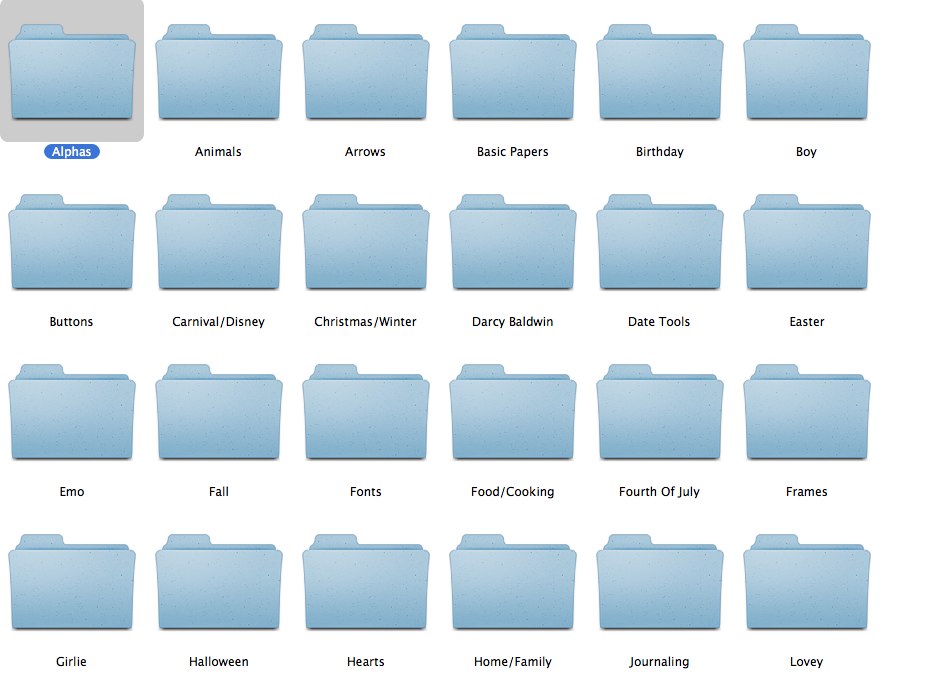 Now, instead of having to remember who made "that one Halloween kit that had the cute Frankenstein in it", I have all my Halloween supplies in one spot and can easily look there instead!  Speaking of, let's look inside the Halloween folder, shall we?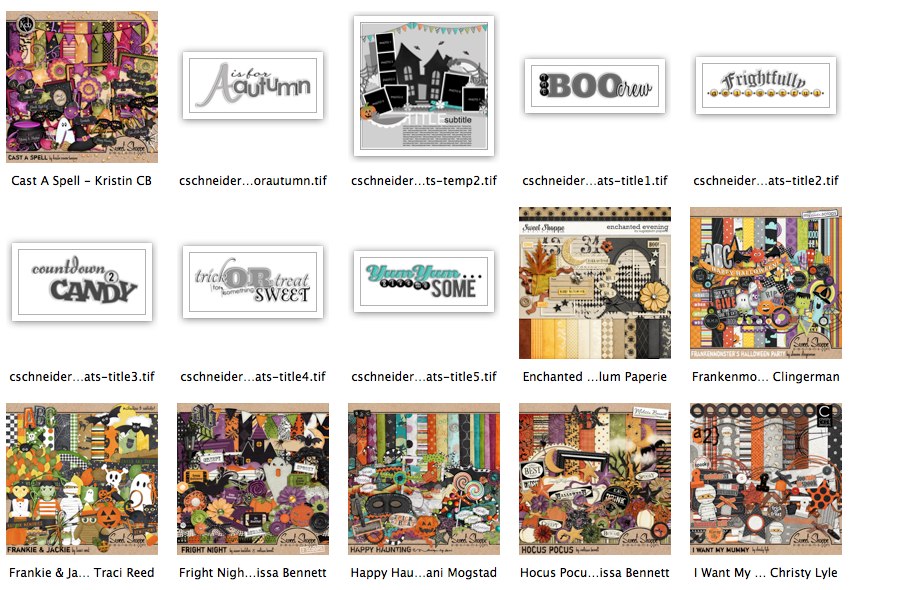 First, when you look at the folder you'll notice a few things:
I *gasp* took themed items like word art and templates OUT of their original folders! I do this because if I stuck the themed templates in with the rest of my templates (you'll see how these are organized in a minute) then I really would lose track of them.  By putting the Halloween themed templates in with the Halloween kits, when I open up my Halloween folder I see that I have them!
I'm super OCD about making sure my folders are named Kit Name – Designer Name AND that they have the kit previews as thumbnails, there are two ways to do this:

 On a Windows machine, copy the kit preview in the folder and name it folder.jpg and it will become the thumbnail for the folder.
On a MAC:

Open the kit preview in Preview.
CMD + A to select all.
CMD + C to copy.
Close the kit preview an open your folder for the kit.
Click in the white space to make sure no files are selected.
Hit CMD + I to open the information dialogue for the folder.
Click on the small icon of the blue folder at the top
Hit CMD + V to paste the preview image.
Organizing Templates
If you're like me, you have approximately 1.5 billion templates. No, not that many? OK well I have almost that many.  I love a good template and can't scrap without them.  I used to have my templates organized by whatever pack they came in with the preview as the folder thumbnail for my kits and guess what?  I figured out that wasn't working for me. Because I nearly always start with the photos I want to scrap, I ended up organizing my templates by number of photos.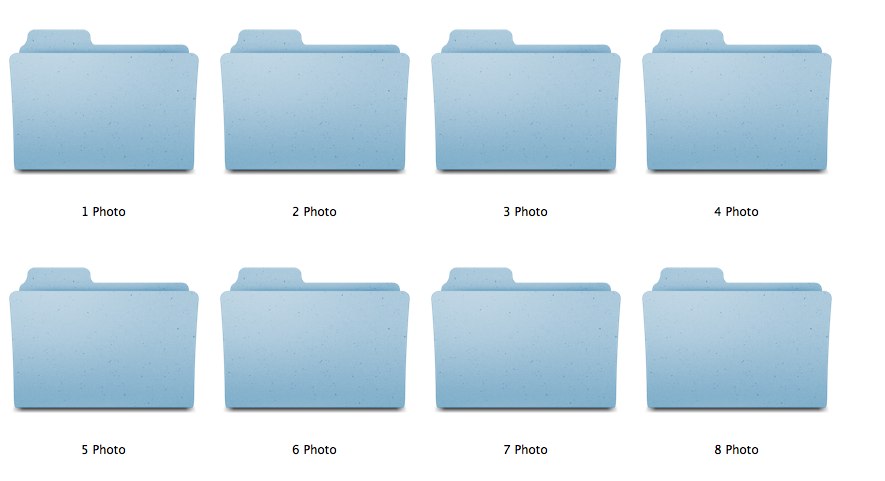 Now I have all my single photo templates, 2 photo templates, etc in one spot and I can browse them all at once to see what will work best for my particular layout. Here's a glance inside my 10 Photo folder: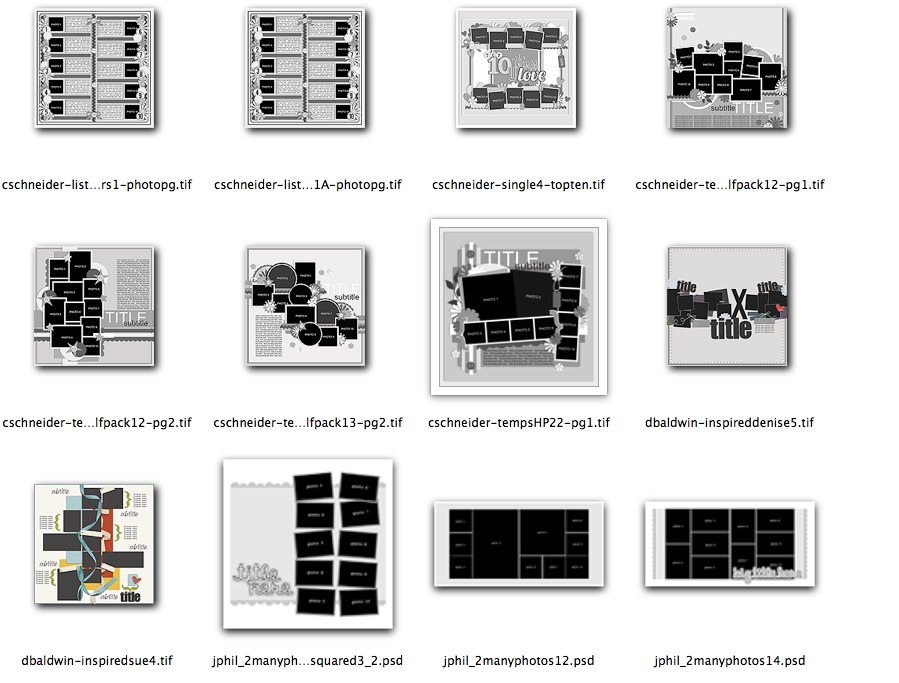 I know for a lot of us, it's counter-intuitive to break up designer's products but most designers nowadays are really good about naming their files fully so we still can credit them fairly easily!
Organizing Photos
Ay-yi-yi, organizing your photos can be the most daunting task there is and if you don't stay on top of it, you can lose track of what happened when fairly easily!  Some programs will create a folder named with the date you import your photos, some photo import programs  like iPhoto, create new "events" every time you import photos.  The results can be utter chaos.  I choose to organize my photos in the way that makes the most sense to me: by the date the picture was taken.
In my photos file I have a folder for each year: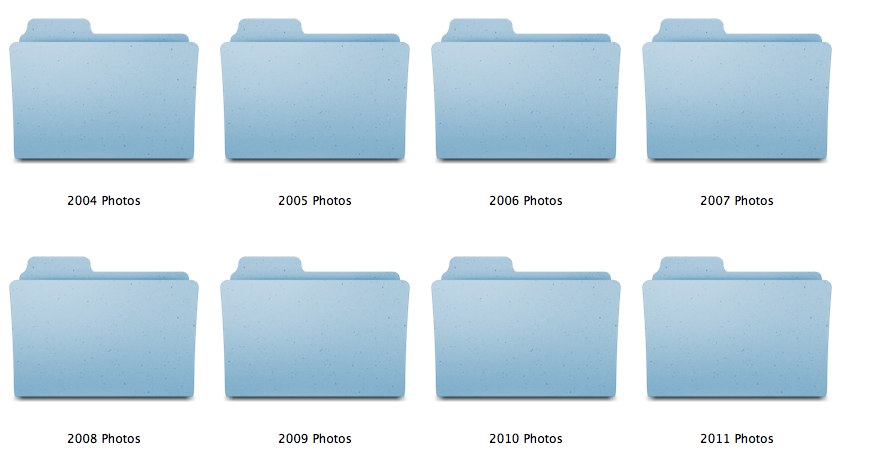 And inside each year, I have a folder for each month (this is my 2012 folder):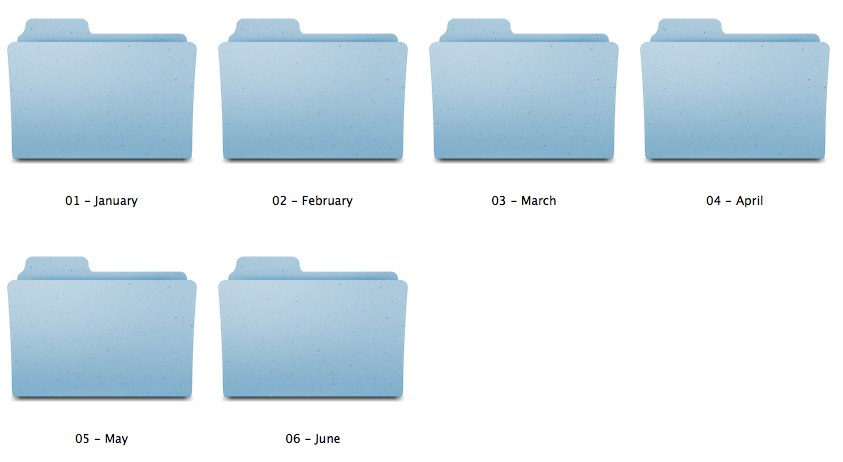 This is the easiest way for me to find photos and keep everything organized chronologically.  That way, if I want to look for a certain date, I don't have to figure out what the date was exactly when I happened to take the photos of the camera.
Organizing Scrapbook Layouts
The final organization tip I'm going to write about today is how I organize my layouts.  Similar to my photos, I have a folder for every year inside my Scrapbook Layouts directory.  This is the year that the photos were taken not the year I scrapped the layout. Inside the yearly folders, I have each layout named with the date first and then the title of the layout like this: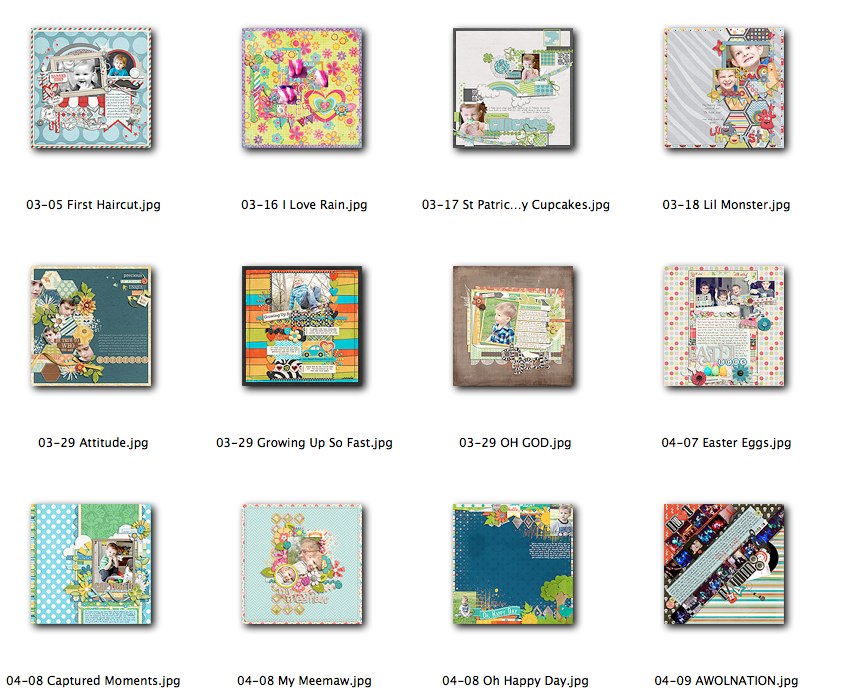 That way, the layouts stay in chronological order, grouped by year so that no matter when I scrapped the layout, they always stay with other layouts from the same year, which is my preference.
Now like I said waaaaaaaaaay back at the beginning, this is just what works for me, perhaps you see something in this that you'd like to do for yourself as well or maybe you're looking at it going "that makes no sense at all!"  The most important part is that you find a method that works for you and STAY organized.  There's nothing worse than trying to organize AFTER the fact!
Stay tuned in coming weeks and I'll show you other ways that people like to organize!