Workin' It on a Saturday with Eva
Hello Sweet Scrappers!  Eva Kipler here with a "Workin' It Post" on a Saturday.  There just wasn't enough Wednesdays to go around this month so we added in a few Saturdays.
I have two fabulous new collaborative kits in the store today.  One is a Triple Dip with MandaBean and Melissa (Go Fly a Kit) and the other is a Two Scoops with Libby (Miss Ladybird's Teaparty).
This blog post will focus on Miss Ladybird's Teaparty.  Be sure to read all the way through because there may just be a goodie at the end of the post.
……
Why don't I show you a few of my favorite layouts that my team made with this kit?  They really ROCKED it!  My team made soooo many awesome layouts that it was difficult just to choose a few.  All of my girls are fabulous!
I didn't forget about your little gift!  Did you?  I had some extra flowers that I had made to make one of the patterned papers in the kit and I thought they would make a fabulous freebie.  I also just adore those little worded labels with images on them, so I took some of the bugs from the kit (and one flower) and made some just for you!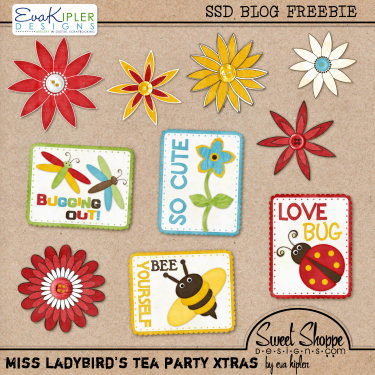 CLICK HERE to download the FREEBIE addon.  Enjoy!
Be on the lookout this coming week in the forum.  Since February 27th is my birthday I will be sponsoring a very special contest!  And you won't believe what I am going to be giving away!!  You definitely DO NOT want to miss it.
~ Eva