Featured Scrapper 3/4 – Paula Moore
Happy Friday folks and welcome to the first Friday in March!! For those of us in the northern hemisphere, that means spring is right around the corner!! YAY!! Today we've got a wonderful scrapper to highlight – the fabulous Paula Moore!! Here's a bit more about her!!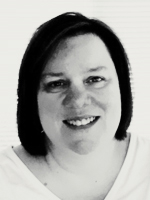 I'm 44 years young. I am a SAHM to my 3 kidlets – Zakk (17), Hannah (16) and Beka (14). I've been married for 22 years to my college sweetie Steve and we live in Ely, Nevada. We also share our home with four very spoiled furbabies – 2 dogs and 2 cats. I am into genealogy, digi-scrapping, reading and crochet.
I've been scrapping since 2006. I scrap on a Mac using Photoshop CS3.
How often do you find time to scrap? –  I scrap almost daily. I work at a local gym, and the people who come in pretty much know their workout routines, so I take my laptop and scrap while I'm at work.
What is your favorite type of element to use? Hands down – flowers and stitching
Are you a kit scrapper or a hodge podge scrapper? – I would love to be a hodge podge scrapper and I've done some, but I am mostly a kit scrapper.
What's one little known fact about you? – I'm a certified member of the Daughters of the American Revolution. I have written four supplements meaning, I have five ancestors that fought in the American Revolution.
I've asked Paula to share 3 of her favorite layouts and a bit about why they're favorites. Here's what she chose.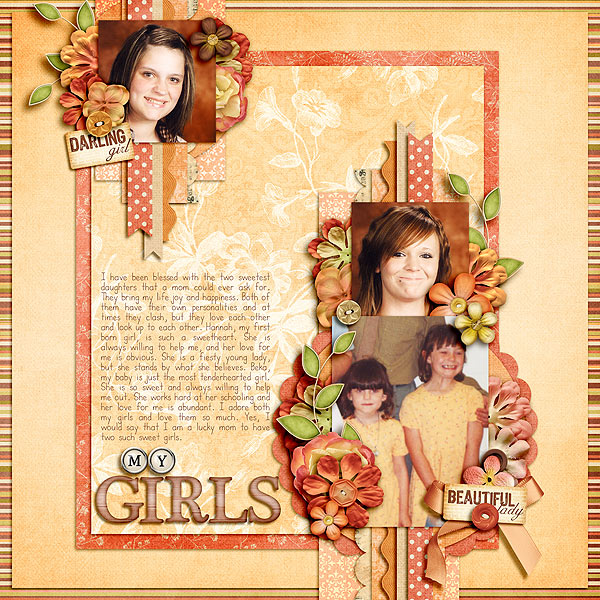 I love this layout because it landed me onto Cindy Schneider's CT. I also love it because as I was working on it, I was thinking this isn't coming together like I would like, but I uploaded it anyway and the first comment was from Kristin and she said it was stunning and her jaw dropped. That's when I started to love it. I mean, if the designer loves it, how bad could it be? lol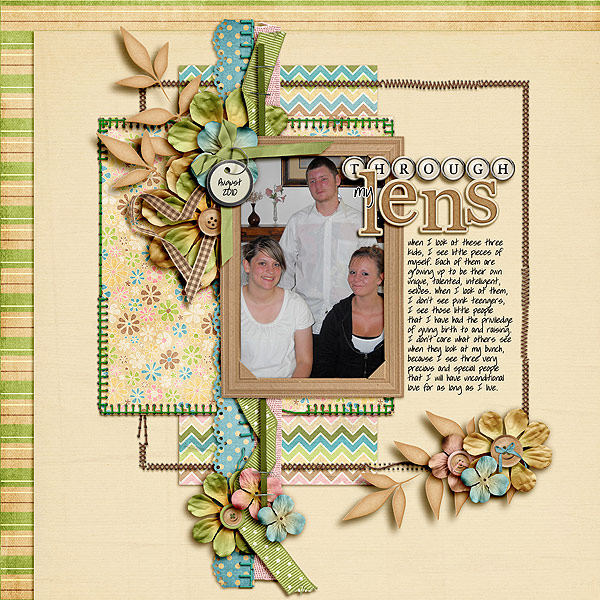 I love this because it's one of those that started out completely different in my head and emerged as this. I love how it all came together.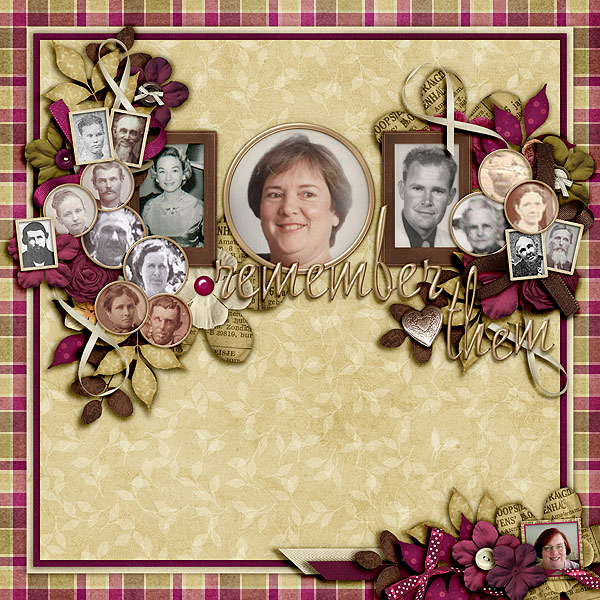 I love this one because it incorporates 2 of my favorite hobbies – genealogy and scrapping. I wanted to do a pedigree type page but not have it be the typical tree type page. I love how this one turned out so much that I did one for my dad as well.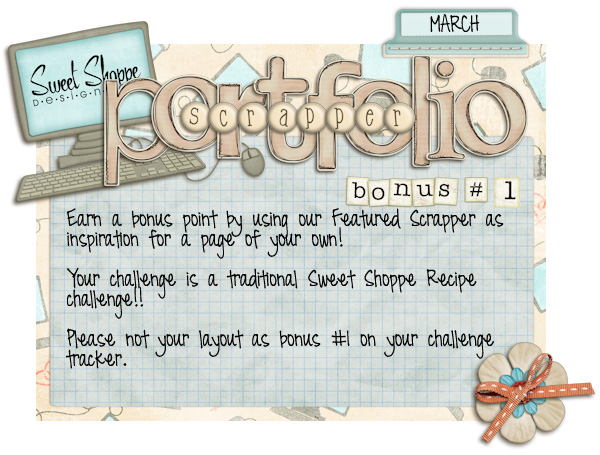 Featured Scrapper Challenge (Bonus #1) for your March 2011 Scrapper's Portfolio
Your challenge today is a traditional Sweet Shoppe Recipe Challenge based off of this layout of Paula's.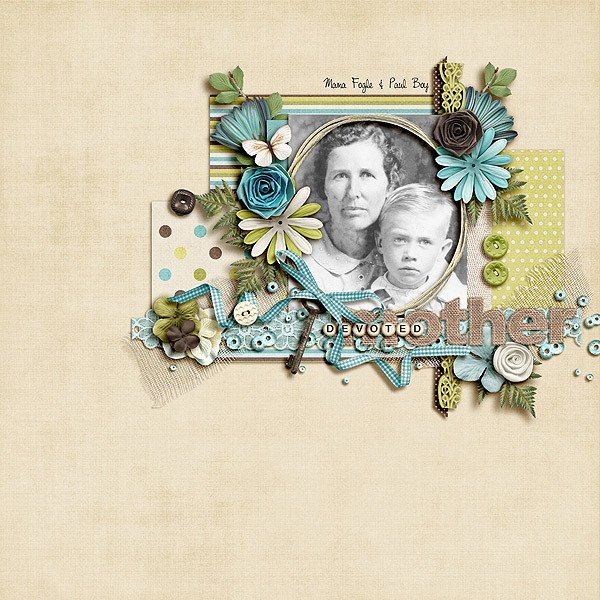 Create a layout using the following:
2 alphas
3 ribbons/lace
11 flowers
4 buttons
1 photo
5 leaves/greenery
4 different papers
1 sequin/bead spill
1 butterfly
**Please note this challenge is worth 1 point and cannot be combined with any other portfolio prompts, except for new release bonus points for a total of 2 points**
Check out what some of our lovely SugarBabes and Designer Melissa created!!
Aly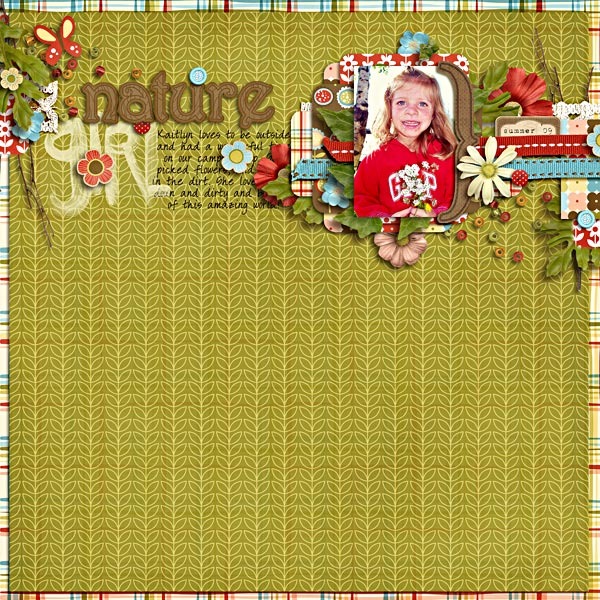 Melissa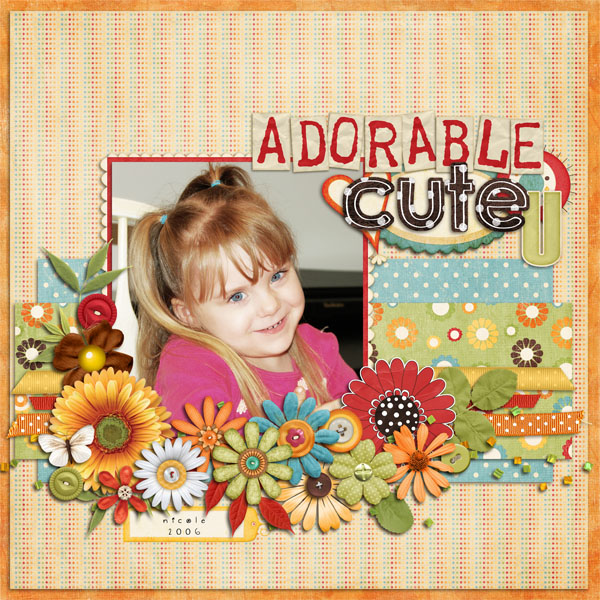 Nikki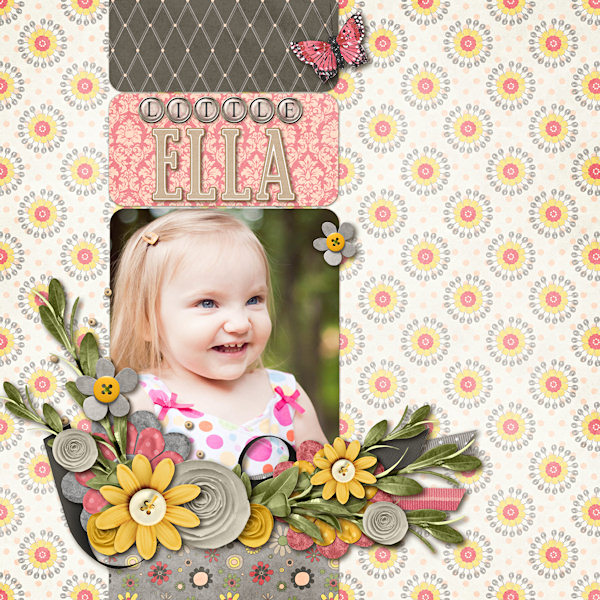 Have fun with this challenge – we can't wait to see what you do!! 🙂