Meg shares some of the ways that SSD celebrates it's wonderful members
Good Morning Sweeties!! Today's post to round out February is about how the staff here celebrates the wonderful community that makes up SSD. We are so thankful for our members and customers. Everybody deserves recognition and we try our best to make sure YOU know you are appreciated. Here's a few different ways that we try to spotlight our members.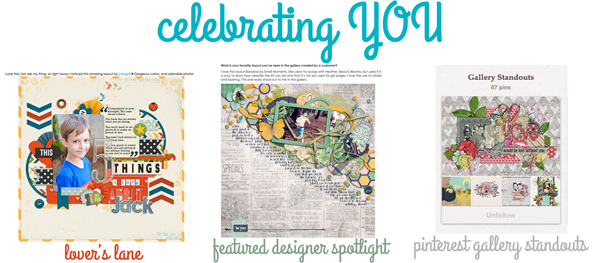 1. Featured Designer Spotlight
Did you know that every featured designer post highlights some layouts from the community? I know when I was a scrapper hanging out at SSD (meaning not on staff..) that I felt so honored when a designer or babe chose my layout to show off. You can check out the featured designer posts HERE
2. Lover's Lane
Lover's Lane is a celebration of the FANTASTIC layouts that the Designers and Babes are finding in our travels into the gallery. There are so many talented scrappers that post in the gallery so being able to show off a selection of those layouts makes me smile. There's a new thread each week so make sure to check the sticky on the top of the community forum. Here's the link for this week's thread!
3. Pinterest Gallery/Hybrid Standouts
Randomly the staff will pin amazing inspiration to the Gallery Standouts or the Hybrid Standouts board on our Pinterest page. There's nothing like going to Pinterest and seeing your layout all over the place! Along the same lines, if you participate in the challenges you might see your layout show up in the Challenge Inspiration Standout board!
 4. Layout Showcase
Every once in awhile a staff member will do a layout showcase on the blog. With the new blog format it's been so nice to look through the gallery to search for layouts to fit along with the monthly theme.
Sweet Shoppe Designs truly appreciates and adores each and every one of you. Thank you so much for being THE BEST inspiration in all of digiland 🙂
Thanks for reading along with me today! I just wanted to close with a huge HINT at another way we will be spotlighting our customers later this year. Let's just say if you play along with the challenges to make sure you upload your layouts into the Pinterest Portfolio Challenge gallery because you NEVER know if your layout will be in the spotlight BIG TIME one day! How's that for vagueness?