The Indispensable Memory-Keeping Tool: Custom Fonts
Lex interviews our resident Font Queen Darcy Baldwin who makes a case for using one's handwriting as a font, and takes us through her font-making process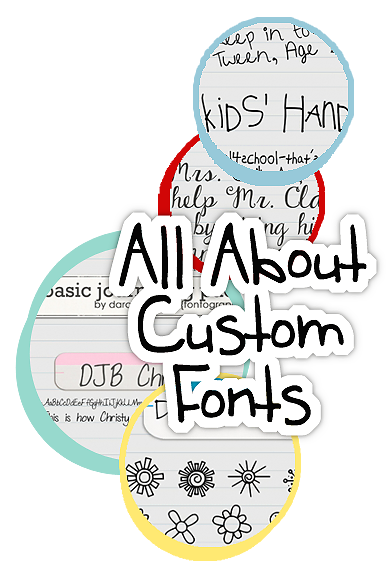 "I never imagined I'd be doing something like this," Darcy Baldwin, fontographer, confessed. "But I was given the opportunity to learn how to create fonts from a friend who was retiring her business; she wanted to pass along the knowledge to me to help me create my own business. I jumped at the chance to do something so cool!" Darcy was awesome enough to answer a few more questions we had about fonts and making them. And y'all might find a little something special to look at the end of this post as well 🙂
What are the common misconceptions about creating fonts?
That somehow [my client's] writing is so bad that I'll never be able to capture it in a font. I work with a client to make sure the font looks as much like their handwriting as I can possibly make it, even it if means getting another sample or two.
What do you love about making fonts?
I love being able to work with someone to preserve a small piece of themselves. It's so much fun to see someone excited to receive their font and talk about starting to scrap again so that they can begin telling stories again, because this makes it more personal to them.
What do you think makes a font iconic?
A timeless, classic line that helps you see the text and emotion portrayed without getting caught up in the actual lettering. You don't want the style of a font to overtake what it's actually trying to say. That's not to stay that a font's style can't become the trademark –think Disney. Disney just doesn't seem the same written out in a typewriter text as Disney in its iconic font.
What are your favorite qualities in a font?
Fonts that have character. I love a stylistic g. I love fonts that have emotion built into their style. And as a fontographer, I love a font that technically awesome.
Why do you think people should have fonts made of their handwriting?
Foremost, as a storyteller, having journaling and text in the writing style of yours (or any family member) will be treasured down the road. I think back about how I treasure the hand-written recipe cards of my mother and grandmother, most particularly because THEY wrote them..and it's a little piece of them I still have. Besides, just how neat is it to be able to type on the computer and see your writing style reflected? That's just plain cool!!!
ON YOUR FONT-MAKING PROCESS:

After your clients submit their font sample, what happens?
I spend some time in quality cont
rol mode–taking the font through a couple of clean-up processes
(Step 1 & 2)
to make sure the samples are the best quality I can get them.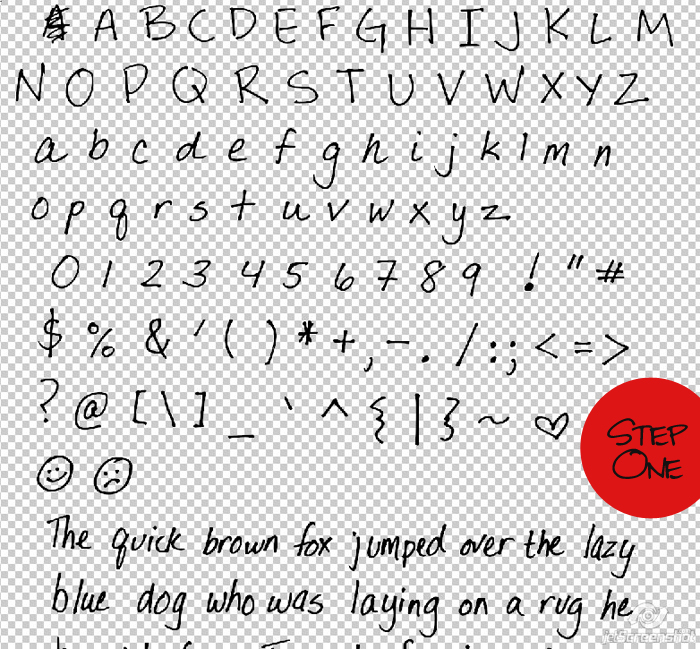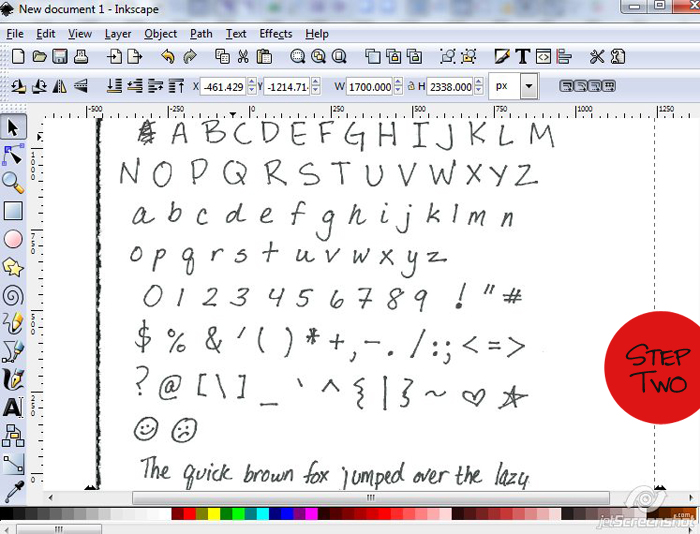 While stylish, messy fonts are awesome, I find people really do want their personal fonts to be more. So I work hard 
to create clean strokes where their pens may not have given one
(Step 3)
, and connectors that really connect in as many combinations as possible (Step 4) and then that it looks correct in use (Step 5) and then some super secret things I do to make fonts a little more realistic. Of course, if a client WANTS something super messy, less composed and grungy looking, that's the look I go for!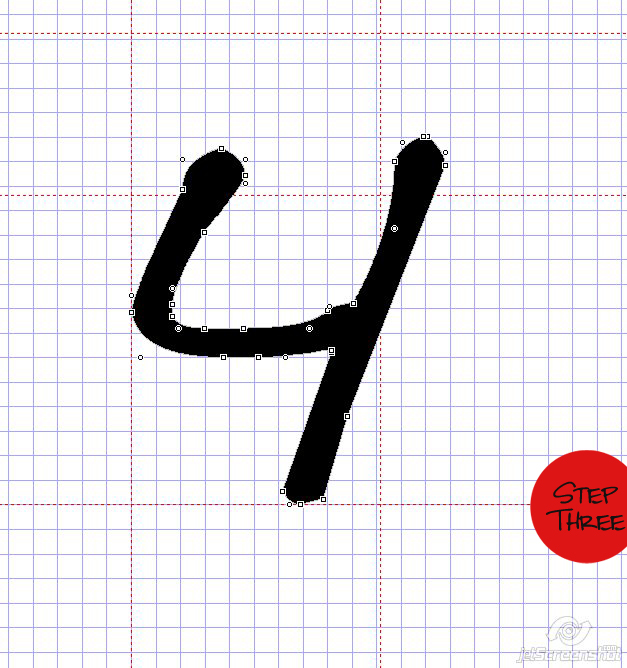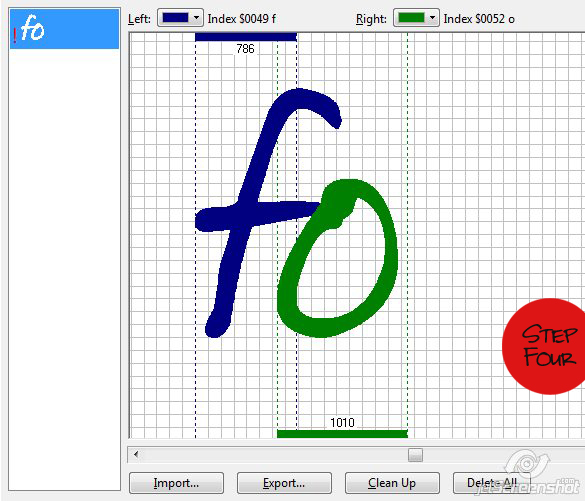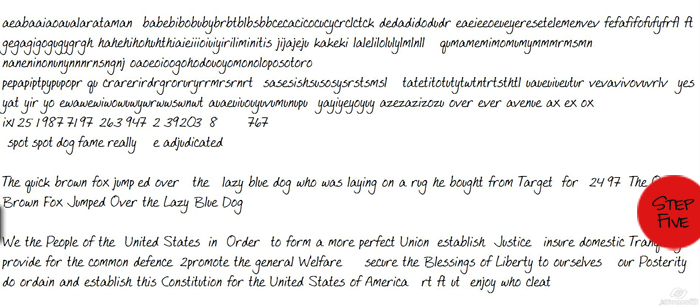 Any tips for creating a kick-@ss font sample?
Relax. Seriously. I think so many clients get so caught up in the creation of a sample letter that they lose what makes the characteristics of how they normally write that letter. Also, use an awesome pen. Using the ball point pen you've had sitting in a desk for the last 20 years isn't going to be the best choice 🙂 And last, be creative! If you want a fun font – make it! It doesn't have to be in your exact writing, but take the time to make something you'd love to see!
What is the most time-consuming process of creating a font?
Glyph cleanup. The glyph is the individual character in a font. For varying reasons, the stroke on a character isn't always clean and I do my best to clean up those strokes so that you don't have big blotches where ink may have absorbed into paper, or where a pen didn't quite connect fully to paper on a curved stroke, etc.
What is your favorite part of the process?
The reveal 🙂
Now for the FUN stuff
Hope you enjoyed that little chat we had with Darcy, and we hope you also realize how creating your own font (or a loved one's font) is also another way of memory-keeping! How cool would it be to tell your future stories with YOUR own handwriting? Well, Darcy is generously offering a custom-print font for one lucky commenter on this post! Here's how to win:
1. Go LIKE her Facebook page! You want to stay updated on any new fonty goodness, right? Plus you never know when a freebie can pop up. 🙂
2. Come back to this post and leave a comment answering this question: Why would you want your own custom-made font?
That's it! Giveaway closes at 11:59PM EST of May 31. Thanks for reading!