We've added a fun, new weekly post during this summer! We're having the SugarBabes hang out with Stacia and I on the blog. They're going to post whatever they want. That could get pretty surprising, right? 

 Kim's with us today, talking all about her summer vacation. See what her family's been up to!
Hi everyone!  It's Kim Walker here with my SugarBabe Sunday post.  I thought I would share with you today a little bit of our summer fun.  All 3 of our boys still at home play travel soccer, so we don't have much time in the off season to do things.  Soccer takes up about 11 months of the year and our time off is scattered throughout.  We make do with our time off and spent a lot of time outdoors or going to fun places in the area.  We even got another quick trip to Florida in too.  Here's a peek inside our summer fun…
Soccer is over, but baseball still had another few weeks!  We had two boys in baseball this year.  Here's a peek at our lefty on deck.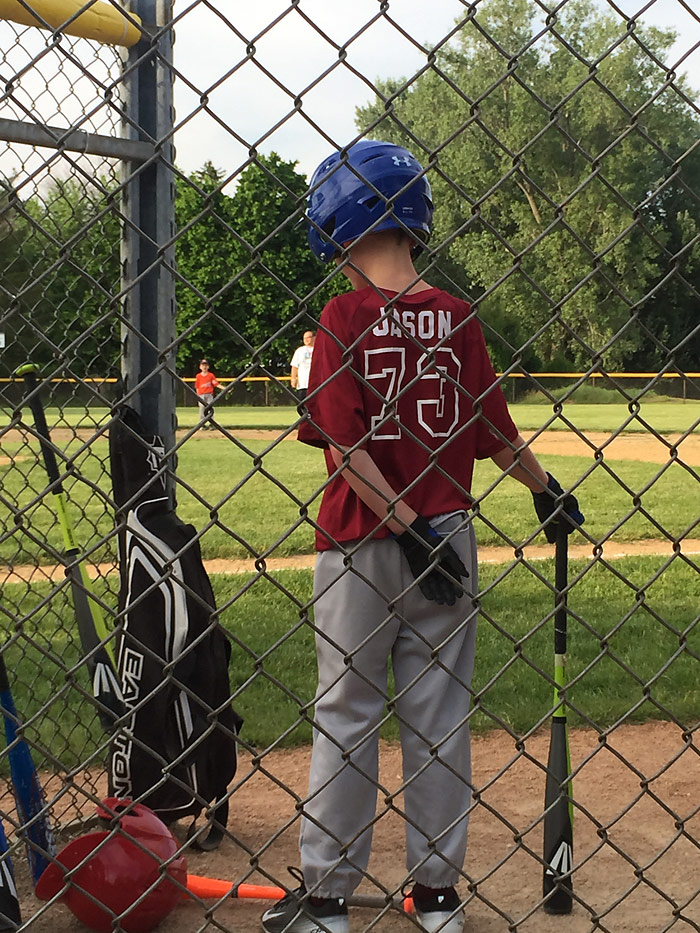 Our  boys LOVE to climb trees.  This is THEIR climbing tree in the backyard.  Two in the tree and one of the ground are mine.  I babysit a little here and there so we had a few extra boys playing on this day.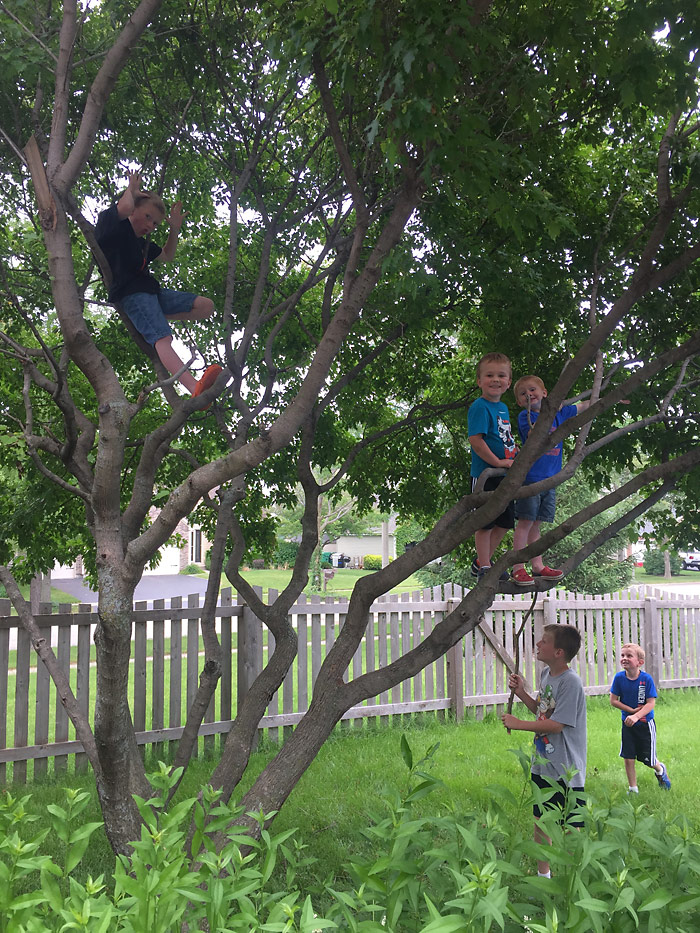 Here's our little slugger!  This was Derek's first year playing and he was a natural.  He shocked the coaches because by day 2 of practice he knew the name of every position on the field!  And check out those red shoes.  His favorite color is red and he HAD to have these cleats!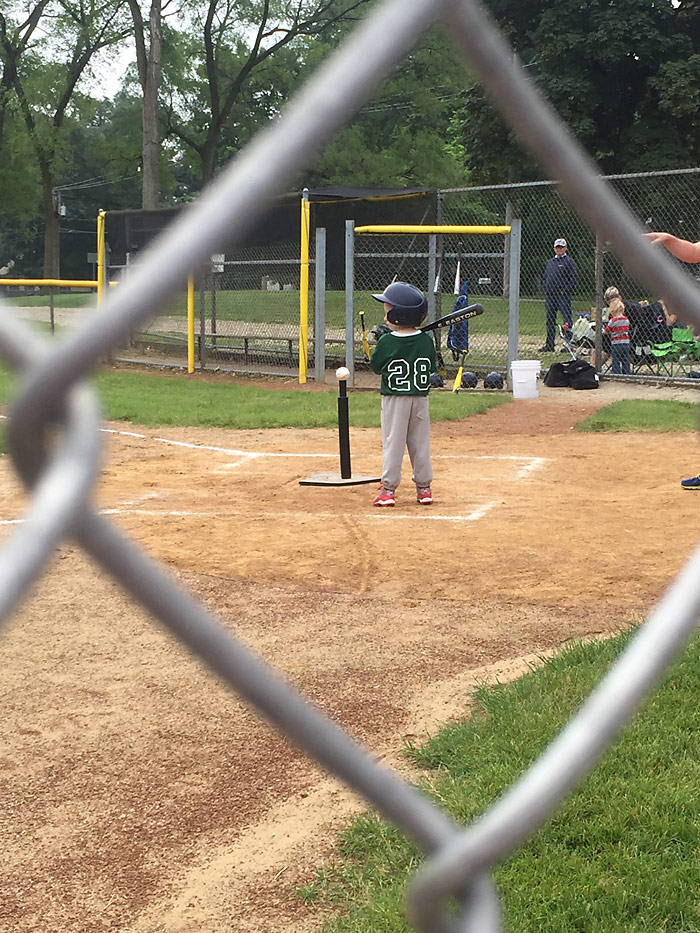 We are pretty lucky to have a park about 3 minutes from our house.  They added a splash pad late last fall so we decided to try it out when it opened for the season!  The boys did eventually run around and get wet but they had to check it out first!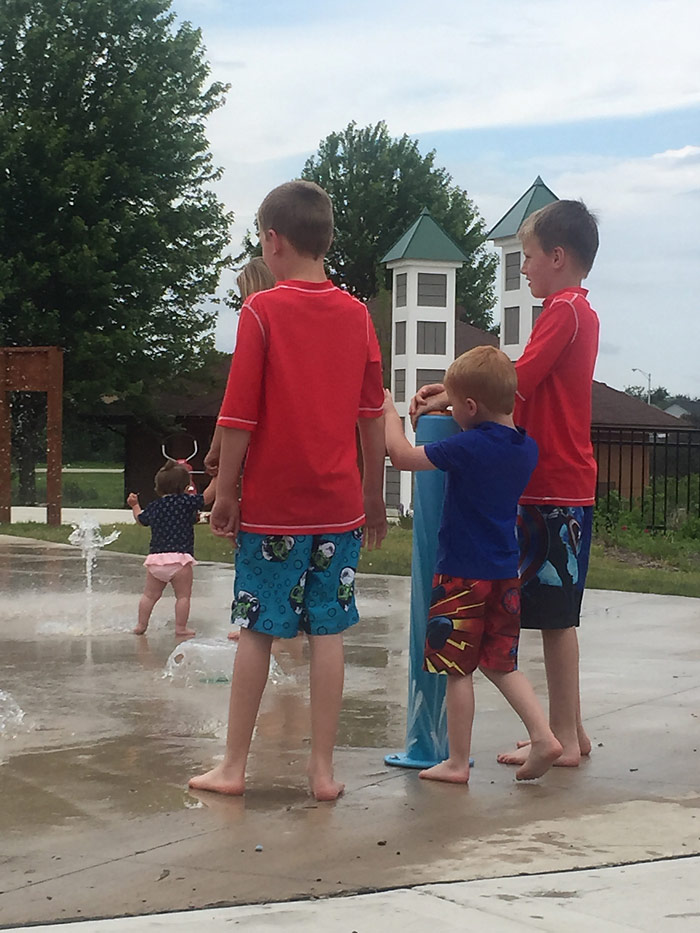 Our swing set really needs to be upgraded because the boys are too big for it, but they don't mind.  As you can see, Derek is our little monkey!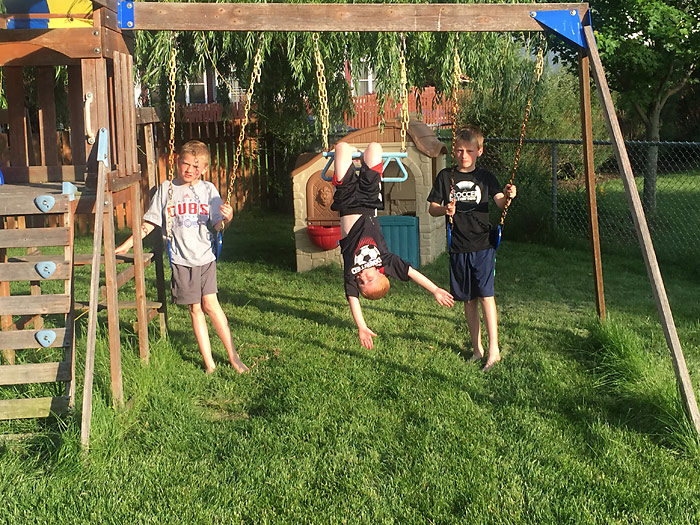 Christmas in July?  No…it's just what Derek decided to put on and I am not one to argue with a strong willed 4 year old!  He got an oak sapling from preschool and Daddy and him planted it in our front yard.  After the rabbits ate half of it, Daddy decided to get a cage to put around it.  Derek was pretty excited to see his little tree now has leaves!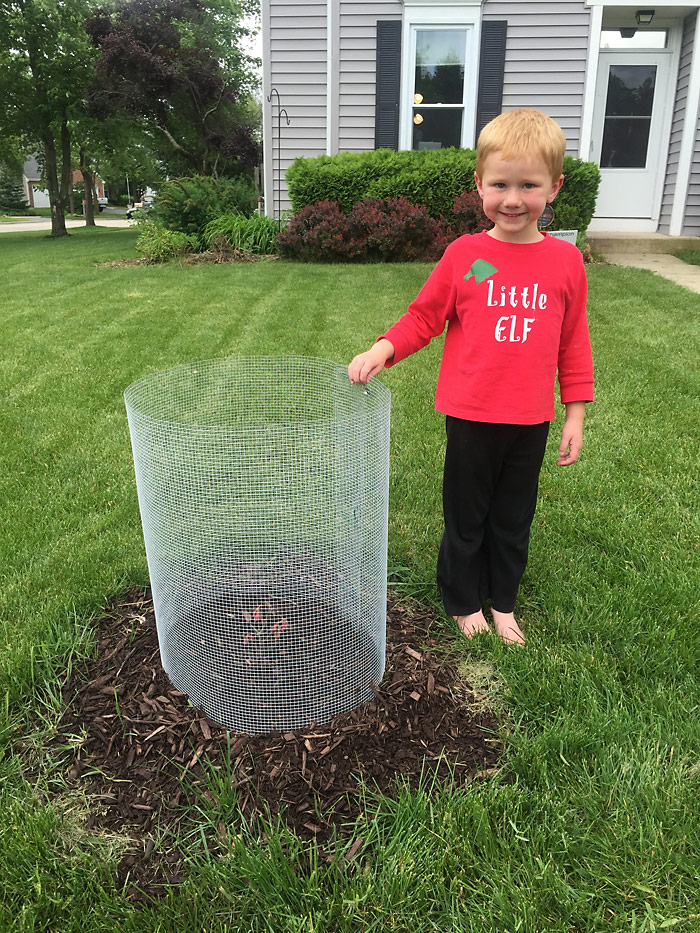 One of our favorite places to go is the gym.  The boys love going into the childcare center.  They can run around in the tubes, play ball in the gym or explore on the computers.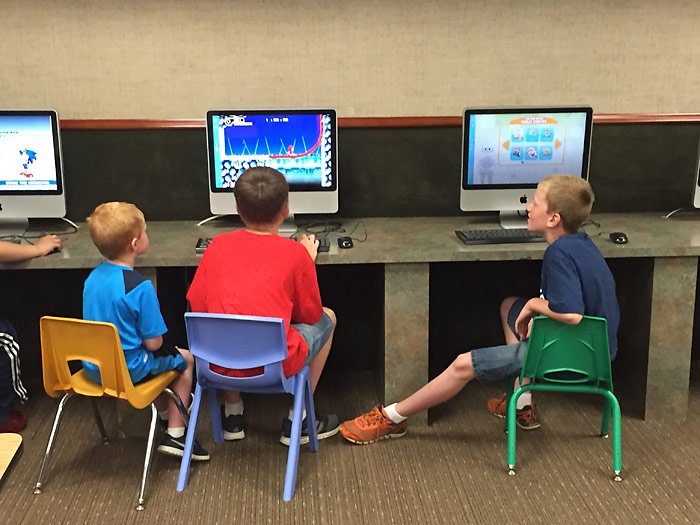 We have had a membership to Brookfield Zoo since the boys were born.  We go several times a year.  Daddy decided we would go for Father's Day since we had soccer on Mother's Day.  Here's Thing 1, Thing 2 and Thing 3.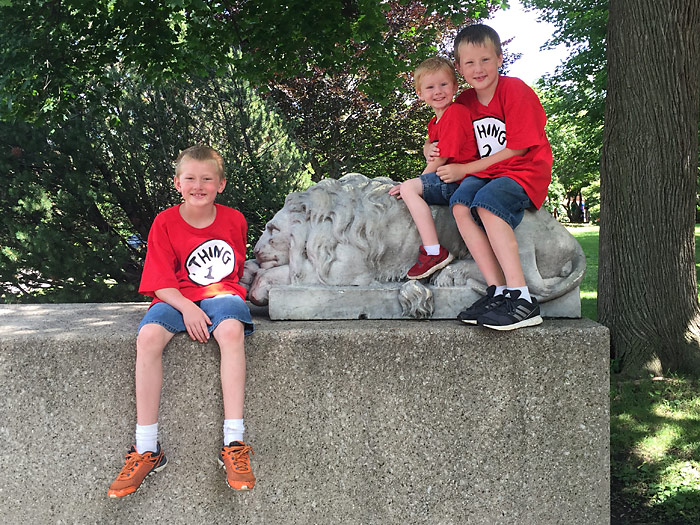 Jason turned 9 at the end of June and decided he wanted to go to the Lego Discovery Center on his birthday.  They boys had a great time.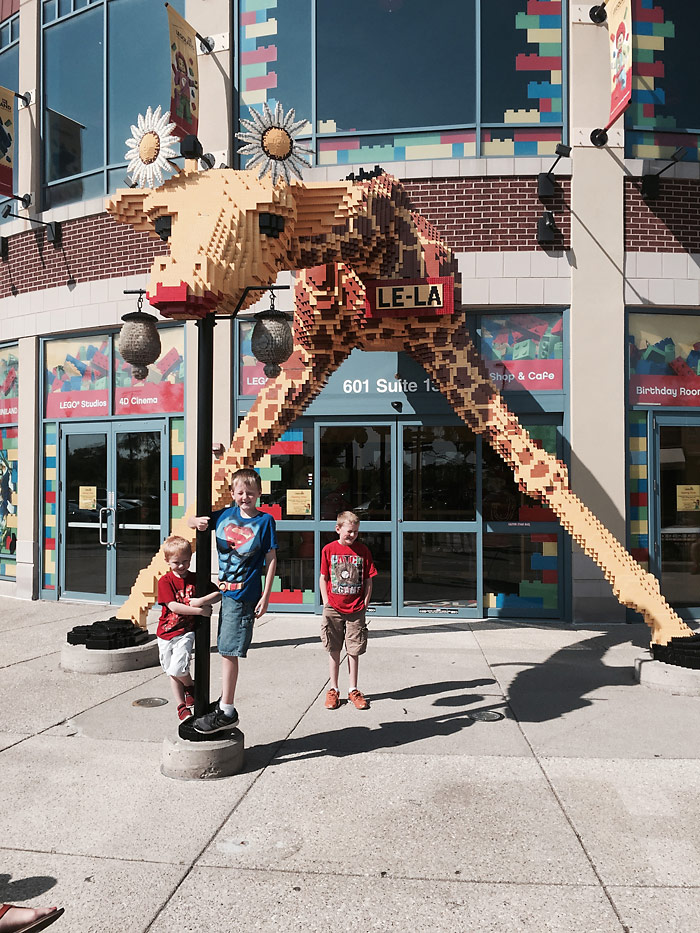 Really?  There are no words to describe these three sometimes!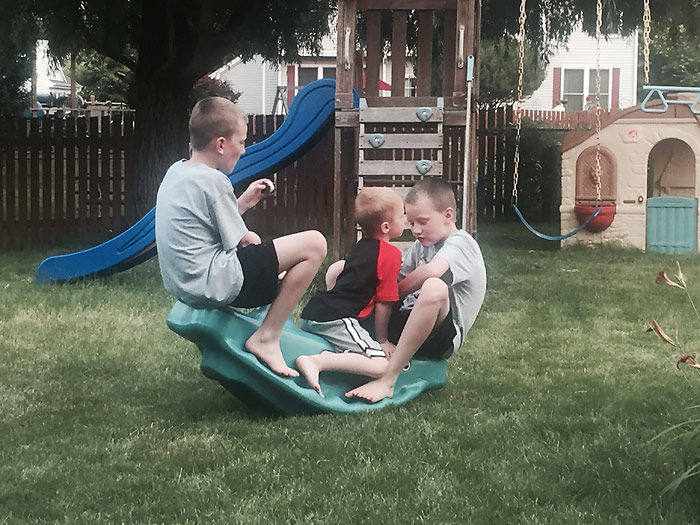 We managed to squeeze in a quick trip to Orlando at the beginning of July.  It was an impromptu vacation.  We found out a few days before that they were able to get us a two bedroom suite at Bonnet Creek.  We have a Wyndham Vacation Membership and had been on a waitlist for anytime in July.  We had told the boys that we were ONLY hanging out at the resort, swimming, playing miniature golf, etc….but….as you can see, we did go to Magic Kingdom one day.  It was a last minute decision and the boys were excited!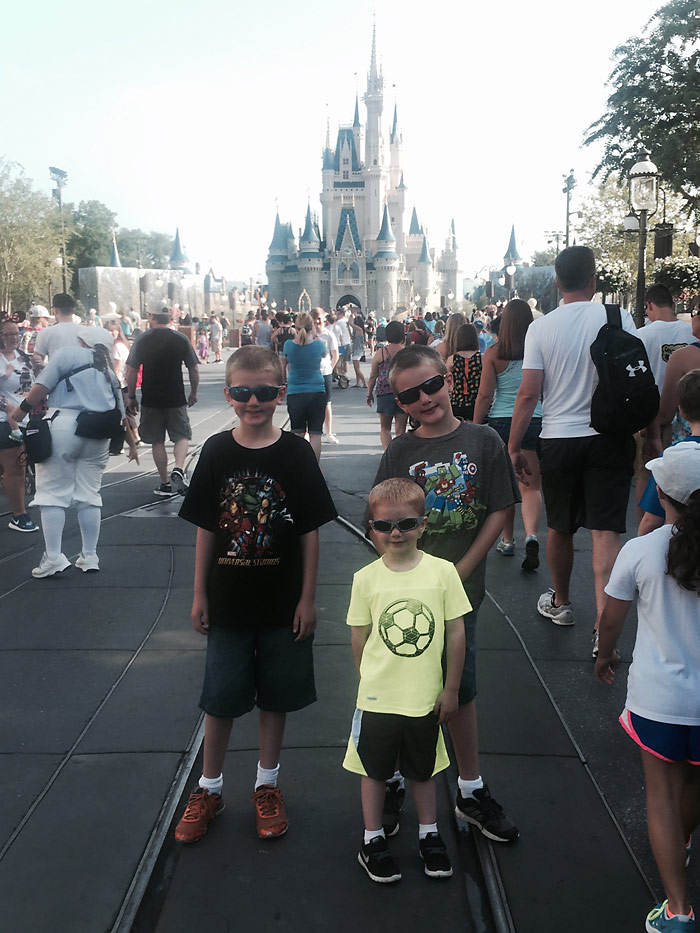 We spent a week at Disney last July and Derek was too short (missed it by an inch, maybe less) to go on Splash Mountain.  His heart was crushed!  Well, he was all smiles this time as he turned in his Fast Pass Voucher that says he is tall enough to ride!  He was given the voucher last year and was told when he was tall enough to come back and he could pass everyone in line!  Yes, I kept that voucher safe in my wallet for a year just so he could turn it in!  Of course, they let us keep the voucher because I HAD to scrap it!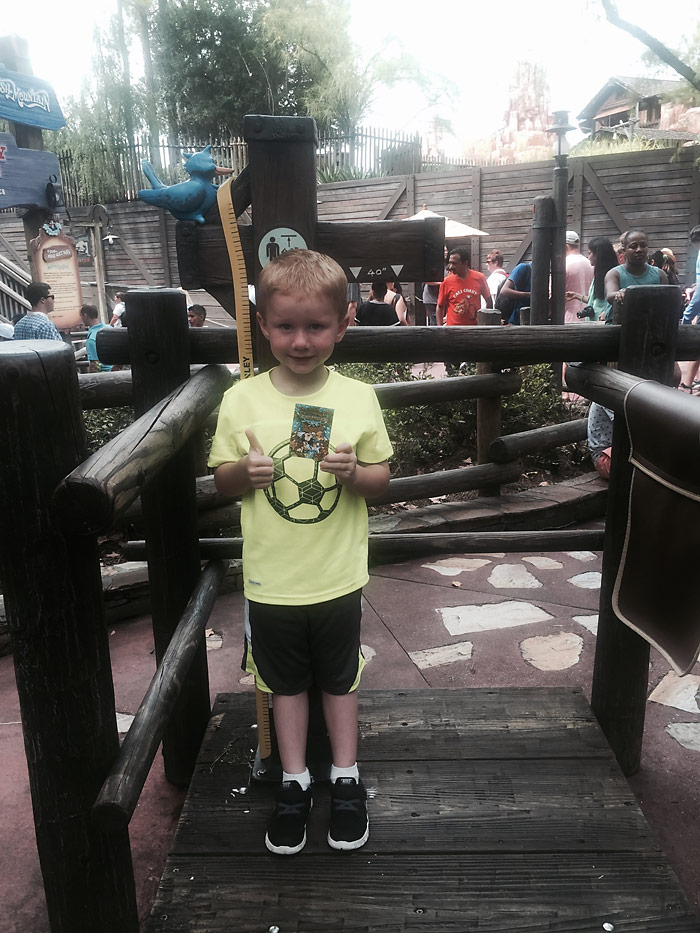 There is something Magical about this castle at night!  I wish we lived closer because we would have season passes!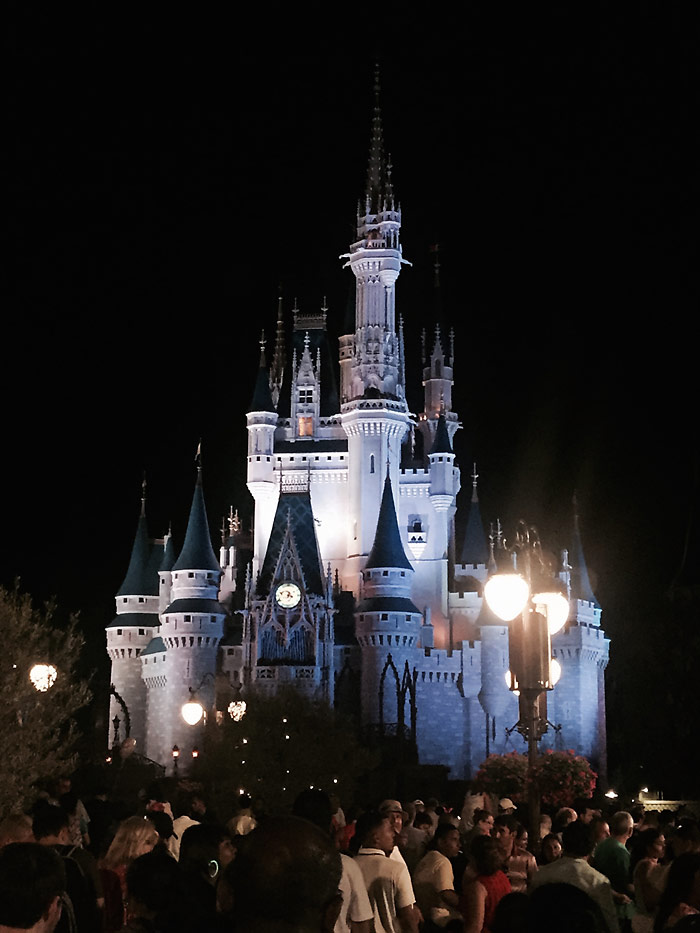 They boys got to play a little miniature golf at the resort.  They all enjoyed it, even though Seth looks bored!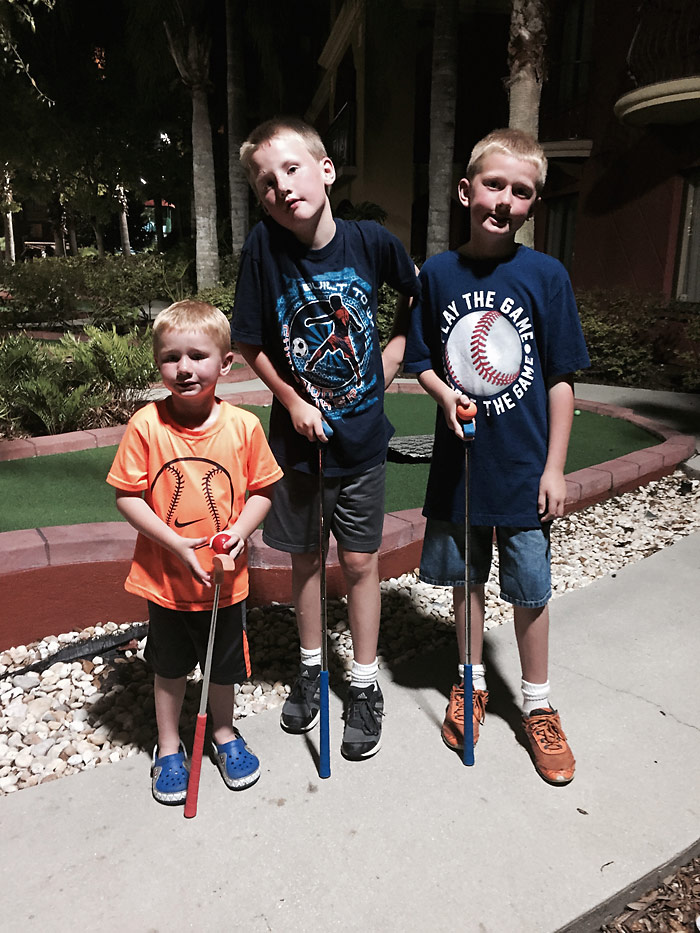 Tim and I celebrated our anniversary while we were in Florida and we went to Downtown Disney for dinner…just the two of us!  It was heavenly!  Normally we have the boys with us for our anniversary dinner but since our oldest son and his girlfriend came along on the trip, we told them they had to babysit one night so we could go to dinner alone!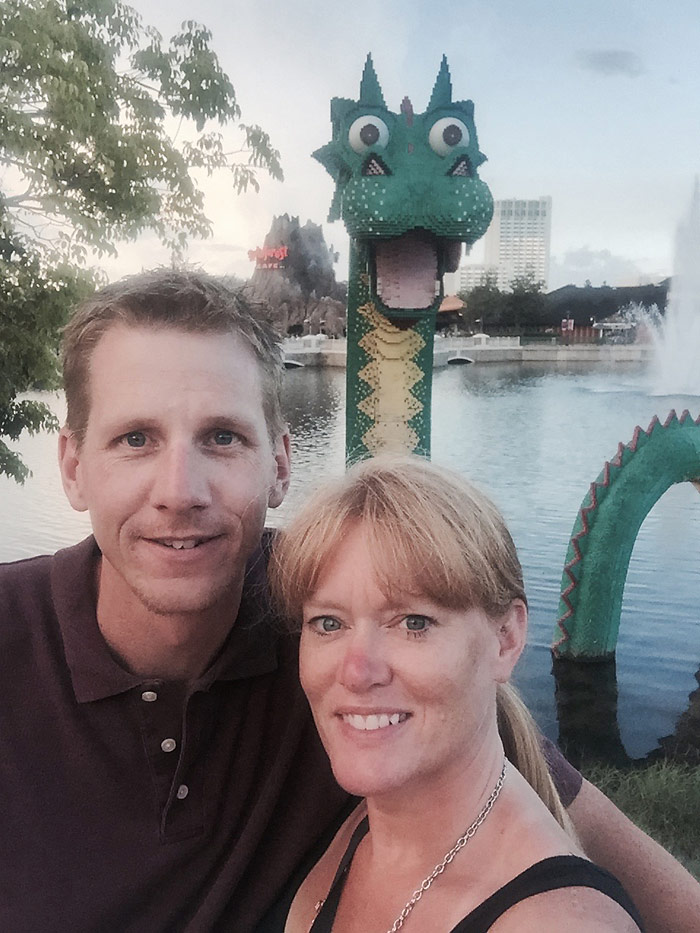 We took a day trip to the beach.  It was so calm at Treasure Island, I think we will go back there again.  They boys had great splashing and swimming and there weren't huge waves or a strong undertow that we had to worry about.  We even saw a manatee up close and personal swimming a few feet away from us!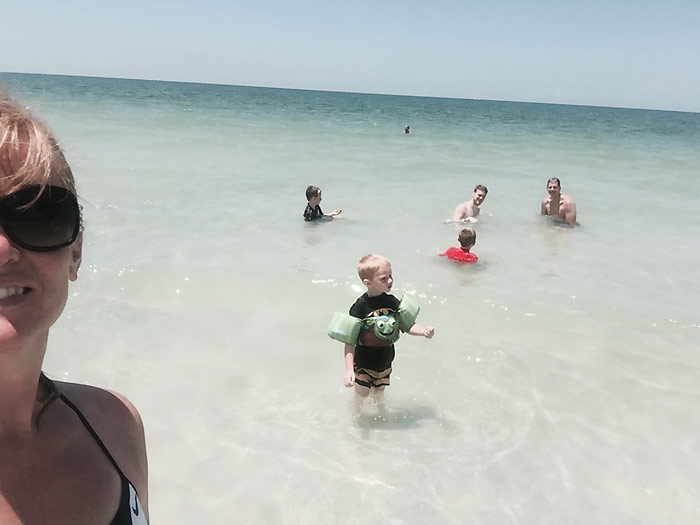 There is nothing like having to go to the doctor with 3 boys.  Thank goodness their iPads were charged!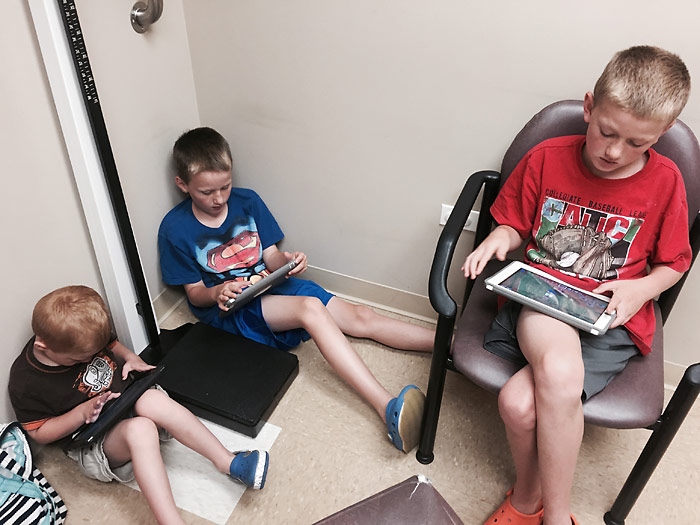 We took the boys to see Minions.  Oh my, I love those little yellow guys!  This movie was so funny!!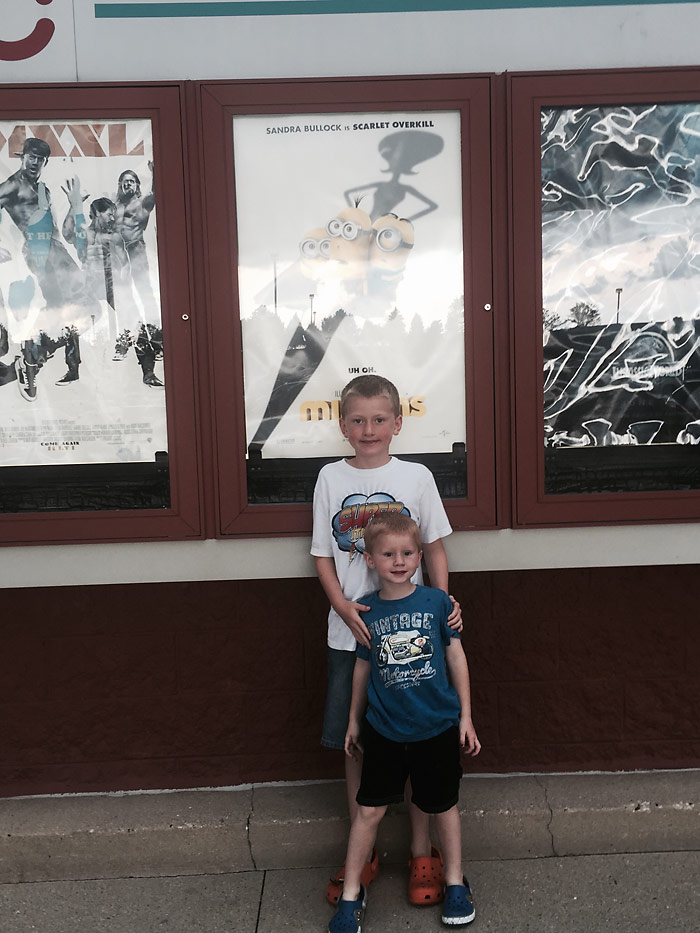 The boys have spend A LOT of time in the backyard swimming.  Derek ditched his puddle jumper one day and started swimming underwater, the whole length of the pool, which is 15 ft. Just a few weeks before this picture was taken, he could go under for about one second, had to plug his nose and wipe his eyes after.  He has turned in to a little fish overnight!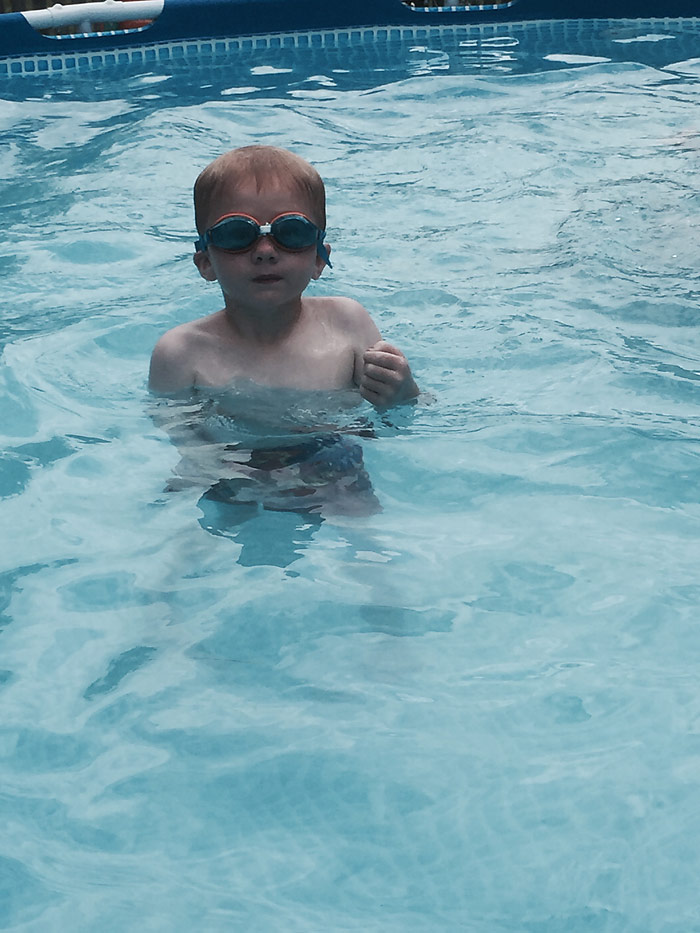 Thanks for letting me share a little bit of our summer fun!
Kim