Featured Designer FWP – Meghan Mullens
Happy Friday friends! It's a new day and we're debuting a new Featured Designer, Meghan Mullens! The name of this kit says it all . . . Stinkin' Cute . . . it sure is!! Centered around an adorable little skunk and with a bright, whimsical color scheme, this kit is perfect for documenting all the cutest people and animals in your life. We think you're going to love it, take a look . . .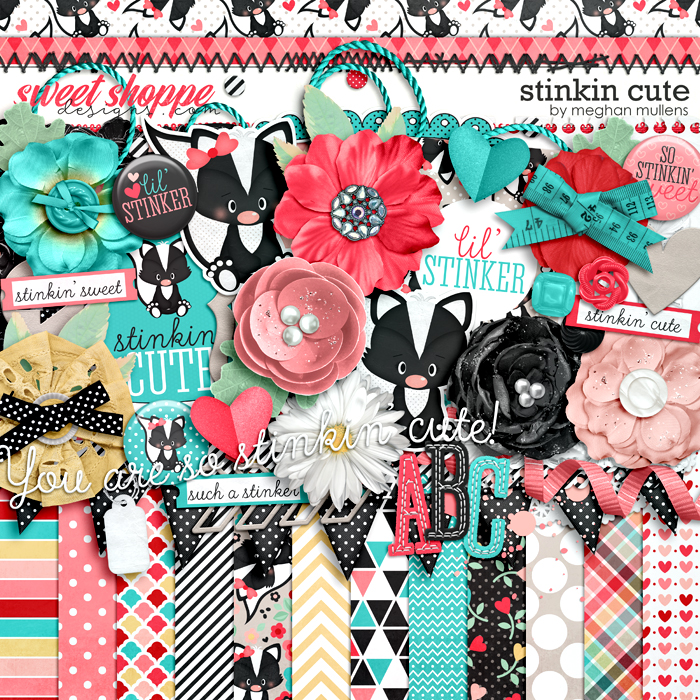 I asked Meghan what inspired her to create Stinkin' Cute and what her design process was. I also asked her what she thinks her strength as a designer is and what she would consider her "signature" . . . or what others would recognize her for. Here's what she had to say . . .
I almost always have a general theme in mind. I have a list of ideas and build off of those. I wanted a bright and fun color palette because those make me happiest and inspire me the most. I tend to gravitate towards cutesy and girly so I figured with Valentine's Day coming up soon I'd do something fun that could be used for that or general use. I centered the whole kit around a super cute skunk . . . Who couldn't use a kit to scrap how cute something is?

I'd say my eye for color is probably my biggest strength. I like bright and fun palettes and I almost always tweak it quite a few times before it's "perfect." I'm not sure that I have a signature style . . . it's always evolving. I do tend to do cutesy and bright most though. It makes me happy!
The Babes created some super fun layouts with Stinkin' Cute! They really show off how versatile Meghan's kit is, and we hope their pages inspire you.

So go fill up your shopping cart with $10 and Stinkin' Cute will automatically be added for FREE! This special offer will only be available through Friday, February 9th when our new releases go live, so don't delay! And don't forget to come back next week when we have a little sneak peek into a fun, new bi-weekly sale that we're going to do involving our amazing featured designers this year! Have a great weekend!
SaveSave
SaveSave
SaveSave
SaveSave