Featured Designer FWP – Red Ivy Design
Happy Friday friends! It's a new day and we're debuting a new Featured Designer! As you know, over the past year and a bit, we've had all of our designers in the spotlight as our featured designers, so we've started fresh with a new series of featured designer FWP products that will center around the letters of the alphabet! Alice of Red Ivy Design is up next with the letter "E", and she has an amazing kit for us—E is for Extraordinary. This kit is just gorgeous! I love the different shades of blue and green and the amazing variety in the papers. Take a look . . .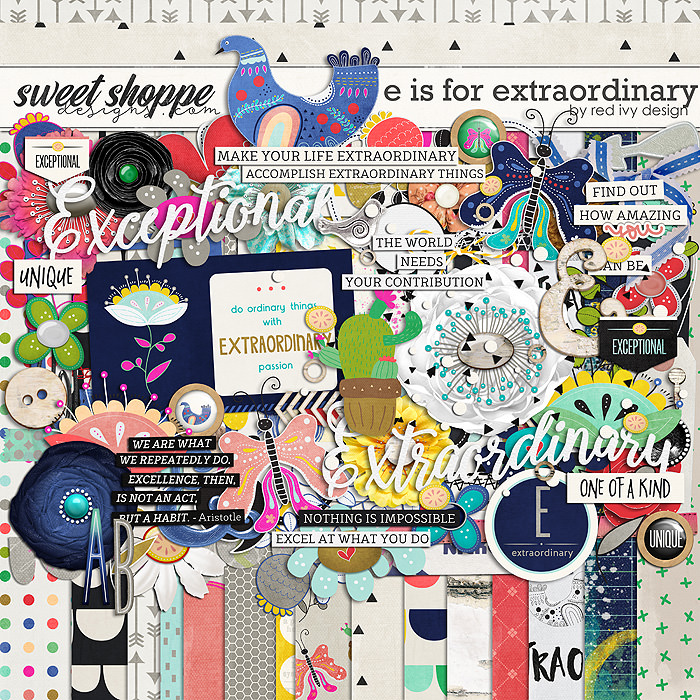 I asked Alice a few questions about this kit and the process she went through to create it. Here's what she had to say:
Tell us a little bit about the direction you took for your letter of the alphabet.
As soon as I saw my letter I knew instantly what I was going to do! I have been thinking for a while now about "the extraordinary" in each of us and the fact that for various reasons we often don't live up to our full potential. Bright colors with deep blue accents, as well as drawings that apparently don't belong together, such as a butterfly and a cactus, were perfect for suggesting that being different does not mean you can't be amazing in your own way. I hope you guys like the idea!
Did you find it difficult coming up with a concept for your letter?
It was super easy! Like I said, the concept behind "E" has been on my mind for a long time. If you have been following my work, you know that I like to choose inspirational themes for my kits and this one was no different.
I also asked Alice a few more questions about herself, her love for this hobby of ours, and some of her favorite layouts or products:
What kit are you most proud of creating in the last year? Why?
I really love "Let's Play Ball." I'm super proud of it because it is my first sports kit and collection and this is one theme that I felt intimidated by for years!
Starting with any letter of the alphabet, show us 5 kits in your shoppe that have names beginning with consecutive letters.

Are you addicted to anything? What is it and why are you addicted?
This is by no means a secret… I soooo love chocolate and coffee. Together if possible.
The Babes created some gorgeous layouts with E is for Extraordinary. They really show off how amazing Alice's kit is, and we hope their pages inspire you.
So go fill up your shopping cart with $10, and E is for Extraordinary will automatically be added for FREE! This special offer will only be available through Friday, December 7 when our new releases go live, so don't delay! And don't forget to come back next week when we have a little sneak peek into our fun, bi-weekly sale involving our amazing featured designers! Have a great weekend!