Featured Designer FWP – Meghan Mullens
Happy Friday friends! It's a new day, and we're debuting a new Featured Designer! As you know, over the past year and a bit, we've had all of our designers in the spotlight as our featured designers, so we've started fresh with a new series of featured designer FWP products that will center around the letters of the alphabet! Meghan Mullens is up next with the letter "G", and she has an amazing kit for us, G Is for Goals! January is coming up quick, and it's a natural time for a lot of people to make goals for the new year. This kit is perfect for documenting all those plans. I love the aqua and black color scheme! Take a look . . .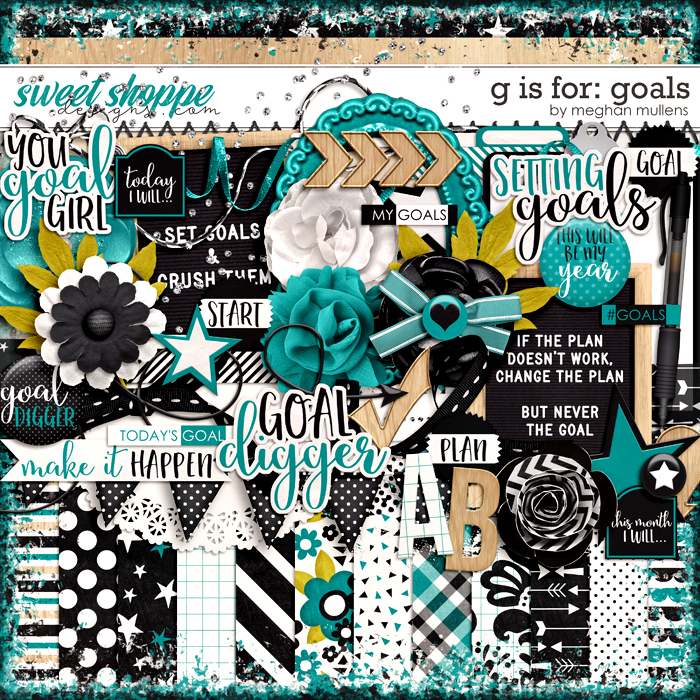 I asked Meghan a few questions about this kit and the process she went through to create it. Here's what she had to say:
Tell us a little bit about the direction you took for your letter of the alphabet.
With it being so close to the end of the year I knew that a lot of people are setting some goals for the upcoming new year and thought it would be fitting!
Did you find it difficult coming up with a concept for your letter?
It was pretty easy. I originally had X (haha that woulda been hard!,) but G needed to be taken so I swapped. I probably could have been more creative, but I wanted something practical that hopefully a lot people can find a use for!
I also asked Meghan a few more questions about herself, her love for this hobby of ours, and some of her favorite layouts or products:
Do you have any plans for kits or collections coming in the future? Get us excited about what's on the horizon for you!
I do!! Amanda and I are doing a monthly series called "All The Little Words" based on One Little Word. Each month/kit will focus on a word that maybe somebody has chosen to focus on for the year! Our first one is a sneak peek into the series and is releasing this week!

Melissa and I are also doing a monthly series based on aspects of personalities! It's very thought provoking, and I'm really excited to get working on that!
Are you addicted to anything? What is it and why are you addicted?
My boyfriend would say I'm addicted to Rae Dunn—clay pottery in very simplistic farmhouse styles with just the right amount of cuteness to keep me wanting more! It's hard to find the perfect piece as it's limited release, so I've made some friends with other local addicts (haha) and we snag what we can to trade and look out for each other! It's a nice community if you are kind back. Here's some of the holiday collection set up.  Looking at it makes me happy!
What event here at SSD do you look forward to the most as a designer?
Our amazing month long birthday celebrations!
Share a quote that you think is perfect for scrapping!
The best thing about memories is making them.
The Babes created some gorgeous layouts with G Is for Goals. They really show off how amazing Meghan's kit is, and we hope their pages inspire you.
So go fill up your shopping cart with $10, and G is for Goals will automatically be added for FREE! This special offer will only be available through Friday, January 3 when our new releases go live, so don't delay! And don't forget to come back next week when we have a little sneak peek into our fun, bi-weekly sale involving our amazing featured designers! Have a great weekend!