Featured Designer FWP – Blagovesta Gosheva
Happy Friday friends! It's a new day, and we're debuting a new Featured Designer! As you know, over the past year and a bit, we've had all of our designers in the spotlight as our featured designers, so we've started fresh with a new series of featured designer FWP products that will center around the letters of the alphabet! Blagovesta Gosheva is up next with the letter "N", and she has an amazing kit for us, N is for Nature! Oh my. This kit is stunning! I love everything about it, but those little birds are just so perfect! Take a look . . .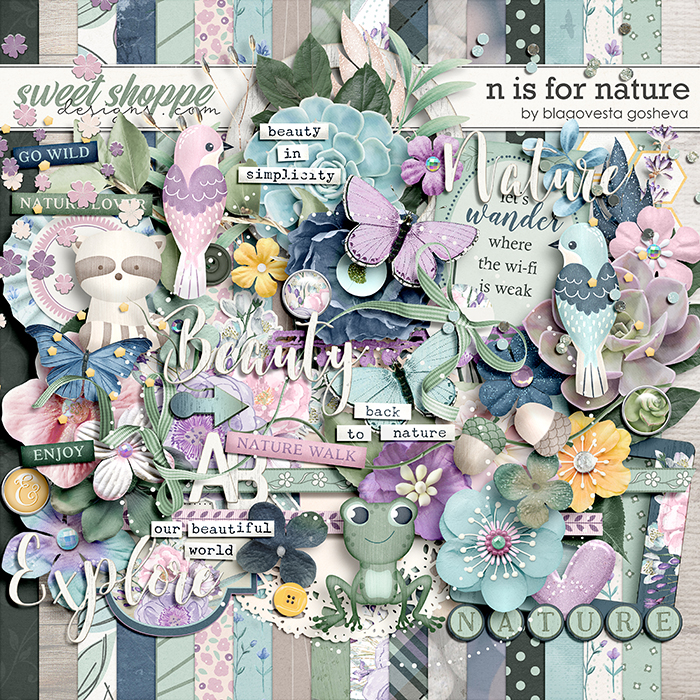 I asked Blagovesta a few questions about this kit and the process she went through to create it. Here's what she had to say:
Tell us a little bit about the direction you took for your letter of the alphabet.
When I choose to work on a nature theme, I tried to create a versatile kit dedicated to the beauty of nature and outdoor adventures—to all nature lovers. I tried to keep the colors soft and versatile but still springy to celebrate the new season that just came.
Did you find it difficult coming up with a concept for your letter?
To be true, when I had to start thinking of a theme with "N" for my FD kit, my brain decided to cheat and the only thing that came to my mind was "N is for Nothing." 😀 So, I posted in our staff group for help with ideas. And the girls gave me so many great ideas with N that I ended up with another problem—which one to choose! I decided to create "N is for Nature" because I think it's perfect to celebrate the spring that just came.
I also asked Blagovesta a few more questions about herself, her love for this hobby of ours, and some of her favorite layouts or products:
What kit are you most proud of creating in the last year? Why?
It's my collection Meowsome. Not because it's a masterpiece. It was special for me because it was requested from my daughter. She loves cats very much and one day asked me to create a kit for the cat lovers. This kit is special for me because she was my "advisor" for the colors, for the things included, the cats, and everything, and I didn't add it to the Shoppe until she said "Mom, now it's good to go!" 😀
Do you have any plans for kits or collections coming in the future? Get us excited about what's on the horizon for you!
I don't usualy make certain plans and often start to design very impulsively—inspired by things from the everyday. But, because iNSD is coming, I decided to plan a bit. 😀 I'm a big nature lover so I'm going to work on a kit dedicated to Earth day. Another theme I love to work on is Travel, so I've planned a travel themed kit very soon. And last, before iNSD, I'm going to work on a Mom-needs-a-break kind of thing.
When you aren't designing digital treats, what do you spend most of your time doing?
Oh, that's an interesting question! When I'm not designing digital treats (my favorite thing to do!), I'm at work in the Publishing house where I design other treats eight hours every day. After that, you know, housework, cooking, time with the family . . . actually I desperately need few extra hours every day.
Show us the last layout you scrapped!
It's so hard to find time to scrap regularly lately. I try to catch up when I have time with some old pictures that I left for later. I think these were the last I scrapped:
The Babes created some gorgeous layouts with N Is for Nature. I was seriously blown away by the wonderful, unique pages the Babes created with this kit! They really show off how amazing Blagovesta's kit is, and we hope their pages inspire you.
S0 go fill up your shopping cart with $10, and N is for Nature will be automatically added for FREE! This special offer will only be available through Friday, April 12 when our new releases go live, so don't delay! And don't forget to come back next week when we have a little sneak peek into our fun, bi-weekly sale involving our amazing featured designers! Have a great weekend!